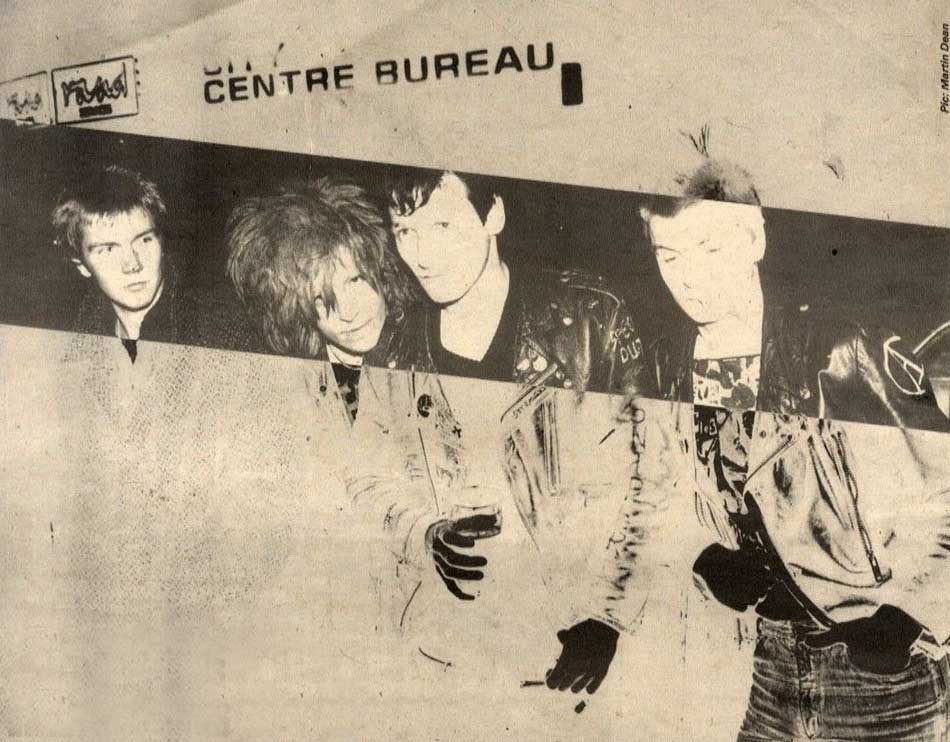 Formed: Colchester, Essex, England, UK
Although perceived as part of the third wave of punk i.e. the UK82 period, Special Duties actually formed in late 1977. They were originally called X-pelled but changed their name when they acquired a pile of stolen badges with the words "Special Duties" printed on them and hit upon the brilliant idea that, while it may cost money to run off a load of badges with X-pelled on them, why not just change their name to match the stolen ones?
Their stock-in-trade was basic 4-chord punk played quickly, with gruff vocals and simple song structures (verse/chorus/verse/chorus, essentially). The formula served them well.
Violent Society was a bit too reminiscent of 'Alternative Ulster' and 'Capital Radio', but its initial pressing on Charnel House sold so well that when they moved to Rondelet, then currently the home of Anti-Pasti. Rondelet immediately asked them to release a re-recorded version of 'Violent Society' as their second single. Their third single was the choppy Police State EP, which spent two months in the Indie Charts. They followed it with an ill-conceived, poorly written LP, 77 In 82.
Steve Arrogant, who adored The Clash and The Lurkers, possessed an impressively raw set of vocal chords, but was a bit of a big mouth who appeared to have some kind of personal vendetta against Crass. He wasn't alone: drummer Stuart Crasshater probably wasn't a fan either (although rather ironically he later played with Dirt, one of the more slavish Crass clones). Arrogant's hatred of Crass led to their initial demise in 1983, when they found themselves blacklisted by Rough Trade and Small Wonder (who were amongst the more influential indie record distributors) after the release of Bullshit Crass. The title of this tune speaks for itself, but here are the words anyway:
Fight Crass not punk
Fight Crass not punk
Fight Crass not punk
Fight Crass not punk
Anarchy and peace promote the Crass
It ain't for freedom it's just for cash
They don't mean what they say
What they preach there is no way
Bullshit Crass you've been detected
Duties have your shit rejected
Bullshit Crass You've been detected
Bullshit Crass You've been detected
We'll free the punks that you've injected
Bullshit Crass You've been detected
Crass were first to say punk is dead
Now they're rightly labeled as being red
Commune Hippies That's what they are
They've got no money Ha! Ha! Ha!
Anyway, as stated, they split in 1983 following the release of their best single so far, Punk Rocker, which had the misfortune to be released by the miniscule Expulsion label.
But the band reformed in 1995 with the same lineup and continues to gig and record, releasing new albums '77 In '97 (1997) and a raft of singles.
LINEUP (1981-1983, 1995-):
Steve Arrogant - vocals
Bart Povah (ex-Day Release) - guitar
Steve Duty - bass
Stuart Crasshater rn Stuart Bray (ex-Waxwork Dummies, pre-D.I.R.T.) - drums
Responsible for everything since they signed to Rondelet in 1982.
EARLIER MEMBERS INCLUDED:
Nigel Baker - bass (1977-1980)
Mick - drums (1980)
Mark Gregory - drums (1980) - now in Condemned 84
DISCOGRAPHY
Subsequent studio albums: '77 in '97 (1997).
Singles / Albums

Violent Society
(7", 1980)
Violent Society
(7", 1982)
Police State
(7", 1982)
Bullshit Crass
(7", 1982)
'77 In '82
(LP, 1982)
Punk Rocker
(7", 1983)

Extraneous Releases

The Early Years Dec.1980
(Tape, 1981)
Distorted Truth
(LP/CD, 1997)
The Punk Singles Collection
(CD, 1999)
77 One More Time Volume One
(LP, 2014)
77 One More Time Volume II
(LP, 2014)
Various Artists
The Only Alternative UK LP 1982 (Rondelet): Violent Society / Police State / Colchester Council
Rondelet Records: The Punk Singles Collection UK CD 1995 (Anagram): Violent Society / Colchester Council / Police State / Bullshit Crass
Oi! The Rarities Vol. 2 UK CD 1995 (Captain Oi!): Punk Rocker / Too Much Talking
Oi! The Rarities Vol 4 UK CD 1996 (Captain Oi!): Violent Society / Colchester Council
Links
SPECIAL DUTIES - OFFICAL WEBSITE
RECORD COLLECTORS OF THE WORLD UNITE