SUBWAY SECT


AKA: VIC GODARD AND SUBWAY SECT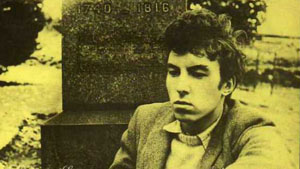 Formed: London, England, UK
THEY MADE GUITARS TALK INFORMATION, APPARENTLY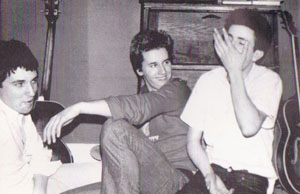 Led by Vic Godard, Subway Sect were at the forefront of the punk movement and debuted at the 100 Club Punk Festival, where they dressed in grey, perfected the art of looking bored and detached, and blared lashings of Velvet Underground-inspired guitar noise. Not for them the Stooge-y racket of The Damned or the rock n roll of The Vibrators, they excelled at sounding very English, marrying their surprisingly melodic and intelligent songs with monotonous dirge guitars. They were certainly one of the most interesting and exciting bands of the time, the only thing stopping their elevation to Joy Division status being the lack of material available. Personally, I would consider Godard's decision to quit music to become a postman because people in that job tended to be "all right" is, on its own, enough to secure immortality.
Following the punk festival appearance they found themselves a manager in the shape of Bernie Rhodes and supported The Clash on the White Riot tour in early 1977. Two era-defining singles followed in 1978, Nobody's Scared and Ambition. The latter was produced by The Clash's sound man Mickey Foote and featured ping-pong effects and a terrific keyboard sound. Rhodes however sped the song up at pressing stage. Both singles benefit from Godard's tremulous vocals and his thoughtful, impenetrable lyrics. An album was recorded in 1978, but was never finished and has apparently been lost forever. (In 2007 Godard and a completely new Subway Sect lineup recorded 1978 Now, intended to be be what that LP would have been like had it ever been released.)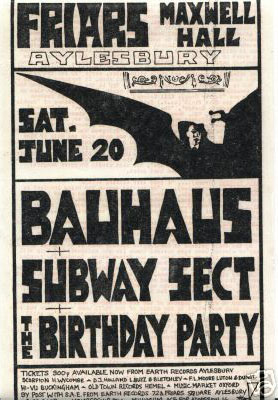 Both sides of both singles appeared on A Retrospective, along with four poppier cuts from a 1979 Peel session ('Double Negative', 'Stool Pigeon', 'Watching The Devil' and the Velvet Underground's 'Head Held High'), 'Chain Smoking' from the aborted LP and an A-Side from 1981, 'Stop That Girl,'. This LP was reissued by Overground as "We Oppose All Rock 'N' Roll" 1978-1980 with a bonus 3-song CD containing "lost album" tracks 'Exit No Return', 'Staying Out Of View' and 'Parallel Lines.'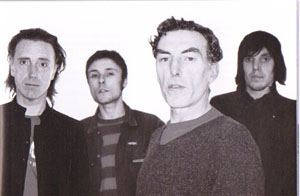 In 1980 Godard emerged with a new Sect, the band now comprising of another of Rhodes' acts, the Black Arabs. Although prone to bouts of cynicism - "All these wicked people/Who do they think they are?/They want the keys to the city/Watch 'em fumble for the keys to their cars" he sings on 'Double Negative' - on What's The Matter Boy? Godard comes across as a hopeless romantic on beautiful songs like 'Make Me Sad', which is highly suggestive of the Velvets circa 1969, while spikier numbers such as 'Stand Up' and 'Split Up The Money' look back to his punkier beginnings. A magnificent and intelligent scratchy pop album.
On subsequent releases Godard maneuvered the band even further away from punk with Songs For Sale going all the way back to the 40's for their inspiration.