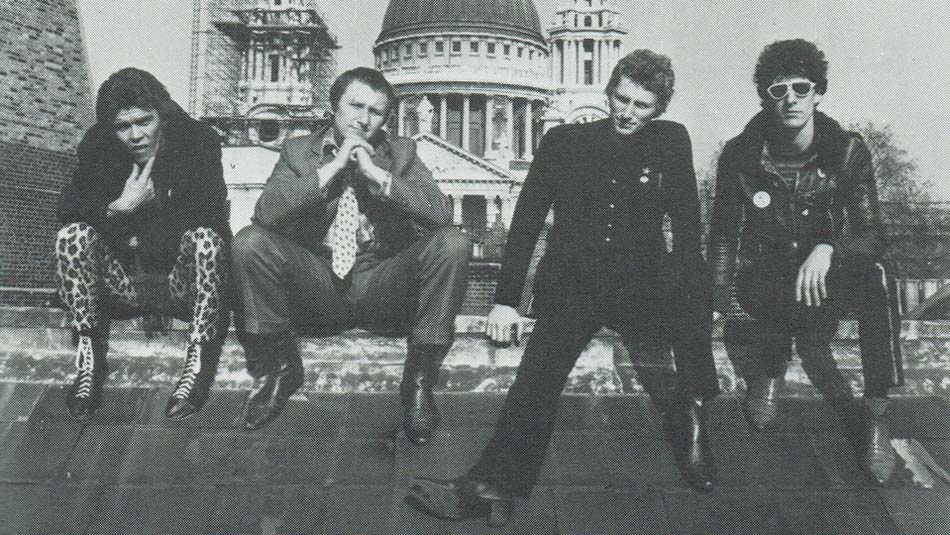 Formed: London, England, UK
JOHN ELLIS, SOUNDS, MARCH 1983: In any movement, there has to be a person, or a group of people, who are raised onto a pedestal. And there also has to be a group of people who suffer the criticism of everybody, and The Vibrators, by some unknown process, were selected as being the whipping boys of the press.
JON SAVAGE, ENGLAND'S DREAMING, 1991: Bandwagon jumpers to be sure, but sometimes bandwagon jumpers have the most fun and the best tunes.
EDDIE, SOUNDS, MARCH 1983: There was no bandwagon for us to jump onto. We created the bandwagon that other people jumped onto!
MARK P, SNIFFIN' GLUE #3 1/2, SEPTEMBER 1976: The Vibrators are just out of place, they give themselves a "tee hee" name and make out they're punks.
GAVIN WALSH, PUNK ON 45: The Vibrators were a young(ish) group of pub rockers who coalesced around sometime pop star/session guitarist Chris Spedding. 'Baby Baby' testifies that they were an okay garage band. But look at their pic sleeves and see how determinedly they bought into punk.
CAROLINE COON, 1988: THE NEW WAVE PUNK ROCK EXPLOSION: If they had been less coy about their reasons for stepping into the punk scene they might have endeared themselves to the hard-core of the movement. Instead they engaged the services of Ian Hunter to deny that they were punks.
MARK P, SNIFFIN' GLUE #3, SEPTEMBER 1976: The Vibrators are quite a new band to the scene, but as original Damned singer Steve said, "they won't get anywhere because the drummer's got long hair!" Very true...
BOMP #17, 1977: These are my dark-horse favourites. They've been criminally overlooked by British trend-followers, but for my own taste, they were the best all-around band I saw in England in 1976, they have the style and instinctive sensibility that's crucial to any new wave band, and their songs/records are unabashedly powerful, danceable, well-produced, with just the right amount of pop commerciality and healthy perversity to give them hit records.
BARRY CAIN. 77 SULPHATE STRIP, 2007: Good band but shit songs.
Yes, The Vibrators certainly divided opinon.
They were among the first bands to see the light and go punk, which they did very well, and they kept plugging away at being punk for decades, yet in the UK never received the widespread, mainstream critical kudos they deserved and have largely been written out of punk history (or reduced to a footnote, anyway). The Americans were kinder to them.
It was a shame, really, that they had a few things against them: singer Knox was over thirty years old, they did too many covers at the 100 Club Punk Festival (not really their fault as they had been roped in at the last minute as Chris Spedding's backing band), and they signed to an uncool label (RAK). Caroline Coon in her punk book also made a big deal of showing two photos of the band, one in early 1976 when they had long hair and flares, and one in 1977 when they had short hair and straight trousers, as if this transformation marked them out as frauds and bandwagon-climbers. In reality, before the Pistols pretty much every male rocker had long hair and wore flares, even John Lydon.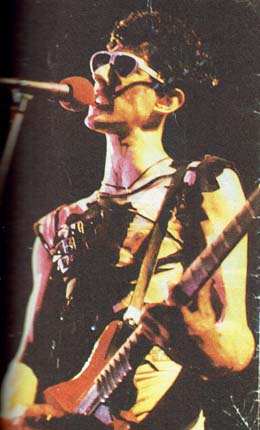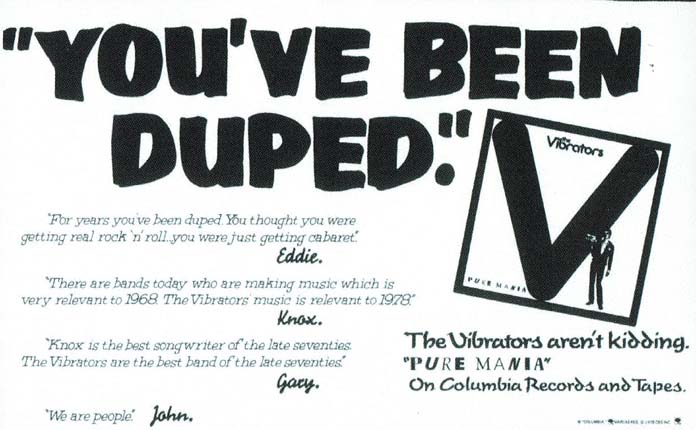 Part 1 (1976-1979)
The band was formed in February 1976 by novice drummer John 'Eddie' Edwards, guitarist/vocalist John Ellis, bassist/occasional vocalist Pat Collier and vocalist/guitarist Ian 'Knox' Carnochan. Knox had been playing in bands for the last ten years, including The Renegades, Knox and the Knight Ryders, Stiletto, Heavy Parrot and, most recently, Despair. Ellis and Collier had just left Bazooka Joe, the band which famously had the Sex Pistols support them at the Pistols' first ever show in November '75. The Vibrators debuted supporting The Stranglers at Hornsey Art College in North London in March and over the next few months gigged regularly, primarily as a covers band, trotting out well-worn oldies such as 'Route 66' and 'Talking About You'.
Knox: I don't think anyone could really tell what was about to happen. We played that gig and got some work. Eddie and Pat went around everywhere that did gigs asking if we could play, and through their hard work we got a lot more gigs. We had a residency at the Lord Nelson on Holloway Road and we started playing outside London. Half the set was covers. It had to be, otherwise you'd have to rehearse for months. (as told in Punk Rock: An Oral History by John Robb)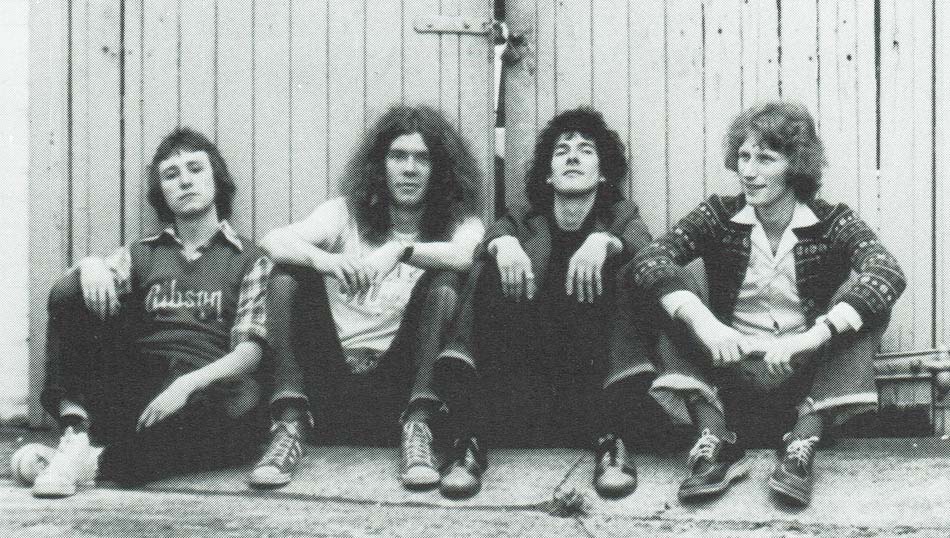 By the middle of the year they'd introduced some more interesting covers ('Interstellar Overdrive', 'Day Tripper') and even some originals ('We Vibrate', 'Whips And Furs', 'She's Bringing You Down'). Some of these originals were sadly lost to time, including Ellis' 'Space Punks', Eddie's 'Young Lust' and Collier's 'The Punk's Still Alive'. Nonetheless, by the summer they were starting to get mentioned in dispatches, linking them with the Sex Pistols, and therefore dragging them into association with the new wave.
Knox: We were basically in isolation. We were aware of Eddie & The Hot Rods and] the other pub rock bands - [then] towards the summer the press suddenly introduced this term punk rock and we were there, listed under this term. [Then] it became a deliberate policy to play harder and faster because the audience liked that stuff better, but it was quite natural to the way we were playing. I've always played quite hard. (as told in Babylon's Burning: From Punk To Grunge by Clinton Heylin)
That September saw them perform at the 100 Club Punk festival, on night two, where they met with a lukewarm response. This historic gig (and another one at the Nashville) was eventually released twenty-five years after the fact on Live At The Nashville '77 & The 100 Club Festival '76; while it isn't a well-recorded document, it's importance is not under scrutiny.
Knox: Ron Watts, who put the festival on, had advertised Chris Spedding as playing. We were phoned on the day and asked if we could back Chris Spedding as he said he didn't know anything about the gig and didn't have a band. We turned up and he showed us the songs. You can only learn a couple of songs before you play, so we had to play some covers with him to make up a set. Because he was the headline act, we played after The Damned. During the Damned, someone threw a glass at them probably Sid and that made it all really nasty for when we were playing - it doesn't make for a very nice atmosphere. It was our PA as well, and Captain Sensible had broken some PA leads but that was his act, that was OK. Before we went on we had to mend all the stuff. I lent my speakers [to the Stinky Toys] and they had blown the horns in the speakers. Because of that I had a pretty horrid guitar sound, and it wasn't my fault. People said we played this old stuff, but people didn't realise we had to do that so Chris Spedding could play! After that a load of work disappeared because of all the violence at the 100 Club - people thought we were a punk band. The trouble was reported in the press. They like to encourage that sort of stuff because it sells papers. They immediately associated punk with terrible violence. (as told in Punk Rock: An Oral History by John Robb)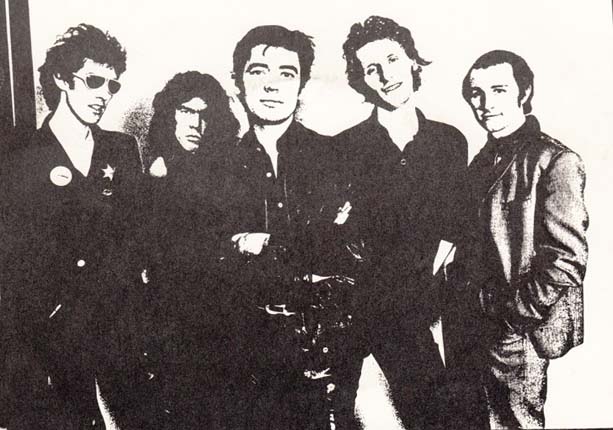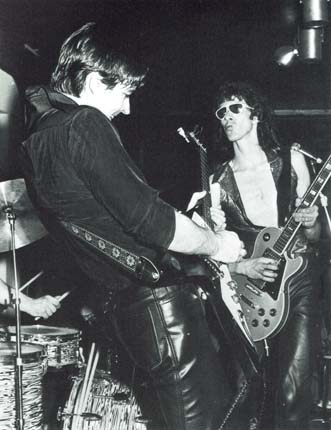 ABOVE: Vibrators and Chris Spedding promo photo, and at the Punk Festival
Shortly after the show they were snapped up by RAK Records, home of Suzi Quatro, Mud, Kenny, Hot Chocolate, Smokie and, er, Chris Spedding. By this time they had ditched most of their cover versions. Unusually, their first two singles were released on the same day. We Vibrate was a pretty good opening gambit, even if it was essentially pub rock. The other single was an ill-advised novelty effort entitled Pogo Dancing, which was credited to Chris Spedding + The Vibrators, and featured Spedding on lead vocals on both sides.
Neither single sold in decent quantities, but they had at least made it to vinyl before The Clash, Buzzcocks, Banshees or Subway Sect. A fact not widely reported is that The Vibrators were briefly associated with Pistols' package tour, i.e. the one that was scuppered in the Bill Grundy incident. For some unfathomable reason The Vibrators chose not to participate, which was unusual because they were by no means an established band at this time. They were also suffering from the general anti-punk backlash which spurred many venues to cancel punk shows for fear of violence.
Pat Collier, NME, 8th December: We're suffering the worst, but we're not going to give in. There's nothing that the establishment can do to stop punk from coming through.
Early '77 saw them sharing stages with the Pistols, Penetration and the Heartbreakers, touring in Holland, France and Germany, and cutting their hair. The big news for them was going in tour with Iggy Pop (whose band featured David Bowie on keyboards) and adding some great new songs to their set, including 'Baby Baby', 'Wrecked On You' and Yeah Yeah Yeah'.
Come their next vinyl release they had switched from RAK to Epic, despite the press offering reports of no less than two proposed singles - 'Jumpin' Jack Flash' and 'Bad Time' - which, needless to say, never happened.
Mickie Most, 1977: I don't think my relationship with the record buying public has improved - they're very unimpressed with me producing your records. To them I'm a part of the establishment, a capitalist in cashmere who dishes out out marks on a TV talent show while [The Vibrators] look like fugitives from a squat, with your emaciated faces and torn T-Shirts. But I bet you 500 quid they'd rather me than [The Vibrators]. (taken from Barry Cain't '77 Sulphate Strip')
The first fruits of this new deal was another surprising choice of single in the shape of the brilliant ballad Baby Baby, which was completely out of step with the punky times and did not trouble the charts. Two years later this could well have reached number one. B-Side 'Into The Future...' was much more in keeping with the period. Both tracks ended up on their classic debut LP, Pure Mania, which contained fifteen spunky numbers of a similar high quality crammed into thirty-five rip-roaring minutes. One song on the LP, 'Bad Time', was originally proposed as the third single for RAK, and had indeed been recorded for RAK back in December, but that never happened, although it did make it to acetate stage.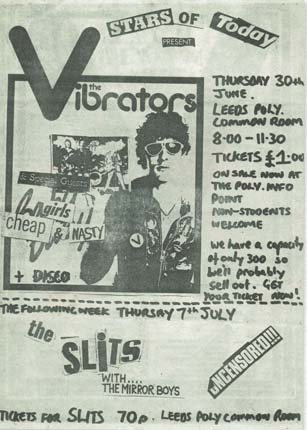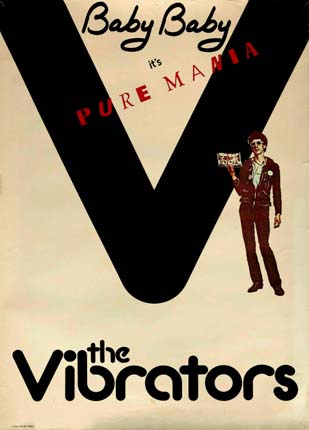 Collier left soon after this and formed The Boyfriends, a new wave band in the Elvis Costello mould. His replacement was Gary Tibbs, who hit the ground running in July just in time for the next tour, which ended with three sell-out nights at the Marquee. One show here was recorded for posterity and two songs were extracted from it for the London Girls...Live single. Not everybody was convinced, though:
Panache #5, August 1977: Every inch covered by sweating humanity, the Marquee was at boiling point waiting for The Vibrators to blow the roof off...but I guess their batteries were running a bit low or something because it was a big yawn. They were O.K but they weren't - if you see wot I mean. Maybe I can put it a bit clearer...they were bloody boring, continually telling the crowd to do this...and fucking do that (real hard these guys). They played a lot of songs which are practically alike...and old Knox the so-called punk in their ranks, looked like a lumberjack, but I suppose he's O.K. - just a little uninspired if this performance is anything to go by. Even 'London Girls' was dull ("This is about London girls who we don't like much" ...I expect the feeling's mutual) and 'Baby Baby' wasn't much better...and before The Vibrators reached the climax (sic) a lot of the crowd had lost interest and many went home early.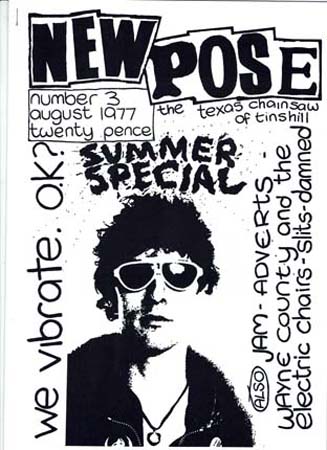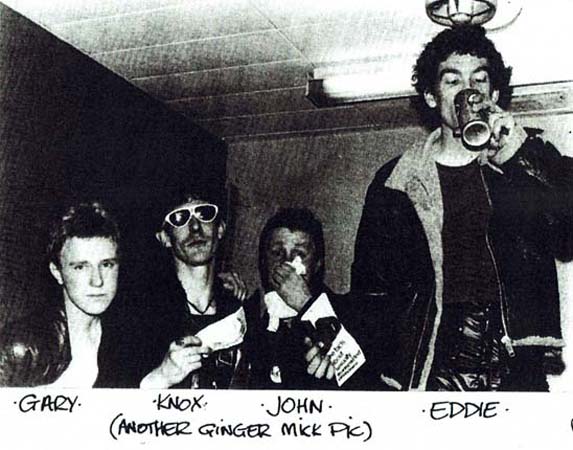 Their manager then hit on the wheeze of relocating them all Berlin for a short time, no doubt hoping that the cool associated with that city would rub off on the band, and also so that they could be controversial and declare Britain "boring". Whilst there they were mistaken for terrorists and consequently the subject of a dawn raid in the farm where they were staying. August and September was spent flitting back and forth between Germany and England for gigs and the odd radio session. Knox and Ellis also spent a WHOLE DAY remixing the debut album for release in the USA. After that it was off to Canada for whirlwind tour, where they met Leonard Cohen (sadly they did not record anything together). The end of the year was spent writing, rehearsing and ultimately starting to record new material.
Despite occasional protestations that they didn't really want to be a punk band, the more polished V2 heaves with punk imagery, with songs like 'Sulphate', 'Destroy' and 'Nazi Baby' drawing on typical punk obsessions such as the banality and unfairness of modern living, guns, and sex. The guitars were noticeably louder as well, although the non-stop parade of punkiness is offset with some intriguing touches, such as the strings on 'Nazi Baby' (was this the first punk song to use an orchestra?) and the impressive, menacing closer, 'Troops Of Tomorrow' (later covered by The Exploited).
John Ellis left shortly after the LP was released, signaling a turbulent time for the band. A great 45 called Judy Says (Knock You In The Head), recorded as a quintet with Dave Birch replacing Ellis and a bloke called Don Snow on keys and sax, had a very brief run in the charts that May, and was their second and final hit single (Automatic Lover from V2 was the first).
The five-man lineup collapsed quickly, with Tibbs leaving (to find a home in Roxy Music and then Adam & The Ants), and new men Snow and Birch leaving too. Knox and Eddie recruited Greg Van Cook (guitar) and Ben Brierley (bass), and this lineup began recording a third LP for Epic, which was never finished. Sessions from this aborted third LP can be most easily accessed on the The Albums 1979-85.
Knox, fanzine Interview: I'd like the next [third] album to be like some sort of Stooges out takes. Maybe better produced but I'd like something on the album to stand up against things like 'No Fun' and '1969'. I don't want to get stuck with a punk label. I want to move on from there. I want to work in the rock and roll field, even though some people say it's a bit retrogressive. If I had total control over the band we'd become less and less commercial like Suicide were at the beginning.
However, Knox's plans were derailed when the group was dropped by the label when they discovered that Knox planned on embarking on a solo career, which was the final straw after 12-months of erratic performances and low sales.
Knox: We were just touring a lot. We would play a brilliant gig, then a not-so-good one. People kept coming and going - we never had the right people in the band. (as told in Punk Rock: An Oral History by John Robb)
(It is worth mentioning than one terrific song written by Brierley for The Vibrators was deemed "too political" by Knox and was eventually recorded, with Brierley on guitar, by Dave Goodman & Friends as Justifiable Homicide. The only song of the Knox/Eddie/Brierley/Van Cook lineup given a "proper" release was 'Pushin' Too Hard', which was included on 1980's Batteries Included.
Eddie, Anti-Climax #6, 1980: Everybody left to become solo stars. John Ellis left the day it [V2] came out, Knox went mad and got rid of everybody else, and then himself basically. The band split just before a tour and album, and we found ourselves several thousand quid in debt. I didn't know about it until the label told us. You could say I was less than happy.
Part 2 (1980-1986)
In 1979, Ellis released his first solo single (Babies In Jars) and played on Jean-Jacques Burnel's solo tour to promote Euroman Cometh.
Knox formed a short-lived band, thoughtfully named after himself, did a demo for CBS, and recorded an unreleased single which was produced by Pete Solley, the guy who had proved to be Wreckless Eric's second-album nemesis. Knox described this single as "what I could only describe as a German fairground music version of the song. It was absolutely awful, though maybe if you released it in Germany it would confound everyone by being a hit". Knox eventually released two singles, Gigolo Aunt (1980) and She's So Goodlooking (1981), although a third one (Streetheat, 1981) and an album never materialised.
Collier's power-pop band The Boyfriends seemed to have faltered by 1979, having released three singles in 1978, but he became an in-demand producer, working with The Stukas, The G.T.'s, The Soft Boys, Motor Boys Motor and Angelic Upstarts. He also produced those two Knox singles.
Drummer Eddie promptly reformed the band with himself as the only original member, Knox replaced by Kip, who had been a good punk singer in Cane but by 1979 was sounding like a normal rock singer. Former members of Eater and Wayne County and The Electric Chairs also helped out. They issued two singles for Rat Race in 1980, the horrible Gimme Some Lovin (a Spencer Davies Group cover) and the okayish Disco in Mosco, neither of which sounded much like The Vibrators of yore. After these two efforts he spent time in The Inmates and also with The Hamsters.
Anti-Climax #6, 1980:
EDDIE: The three of us [Eddie, Ian, Kip] carried on and after days of auditions this line up resulted. Jimmy V turned up and he found Birdman in London Zoo studying the birds in an aviary. That's why we called him Birdman and that's why he's got birds painted on his guitar.
IAN WOODCOCK: We are who we are. The story is, when Knox left the band, they carried on for a little while without without him and the line up was Greg van Cook, Ben Brierley and Eddie. They did a couple of gigs but it didn't work out, principally because Ben was hopeless [laughs around room] so the next thing was that Eddie and Greg decided to get the band together with a proper bass player, me.
KIP: Aaah, rubbish.
IAN: Then they asked Elliot Michaels who was then in the Electric Chairs, for guitar. We were going to sing ourselves but none of us was good enough to be a lead singer so we put an ad in Melody Maker and Kip came along. We did a couple of gigs with that line-up and then for various reasons such as the two American guitarists being junkies, we decided it would be best they went back to America, and then we'd find two much better, English musicians, unfortunately we didn't but Jimmy and Birdman came along, and that's it.

Here are some reviews from 1980 to give you a flavour of the new Vibrators.

ABOVE: Review from Wool City Rocker #8, 1980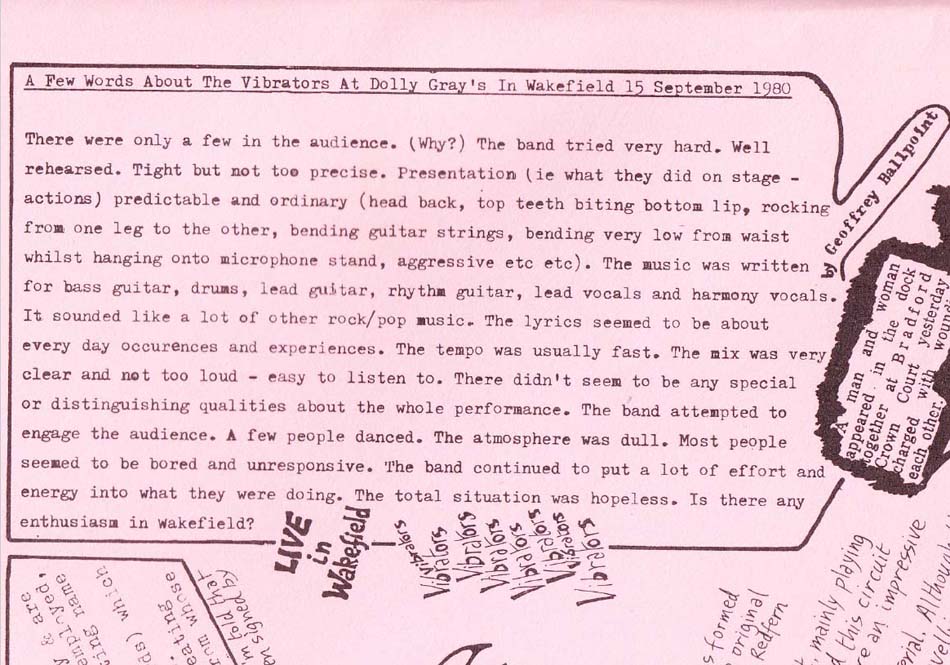 ABOVE: Review from Wool City Rocker #9, 1980
ARTURO BASSICK, GRINDING HALT #6, 1980: We did a tour with 999 3 months ago which I didn't want to do - I haven't wanted to do a lot of things we've done lately but things are better now. At the Electric Ballroom with 999 we were third on the bill with the Vibrators second, who should never have been on it. They're not even the Vibrators anymore, and they were second on the bill. If they're going to do that we might as well call ourselves the Sex Pistols, having been their tea boy.
Knox, Eddie, Ellis and Collier reconvened in The Vibrators in August 1982 having noticed how punk was having something of a second wind. They immediately began writing material for a new studio album, with the proviso being that each band member would get get to write songs, unlike the old days when it seems to be 80% Knox, 18% Ellis and 2% Collier. The reformed band bounced back to a rapturous response supporting the U.K. Subs at the Klub Foot that November, with reports suggesting they stole the show from the headliners. Boxing day was spent playing at a punk festival at the London Lyceum: the UK Subs were above them on the bill, while the bottom was filled out by Abrasive Wheels, One Way System, Newtown Neurotics and !Action Pact! Carol Clerk's review of the festival singled out The Vibrators as top act of the evening, describing their set as "the most stirring, stimulating of the night: a set of furnace proportions!". The band, whilst happy to play with the new underground groups, still set themselves apart from the new groups:
JOHN ELLIS, SOUNDS, MARCH 1983: I think the whole thing is taken much much too seriously, and I believe that music basically is entertainment. Okay, songs can have a profound message, and a change in the state of consciousness, at the risk of sounding extremely corny, can be brought about by the music. But on the other hand, I think these new bands are just taking it far too seriously, and one of the reasons I enjoy playing with The Vibrators now, is that we don't take it seriously at all. We don't get upset if everything goes wrong, we just basically go out and try to have a good time.
Signing to Anagram, their first step was releasing a new recording of Baby, Baby, which sounds very similar to the original, and was recorded at Anagram's request. The peculiar Guilty LP followed in due course, failing to even dent the Indies. Neither did 1983's Guilty!, which was a completely different version of one of the better songs on the LP of (nearly) the same name.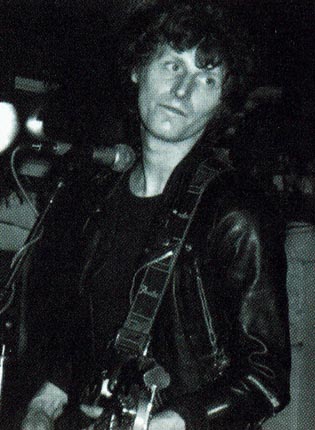 During this period (1982-1985), Knox moonlighted in the Urban Dogs, Charlie Harper's punk supergroup, who released a handful of fine singles, an equally strong LP in 1983, and a rubbish one in 1985.
The group's tenure with Anagram was short-lived, and in 1983 to 1985 they found themselves signed to an absolutely tiny label called Ram and recording the worst albums of their career, the underwhelming Alaska 127 and the absolutely dreadful Fifth Amendment, a boring stab at normal new wave which had watery production, remarkably laid-back playing and mainly dull songs. It's easy to see why this utterly characterless record was roundly ignored at the time, despite a couple of good songs ('Blown Away By Love, 'Baby Blue Eyes'). They were still playing gigs with the likes of Chelsea and One Way System, yet they'd decided to make this feeble and completely unpunky record!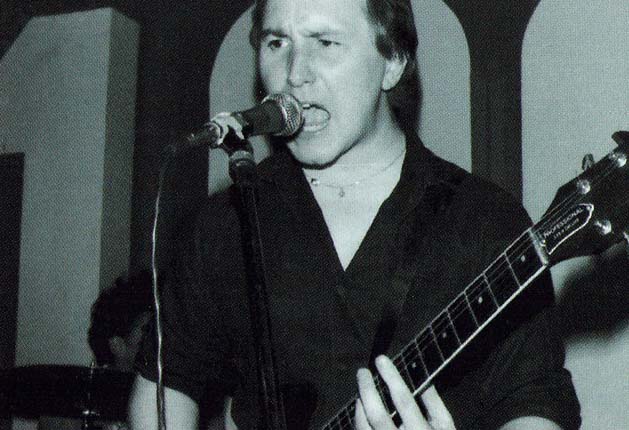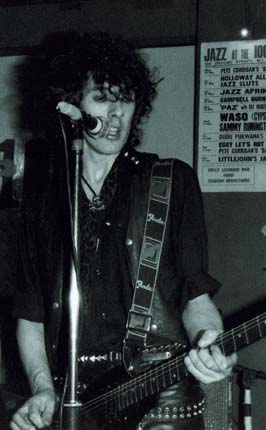 Ellis finally quit the band in early 1986, after having made several threats to do so, and was replaced by Mickie Owen, and the group signed to another small label, FM Revolver, a label which is best known for its heavy metal acts. Live came out later that year and is a decent document of a band doing their best despite being years past it, but at least it has a bit of pep. It was reissued as Rip Up The City - Live.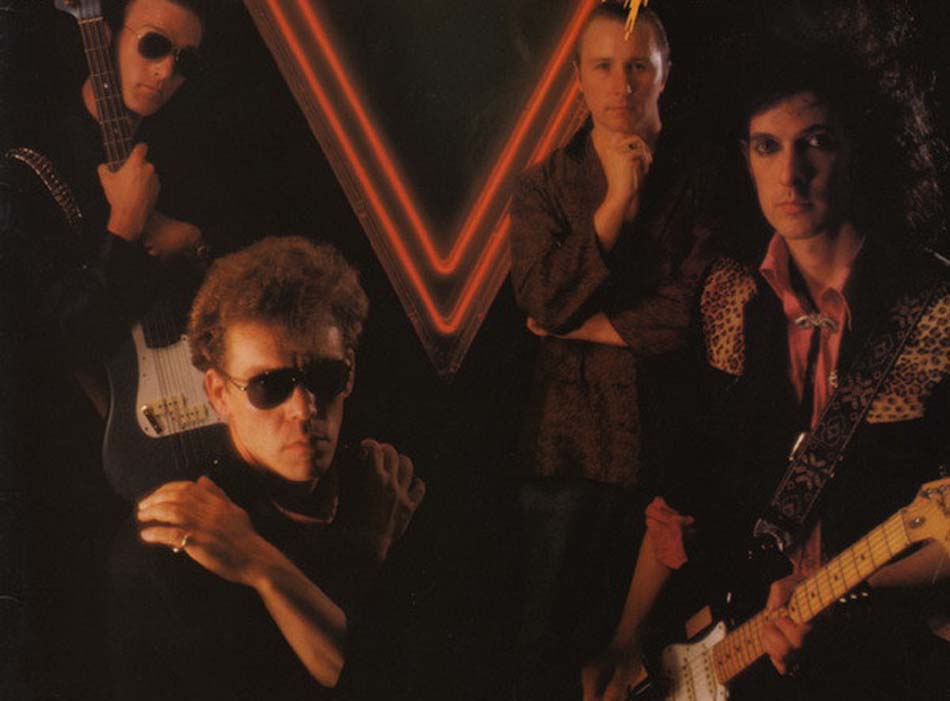 Outside the scope of this site the band has released many albums and singles since 1986. The Power Of Money (The Best Of The Vibrators) (1995) is not a normal best-of but features 11 re-recordings (and the original version of Disco In Mosco) and is best avoided.
__________________________________________________________________________
DISCOGRAPHY
Subsequent studio albums: Recharged (1988), Meltdown (1988), Vicious Circle (1989), Volume 10 (1990), Hunting For You (1994), French Lessons With Correction (1997), Buzzin' (1999), Energize (2002), The Early Years (2006), Garage Punk (2009), Under The Radar (2009), On The Guest List (2013), Punk Mania: Back To The Roots (2014), Restless (2017), Past, Present And Into The Future (2017).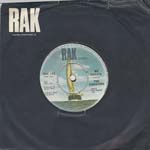 We Vibrate (7", 1976)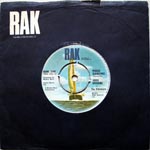 Pogo Dancing (7", as Chris Spedding + The Vibrators, 1976)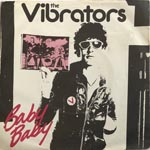 Baby Baby (7", 1977)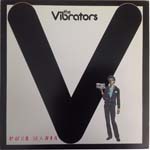 Pure Mania (LP, 1977)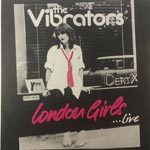 London Girls...Live (7", 1977)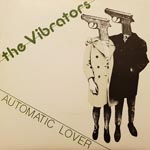 Automatic Lover (7", 1978)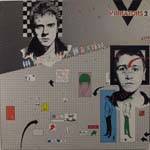 V2 (LP, 1978)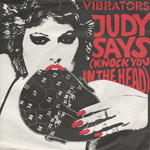 Judy Says (Knock You In The Head) (7", 1978)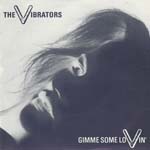 Gimme Some Lovin (7", 1980)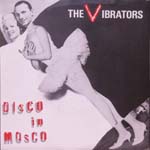 Disco in Mosco (7", 1980)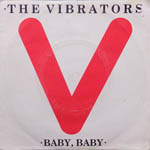 Baby, Baby (7", 1982)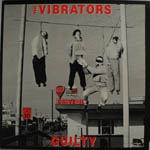 Guilty (LP, 1982)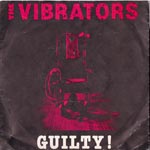 Guilty! (7", 1983)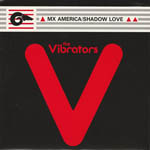 MX America (7", 1983)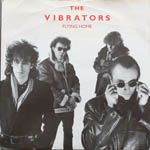 Flying Home (7"/12", 1984)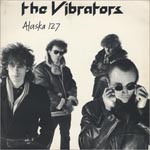 Alaska 127 (LP, 1984)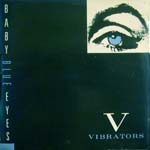 Baby Blue Eyes (7"/12", 1984)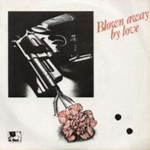 Blown Away By Love (7"/12", 1985)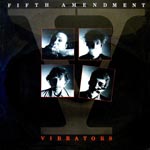 Fifth Amendment (LP, 1985)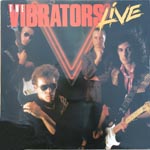 Live (LP, 1986)
Extraneous Releases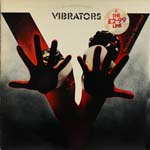 Batteries Included (LP, 1980)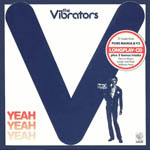 Yeah Yeah Yeah (CD, 1988)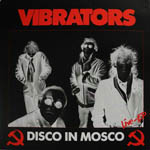 Disco In Mosco Live - EP (12", 1988)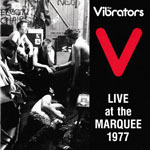 Live At The Marquee 1977 (CD, 1993)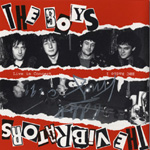 BBC Radio 1 Live In Concert (CD, split with The Boys, 1993)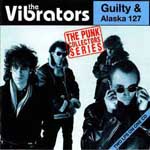 Guilty & Alaska 127 (CD, twofer, 1993)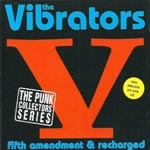 Fifth Amendment & Recharged (CD, twofer, 1994)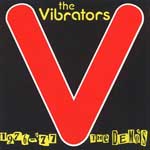 1976-'77 - The Demos (CD, 1994)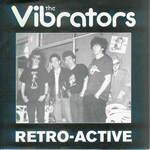 Retro-Active (7", 1994)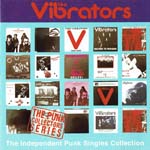 The Independent Punk Singles Collection (CD, 1996)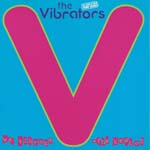 We Vibrate - The Best Of (CD, 1997)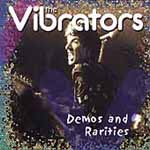 Demos And Rarities (CD, 1999)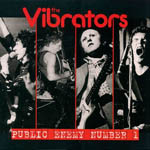 Public Enemy Number 1 (CD, 1999)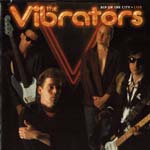 Rip Up The City - Live (CD, 1999)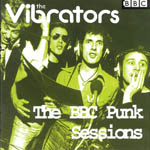 The BBC Punk Sessions (CD, 2000)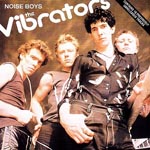 Noise Boys (CD, 2000)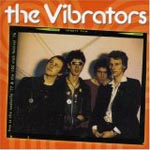 Live At The Nashville '77 & The 100 Club Festival '76 (CD, 2001)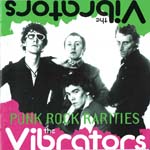 Punk Rock Rarities (CD, 2001)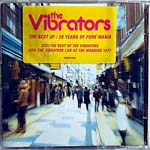 The Best Of: 25 Years Of Pure Mania (2xCD, 2001)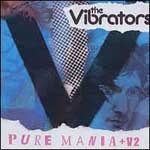 Pure Mania + V2 (2xCD, 2002)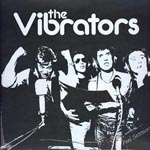 Peel Sessions (LP, 2010)
Despair: The Birth Of The Vibrators 1973-1975 (LP, by Despair, 2011)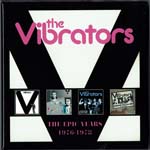 The Epic Years 1976-1978 (4xCD, box set, 2017)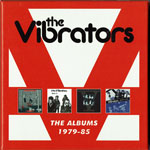 The Albums 1979-1985 (4xCD, box set, 2018)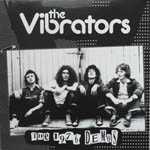 The 1976 Demos (LP, 2018)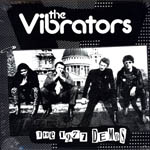 The 1977 Demos (LP, 2018)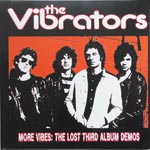 More Vibes: The Lost Third Album Demos (LP, 2020)
Bad Time (7", 2020)
Videos & DVDs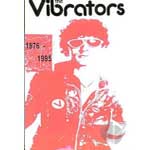 1976 - 1995 (VHS, 1996)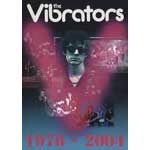 1976 - 2004 (DVD, 2004)
Various Artists
Permanent Wave US LP 1979 (Epic): Judy Says (Knock You In The Head)
Burning Ambitions (A History Of Punk) UK 2xLP 1982 (Cherry Red): Baby, Baby
Punk And Disorderly III - The Final Solution UK LP 1983 (Anagram): Dragnet
UK/DK - The Original Video Soundtrack UK LP 1983 (Anagram): Fighter Pilot
Punk - Past, Present And Future ... The Released Emotions Compilation (1988-1993) UK CD 1993 (Released Emotions): No Heart
Anagram Records · The Punk Singles Collection UK CD 1994 (Anagram): Baby Baby / Dragnet / Guilty / Hang Ten
1-2-3-4 Punk & New Wave 1976-1979 UK 5xCD 1999 (Universal): Baby Baby
No Thanks! The '70s Punk Rebellion US 4xCD 2003 (Rhino): Baby Baby
Gary Crowley's Punk And New Wave UK 3xCD 2017 (Edsel): We Vibrate
Burning Britain - A Story Of Independent UK Punk 1980-1983 UK 4xCD 2018 (Cherry Red): Dragnet
1977: The Year Punk Broke UK 3xCD 2019 (Cherry Red): Bad Time
__________________________________________________________________________
Links