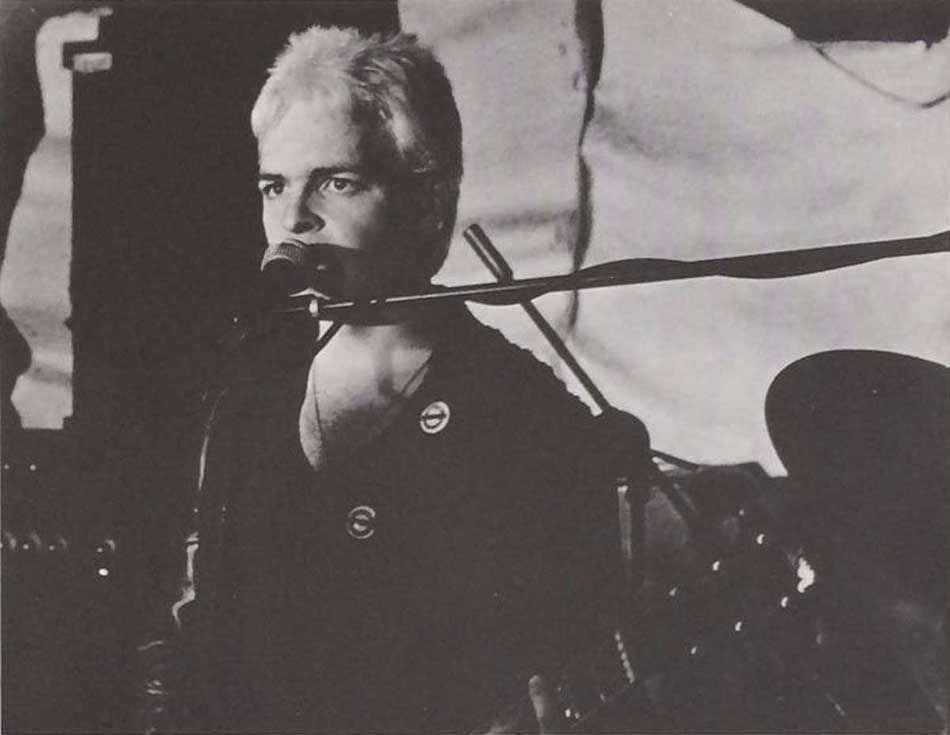 Formed: London, England, UK
Record Collector, 1993: Poor old Gary Numan. He couldn't have come in for more flak if he'd been a pilot for the Luftwaffe, let alone his own private plane. Rarely has a hapless musician become such a universal whipping boy. So apparent was the hatred for Numan in the '80s that people actually threatened to murder him - just because they didn't like his albums, and couldn't bear to read about another of his heroic aviation exploits. A bit strong, that. It's easy to see why his critics and fans were so divided. Numan was such a one-off blip on the post-punk weirdoid scene that he couldn't be ignored. There were other artists marrying the same Roxy/Eno/Bowie images with a slice of New Wave edge, but no one had quite the same impact or influence (for a while, at least) as the erstwhile Gary Webb.
Band Bio
Tubeway Army was formed in summer '77 by vocalist/guitarist Gary Webb (ex-Mean Street), bassist Paul Gardiner (ex-Lasers) and Gardiner's uncle Jess Lidyard on drums. Webb had joined The Lasers as lead guitarist after being kicked out of Mean Street for getting too much attention (not cool with his band "mates"), but almost instantly the group were rehearsing his songs. The Lasers changed its name to Tubeway Army, and then Webb and Gardiner split from the group, taking the name with them.
Gary Numan: The name Tubeway Army came from a spate of violent incidents that I'd read about several years before in the newspapers, where gangs were running on to underground trains and then, when the train stopped, they'd get off, beat up anyone who happened to be standing on the station and jump back on the tube as it pulled out. (Liner notes from The Plan CD)
In keeping with fashion they all gave themselves silly names, but rather than opting for something cool like Johnny Vomit or Billy Shitpants, Webb became "Gary Valerian", Gardiner "Scarlett" and Lidyard "Rael". Their first five shows were all the Roxy, between June and October 1977, supporting The Saints, then X-Ray Spex (billed as Two Way Army), then Riot Squad, then The Unwanted and then Penetration. During this period they were playing an odd version of punk, with not a keyboard in sight.
Mick Wall of Sounds reviewed the show at Dingwalls where they supported The Lurkers, Johnny G and The Doll: Tubeway Army began the festivities and at once succeeded in making a favourable impression. They're a threesome from the London vicinity all aged just 17 and they play some pretty damn good rock and roll . . . this being one of their first gigs. It's the potential you have to look for rather than the finished article. Kudos everywhere to them for turning in such a promising debut. In Valeriun (vocals, guitar) they have going for them what undoubtedly is their strongest visual asset. Blond-haired, blue-eyed visage that promises to dampen the knickers of many a sweet young thing once given the right kind of exposure. (Originally from Alien Gary Numan Magazine issue 3 September 1999; this text grabbed in whole from the Numane website)
Tubeway signed to Beggars Banquet and released two singles, both of which were pretty average. Each one was recorded during the period when they were still straddling blazing punk guitars. That's Too Bad presented a pair of mid-speed punk tunes earmarked mainly by Valerian's one-note vocals and atypical choice of lyrics. Although the single was issued in February 1978 the A-Side was actually a remixed track from a three-song demo that the band had recorded in October '77 at Spaceward Studios in Cambridge.
Following the single's release Lidyard was replaced by Bob Simmonds, who hung around until about the time 'That's Too Bad' was released, whereupon Lidyard rejoined. The band returned once more to Spaceward Studios and spent three days in March recording songs for an LP which, for one reason or another, was not released until 1984, when it came out as The Plan.
Gary Numan: The intention was...to give the record company a rough idea of the songs that we had at the time. I wrote the "punky" songs with the sole intention of obtaining a recording contract, It seemed at the time that contracts flowed like water for this kind of music. I soon found out that it wasn't quite that easy but did, eventually, manage to sign a deal with Beggars Banquet. (Sleeve notes from The Plan LP release)
After these sessions, Lidyard left and two new members joined: Sean Burke (guitar) and Barry Benn (drums). Burke had previously played in a "Genesis-type band" called Paradox but was really a punk guitarist, and just prior to Tubeway Army played with the excellent Open Sore, whose lineup at one point included Benn. This version of the band proved short-lived, producing only one record, Bombers, which came out in July 1978 . The A-Side was much smoother (and slower, and more boring) than 'That's Too Bad'. The two B-Sides were superior, with 'O.D. Receiver' easily Numan's most electrifying 90 seconds, a power blast of high-speed '70s Britpunk. Webb/Valerian, however, was by this time really tiring of punk. In fact, he wasn't really a fan of it in the first place: although he'd been impressed by the Sex Pistols when he saw then at Notre Dame in 1975, he preferred Bowie, Roxy Music and Kraftwerk. As Burke and Benn were more into punk than either Webb or Gardiner, they were both booted out of the band.
Paul Green: Gary was becoming increasingly upset by the violence at punk gigs, and wanted to play to larger audiences. Together with his growing interest in using synths, this caused friction in the group, and by August 1978 both Burke and Benn had left. Gary chose this moment to change his name, taking 'Numan' from an advert in the Yellow Pages. (Record Collector)
Gary Numan: Paul and I left because the others wanted to stay as a punk band. I can't say for sure that I had already found synths by then, I think it was more that I just didn't want to be playing punk anymore. I didn't sack anyone. I'm not ruthless, I'm focused. I don't remember arguing with Sean or Barry about the split but I didn't want to have to force people to join me. It all seemed very clear to me, I was going somewhere else musically and they didn't want to go. So I went without them. Beggars' decision not to support Sean's new punk band was nothing to do with me.
I was becoming increasingly convinced that I needed to move out of a punk band, or that Tubeway Army as a band needed to move on. I didn't know at that point that the move was going to be into electronic music, I just knew I had to move somewhere. I became very frightened that the next big thing was going to come along soon and wipe away the remnants of punk. To me punk was dying on its feet. I didn't want to be associated with it anymore, I wanted to be the next big thing. Paul was with me, the others wanted to stay punk, and that's what they were writing. I couldn't have been less interested in doing more punk songs, no matter who wrote them. I don't remember feeling upstaged, ever, but if Sean remembers it that way I guess I must have been. (Originally from Alien Gary Numan Magazine issue 3 September 1999; this text grabbed in whole from the Numane website)
These influences became a bit more apparent on Tubeway Army (known unofficially as the "blue album" because of its cover and vinyl colour), which was recorded that August as a trio again, Lidyard having returned to the drum kit and both Benn and Burke having been dismissed. Webb had also decided on a new nom de rock, "Gary Numan", and the others were now calling themselves by their given names.
When Tubeway Army re-emerged in March 1979 (Numan having decided to take a long break from playing live), the band had a much more electronic sound, although Numan still played guitar and they still used bass guitars and drum kits to tie the group to a rock tradition. This new direction was evidenced on the single Down In The Park, an atmospheric ditty which sold well and won them favourable reviews but did not chart.
Paul Green: For a long time, [Numan had] been writing short stories heavily influenced by sci-fi writers like Philip K. Dick. He turned some of these into songs, one of which was 'Down In The Park'. Its cover introduced one of Numan's most famous poses, as a stunning android with white blond hair and jet black clothes. (Record Collector)
Are 'Friends' Electric?, which came out in May, shot to Number One in the UK Charts. The band's second LP, Replicas (released in June), had much more focus and assurance than the first, making the break from guitar-driven post-punk, employing banks of cold, clinical synthesisers to tell tall tales of aliens, robots, future dystoipia and all kinds of silly bollocks. 'Down In The Park' and 'Are 'Friends' Electric?' stand head and shoulders above everything else, but it's all actually pretty damned good. No wonder it reached Number One in the UK.
Simon Reynolds: Critics, possibly disconcerted by the way Numan had bypassed the music press en route to the top of the charts, unjustly pegged him as a Bowie Xerox. They sourced Numan's image in Bowie's aristocratic alien from The Man Who Fell To Earth and his sound in 'Low'. But his debt to Bowie was actually less specific: the art of creative synthesis, or, as Numan put it with characteristic and admirable frankness, 'plagiarism' - weaving together an original identity out of pilfered bits and bobs. He also inherited glam rock's penchant for theatre and spectacle. Punk's 'anti-hero thing' and back-to-basics simplicity were 'against everything I've ever wanted to do', he told NME. He didn't believe in 'being the same as the audience'. And he liked distance, a literally physical gulf between the stage and the crowd. His tours featured stunning lighting, set design and even robots. (Rip It Up And Start Again: Postpunk 1978-1984).
After this Numan instigated some lineup shuffles and eventually decided to opt for solo billing, and he was everywhere: on the cover of Smash Hits, regularly haunting Top Of The Pops, touring here and there. The early 80's saw Numan ditch "live" instrumentation (bass, guitar, drums) entirely and brought more success. The next three years earned him about half a dozen chart hits (including 'Cars' at Number One and five other Top Tens), and five LPs in the Top Ten, and his rise to fame heralded a golden age in synthesiser music, with John Foxx, OMD and The Human League all shifting lots of records. By 1984, though, people had gotten bored and Numan and he became a cult, rather than chart, concern.
__________________________________________________________________________
DISCOGRAPHY
That's Too Bad (7", 1978)
Bombers (7", 1978)
Tubeway Army (LP, 1978)
Down In The Park (7"/12", 1979)
Are 'Friends' Electric? (7"/12", 1979)
Replicas (LP, 1979)
Extraneous Releases
That's Too Bad / Bombers (2x7", 1979)
Bombers / That's Too Bad (2x7", 1979)
Replicas/The Pleasure Principle (Tape, as Gary Numan and Tubeway Army, 1982)
First Album (LP, as Tubeway Army featuring Gary Numan, 1983)
1978 (12", as Numan/ Tubeway Army, 1983)
The Plan (LP, as Gary Numan/Tubeway Army, 1984)
1978/1979 Volume Two (12", as Numan/Tubeway Army, 1985)
1978/1979 Volume Three (12", as Numan/Tubeway Army, 1985)
1978 / 1979 (Tape, as Gary Numan/Tubeway Army, 1985)
The Peel Sessions (12", 1987)
Replicas / The Plan (Selections From The Albums) (CD, as Gary Numan + Tubeway Army, 1987)
Double Peel Session (LP/CD, as Gary Numan/Tubeway Army, 1989)
Tubeway Army / Dance (2xCD, as Gary Numan/Tubeway Army, 1993)
Premier Hits (CD, as Gary Numan/Tubeway Army, 1996)
The Dramatis Project (CD, as Tubeway Army featuring Gary Numan, 2000)
Replicas: Mixes + Versions (CDS, 2010)
78/79 (4xLP, as Tubeway Army + Gary Numan, box set, 2011)
Promos
Tubeway Army / Il Giardino Dei Semplici (7", split, 1979)
This Is My Life (as Gary Numan/Tubeway Army (7", 1984)
Taken From The Forthcoming Greatest Hits Album (CDS, as Gary Numan/Tubeway Army, 1996)
Cars / Are 'Friends' Electric? (7", as Gary Numan/Tubeway Army, 2007)
Replicas 2008 Tour Edit (CDS, 2008)
Bootlegs
Tubeway Army Live At The Roxy - 1977 (LP, as Gary Numan, 1981)
Volume One John Peel Session January 1979 (7", as Gary Numan and the Tubeway Army, 1987)
Volume Two John Peel Session August 1979 (7" as Gary Numan and the Tubeway Army, 1987)
White Light - White Heat (7", as Gary Numan with Tubeway Army, 1987)
Future (CD, as Tubeway Army featuring Gary Numan, 2003)
We Have A Technical (12", 2011)
The Dream Police (flexi)
Are You Real? (flexi)
Various Artists
20 Of Another Kind Volume Two UK LP 1979 (Polydor): Down In The Park / Tracks
Times Square UK LP 1980 (RSO): Down In The Park
The Best Of 20 Of Another Kind! UK 2xLP 1989 (Castle): Down In The Park / Tracks
Beggars Banquet - The Punk Singles Collection UK CD 1996 (Anagram): That's Too Bad / Bombers
The Old Grey Whistle Test Live Europe 3xCD 2012 (BBC Worldwide/Rhino): Are 'Friends' Electric? [Live 1979]
Action Time Vision (A Story Of Independent UK Punk 1976-1979) UK 4xCD Box Set 2016 (Cherry Red): That's Too Bad
To The Outside Of Everything - A Story Of UK Post Punk 1977 - 1981 UK 4xCD Box Set 2017 (Cherry Red): Bombers
__________________________________________________________________________
Links
THE OFFICIAL GARY NUMAN WEBSITE
NUMANE - The Gary Numan Fan Site
NUREFERENCE - The Complete Discography of Gary Numan & Tubeway Army
AURAL SCULPTORS BLOGSPOT - Including terrific band bio with photos