Various - The Joys Of Oi!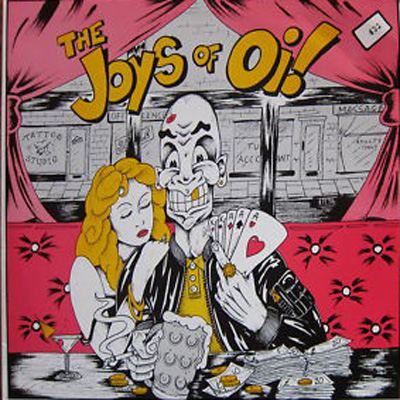 Original Release Date
1990
Release Information
UK LP 1990 (Link - LRMO 2)
A1 Prole - Chasing Rainbows
A2 Blitz - 4Q
A3 The Gonads - Joys Of Oi!
A4 Strike - Action Man
A5 The Business - H-Bomb
A6 The Orgasm Guerillas - Aloha
A7 Alaska Cowboys - Oral In Orleans
A8 Vendetta - Willing To Kill
B1 Lord Waistral - Reg And Ron
B2 Cock Sparrer - A Price Too High To Pay
B3 The Strike - Mania
B4 Legalise Rape - Alconaut
B5 The 4 Skins - Betrayed
B6 Prole - Working
B7 The Gonads - Eat The Rich
B8 Paranoid Pictures - Sad Moon
B9 Sober Cyril And The Oi! Oi! All Stars - Wine With Dinner
Chart Placings
None
Credits
None yet
Reviews & Opinions
None yet
Additional Notes
Part of the Link Records Mail Order series, pressed on green vinyl. Reissued on CD as part of a twofer:
The Oddities Of Oi / The Joys Of Oi!