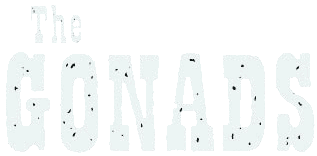 AKA: THE MAGNIFICENT GONADS / GARY AND THE GONADS / MAX 'N' GAL (THE BROTHERS GONAD)
Formed: Charlton, London South East London, England, UK
Oi!/Punk Pathetqiue also-rans led by Garry Bushell, Sounds scribe, one-time manager of Cockney Rejects (and The Blood) , mastermind of the Oi! albums, and latterly, a writer for The Sun. They tried very hard to be funny, but usually were not, although 'I Lost My Love To A U.K. Sub' is pretty good. Bushell's backing band in their early 80's heyday consisted of members of The Business and The Blood. At some point they were managed by so-called poet Garry Johnson. By the turn of the 90's they had mercifully stopped, but there have been numerous reformations since.
Despite Bushell's reputation as a right-winger (foisted upon him by the ignorant), he has never been a Nazi. The Gonads were vocal supporters of the Anti-Nazi League and played gigs for Prisoners' Rights. Old Boots No Panties is the only album by this lot I own, and it is suprisingly entertaining.
DISCOGRAPHY
Subsequent studio albums: Oi! ... Back And Barking (1999), Schiz-Oi!-Phrenia (2001), Old Boots No Panties (2006), Live Free, Die Free (2009), Built For Destruction (2013), London Bawling (2016).
Singles / Albums

Stroke My Beachcomber Baby
(7", 1977)
Pure Punk For Row People
(7", 1982)
Peace Artists
(7", as The Magnificent Gonads, 1982)
Delilah – The Punk EPic
(7", as Max 'n' Gal (The Brothers Gonad), 1983)
Live - The Official Bootleg
(2xLP, 1984)

Extraneous Releases

South London 5 Hull 4 (Full Time Result)
(LP, split with The Blood, 1988)

Live And Loud!!
(LP, 1988)
The Revenge Of The Gonads
(LP, 1990)
Punk Rock Will Never Die (The Best Of The Gonads) (CD, 1994)
Greater Hits Volume One: Plums
(LP+7"/CD, 2011)
Greater Hits Volume Two: The Mutt's Nuts
(LP+7"/CD, 2012)

Various Artists
Carry On Oi! UK LP 1981 (Secret): Tuckers Ruckers Ain't No Suckers
Bollocks To Christmas UK 7" 1981 (Secret): (I'm Dreaming Of A) White Christmas
Total Noise #1 UK 7" 1982 (Total Noise): TNT
The Secret Life Of Punks UK LP 1982 (Secret): I Lost My Love To A UK Sub
Oi! Oi! That's Yer Lot! UK LP 1982 (Secret): Getting Pissed
Wave News 2 - Independent Smash Hits Germany LP 1982 (Intercord): Pure Punk For Row People
Son Of Oi! UK LP 1983 (Syndicate): Jobs Not Jails / [as Gary & The Gonads:] Lager Top Blues
The Oi! Of Sex UK LP 1984 (Syndicate): S.E.7 Dole Day
Oi! Chartbusters Volume 3 UK LP 1988 (Link): Joys Of Oi!
Oi! Chartbusters Volume 4 UK LP 1988 (Link): Gonads Theme
Oi!.. The Picture Disc Vol. 2 UK LP 1988 (Link): Jobs Not Jails
A Guaranteed Mug Free Zone UK LP 1988 (Link): Jobs Not Jails
Oi! Chartbusters Volume 5 UK LP 1989 (Link): Eat The Rich
The Joys Of Oi! UK LP 1990 (Link): Joys Of Oi! / Eat The Rich
Secret Records: The Punk Singles Collection UK CD 1993 (Anagram): I Lost My Love To A UK Sub / Punk City Rockers
Secret Records: The Punk Singles Collection Volume 2 UK CD 1995 (Anagram): Punk Rock Will Never Die / Got Any Wriggly's John / She Can't Whip Me
Links
HOMEPAGE - Nice, information packed site