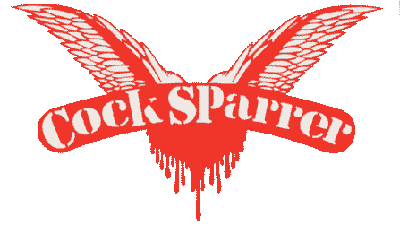 Formed: London, England, UK
Original line-up:
Colin McFaull (vocals)
Garrie Lammin (guitar)
Micky Beaufoy (guitar)
Steve Burgess (bass)
Steve Bruce (drums)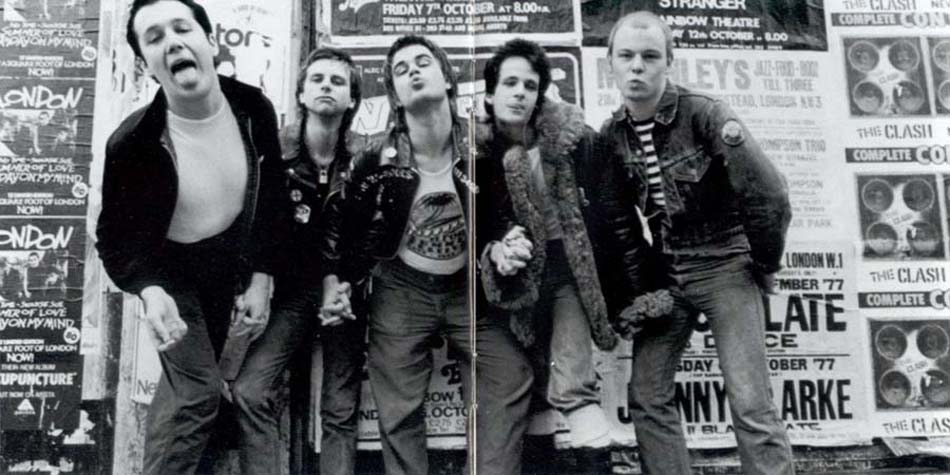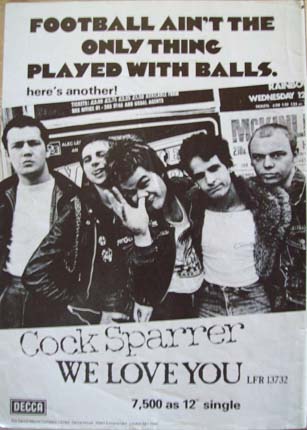 Formerly a raucous R 'n' B band, these East End Londoners – led by singer Colin McFaull and bassist Steve Burgess - had been gigging since 1974 but found themselves adopting a more bellicose stance in the wake of the Sex Pistols. In the process they, along with Sham 69, Slaughter & The Dogs and Menace lay down the foundations of Oi! Unfortunately, due to their 1982 single England Belongs To Me they were accused (unfairly) of being racists, a blow they never recovered from.

Signed to Decca in 1977 they issued two splendid, sneering singles, Runnin' Riot and a cover of the Stones' We Love You, before vanishing again. Interestingly, an album appeared in Spain, of all places, later that year. Cock Sparrer consisted of both sides of the singles and half a dozen demos. A very mixed bag indeed, it alternates between what the Sparrers called 'skinhead rock' (punk in layman's terms) and spirited R 'n' B that recalls the rabble-rousing of The Small Faces. It surfaced in Britain a decade later as True Grit and was recycled in superior, remastered form as The Decca Years.

After being coaxed out of retirement by Gary Bushell, the group released 'England Belongs To Me', which saw them lumped in with the Oi! crowd. A strong case has been made for their first proper LP, Shock Troops, as being the best Oi! album ever. MacFaull is in possession of a unique and supple voice, with a far greater range than any of his fellow Oi!-sters, which lends the album a touch of class entirely lacking in the work of his compatriots. Furthermore, his band is talented and capable of pounding out basic riffs with aplomb. Embittered by their brush with a major label, it is a very angry piece of work, with 'Take 'Em All' directed squarely at Decca, amid attacks on Rotten, Strummer et al ('Where Are They Now'). Elsewhere, they still find time to sing the praises of cash-in-hand employment ('Working') and being with your mates ('Droogs Don't Run').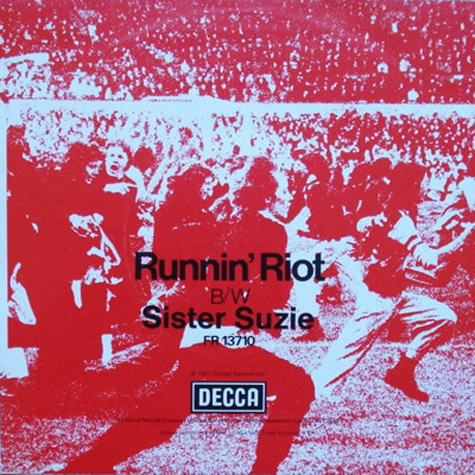 ABOVE: UK promo 7" single from 1977
Runnin' Riot In 84 has a meatier production job but suffers from a second album shortage of material and a snare drum that is mixed way too loudly, although some of the tracks are uniformly strong: 'The Sun Says' addresses tabloid papers, 'Think Again' lays into stupid machismo.

After this the band went into retreat once more, resurfacing in the 1990s.
DISCOGRAPHY
Subsequent studio albums: Guilty As Charged (1994), Two Monkeys (1997), Here We Stand (2007), Forever (2017). Be aware that Bloody Minded... The Best Of Cock Sparrer (1997) is not included in the discography below because it doesn't contain any of the old stuff (except in different new versions). True Grit Outtakes is merely a reissue of True Grit, 40 Years a career-spanning retrospective.
Singles / Albums

Runnin' Riot
(7", 1977)
We Love You
(7"/12", 1977)
Cock Sparrer
(LP, 1978)
England Belongs To Me
(7", 1982)
Shock Troops
(LP, 1983)
Running Riot In '84
(LP, 1984)

Extraneous Releases

True Grit
(LP, 1987)
Live And Loud!!
(LP, 1987)
Shock Troops / Runnin Riot In '84
(CD, twofer, 1992)
Rarities
(CD, 1992)
Live And Loud!! (CD, twofer, split with The Business, 1993)
The Best Of Cock Sparrer
(CD, 1993)
Rumours Carry More Weight Than Fact
(CD, 1994)
England Belongs To Me
(CD, 1997)
Chip On My Shoulder
(CD, 1999)
Out On The Streets Again
(7", split with The Oppressed, 1999)
Diamonds & Pearls (LP/CD, 2000)
England Belongs To Me
(2xLP/CD, 2000)
Running Riot In '84 / Live And Loud
(CD, twofer, 2002)
The Best Of
(2xCD, 2004)
The Decca Years
(CD, 2006)
Essentials
(Box Set, 2010)
Live Essentials
(Box Set, 2010)
Running Riot In '84
(2x7", 2011)
Running Riot In '84
(2x7", 2011)
Running Riot In '84
(7", 2011)
True Grit Outtakes
(LP, 2011)
40 Years
(CD, 2014)
The Albums 1978-87
(4xCD, box set, 2018)

Bootlegs

Excludes CDRs

Bootlegs & Rarities
(7", 1993)
Still A Teenager At Heart
(7", 1994)
Rarities And More
(LP, 1996)
Running Riot Across Europe
(CD, 2004)
Various Artists
Oi! The Album UK LP 1980 (EMI): Sunday Stripper
Strength Thru Oi! UK LP 1981 (Decca): Taken For A Ride (We Think You Don't) / Running Riot (Live)
Son Of Oi! UK LP 1983 (Syndicate): Chip On My Shoulder (Live)
The Oi! Of Sex UK LP 1984 (Syndicate): The Sun Says
Oi! Chartbusters Volume 1 UK LP 1987 (Link): Running Riot
Oi! Chartbusters Volume 2 UK LP 1987 (Link): Run For Cover
Oi!.. The Picture Disc UK LP 1987 (Link): England Belongs To Me
Oi! Chartbusters Volume 3 UK LP 1988 (Link): Teenage Heart
The Joys Of Oi! UK LP 1990 (Link): A Price Too High To Pay
The Oddities Of Oi / The Joys Of Oi! UK CD 1993 (Step-1 Music): A Price Too High To Pay
Oi! The Singles Collection Vol 1 UK CD 1995 (Captain Oi!): England Belongs To Me / Argy Bargy
Lords Of Oi! UK 3xCD Box Set 1997 (Dressed To Kill): Runnin' Riot (Live) / Run For Cover / Teenage Heart
Oi! This Is England UK 3xCD Box Set 1999 (Dressed To Kill): Runnin' Riot (Live) / Run For Cover / Teenage Heart
Links
None yet