Formed: Ipswich, Suffolk, England, UK, as The Pinz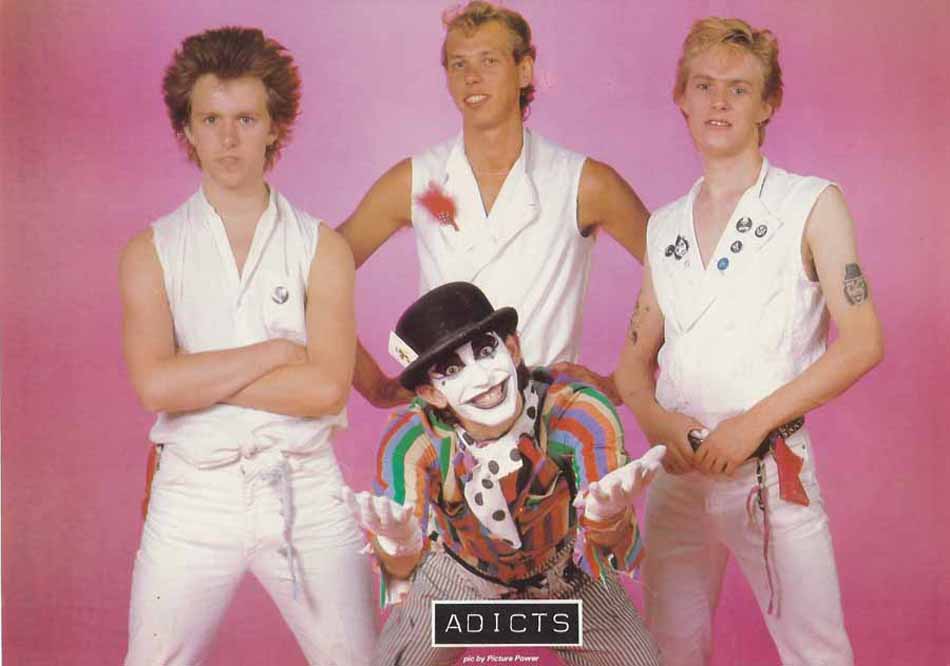 Photo from Punk Lives magazine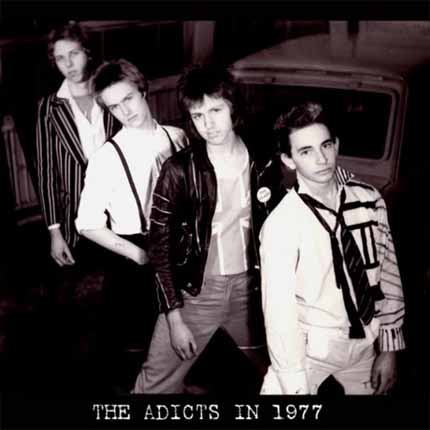 To call any band "Ipswich's finest" may not be saying much - and I certainly can't think of any Ipswich bands other than The Adicts - but these long-serving funsters are a generally likeable and amusing outfit who livened up an often overly serious third wave of British pogorama with a jolly brand of guitar noise that was more punk than hardcore. Indeed, they bore virtually no resemblance to the likes of The Exploited or Discharge. A liking for A Clockwork Orange - an endearing affectation in view of the fun nature of their lyrics - and a complete lack of politics or "serious" posturing made the Adicts stand out from their more po-faced peers. In fact, they were one of the most memorable British punk bands of the 80's, and before losing their way in the middle of that decade had considerable popularity delivering Damned/Ramones-derived pop records. Chaos punks with mohawks, Oisters with skinheads and even some fans of early punk who had grown bored with the "new breed" enjoyed the band in equal measure. However, their attempts at selling out were not successful and by attempting to do so they lost momentum and never really recovered, splitting for the first time in the late '80s. Yet, they returned in 1992 and continue to plug away in their own non-conformist manner.
They came together in 1976 and went through a period of constant name-changing - The Afterbirths, Pinz and The Addicts were all dropped - and sporadic gigging before issuing their first recorded work, the Lunch With The Adicts EP in 1979, on the Norwich-based Dining Out Records. The EP - highlighted by the wonderful yoof anthem 'Straight Jacket' - was a big seller for an unknown band (#21 in the Indies).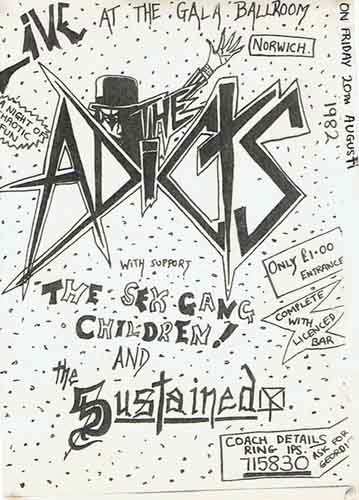 They recorded a Peel session that December and released their debut album Songs Of Praise in small quantities on their own Dwed Records about a year after that. (Dining Out had apparently not been forthcoming with royalties). In mid-1982 they signed to Fall Out Records and, two years after its initial release, the LP was reissued and re-packaged. It sold by the shedful and Fall Out and the Viva La Revolution single (initially heard on the album in a weaker version) ascended the Indie charts in quick time. This great song with an insistent and incredibly catchy refrain was a bit of a zeitgeist effort, tapping into the air of subversion prevalent at the time. Optimistic and playful, it remains their most well-known tune.
Their second LP, Sound Of Music (1982) recorded for Razor, consolidated their presence somewhere near the forefront of the third wave of Brit punk and spawned another hit indie single, the charming Chinese Takeaway. The next couple of years were spent attempting to broaden their fan base by moving away from punk and making rather desperate compromises. They plugged their 1983 single Bad Boy - a weak mid-paced pop tune - on crap kiddies' show Cheggars Plays Pop, but had to bill themselves The Fun Adicts to do so. If The Exploited's appearance on Top Of The Pops had been met with disbelief, this obvious stab at the pop charts was met with absolute scorn, but nonetheless the song only scraped into the Top 75 (at #75). It did better in the indies, peaking at #4, but the band's ambitions soon got the better of them.
An ill-advised attempt to crack the American market via a deal with Sire "coincided" with yet another name change, to the ADX. This backfired dramatically amid more accusations of selling out. All told, the two singles released on Sire weren't totally bad: Tokyo was disarmingly pedestrian but Falling In Love Again was a brave, if bizarre, attempt at a dance crossover hit. Even worse, Sire didn't bother releasing either record in America, and informed them their services were no longer required.
So it was back to Razor and back to being The Adicts for the lyrically redundant but musically spot-on Smart Alex (1985), a fair indie hit (reaching #7) which found them in poppier form than ever, and then to Fall Out again for the excellent Bar Room Bop EP (1985).
1986 was pretty miserable, though. Fifth Overture crept out on a tiny German label to scant interest, and it didn't do much when Fall Out reissued it a year later. They split up soon after .Amazingly, a re-activated band - with the original line-up (the Adicts were fairly unique in that their line-up suffered no changes) - landed themselves a US deal with the dodgy Cleopatra label, home of many a piss-poor compilation and Goth combo. 1992's 27 was picked up in the UK by Anagram a year after its US release, but it failed to spawn an Adicts revival and they in fact went into hibernation for another ten years. They returned, though, with Rise And Shine (2002), the first in a line of new albums.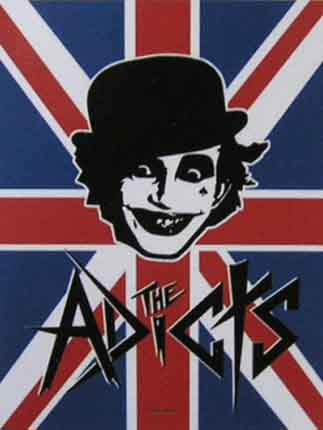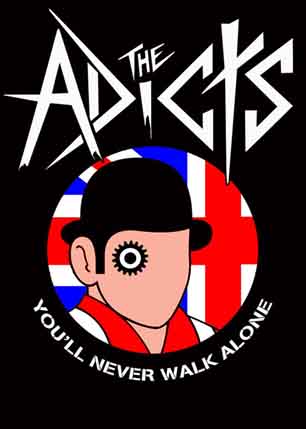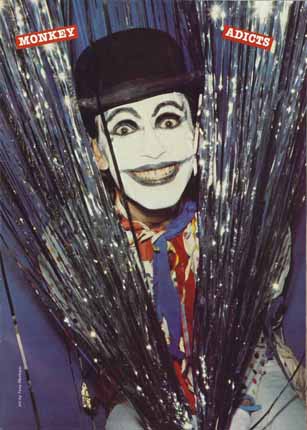 So where would you start? The first logical step is 'Songs Of Praise' and 'Sound Of Music' - always go for a proper studio album, I say - and then The Complete Adicts Singles Collection, a typically (near-)comprehensive Captain Oi! CD package, with the usual Mark Brennan liner notes and reproductions of sleeves. A round up of their early material, This Is Your Life (1985) comprises their debut EP from 1979, a handful of Peel Session tracks, some demos, and a (crappy) unreleased single from 1980. There are also live albums, many compilations of dubious merit, and a couple of videos (Live At The Manhattan Club, Bradford 1983 and Lets Go).
__________________________________________________________________________
Lineup:
Monkey RN Keith Warren - vocals
Pete Davison - guitar
Mel Ellis - bass
Kid Dee RN Michael Davison - drums

__________________________________________________________________________
DISCOGRAPHY
Subsequent studio albums: Twenty-Seven (1992), Rise And Shine (2002), Rollercoaster (2004), Songs Of Praise: 25th Anniversary Limited Edition (2008), Life Goes On (2009), All The Young Droogs (2012), And It Was So! (2017)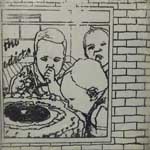 Lunch With The Adicts (7", 1979)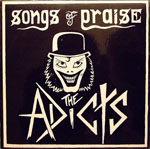 Songs Of Praise (LP, 1980)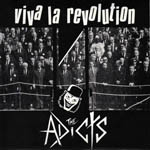 Viva La Revolution (7", 1982)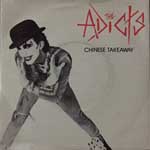 Chinese Takeaway (7", 1982)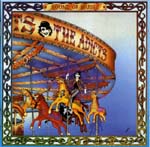 Sound Of Music (LP/CD, 1982)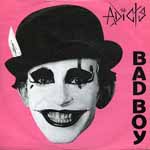 Bad Boy (7", 1983)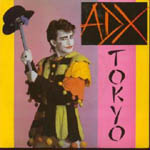 Tokyo (7"/12", 1984)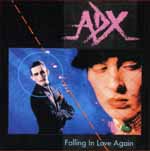 Falling In Love Again (7"/12", 1985)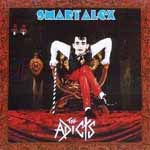 Smart Alex (LP, 1985)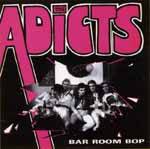 Bar Room Bop (12", 1985)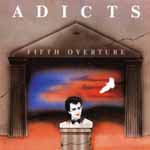 Fifth Overture (LP, 1986)
Extraneous Releases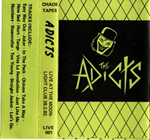 Live At The Moonlight Club 28.2.82 (Tape, 1982)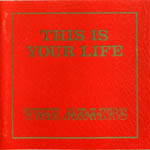 This Is Your Life (LP/CD, 1985)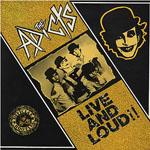 Live And Loud!! (LP/CD, 1987)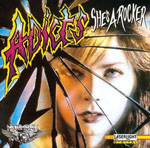 She's A Rocker (CD, reissue of Fifth Overture, 1991)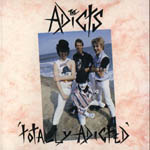 Totally Adicted (CD, 1992)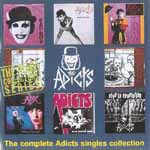 The Complete Adicts Singles Collection (LP/CD, 1994)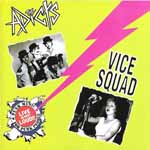 Live And Loud!! (CD, split with Vice Squad, 1996)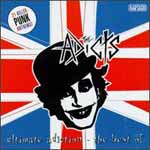 Ultimate Adiction (CD, 1997)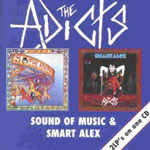 Sound Of Music & Smart Alex (CD, twofer, 1998)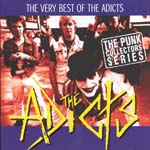 The Very Best Of The Adicts (CD, 1998)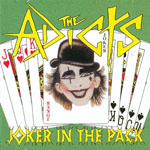 Joker In The Pack (CD, 1999)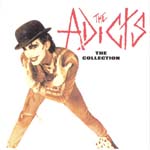 The Collection (CD, 2002)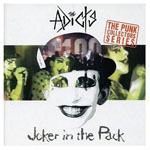 Joker In The Pack (CD, 2004)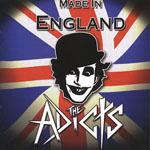 Made In England (CD, 2005)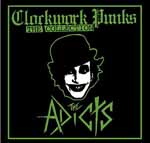 Clockwork Punks: The Collection (CD, 2005)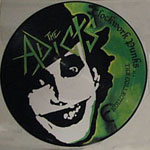 Clockwork Punks Vol 1 The Collection (LP, 2005)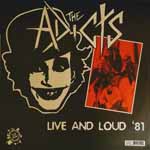 Live And Loud '81 (LP, 2007)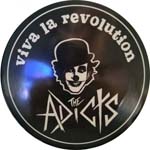 Viva La Revolution (7", 2014)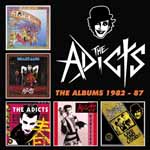 The Albums 1982-87 (5xCD, box set, 2018)



Promos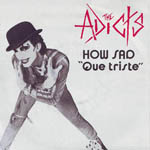 How Sad "Que Triste" (7", 1983)
Bootlegs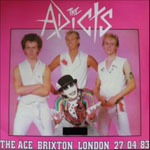 The Ace, Brixton London 27/04/83 (LP, 1983)
Various Artists
Punk And Disorderly UK LP 1982 (Abstract): Straight Jacket
Punk And Disorderly III - The Final Solution UK LP (Anagram): Viva La Revolution
UK/DK - The Original Video Soundtrack UK LP 1983 (Anagram): Joker In The Pack / Viva La Revolution
Viva La Revolution! UK 2xLP 1985 (Cambra): Viva La Revolution! / Chinese Takeaway
Radio Active UK LP 1986 (Fall Out Records): Viva La Revolution / Steamroller
Beat Of The Street (A Link Records Sampler) UK LP 1988 (Link): Steam Roller (live)
Punk On The Road UK LP 1990 (Skunx Recordings): Viva La Revolution
Fall Out Records - The Punk Singles Collection UK CD 1994 (Anagram): Viva La Revolution / Champs Elysees
Razor Records Punk Collection UK CD 1995 (Anagram): Chinese Takeaway / Bad Boy / Troubadour
__________________________________________________________________________
Links