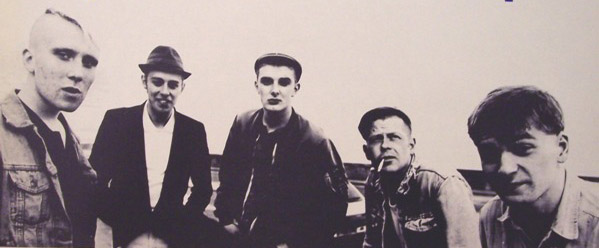 Formed: Norton, North Yorkshire, England, UK
Michael Hall - vocals
Chris Weston - lead guitar + vocals
Barney - Rhythm guitar + vocals
Ashley Bell - bass guitar + vocals
Charlie Seymour - drums + vocals
The Burial were a pioneering Ska/Punk band who formed in the town of Norton, North Yorkshire, England in 1981. Of the band's earliest recordings Back Street Child and I Can't Forget appear on the Oi! The Demos comp CD. The Burial's next output was on vinyl in the shape of the Oi! Of Sex LP in 1984, to which they contributed three songs, 'Friday Night', 'Old Man's Poison' and 'Stiff With A Quiff', the latter being recorded with Nick Toczek under the alter ego of The Britanarchists. The band went on to record a further two tracks as The Britanarchists which were released on a 12" E.P. entitled More To Hate...Than Meets The Eye. On this 12" it states that they will be known as "Company C" but it seems they changed back to The Burial. Their one and only studio album A Day On The Town was recorded in 1988 at the Billiard Room Studio in Leeds. The album showcased the bands amazing musical diversity and blends Ska, Punk, Soul and Folk influences in an innovative cutting edge style. While out on the road The Burial played with hundreds of bands throughout the height of the second wave of Punk/Oi! and shared a stage with such diverse talents as the U.K. Subs, Bad Manners, The Damned, Rough Justice, Redskins, The Business and The Housemartins. During their career The Burial were at the forefront of the Sussed Skin movement and were featured regularly in the legendary Skinzine "Hard as Nails" which described them as the "great Streetpunk hopes". They were also interviewed in anti fascist street fighters magazine Red Action and had full page articles in both Sounds and NME music papers. Mark Brennan of Captain Oi! Records describes them in the sleeve notes of Oi! The Demos as "the prototype skacore band". Garry Bushell says of The Burial in his piece "The Truth About Oi!" "Scarborough's Burial cited Oi and 2-Tone as forebears and mixed the sounds of ska and rowdy bootboy punk in their set". Today the influence felt by The Burial's fusion of genres spans the globe and their music has to date appeared on a total of 29 (and growing) compilation albums/cds/dvds across the world.
Thanks to Henk from UK82 for the above.
The Burial released an LP in 1989, A Day On The Town on Skank Records.
__________________________________________________________________________
DISCOGRAPHY
Single
Subsequent studio albums: A Day On The Town (1989).
More To Hate...Than Meets The Eye (12", split with The Spectre, 1986)
Various Artists
The Oi! Of Sex UK LP 1984 (Syndicate): Old Man's Poison / Friday Night / [as Nick Toczecks Britanarchists:] Stiff With A Quiff
The Sound Of Oi! UK LP 1986 (Link): Sheila
Oi! Glorious Oi! UK LP 1987 (Link): Holding On
Oi! Glorious Oi! / Oi! That's What I Call Music UK CD 1994 (Step-1 Music): Holding On
Oi! The Demos UK CD 1997 (Captain Oi!): Backstreet Child / I Can't Forget
__________________________________________________________________________
Links