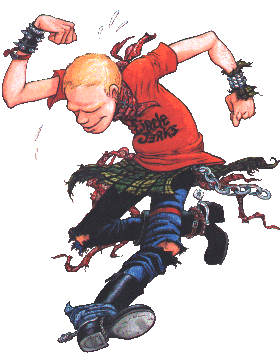 Formed: Los Angeles, California, USA
When Keith Morris exited Black Flag, he and guitarist Greg Hetson (previously of Red Cross) teamed up with bassist Roger Rogerson (who was actually a classically-trained guitarist) and jazz-trained drummer Lucky Lehrer to form this seminal L.A. hardcore combo. Hugely influential, they largely defined the sound and vocabulary of a disaffected middle-class generation: the music was fast, the tunes unmelodic and the songs very short. The lyrics were largely apolitical (unless you count inchoate rage directed at cops, bosses, teachers and parents). The lyrics were also self-obsessed, often celebrating a slacker culture long before Green Day.
Jeff McDonald (Red Cross): We went to see their first show at The Bearded Clam in Redondo Beach. Greg Ginn was also there. We were shocked to find their set consisted of songs my brother Steven and I had written, and that Ginn had written. They just stole all these Black Flag and Red Cross songs. It was weird. Greg Ginn was so good as threatening with lawsuits - even back then - the shit hit the fan and they dropped almost everything. Circle Jerks were truly 'made': they were the first Hardcore Monkees".
The Black Flag song 'You Bet We've Got Something Personal Against You' documents Ginn's ire in no uncertain terms. They were however a truly great band, and in 1980 became major players in the L.A. punk scene.
Part 1 (1980-1990)
Circle Jerks formed in early 1980, after Keith Morris had left Black Flag and guitarist Greg Hetson had left Red Cross. They were originally called The Bedwetters, but common sense prevailed and a much better name was found after Morris had come across (ho, ho) the phrase "circle jerk" in a dictionary of slang words. Mainly because Morris was already well known, they rose to prominence very quickly indeed, and were filmed for The Decline Of Western Civilization, and were easily the fastest band in it. In Spring 1980 they recorded 'Wild In The Streets' for the first Rodney On The Roq compilation, and shortly after released the utterly essential Group Sex, which crammed fourteen hyperactive cuts into 16 minutes. (The LP would have been even shorter had the band not decided to make the gaps between songs longer to boost up the playing time.)
The group's second LP, Wild In The Streets (1982) offered more blazing hardcore punk of the highest calibre, yet is oddly underrated. It probably suffers the fate of many second albums: it just isn't the first one. Oh, well. Unlike the first LP it was also issued in the UK, in a remixed version. The title track, a cover version of a song by Garland Jeffreys, was a re-recording of the first studio effort from 1980.
In 1983 they signed a management deal with Jerry Goldstein's Far Out Productions, and released their third studio LP Golden Shower Of Hits on Goldstein's label, with a new drummer in tow, John Ingram. The LP almost scaled the same highs as the first two LPs: it featured stone-cold classics like 'When The Shit Hits The Fan' and 'High Price On Our Heads', but also a couple of boring tracks ('Rats Of Reality' and a closing medley of sugary pop songs that didn't really work). It was their last really good hardcore album.
A short-lived lineup with Chuck Biscuits on drums and Earl Liberty (ex-Saccharine Trust) on bass, and a hilarious performance in the film Repo Man, 1984 marked the end of the band's tenure at the top of the punk tree, as they ditched the breakneck hardcore in favour of, well, what a lot of people might call "heavy metal".
A new rhythm section – Zander Schloss and Keith Clark - was unveiled after a short layoff on Wönderful (1985), which marked their move into metallic waters, where they drowned. Much better, although still quite some way behind their first three albums, VI (their humorously titled fifth album) occasionally had them sounding like The Dictators (not so generous a comparison: they did a great job of it). Included was a different version of 'Love Kills', which they recorded elsewhere for the Sid & Nancy soundtrack, a manic rendition of John Fogerty's 'Fortunate Son' and some fine originals. Neither are really heavy metal albums: they are too sarcastic for that. It's just US hardcore with some metally touches.
After they split up in 1990, Morris formed Buglamp and battled both drug addiction and alcoholism. Hetson did better, joining Bad Religion on a full-time basis, after having been playing with them for a few years. Schloss had already enjoyed outer-band employment with Joe Strummer, playing on his underrated 'Earthquake Weather' LP in 1989. (Schloss had actually been replaced by ex-Megadeth man Chris Poland in 1990.)
Part 2 (1994 - Onwards)
In 1994 the 'Wönderful'-era lineup - Morris, Hetson, Schloss, Clark - got back together, signed a major label deal with Mercury Records and released Oddities, Abnormalities And Curiosities (1995). Debbie Gibson (yes, that Debbie Gibson) took lead vocal duties on a brilliant cover of the Soft Boys' 'I Wanna Destroy You', while songs like '22' and 'Teenage Electric' were solid no nonsense rockers. While not a bad record, some cynical types couldn't shake off the feeling that this comeback was motivated by money and the success of Green Day, rather than a burning desire to make good music. Anyhoo, three weeks into the tour promoting the LP, the group disbanded, but reformed here and there for over the next few years for one-off shows.
In 2000, Morris was diagnosed with diabetes but the band played on-and-off throughout the rest of the decade, although the only new recordings were a concert DVD for Kung-Fu Records' live DVD series Live At The House Of Blues (2004) and a digital download song, 'I'm Gonna Live' (2005). Somewhere around this time Schloss joined the recently reformed Weirdos.
Any hopes of new material are unlikely, as seemingly irrevocable damage was done when Morris and new band member Dimitri Coats argued with Hetson over new material. The upshot was that Morris and Coats left to form OFF! with - ironically - Steven McDonald from Redd Kross!!
__________________________________________________________________________
DISCOGRAPHY
Subsequent studio albums: Oddities, Abnormalities And Curiosities (1995)
Group Sex (LP, 1980)

Wild In The Streets (LP, 1982)

Golden Shower Of Hits (LP, 1983)

Wönderful (LP, 1985)

VI (LP/CD, 1987)
Extraneous Releases

Wönderful (12", 1985)
Group Sex / Wild In The Streets (CD, twofer, 1988)
Wild In The Streets (7", 1990)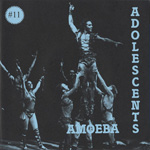 Adolescents / Circle Jerks (7", split, 1994)
Live At The Fillmore 1982 (MP3 LP, 2010)
Promos
Golden Shower Of Hits (Jerks On 45) (7", 1983)
Spin Radio Concert (2xLP, 1985)
Bootlegs
The Unfortunate Son (7", 1996)
Live Fast, Die Young! (LP/CD, 2002)
Shattered (CD, 2005)
DVDs

My Career As A Jerk
(DVD, 2012)
Various Artists
Rodney On The Roq US LP 1980 (Posh Boy): Wild In The Streets
The Decline Of Western Civilization US LP 1980 (Slash): Red Tape / Back Against The Wall / I Just Want Some Skank / Beverly Hills
Let Them Eat Jellybeans! US LP 1981 (Alternative Tentacles): Paid Vacation
Rat Music For Rat People US LP 1982 (Go!): Live Fast, Die Young
Posh Hits Vol. 1 US LP 1983 (Posh Boy): Wild In The Streets
Blood On The ROQ UK LP 1983 (Quiet!): Wild In The Streets
The Defiant Pose UK LP 1983 (Illegal): Political Stu
Bang Zoom No. 5 Issue US US Tape 1983 (Bang Zoom): Interview
Repo Man US LP 1984 (San Andreas): Coup D'Etat / When The Shit Hits The Fan
'God Bless America' Posh Hits Vol. 1 UK LP 1985 (Fall Out Records): Wild In The Streets
Flipside Tunes Vinyl Fanzine Number Three US LP 1987 (Flipside): Fortunate Son
Rat Music For Rat People Vol I, II & III US CD 1987 (CD Presents): Live Fast, Die Young
Middle Class Uprising Germany LP 1988 (Weird System): Behind The Door / I Just Want Some Skank / Beverly Hills / Live Fast Die Young / Wasted
The Best Of Rodney On The ROQ US CD 1989 (Posh Boy): Wild In The Streets
The Best Of Flipside Vinyl Fanzines US 2xCD 1992 (Flipside): Fortunate Son
The Posh Boy Story (More Or Less) UK CD 1993 (Damaged Goods): Wild In The Streets
Punk Anderson's Favourites Germany 2xCD 1995 (Starving Missile): Wasted
Redefining Scenes 2 - Sampler 2004 US CD 2004 (Finger): Letter Bomb
__________________________________________________________________________
Links
Wikipedia