Formed: Los Angeles, California, USA, as Panic
Apart from the Dead Kennedys, California's most internationally famed hardcore band of the early '80s was Black Flag. They may not have been the first to make a hardcore record - that honour goes to Bad Brains or The Middle Class (depending on who you ask) - but they proved integral to the movement, influencing everyone with their ultra-aggressive look, sound and lyrics. Even more than that, their tireless work ethic resulted in a large body of work and a constant touring schedule. They often played places nobody else played, and partially as a result of this scenes arose in their wake. Throughout the band's turbulent career the one constant was Greg Ginn: guitarist, chief songwriter and head of SST, which provided an outlet for many of LA's most influential punk combos (Descendents, Minutemen, Meat Puppets etc) and throughout the '80s was a watering hole for adventurous punk types looking for genres beyond thrash and hardcore. (That the label's releases after 1985 were usually awful is besides the point.)
Many people have claimed that muscly ice-cream parlour manager Henry Rollins (who joined in 1981) ruined the band, robbing the band of its reckless, speedy, goofy insanity and replacing it with a new lumbering intensity based not on the politically-motivated, nihilistic rage of the earlier incarnation but Rollins' inner turmoil. With the arrival of this hoarse shouter, the band soon began to play much slower and more deliberately, and Ginn's Black Sabbath obsession started getting the better of him. However, the changes were band decisions, and Rollins wasn't even present on their strangest release, The Process Of Weeding Out (the title is a reference to their preferred drug: no speed for these boys, they had a thing for weed).
Part 1 (1977-1981)
They began life in 1977 as Panic, changing their name to Black Flag when another Panic came to founding member Greg Ginn's attention. In January 1978 the band - Ginn (guitar), Keith Morris (vocals), Robert Migdol (drums) and Chuck Dukowski (bass) - recorded songs for what was to (eventually) become their Nervous Breakdown EP. Cramming four simple songs into just over five raucous minutes, it was supposed to have been released by Bomp! in 1978 but ended up on SST Records, formed by Ginn for the express purpose of issuing the disc. And that was in July 1979, a monumental 18 months after it was recorded.
They changed singers for both of their subsequent EPs without altering their sound. Indeed, Ginn's dementoid guitar was their sound, and it became progressively more unhinged as he incorporated free jazz and Sabbath-style metal into the mix. This did nothing to diminish the Black Flaggishness of their sound.
Morris left the band in November 1979, by which time the band was becoming increasingly popular. Their profile had been lifted by their headline-grabbing summer appearance at Pollywog Park and guest slots with Dead Kennedys in San Francisco. At the Pollywog they co-hosted a punk/new wave bill after the original headliners - The US Air Force Orchestra, no less - pulled out. As Pollywog Park was in the affluent Manhattan Beach area and the event was designed for the whole family to enjoy, Black Flag's devastating brand of insane punk rock went down really badly with the customers, and entire families hurled food at the band while Morris leered and swore back right at them. His drinking and reluctance to practise daily, however, was causing friction, so he quit. He went on to form Circle Jerks.
Morris was succeeded by a Puerto Rican fan of the band, Ron Reyes, who made his live debut in December, just three weeks after Morris' departure. Reyes quit onstage in May 1980, after growing increasingly frustrated with the group's new fanbase of jocks-turned-punks, but was coaxed back to sing on the brilliant Jealous Again EP (1980), which was issued on 12" only that August, but earned them their first UK pressing. According to Wikipedia: "The 'Jealous Again' EP was released after Reyes had left the band for a final time. He was credited as "Chavo Pederast", nonstandard Spanish for pedophile, after a falling out with the band. Reyes was so angered at this perceived betrayal that he hit Dez Cadena in the head with a brick, and later smashed their touring van's windshield. Reyes had also alerted the Canadian border agents to the band's lack of work permits, which prevented them from playing their final Canadian show of the tour."
ABOVE: Black Flag live at the Starwood, 1980. Left to right: Greg, Dez, Robo, Chuck
In the short time between between the departure of Reyes and the recruitment of Reyes, Black Flag played several shows with guest vocalists, amongst them Keith Morris, Masque proprietor Brendan Mullen, and Joe Nolte of The Last. Dez Cadena took over vocals in August,and stayed for the next two singles - Six Pack and Louie Louie (both 1981) - by which time Ginn's crazy guitar sound had fully evolved. Also by middle of 1981 Black Flag were one of the premier hardcore bands, their relentless touring spawning hardcore scenes in every piddlefuck town or city they played. They had also attracted the attention of the television news networks, who pounced on stories of punk rock violence and held up Black Flag as the most obvious symptom of this crazed new cult. Things had come to a head during the infamous BACE Hall Riot in October 1980, where the cops smashed up the show and left dozens of punks injured, but the band were not fazed and continued to build their fanbase to such an extent that, in June 1981, they were able to fill the 1,200-seater Irving Plaza, with Bad Brains and UXA supporting, and even the 3,500-seater Santa Monica Civic Auditorium (with support from DOA, The Minutemen and Adolescents). It was at this show that Henry Garfield, then singer with Washington punkers SOA, clambered on stage to sing lead vocals on an intense rendition 'Clocked In', knowing that the very next morning he had to go back to work at the ice cream parlour.
Part 2 (1981-1983)
Garfield joined Black Flag in June 1981, with Cadena switching to rhythm guitar, the latter's vocal chords having taken too much of a battering. (Cadena had always wanted to play guitar anyway.) Garfield began his tenure with the band singing only on encores, whilst also acting as a roadie. It wasn't long however, before he was the new frontman for the band.
ABOVE: Rollins and Ginn
Based on songs written before Rollins had joined, Damaged was released in December 1981, and is now widely acclaimed as one of the greatest punk albums ever. Unfortunately, Ginn had decided to enter into a distribution deal with Unicorn Records, a MCA subsidiary, but MCA refused to distribute the record. The LP was therefore issued without MCA's massive distribution network, and the band embarked on a brief and disastrous UK tour, where they played alongside The Exploited, Chelsea, The Damned and Anti-Nowhere League and went down like a lead balloon. To make matters worse, when they returned to the US just before Christmas, Robo was deported back home to Colombia when it was noticed that his visa had expired. The band recruited Emil Johnson in January, and in March they re-recorded the wonderful TV Party as a single, which was released in mid 1982.
By the middle of 1982, Johnson had tired of touring and decided to quit, and was very quickly replaced by D.O.A.'s old drummer Chuck Biscuits. This lineup - Rollins, Ginn, Dukowski, Cadena, Biscuits - lasted only a few months and never released any official product, but can be heard on the studio bootleg The Complete 1982 Demos Plus More! In the meantime, Black Flag had been enjoined from releasing records under their own name, and so two stop-gap collections appeared. The first of these was a superb double-album set Everything Went Black, which featured outtakes from 1978-1981, showcasing the band with all of their first three singers. It was released in a great sleeve featuring a huge pair of garden shears, but did not feature the band name. It was still however deemed to be in contempt of court, and both Ginn and Dukowski were sentenced to a week in prison. The second comp was The First Four Years contained singles and compilation tracks, and was actually issued under the band's name, the Unicorn case having been resolved in the band's favour.
ABOVE The 1982 lineup with (L-R): Chuck Dukowski, Chuck Biscuits, Greg Ginn, Dez Cadena and Henry Rollins.
By Autumn 1983, seismic changes were afoot. Cadena quit, Dukowski was sacked, and Bill Stevenson was firmly entrenched in the drummer's position, what with the Descendents having split up. The gaping hole left by the departure of Cadena's blazing rhythm guitar was partially filled by Ginn, who was churning out increasingly wild metal/jazz/hardcore soloing and Sabbath-esque riffage. Dukowski's heavy, scudding bass was much missed in the incoming years.
This period of constant change marked the end of phase one of the band's career, if you will.From 1977 to 1983 they were known as a blistering full-on punk act for purists. After this, weirdness ensued.
Danny Sage (Heart Attack): "With Henry it's a whole different band - they started doing Black Sabbath songs done by guys who couldn't play Black Sabbath".
Phase two began with the contentious My War (1984), recorded in 1983 with Ginn on bass under a pseudonym and new drummer Bill Stevenson. It heralded a slew of releases which left a lot of their fans completely bemused. 'My War' was no less crazed than their earlier releases, but side two boasted just three numbers, all of them snail paced and fairly excruciating. Side one however was intense punk-metal with some deranged arrangements, especially on the jazzy 'Swinging Man' and the anthemic title track.
Recruiting a permanent bassist, Kira Roessler (ex-Twisted Roots), the band embarked on a series of utterly baffling releases, alternating between their progressive punk-metal sound (Slip It In, Loose Nut) and long jazz-punk freakouts and/or spoken word stuff (Family Man, The Process Of Weeding Out, the Minuteflag side project). Throughout this period the group began taking drugs - namely weed and LSD - and everybody's hair (except tomboy Kira's) was getting longer. Their audiences were becoming increasingly alienated by their more experimental approach. Opening gigs with nine-minute instrumentals didn't help, and nor did dropping virtually any song recorded before 1984. And fans blamed Rollins for this, which turned him into something of a human punch bag, despite his massive frame and bulging muscles.
However, even though the exceptional Loose NutLP, released in May 1985, demonstrated that they were at the top of their game, internal issues were tearing the band apart. Bill Stevenson was released from the band (a mutual decision apparently) because the increasingly paranoid and exacting Ginn felt he couldn't play the band's increasingly sophisticated music to an acceptable standard. Which is weird, because his drumming on The Process Of Weeding Out was extraordinarily powerful and supple. Local drummer Anthony Martinez was recruited in May for an upcoming five-month tour, one show of which was recorded and eventually released as Who's Got The 10½? At the end of the tour, relations between Kira and the rest of the band had deteriorated to such an extent that in September Kira found herself yet another former Black Flag musician.
Their last studio LP In My Head had been recorded while Stevenson and Kira were still in the band, although it had begun life as a Greg Ginn solo record. Rollins' vocals were added to the backing tapes and it was released in October 1985 to lukewarm reviews. It boasted their last classic song, the hilarious 'Drinking & Driving', but also their worst production, which was weedy, with Rollins completely buried in the mix.
The band petered out in 1986, following an apparently miserable tour with a new rhythm section (C'el and Anthony Martinez) that saw them playing to half-empty halls. As described in Stephen Blush's American hardcore: "By the end of '85 Kira left, too. Like all other Flag alumni, she'd toiled hard for scant reward. A guy named C'el replaced her. With this lineup they did one final tour, perhaps the most arduous of their career, but drew less interest - and smaller crowds. They also had a noticeably different vibe: you'd always find either Anthony Martinez or C'el, the macho Hispanic dudes, fucking some skank in the back of the van after a show". Bootlegs from this period, however, show they were still a strong live act.
Rollins then embarked on a solo career that saw him turn into a genuine heavy metal muscle monster, while Stevenson re-joined the Descendents and then ALL. Ginn released a handful of awful solo albums: while all feature the trademark Flag guitar sound, the vocals are almost inaudible and most of the time he seems happier mucking about with insubstantial instrumentals than writing songs. Ginn has also played guitar for other SST bands (Gone, Mojack, and Confront James etc).
A posthumous EP, I Can See You crept out in 1989.
Part 3 (2012-Present)
Then, in 2012, there were suddenly two Black Flags. Here is how Wikipedia put it:
On January 25, 2013, it was announced that guitarist Greg Ginn and vocalist Ron Reyes would reform Black Flag, joined by Gregory Moore on drums, and 'Dale Nixon' on bass (Dale Nixon is a pseudonym sometimes used by Ginn, most prominently as the bassist on 'My War). The band will tour as well as release a new album, their first since 1985's 'In My Head'. In March, it was announced that Screeching Weasel bassist Dave Klein joined the band. On May 2, 2013, the band released a new song entitled "Down in the Dirt" through their website. After releasing two more singles ("The Chase" and "Wallow in Despair"), What The... was released on December 3, and was poorly received by most critics and some fans.

Around the same time, it was announced that the lineup that played at GV 30, Morris, Dukowski, Stevenson and Egerton, would tour performing Black Flag songs, under the name Flag. It was later announced that the lineup would be joined by Dez Cadena.

On August 2, 2013, SST Records and Greg Ginn brought a trademark infringement action in Los Angeles federal court against Morris, Dukowski, Stevenson, Cadena, and Egerton, with regard to their use of the name Black Flag and the Black Flag logo on the 2013 Flag tour. In the same action, SST and Ginn also sued Henry Rollins and Keith Morris to oppose and cancel the trademark applications filed in September 2012 by Rollins and Morris. SST and Ginn alleged that Rollins and Morris lied to the Patent and Trademark Office on their trademark applications regarding claimed use of the Black Flag name and logo by Rollins and Morris on records, t-shirts, and with regard to live performances.

In October 2013, a federal judge denied the motion for a preliminary injunction, brought by Ginn and SST against Morris, Dukowski, Stevenson, Cadena, and Egerton. The court ruled that is was possible that the logo as it had fallen into "generic use," but did not rule specifically that it had done so. The court also ruled that Ginn and SST could not prevent the use of the band name "Flag," as it was likely that fans would know the difference between the two acts, because of widespread publicity.

During a show in November 2013 on Black Flag's Australian tour, pro skater Mike Vallely, who previously sang with the band in 2003, came on stage, took Reyes' microphone, sang the band's last two songs and ousted him from Black Flag. Reyes said he was relieved to be removed from the band citing difficulties working with Ginn . Vallely will be finishing the current tour and replacing Reyes as Black Flag's new, and fifth, vocalist.[original research?]
__________________________________________________________________________
DISCOGRAPHY
Not included in this discography, of course, is their comeback LP, What The... (2013). It's craps
Nervous Breakdown (7", 1979)
Jealous Again (12", 1980)

Six Pack (7", 1981)

Louie Louie (7", 1981)
Damaged (LP, 1981)
TV Party (7", 1982)

My War (LP, 1984)

Family Man (LP, 1984)
Slip It In (LP, 1984)
Live '84 (Tape, 1984)
Loose Nut (LP,1985)
The Process Of Weeding Out (12", 1985)
In My Head (LP, 1985)
Who's Got The 10 1/2? (LP/CD, 1986)
Extraneous Releases
Everything Went Black (2xLP, 1982)
The First Four Years (LP, 1983)
Keep It In The Family (12", 1984)

Annihilate This Week (12"/CD, 1986)
Wasted...Again (LP/CD, 1987)
I Can See You (12"/CDS, 1989)
Promos
Thirsty And Miserable (7", 1981)
Black Flag Interview With Frazier Smith OF KLOS (LP, 1982)
Drinking And Driving (12", 1985)
Bootlegs
No Shirt, No Shoes, No Service! (LP, 1985)
Muskrat Love (2xLP, 1989)
Annihilation (CD, 1995)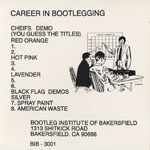 Career In Bootlegging (2x7", split with Black Flag, 1995)
The Unheard 1983 Demos (7", 1995)
The Complete 1982 Demos Plus More! (LP/CD, 1996)
Live Pain (CD, 1996)
Live (7", 1997)
Live (7", 1997)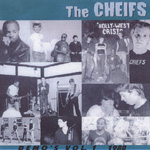 Demos Vol. 1 1980 (2x7", split with Black Flag, 2001)
No Deposit No Return (CD, 2002)
Licorice Pizza And More... (7", 2003)
1983 Demo's (LP, 2004)
Pre-"My War" Demos 1982 (LP, 2004)
White Minority: Live At The Starship Club, Milwaukee 7/17/1981 (LP, 2006)
London 85 (LP, 2006)
Drinking And Driving (CD, 2007)
Keith Morris Vs Henry Rollins (LP, 2008)
Welcome Home Henry (LP, 2008)
Demos 1982 (LP, 2016)
Live Again: Markhalle, Hamburg, Germany 06.12.1984 (CD)
Starry Night, Portland, OR, August 25 1985 (CD)
1982 Complete Demos (LP, ????)

Various Artists
Rodney On The Roq US LP 1980 (Posh Boy): No Values
The Decline Of Western Civilization US LP 1980 (Slash): White Minority / Depression / Revenge
Cracks In The Sidewalk US 12" 1980 (New Alliance): Clocked In
Chunks US 12" 1981 (New Alliance): Machine
The Future Looks Bright Ahead US Tape 1981 (Posh Boy): Six Pack / I've Heard It Before / American Waste
Let Them Eat Jellybeans! US LP 1981 (Alternative Tentacles): Police Story
Rodney On The Roq: Volume 2 US LP 1981 (Posh Boy): Rise Above
Underground Hits 1 Germany LP 1982 (Aggressive Rockproduktionen): Nervous Breakdown / Fix Me / I've Had It / Wasted
Where Is J.R. ? Germany Tape 1982 (Schrott): Fix Me / You Bet We Got Something Personal Against You
Oi! Oi! That's Yer Lot! UK LP 1982 (Secret): Revenge
Rat Music For Rat People US LP 1982 (Go!): Scream
Posh Hits Vol. 1 US LP 1983 (Posh Boy): Louie, Louie
Blood On The ROQ UK LP 1983 (Quiet!): Rise Above
The Blasting Concept US LP 1983 (SST): Nervous Breakdown / Jealous Again / I've Heard It Before
The Sound Of Hollywood #3 - COPulation US LP 1984 (Mystic): Police Story
Repo Man US LP 1984 (San Andreas): TV Party
Desperate Teenage Lovedolls US LP 1984 (Gasatanka): Life Of Pain
'God Bless America' Posh Hits Vol. 1 UK LP 1985 (Fall Out Records): Louie, Louie
Lovedolls Superstar US LP 1986 (SST): Kickin' & Stickin'
The Blasting Concept Volume II US LP 1986 (SST): I Can See You
The 7 Inch Wonders Of The World US Tape 1986 (SST): Nervous Breakdown / Fix Me / I've Had It / Wasted / Six Pack / I've Heard It Before / American Waste / TV Party / I've Got To Run
Rat Music For Rat People Vol I, II & III US CD 1987 (CD Presents): Scream
Duck And Cover US LP/CD 1990 (SST): Louie Louie
Punk Anderson's Favourites Germany 2xCD 1995 (Starving Missile): Fix Me / You Bet We Got Something Personal Against You / White Minority
No Thanks! The '70s Punk Rebellion US 4xCD 2003 (Rhino): Wasted
__________________________________________________________________________
Links
THE MIGHTY BLACK FLAG - Brilliantly written and presented fansite with exquisitely detailed discography, unique photos and loads more. Problem: last updated in 2002!

ROCK WHORE'S BLACK FLAG SITE - Plain looking site with lyrics, discography etc.
THE BLACK FLAG PAGE - Good site with discography and shit