Formed: Los Angeles, California, USA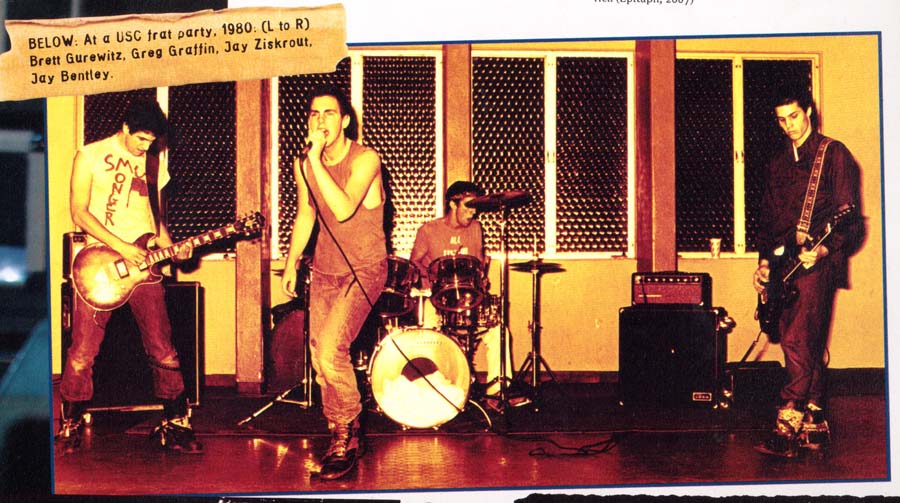 One of California's most prolific, consistent and long-lived hardcore bands, Bad Religion have plenty of things going for them: a talented guitarist and songwriter in (Mr) Brett Guerwitz (he's also a reliable producer and the man behind Epitaph), in Greg Graffin a versatile vocalist - he actually sings! - and unbelievably brainy lyricist, and the knack of writing super-catchy songs. Graffin and Brett are the linchpins of the band, although Brett departed in the mid-'90s to concentrate on running Epitaph (he came back in 2004), and between them they write intelligent, thoughtful and utterly uncliched songs that avoid any mind of macho posturing or simply sloganeering.
A magnet for scene talent, by the end of the 80's they'd attracted the attention of ex-Redd Kross/Circle Jerks guitarist Greg Hetson, and went into the Millennia with Brian Baker (ex-Minor Threat/Meatmen/Junkyard/Dag Nasty) and Brooks Wackerman (ex-Suicidal Tendencies/Vandals) in tow.
Why their records failed to sell as well as those by Green Day will be a mystery pondered in two thousand years time, surely spawning a stream of documentaries similar to the ones we have today, examining the building of the pyramids and the whereabouts of Atlantis.
Part 1 (1979-1987)
When they formed in the late '70s they were yer standard-issue US hardcore punk band. Their debut EP Bad Religion, had great songs but terrible production and ropy vocals from Graffin, who seemed like an untalented shouter at this stage. It has a certain tinpot charm, but better sound and stronger singing elevates How Could Hell Be Any Worse? to near-classic status. This is a rockin' band loaded with potential: fast but melodic, rough yet poppy (and only occasionally tuneless), with intelligent lyrics addressing the state of society, religion, political hypocrisy, and war. Drummer Jay Ziskruot was replaced by Peter Finestone during its recording.
BAD RELIGION
See my body, it's nothing to get hung about.
I'm nobody except genetic runaround.
Spiritual era's gone, it ain't comin' back.
Bad Religion, a copout, that is all that's left

Hey Mr. Mind, stop wasting my time,
With your factory precision.
Factory precision is your
Bad Religion, regurgitate
Indecision, it's not too late.
Bad Religion, Bad Religion.

Don't you know the place you live's a piece of shit?
Don't you know blind faith through lies won't conquer it
Don't you know responsibility is ours?
I don't care a think about eternal fires.
Listen this time, it's more than a rhyme,
It's your indecision.
Your indecision is your
Bad Religion, regurgitate
Indecision, it's not too late.
Bad Religion, regurgitate
Indecision, it's not too late.
Bad Religion, Bad Religion,
Bad Religion.
Things went seriously wrong during the making of their follow-up LP.
An ambitious move away from hardcore, Into The Unknown was Greg Graffin's vision, and one that completely dumfounded his bandmates. Jay Bentley and Finestone quit early on and were replaced by two geezers never seen before or since. in stark contrast to the amphetamine rage of the debut LP, the eight songs used synths and acoustic guitars, tasteful rock solos and soaring vocals. Their fans and the music press hated it intensely, and it flopped in a most spectacular fashion. Hindsight shows it is by no means a clinker – the musicianship is considerably more developed, Graffin's mature-beyond-his-years songs are uniformly excellent, and it still sounds like Bad Religion. While that cheesy 80's synth gets a bit much, it's the first record of theirs that is genuinely world class. Regardless, the band appear to have scrubbed it from memory, hence its unavailability on any format at the present time. (STOP PRESS: It has been reissued on vinyl only as part of the Bad Religion 15-LP box set).
The invective directed at the release was enough to kill the band completely, with Brett leaving and Graffin moving to Wisconsin. (Two more songs from this troubled period, appeared on The Sound Of Hollywood #2: Destroy L.A., 1983).
That should have been it really, but Graffin and Finestone reactivated the band in 1984 with Circle Jerks guitarist Greg Hetson and some guy called Tim Gallegos. Brett was not invited back into the fold at the time. 1985's one-sided Back To The Known 12" EP married increased musical acuity with a punk fire lodged halfway between the first two albums, including a slow version of their theme tune ('Bad Religion') and a brilliant, folky number ('Along The Way') which has since been considered BR fans' fave rave. Swelled by the acclaim, Graffin, Hetson and Finestone convinced Brett and Jay Bentley to re-join.
Part 2 (1988-Present)
The revitalised band found their mojo on Suffer, the first in a chain of outstanding albums: No Control, Against The Grain, Generator and Recipe For Hate, all issued on Epitaph, the latter pair with new drummer Bobby Shayer.
On first listen all the songs sound the same and finish too quickly, but subsequent plays reveal brilliantly thought-out and tightly played blasphemous hardcore with soaring harmonies, powerhouse drumming, juicy lead bits and hooks you could hang tanks on. One British critic whined that asking Bad Religion to change the drum pattern was like asking Motorhead to turn the bass down a bit, completely missing what makes their music so appealing. While the music could be insanely fast, Graffin's melodious-yet-rough voice makes them sound a lot more mellow than, say, MDC or Poison Idea, although their lyrics aren't exactly light-hearted ('Two million years this far/Now mister here you are/An element in a sea of enthalpic organic compounds/And the world will turn without you"). Little wonder some wags coined a new sub-genre, "Thesaurus Rock", in their honour.
In 1994 they braved accusations of "selling out" by signing to the mighty Sony corporation (under the Dragnet imprint). One person calling them sell-outs was Brett Guerwitz himself, who left soon after the release of their new album.
Stranger Than Fiction had guest input from members of Rancid and beefier (and more conventionally "big") production, but was clearly the same fast-and-furious band playing to their strengths. A re-recording of 1990's '21st Century (Digital Boy)' was a high spot, but also the reason Gurewitz cited for his departure. He was doing smack at the time, and relations within the band were not good anyway, so one doubts his departure was much mourned from within the camp. (Guerwitz cashed-in nonetheless with All Ages, a somewhat unnecessary Epitaph-years retrospective with 22 tracks going all the way back to the debut EP and ending with some live recordings, the packaging including reproductions of lyrics and fliers. You could take any other 22 BR tracks at random and come up with a compilation equally as good, but this makes a useful introduction.)
With Brian Baker (Minor Threat/Government Issue etc) replacing Brett Gurewitz (who spent the rest of the decade in The Daredevils, and taking care of Epitaph), The Gray Race (1996) was produced to buggery by Ric Ocasek, who swamped another bunch of great songs with a bass-heavy barrage that proudly declares "We're on a major label". With Brett missing there's also some of the magic missing a well, but that's not to dismiss 15 eloquent tunes that rattle with undiminished forward-propulsion. It was still a good record, highlighted by the remarkable 'Punk Rock Song', released as a single in Europe, grey vinyl versions of which are to been below.
Firmly headed towards being a major rock act, with all that entails, No Substance (1998) and The New America (2000) were arguably their weakest so far.
The former has a cameo appearance from Die Toten Hosen's Campino on 'Raise Your Voice', pays homage to the U.K. Subs' 'Warhead' riff on 'Shades Of Truth', and makes no bones about their opinion of Britain ('All Fantastic Images'), but some of the material seems decidedly lacklustre. As for 'The New America', apart from the magnificent 'Believe It' there's a noticeable dearth of killer cuts, despite juggernaut guitars. (One should note that these albums are still scads better than anything offered by their more commercially viable counterparts The Offspring.)
With the return of Brett Gurewitz now swelling the band's guitar phalanx to three, as well as new drummer Brooks Wackerman, The Process Of Belief marked a return to form and to Epitaph. A trio of guitar playing heroes might seem like overkill, but there is no conflict of sound, with all points meshing seamlessly: like the Buzzcocks at their peak, they make exhilarating music sound positively effortless. And boy does this bastard rock! The band is faster and tighter than ever, while the leaner, meaner production harks back to the pre-Dragnet/Sony days. The band continue to record and tour with this lineup.
__________________________________________________________________________
DISCOGRAPHY
Subsequent studio albums: Suffer (1988), No Control (1989), Against The Grain (1990), Generator (1992), Recipe For Hate (1993), Stranger Than Fiction (1994), The Gray Race (1996), No Substance (1998), The New America (2000), The Process Of Belief (2002), The Empire Strikes First (2004), New Maps Of Hell (2007), The Dissent Of Man (2010), True North (2013).
Bad Religion (7", 1981)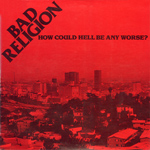 How Could Hell Be Any Worse? (LP, 1982)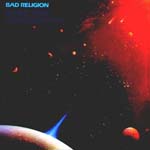 Into The Unknown (LP, 1983)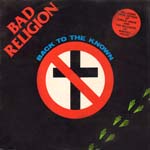 Back To The Known (12", 1985)
Extraneous Releases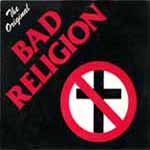 The Original Bad Religion (12", 1984)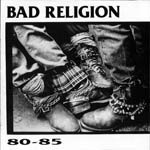 80-85 (CD, 1990)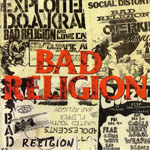 All Ages (LP/CD, 1995)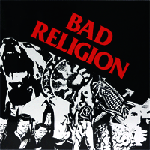 Bad Religion (15xLP, box set, 2010)
Bootlegs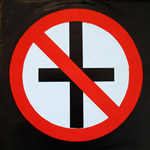 All Our Yesterdays
(LP, 1991)
Various Artists
Public Service US LP 1981 (Smoke Seven): Bad Religion / Slave / Drastic Actions
American Youth Report US LP 1982 (Invasion): We're Only Gonna Die
Someone Got Their Head Kicked In! US LP 1982 (Better Youth Organization): In The Night

Buried Alive: The Best From Smoke 7 Records 1981-1983 US LP 1983 (Smoke Seven): Bad Religion / Drastic Actions
The Sound Of Hollywood #2: Destroy L.A. US LP 1983 (Mystic): Waiting For The Fire / Every Day
Someone's Gonna Get Their Head To Believe In Something US CD 1992 (Better Youth Organization): In The Night
__________________________________________________________________________
Links
Bad Religion - Official site

The Bad Religion Page - exceptional fansite, been going since 1995

Wikipedia - Has lots of words - but none as big as the ones Greg uses

Indonesian BR Page - One page! And it hasn't been updated in years