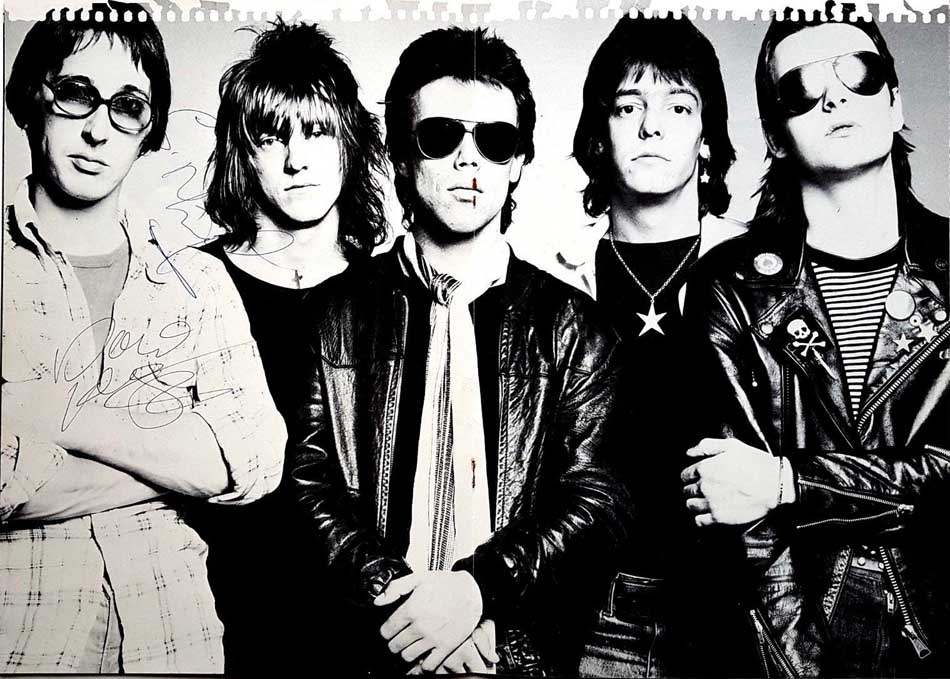 Formed: Canvey Island, England
This Canvey Island combo paved the way for punk with their riotous slant on R&B, via blistering live sets and a succession of rollicking singles for Island. They kept up with punk throughout 1977 by deputising former Kursaal Flyer Graeme Douglas on guitar and song-writing duties, although their punk credentials had been brought into question when Johnny Rotten gave their monitors a good kicking one night in 1976. Douglas' involvement pushed them in a punchier, poppier and more nuanced direction (witness 'Do Anything You Wanna Do'), but by 1979 they'd been completely left behind by the very bands they inspired, and after a poorly received (but actually quite good) third LP were dropped by Island. They limped on until 1981, releasing a crappy fourth LP which no one bought, although they have unsurprisingly gone down the "let's get together every four or five years for a comeback" route. They might have been bigger if they'd not distanced themselves from punk. Who knows?
What you should remember is that they were a damn fine band, and certainly throughout most of 1976 it was them and the Sex Pistols who seemed to generate the most attention from the music press, and the Hot Rods had a reputation for breaking house records at the Marquee. The British music press practically salivated over them, which makes their subsequent airbrushing out of mainstream punk history all the more unfair. They were extremely influential, inspiring many bands to play faster. Some of the marks against them were that they distanced themselves from punk, wore flares (even as late as November 1976) and sang about double checkin' women and cruisin' around in Lincolns, and singer Barrie Masters sang (and even talked) in a faux American accent.
The Clash and The Damned etc eclipsed them, but they do not deserve to be the forgotten men of punk.
1975-1976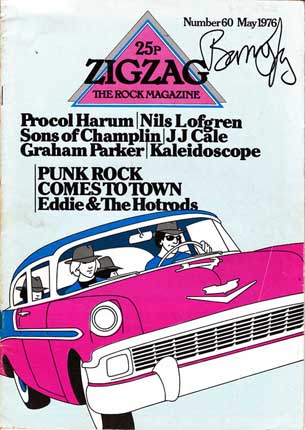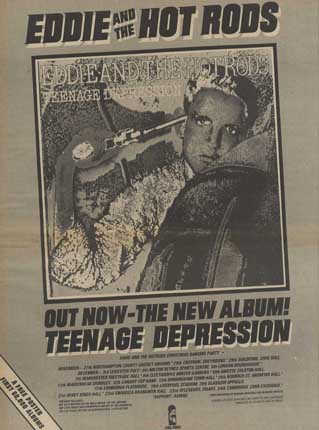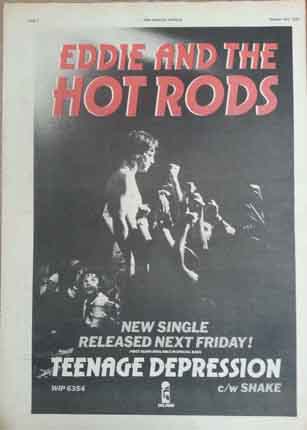 The band was formed in Canvey Island in Spring 1975 by Pete Wall (guitar), Rob Steel (bass) and Steve Nicol (drums), with singer Barrie Masters and guitarist Dave Higgs the last to join. Higgs was a bit older than the rest of the band, who were mid-to-late teenagers when the group formed, and was a veteran of a Southend band called The Fix, a long running R&B outfit which had featured a guy called Lew Lewis on harmonica, and three future members of Dr Feelgood: Lee Brilleaux, Wilko Johnson and The Big Figure.
Prior to Higgs joining the band was briefly named She:
Barrie Masters: It was very much a glitter thing - we used to dress up and paint our faces and so on. It was really madness, just any old noise - open tuned guitars, swinging on curtains and just sort of hitting things.
Steve Nicol: We used to play support to the bingo and church halls. That was when the visual side rather than the musical side got together.
By 1976 Wall had left and Steel was replaced by the very young Paul Gray, the lineup further augmented by harmonica player Lew Lewis, who had been taught his instrument by Lee Brilleaux. It was Eddie and the Hot Rods and Dr Feelgood, along with The 101'ers, who proved to be the most popular of the new "pub rock" bands (although this term was not really used at the time), eclipsing the more eclectic Kilburn & The High Roads.
The Hot Rods moved to London in late 75 (the reason Wall and Steel left), and secured a residency at The Kensington, playing alongside The 101'ers. They signed with Island Records on the strength of their spicy live performances and rave reviews. The fact that Dr Feelgood had already proved popular with the punters did not escape Island either, although in hindsight it seems odd that this bunch of unsophisticated pub rockers ended up on a label that otherwise championed reggae and folk-rock as well as art-rockers such as Roxy Music and Sparks. A demo recorded around this time can be heard on the archival Canvey 2 Island (The First Studio Demos), and is by all accounts not very good (I have not heard it).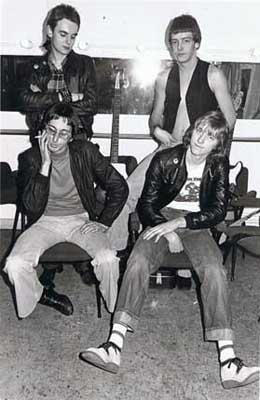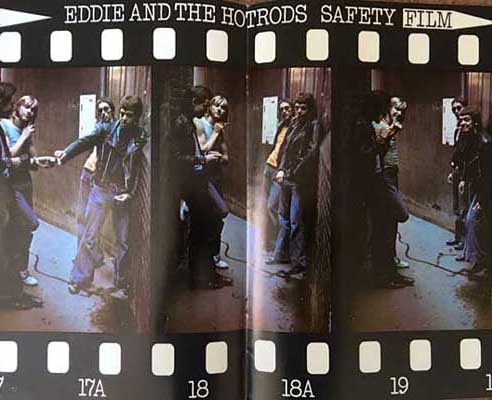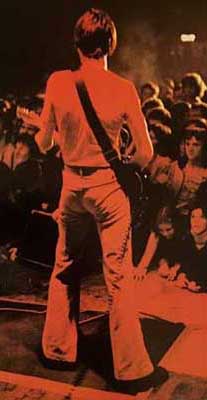 Two singles came out in early 1976, the first an original - Writing On The Wall - the second a cover of Sam The Sham's irritating Wooly Bully, which was issued that June. The sleeve of the latter was issued did not note the participation of Lewis,who had fallen out with Hot Rods manager (and producer) Ed Hollis but played on the B-Side, 'Horseplay (Weary Of The Schmaltz)', a re-write of 'I'm Waiting For The Man' played at a fair gallop. Lewis subsequently embarked on a short-lived career of his own, initially with the band Lew Lewis Reformer, and then solo, recording singles for Stiff and United Artists. In the late '80s he was sent to prison for armed robbery.
In between these first two singles the Hot Rods had fallen victim to the Sex Pistols, their supporting act at the Marquee Club on 12th February. The problem was that Johnny Rotten did not like the Hot Rods, McLaren didn't like the Hot Rods or the Marquee, and the Pistols were a very disagreeable bunch on the whole. During the set Rotten heard himself on the monitors, and this being the first time he had ever heard himself on a monitor it was also the first time he realised he sounded horrible, so he decided to throw a chair at the monitors, which damaged them. Unfortunately the monitors belonged to the Hot Rods, and Rotten was not about to apologise. When Neil Spencer reviewed the gig in Melody Melody, he didn't even mention the Hot Rods!
Dave Higgs: They can't play or nuffink. They just insult the audience. They wrecked our PA. We waited for them to apologise, but they had fucked off.
Graeme Douglas, 2004: Malcolm McLaren obviously had a good plan and he was very astute. I mean, John Lydon was a star, I mean, y'know, regardless of what he did then, done now, he was a star, had the star quality. The rest of 'em were a bunch of tossers. Forget it! But, yeah, I mean, as soon as I saw that Bill Grundy interview I knew, I knew what was gonna happen. I mean Barrie, unfortunately, didn't kind of twig. Had I been around my suggestion would have been to chin the bloke and just have done with it. Apparently they [the Pistols] broke a few things. It would have been better to say nothing, really. Again, y'know, at the time, the time was quite flexible, I mean the mood was changing; it wasn't quite the same as now where you have a hit single one week and the next you're forgotten. But it was quite flexible. It was strange in that there were journalists you knew had a particular axe to grind and were out to make their own reputations by just basically slagging anything that they thought was uncool at the time, that week. A lot of them [journalists] in the early days were good to the Hot Rods but turned against the Hot Rods when I joined the band, for whatever reason. But after a while, y'know, they didn't really remember how the Hot Rods had pioneered the new era of music. I think we inspired a lot of kids, even if they were like Bob Geldof and thought "I could do better than that". So what? I don't think he did but he wrote a couple of good pop songs, yeah, and he married a horrendous woman but that's his problem. There were also other people that loved the Hot Rods. You can't live your life in awe of other people or in worshipping them or hating them, I mean, you have to live your own life by the things that you learn. Love and hate are two sides of the same coin.
Despite this schism in the punk/new wave hierarchy, The Hot Rods were sort of lumped in with the punks anyway, and became chart stars that July when their storming four-song Live At The Marquee crashed into the Top Forty and earned them an appearance on Top Of The Pops, where they performed the lead-off tune 'Get Out Of Denver', which was a high speed cover of an ancient Bob Seger song. The other songs on the EP were equally ancient - '96 Tears' and a medley of 'Gloria ' and '(I Can't Get No) Satisfaction' - but the fiery playing and fast tempos ensured that they (almost) fit in with the upcoming punks, but not so much that they alienated people who appreciated such fineries as good singing and good playing. For more live stuff from (roughly) the same period, check out Get Your Balls Off, which has two original they never committed to tape ('He Came Out Of The Sky', 'Moving On') amid all the usual covers and tracks off early singles. The sound quality is raw (a euphemism for crap) but it's an interesting snapshot all the same.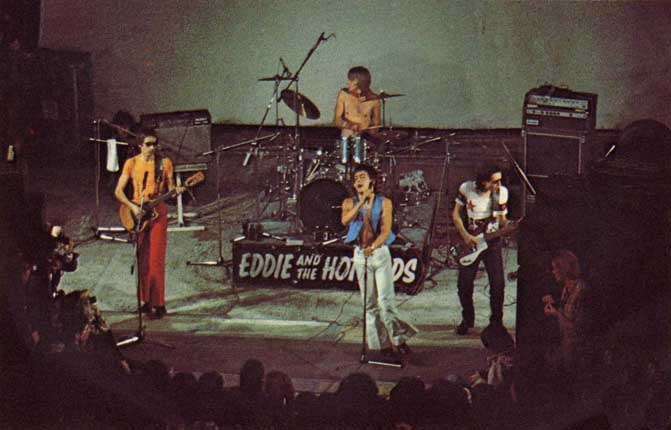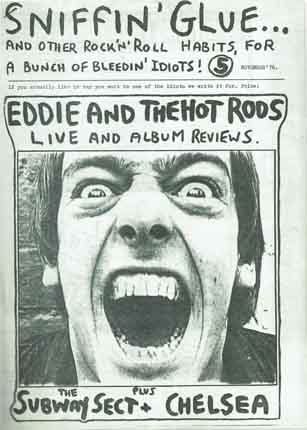 ABOVE: Live '76, and Sniffin' Glue's famous Barrie Masters cover
As if to confirm their questionable punk credentials, in August they also played at the First European Punk Rock Festival at the Arènes du Plumaçon, Mont-de-Marsan, France, even though The Damned were the only punk band on the bill. (Arch enemies the Pistols had pulled out, along with The Clash, further cementing dividing lines between the "cool" and "uncool" camps.) The rest of the roster included old duffers like Sean Tyla and Roogalator, French pub/boogie merchants, pub rockers The Gorillas and the Count Bishops, and Nick Lowe.
Late 1976 saw the release of two records, both entitled 'Teenage Depression'. The LP is an enjoyable R&B workout demonstrating that the Hot Rods were punkier than Dr Feelgood but hardly cutting edge (although the cover depicts a young fellow with a gun pointed at his own head). It works best on two live numbers, 'Been So Long' and The Who's 'The Kids Are Alright', but there isn't much studio material here to suggest the true excitement of their live shows other than six impressive minutes of 'On the Run' and the title tune, which was simultaneously issued in a self-censored single. Although filled with Americanisms ('Double Checkin Woman', "the band's really cookin'", at least two references to District Attorneys, "I got a king-sized ceegar"), the extremely tight playing, punchy drums and excellent singing make it a record I still play a lot.
1977-1978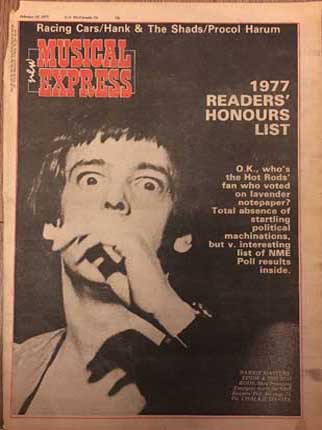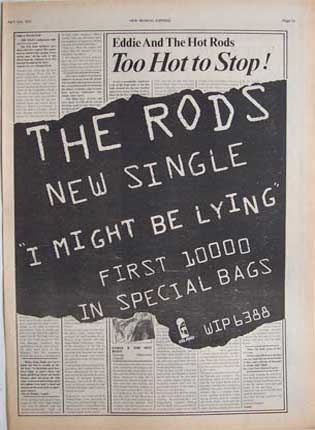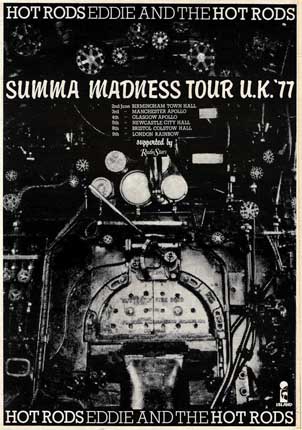 More product followed in the first half of 1977 with the release of I Might Be Lying and another live effort, At The Sound Of Speed. Both releases were typical pubby Hot Rods efforts, not in itself a bad thing but in the wake of The Clash/The Damned etc, now beginning to sound a tad old-fashioned. Not that the Hot Rods were completely anti-punk, and speaking of The Damned, a genuine punk rock rarity was issued in February 1977, when Stiff Records deliberately mispressed Damned Damned Damned with a (great) photo of the Hot Rods on the back instead of The Damned.
'I Might Be Lying' was good-natured romp about a former girlfriend who had climbed up the social ladder and had no time for our troubled hero. It might have been autobiographical. The B-Side, 'Ignore Them (Always Crashing In The Same Bar)', certainly was, and documented the fallout from a particularly raucous Belgium show which resulted in the group being run out of town. The sub-title of the tune might have referenced David Bowie's 'Always Crashing In The Same Car' but the music was far less modern-sounding than Bowie/Eno's ambiguous art-rock soundscapes. It's also one of the best things the band ever did, and marked the vinyl debut of Graeme Douglas, who co-wrote it with Ed Hollis.
Graeme Douglas, 2004: I joined the band and suddenly…five days in Belgium to get me in the band and get the band, sort of, used to me playing with them. Very smelly, very smelly country. Very, very nice, very nice country but very smelly. Anyway, this all seemed to be fine, I mean I seemed to fit in quite nicely with the band. We'd done a couple of day's worth of rehearsal so I knew the songs more or less because we'd done a tour with the Hot Rods as support, with the Kursaals. That was towards the end of the Kursaals. Kursaals and I were having differences of opinion. Basically, they were kind of far more concerned with, um, how can I put this without ever having them speak to me again – not that they do anyway – they kind of liked the Mike Batt approach, which was a very organised, very arranged type of pop. By that time they'd sort of forgotten about the country rock side of it all. Which was, you know, I liked that area of it and were far more concerned with pop, y'know, "Let's get hit records".

[In Bruges] we got back to the hotel after a good show, a few hangers on, a few people wanted to come back and have a few bevs and the night porter decided that we were very, very dangerous, and decided that he wasn't gonna serve us any alcohol. Not a good thing to do. Suddenly there was a punch-up and next thing we knew there were the riot police. Oh, the police, the Gendarmerie. Generally on those circumstances I speak a little bit of French and I was trying to sort of smooth things down, saying, look we weren't trying to do any damage, we just wanted a beer. And unfortunately Ed and I got arrested. Yeah, it's one of things. I think Ed was the main guy to start giving it plenty of that. In the end I don't think I ever got to spend too much time down the nick cos I think Meaty – Robert Harding – managed to find the promoter and, by the small exchange of large bills I think, things were smoothed over. That was one of the things…sometimes we had a reputation for being a little bit badder than we actually were, um, but I think Ed was a bit pissed off with Belgium, so I don't think we ever played in Belgium again.
The live EP, although released in June '77, at the height of punk mania, was actually recorded in February at the Rainbow and featured four songs from the debut LP (including a crazed 10-iminute version of 'On The Run' on the 12" version) and yet another cover, this time 'Hard Drivin' Man', an old John Geils Band ditty. The show was notable for being Douglas' first with the band, although he only appeared as a guest during the second half of the set, and as his guitar parts were fucked up he re-recorded them in the studio. The EP coincided with the short (six date) 'Summer Madness Tour' with support from Radio Stars.
Their next venture was their most famous release, Do Anything You Wanna Do, issued on 7" and 12" formats, each boasting a great doctored photograph of Aleister Crowley wearing Mickey Mouse ears. The picture sleeves also credited the group as Rods, for some reason, although the font used made it look like the band could just as well have been called Reds. Nonetheless, the song's obviously anthemic qualities propelled them into the UK Top Ten and became the go-to Hot Rods song for all future compilations of the punk era. It was, unfortunately, the pinnacle of their chart success, although at least they managed to head the bill at Reading festival that August.
Graeme Douglas, 2004: Both Ed and I knew where it came from cos we knew about Aleister Crowley. Being a teenager you read all the bad books you possibly can, and Aleister Crowley was seen as quite a romantic character. And so, "Do what thou wilt shall be the whole of the law": ''Do Anything You Wanna Do'. Whose idea was the Mickey Mouse ears on the sleeve? That was Ed's. I'm not quite sure whether that was a good idea in retrospect. Death threats? Again, I think that was the story that was put out. I never saw any death threats but then again, y'know, they would send it to the record company rather than me personally. I think it's record company hype. I based it on Springsteen's 'Born To Run'. I thought 'Born to Run' was a great single and I liked the whole Springsteen working man's blues type of feel and I think we took it, sort of, played it to the rest of the band. Dave liked it, I think, Paul and Steve didn't like it. They thought it was a country song but then again it was a bit slow, so we sped it up and I think they were a bit happier. So I think once we'd sorted out the tempo of it they were a bit more happy with the whole song.
A tour of the North America in November/December included three shows shows at Max's Kansas City, four shows in two nights at the Whiskey A Go-Go in Los Angeles, a Las Vegas show (where, according to Melody Maker, Nicol "played most of the set in a pair of underpants") and some dates in Canada. They also played alongside Ramones and Talking Heads on some dates, including one at the Masonic Auditorium in Detroit.
Steve Nicol: We savaged 'em at Boston. A lot of kids there expected us to be punk rockers and to play trash. They really got into us when they found out we could play a bit. We did a great show in Las Vegas with Robin Trower and Wishbone Ash. It was a 7,000-seater and we had the crowd yelling and stomping. Toronto sucked. We played a Masonic temple and only 150 people showed up. And all the time we kept being asked: 'What's it like being a punk rocker?' How can you explain to them? But Bruce Springsteen is a punk rocker in America. Everyone is a punk rocker, although how Springsteen can be called a punk I don't know! My dad would be a punk rocker to them. But we did pretty well there. Altogether we did 54 shows in 50 days. We did three shows in one day and I lost nine pounds in weight. We also lost 10,000 dollars! We were robbed in New York. We parked our car outside CBGB's and we had passports nicked, cassette tape recorders, plane tickets and address books stolen.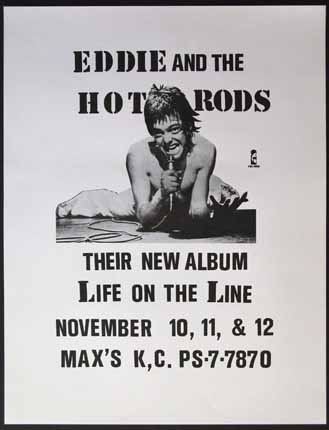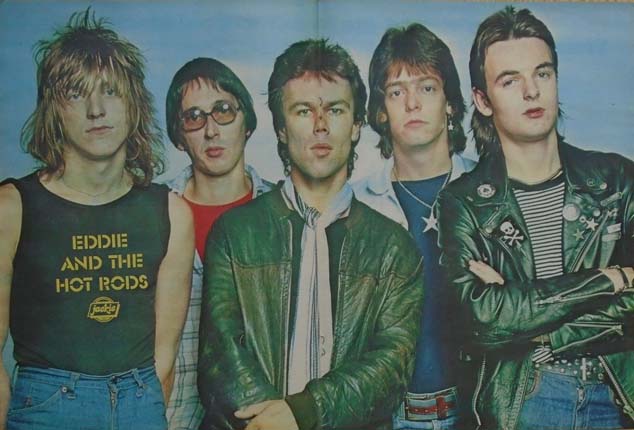 During all this frenzied activity, Steve Nicol still found the time to moonlight as a member of The Snivelling Shits, recording the classic Terminal Stupid 7", which came out on the Ghetto Rockers label in late '77 and was produced by Ed Hollis and engineered by Steve Lillywhite. According to Michael Beal (the artist and photographer who designed the Teenage Depression album sleeve), the single was recorded in the dead of night whilst everybody was doing speed, and apparent talks with Island Records' boss Chris Blackwell were met with a stern "I'm not having a band called Snivelling Shits on my label". Nicol and Gray also, a few months later, helped out Johnny Thunders on his first couple of solo releases.
Then it was Hot Rods album number two, Life On The Line, which blasted out in November in a lavish gatefold sleeve featuring individual shots of the band members hanging themselves. (Not Douglas, though, who was still under contract to CBS and had to settle for his credits in the small print.) The LP is a lot more in keeping with the times; most of the pubbiness is gone, no doubt due to the presence of Douglas, and the lyrics concentrate on personal dissatisfaction and sociopolitical matters. Just nine songs this time, including 'Do Anything You Wanna Do', a sinister instrumental ('We Sing…The Cross'), the story of their adventures on the Continent ('Ignore Them (Still Life)') and a superb eight-minute burst of melodic anger, 'Beginning Of The End', which is anything but simplistic, the outraged lyrics and epic scope making it their 'Won't Get Fooled Again'. It comes highly recommended. Amazingly, this superb platter only scraped into the UK Top Thirty and was in the charts for just three weeks. It should have been huge.
Also in November, a rather curious Hot Rods release crept out, Till The Night Is Gone (Let's Rock), which was credited to Rob Tyner & The Hot Rods, Tyner of course being the former signer with The MC5. On this effort Masters was relegated to backing vocals and Tyner sang lead on both tracks, neither of which were anything special at all. In fact, this morass of cliches and the pedestrian tunes made it one of the band's worst releases. Little wonder this failed to sell. Marginally more popular was the superb Quit This Town, which was taken from the latest LP and backed by 'Distortion May Be Expected', a heavy, dirge-like instrumental that caught the band in an experimental frame of mind.
Still riding high, the "Life On The Line: Spring '78 Tour" - with Squeeze and Radio Stars (who had played with the Rods a year before) in support - was popular, and kept them practising throughout most of February and all of March, taking in venues such as Aylesbury's Friars, De Montfort Hall in Leicester, the London Lyceum, and finally the Stadium in Dublin.
Sadly, though, just like food, some bands have a "sell by" date, and for the Hot Rods that seemed to be now. From here on it was all pretty much downhill as Life On The Line, the third single from the album to hit the record shops, stiffed outside the charts, despite being issued in 7" and 12" format (again, Island clearly like 12" singles). Another strong release, it might have done better if it was a stand-alone single and the B-Sides weren't yet more live recordings. Then manager Ed Hollis was ejected from the fold due his increasing drugs problems.
1979-1985
After that things went relatively quiet, with no new product out until January 1979, an absolute eternity in the career of a band which was churning out stuff every couple of months. Media Messiahs was a bitter rant which laid into the music press for their "build them up, knock them down" reviewing policies, and was understandably met with hostility from the press, who decided they wanted to knock them down after having built them up, and were especially dismissive about the person who provided backing vocals: Linda McCartney. Released in a silly sleeve and with the group credited (on the cover at least) as "Eddie + Hot Rods", it failed to trouble the charts, despite being a strong number.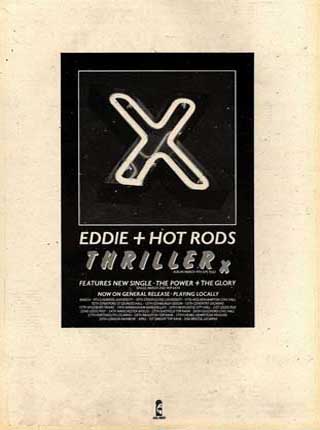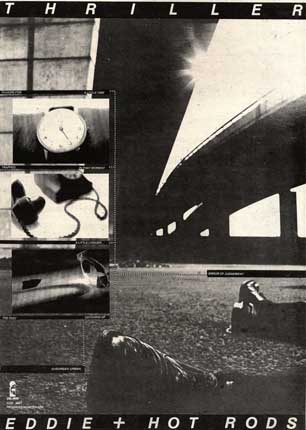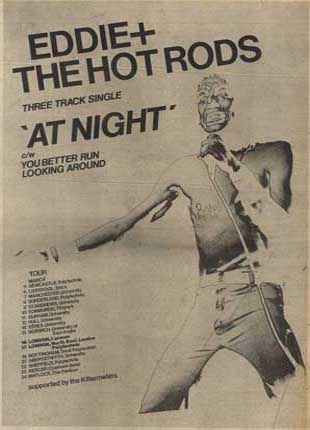 "Media Messiahs' was included on the band's third LP, Thriller, alongside a handful of songs of equal quality: 'Circles' (which Island had rejected as a single choice), 'He Does It With Mirrors' and 'Echoes'. The best number on the record was the terrific Power And The Glory, which came out in edited form as a single and did nothing either. These songs belie its reputation as the product of a band past its peak, but unfortunately they are all on side one, and side two is just one weak number after another, with a couple of tunes slipping back into pub rock ('Living Dangerously' and the banal 'Out To Lunch'). Many have noted that the record reeks of anger and bitterness, and indeed it does. On their Spring tour they were supported (and by all accounts upstaged) by The Members, who were in the ascendancy, with a group called The Magnets third on the bill.
Graeme Douglas, 2004: I think the mistake with 'Thriller' was sticking out 'Media Messiahs'. It was a bad song when I wrote it 'cos I wrote it being jealous of other peoples' success. I was pissed off with Tom Robinson and other people getting all the press. I think I was sort of feeling that Ed had abandoned the Hot Rods and I was feeling a bit betrayed. It was a shame that the Hot Rods, after the first tour to the States, should have had two weeks off over Christmas and gone straight back out and done it all again and kept on doing it. I don't think Dave wanted to go back particularly much but I think we'd come back with Ed having spent the entire tour pretty much ensconced in New York, in the Essex House. That was the posh hotel. We were in the less posh hotel. And I think Dave didn't want to go immediately back, I think there was a chance of a tour immediately, y'know, starting February. Previous to the first American tour Ed had been at every gig. He would oversee the band, he would say what he liked, he would criticise, he would vibe the band up and he would generally be, y'know, the stick. And I think once Ed had decided that he wasn't going to do that job anymore the band sort, of, had to kind of spend a little bit of time in thinking about its approach to what it wanted to do. I think also by that time Barrie and Paul and Steve had got a bit star struck. And they were thinking well, we still live in Southend with our parents – this isn't how Mick & Keef did it. And I think it was starting to get a bit "not quite all singing from the same hymn sheets".
The group was dropped by Island shortly after the album's failure, but the band repaired to Freerange Studios, Covent Garden that Summer to record some new demos anyway, which were eventually issued eleven years later on The Curse Of The Hot Rods. The Curse LP is decent enough without setting the world on fire. It shows a band failing to progress beyond the parameters set by Life On The Line, though Damned fans may be interested in the Hot Rods' version of 'Hit Or Miss', and it does offer some good, basic minor thrills along the way.
Later that year they played some more dates in America and Canada, and signed with EMI. They issued the rather rocking At Night in early 1980, which turned out to be Douglas' last record with the band. He left mid-way through a tour to promote it. The single also marked the farewell of Paul Gray, who deserted the sinking ship to join The Damned.
Masters, Higgs and Nicol carried on with new bassist T.C. and, under the watchful eye of Al Kooper, no less, recorded Fish 'N' Chips for EMI International, a shoddy album which has all the hallmarks of a belated follow-up and doesn't do much beyond going round in a circle on a turntable, although now it's on CD (with many bonus tracks taken from a studio session in 1980) it can do the same in a CD tray. (Nothing if not versatile this one!). Two singles from the LP - the standard-issue Rods rocker Wide Eyed Kids and a shit-boring blues cover, Farther On Down The Road (You Will Accompany Me) - were released to zero interest and turned out to be what we would all call "a last gasp". As a measure of EMI's disinterest in these two records, they didn't even issue them with picture sleeves, clearly deciding that throwing good money after bad was not a wise move.
Although the band split in 1981, that wasn't quite the end. Masters took over lead vocal duties for The Inmates for a couple of albums, and after his stint in The Damned, Gray went on to join metal heads UFO. Masters and Nicol reunited the Hot Rods in 1984 and two more releases trundled out: the feeble Fought For You 7", and a completely mundane mini-album entitled One Story Town, which was recorded live in France and saw them trotting out limp versions of 'Teenage Depression' and 'Quit This Town', as well as Nils Lofgren's 'Moon Tears'.
The band has maintained a semi-existence since the early '90s, issuing Gasoline Days, which harks back to their pre-punk period. Nothing of any interest lies within. Luvly Ol' Job is the excruciatingly titled follow-up. As a sideline project, bassist Paul Gray has also played in the Canvey Island Allstars, who issued a CD in 1994 (Escape From Oil City) featuring Roman Jugg from The Damned and members of Dr Feelgood.
Higgs died in December 2013, Masters in October 2019.
__________________________________________________________________________
DISCOGRAPHY
Subsequent studio albums: Gasoline Days (1995), Better Late Than Never (2004), Been There, Done That (2006).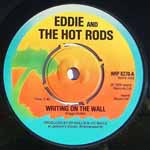 Writing On The Wall (7", 1976)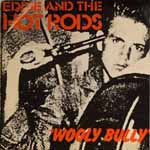 Wooly Bully (7", 1976)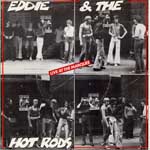 Live At The Marquee (7", 1976)
Get Out Of Denver / 96 Tears (7", 1976)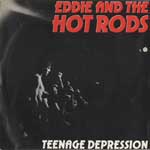 Teenage Depression (7", 1976)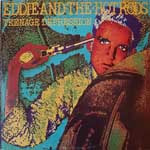 Teenage Depression (LP, 1976)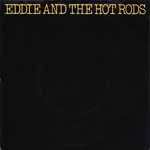 I Might Be Lying (7", 1977)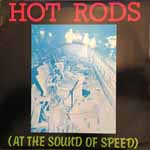 At The Sound Of Speed (7"/12", 1977)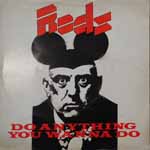 Do Anything You Wanna Do (7"/12", as Rods, 1977)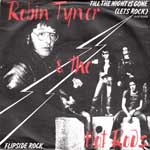 Till The Night Is Gone (Let's Rock) (7", as Robin Tyner & The Hot Rods, 1977)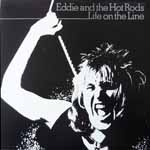 Life On The Line (LP, 1977)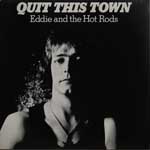 Quit This Town (7", 1977)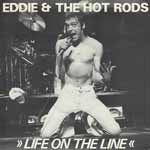 Life On The Line (7"/12", 1978)
Media Messiahs (7", 1979)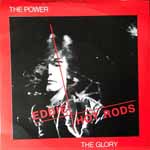 Power And The Glory (7", 1979)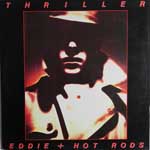 Thriller (LP, 1979)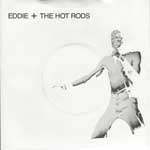 At Night (7", 1980)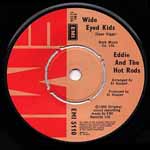 Wide Eyed Kids (7", 1980)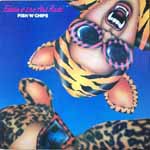 Fish 'N' Chips (LP, 1980)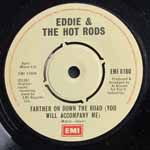 Farther On Down The Road (You Will Accompany Me) (7", 1981)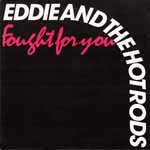 Fought For You (7", 1985)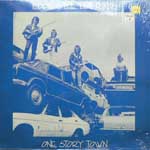 One Story Town (LP, 1985)

Extraneous Releases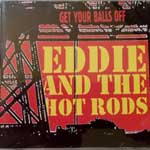 Get Your Balls Off (CD, 1990)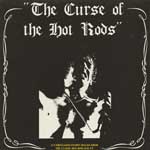 The Curse Of The Hot Rods (LP/CD, 1990)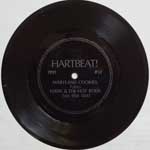 Fakes / Ties That Bind (7", flexi, split with Maryland Cookies, 1991)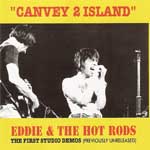 Canvey 2 Island (The First Studio Demos) (CD, 1992)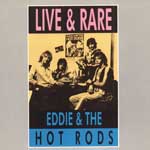 Live And Rare (CD, 1993)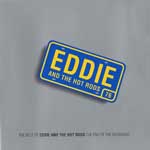 The Best Of Eddie And The Hot Rods The End Of The Beginning (CD, 1993)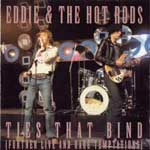 Ties That Bind (CD, 1994)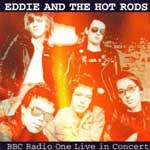 BBC Radio One Live In Concert (CD, 1994)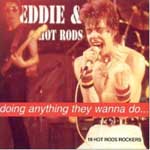 Doing Anything They Wanna Do... (CD, 1996)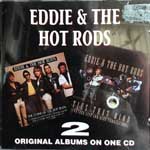 The Curse Of The Hot Rods / Ties That Bind (LP/CD, twofer, 1996)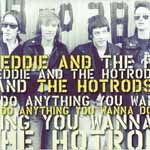 Do Anything You Wanna Do (CD, 2000)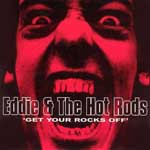 Get Your Rocks Off (CD, 2002)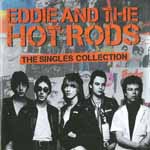 The Singles Collection (CD, 2009)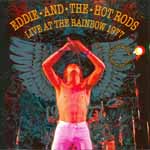 Live At The Rainbow 1977 (CD+DVD)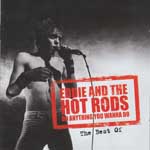 Do Anything You Wanna Do - The Best Of (2xCD, 2012)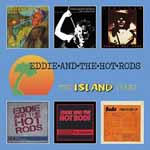 The Island Years (6xCD, box set, 2018)
Promos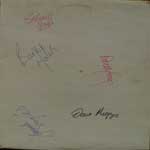 Rods (LP, 1977)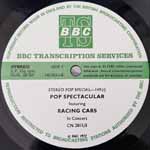 Stereo Pop Special-149 (LP, split with Racing Cars, 1977)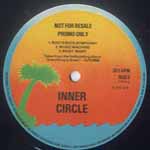 Island Sampler (12", split with Inner Circle, 1979)

Various Artists
Rock & Reggae & Derek & Clive UK LP 1976 (Island): Been So Long
Congres Phonogram 1976 - Pavillon Gabriel - 2 Septembre France 2xLP (Philips): Wooly Bully
Geef Voor New Wave Holland LP 1977 (Ariola): Do Anything You Wanna Do
Ce N'Est Pas De La Couille, Voici La New Wave - New Wave Greatest Hits France LP 1977 (Ariola): Do Anything You Wanna Do
New Wave Is The Rave Australia LP 1977 (Festival): Teenage Depression / Do Anything You Wanna Do
Catch A Wave UK LP 1978 (no label): Do Anything You Wanna Do
Rock 'N' Roll High School (Music From The Original Motion Picture Soundtrack) UK/US LP 1979 (Sire): Teenage Depression
That Summer! UK LP 1979 (Arista): Do Anything You Wanna Do
The Best Punk Album In The World ... Ever! 2 UK 2xCD 1996 (Circa): Do Anything You Wanna Do
1-2-3-4 Punk & New Wave 1976-1979 UK 5xCD 1999 (Universal): Teenage Depression
No Thanks! The '70s Punk Rebellion US 4xCD 2003 (Rhino): Teenage Depression / Do Anything You Wanna Do
Sniffin' Glue: The Essential Punk Accessory UK CD 2003 (Castle): Wooly Bully
Harmony In My Head: UK Power Pop & New Wave 1977-81 UK 3xCD Box Set 2018 (Cherry Red): Do Anything You Wanna Do
1977: The Year Punk Broke UK 3xCD 2019 (Cherry Red): Quit This Town
__________________________________________________________________________
Links
Tales From a Former Fanzine Journalist - Contains a very detailed band bio.