AKA: THE TARTAN HORDE / THE DISCO BROS.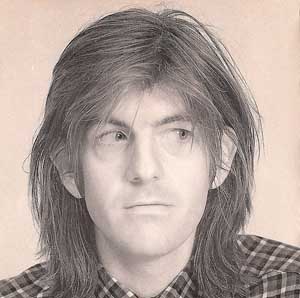 Born: 24 March 1949, Walton-on-Thames
Played In: Kippington Lodge / Brinsley Schwartz
Described by one admirer as the Jesus Of Cool, Nick Lowe seems to have been making records since time began.
From 1967 to 1975 he had played in Kippington Lodge and the country-pubbers Brinsley Schwartz. The latter achieved some notoriety in 1970 when an ambitious publicity stunt backfired. According to Wikipedia: "Dave Robinson, of Famepushers, devised a plan to earn the band extensive publicity. They were to open for Van Morrison and Quicksilver Messenger Service at the Fillmore East in New York City, on 3 and 4 April 1970. Robinson would fly a plane full of British journalists to the show, so they could review it, along with the winners of a Melody Maker competition, arranged in order to get pre-publicity. Though the band had planned on leaving a few days early, so they could rehearse, visa problems prevented this, so they went to Canada and entered the US in a light aircraft. They arrived in New York shortly before they were due on stage, and had to use hired equipment with which they were unfamiliar. The journalists were due the following day, but their plane was delayed for four hours, so they had free use of the bar, and eventually arrived at the show either drunk or hung over. The show did not go over well, and the band received a flood of negative reviews over the following weeks, including bad reviews of their eponymous first album, Brinsley Schwarz which was released shortly after their return to the United Kingdom. This incident became known as the Brinsley Schwarz Hype".
The band never really recovered from this and their six LPs were not big sellers.
After they split in 1975 Lowe latched onto the nascent punk scene and subsequently became known as a singer/songwriter with a line in self-deprecating, swelling pop songs, and an in-demand producer. His new wave credentials were earned by embarking on the French Punk Rock Tour in 1976, alongside The Damned and several bands whose connection with punk was tenuous to say the least. The only old-timer to bond with The Damned, he produced their groundbreaking debut album and later worked with Alberto Y Lost Trios Paranoias, Elvis Costello, Wreckless Eric, Richard Hell & The Voidoids, and lots of others. The records listed below relate to his new wave period. Since 1980 he has moved further away from this style of music, and has issued many more albums, some of them good, some of them awful.
He got his solo career off to a swell start with a handful of singles in 1975/76 designed to alienate his label, United Artists, and leave him a free agent. Bay City Rollers We Love You (recorded under the fictional band name The Tartan Horde) and Let's Go To The Disco (recorded as The Disco Bros) were both intended to be as crap as possible. Now, if they had been serious they would have been, but as piss-takes they turned out to be very amusing and very catchy pop songs. The former somehow managed to top the charts in Japan! Bad news for Nick! UA naturally ordered a follow-up, Rollers Show, which had the desired effect and wasn't released until 1977. Also in 1976 he recorded the single Keep It Out Of Sight (a Dr Feelgood cover), and produced the first offering by The Damned.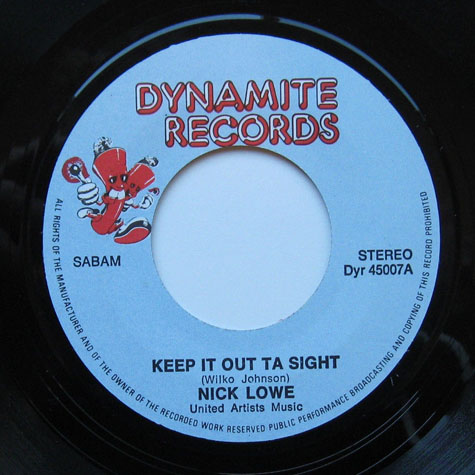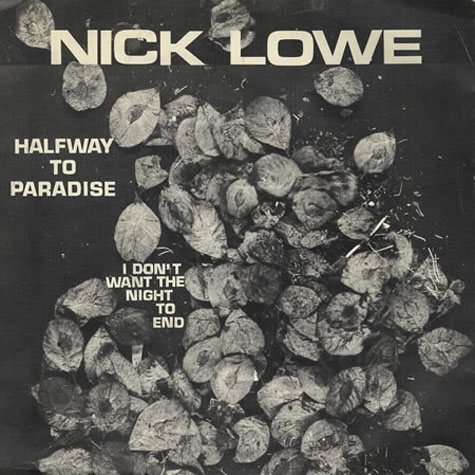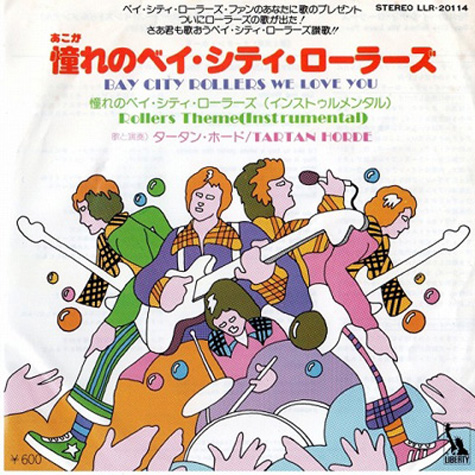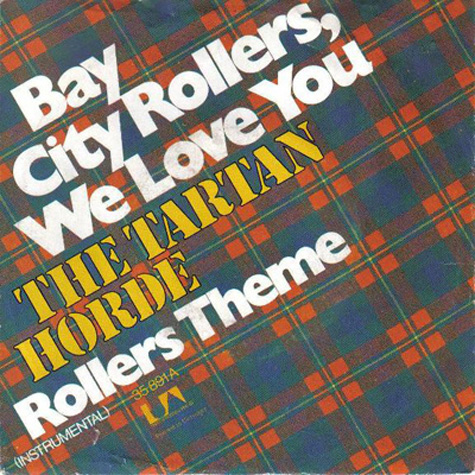 ABOVE: Japanese and German sleeves for Bay City Rollers We Love You
Breaking off with UA, he signed to
Stiff
(where he was employed as director and house producer) and issued the first single for the label,
So It Goes
, a pristine slice of new wave power-pop with a rollickin' R&B B-Side and a production budget of £45! Great lyrics on this. Some people seem to think this is a Thin Lizzy song.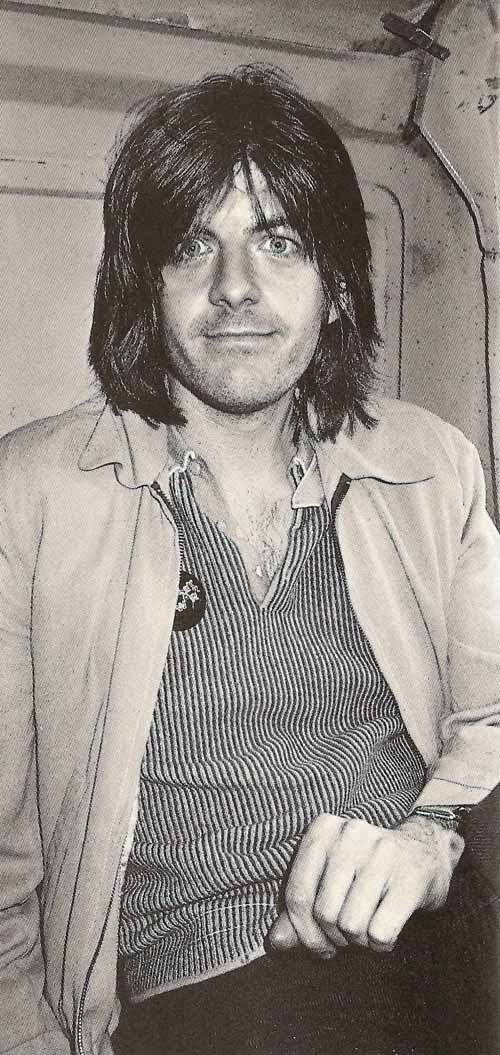 1977 was spent doing all kinds of cool things for Stiff, including playing on the label's package tour, producing other peoples' records, and making his own quirky singles, strongest of which was Bowi EP, a great showcase for his unique talents. Lowe played all the instruments and sang them, accompanied by Steve Goulding (of The Rumour) on drums. The songs were hook-laden, humorous, and cheaply recorded. Although by no means a punk record, the EP could certainly be appreciated by punks, and was released at the height of punk, in May 1977.
A cover of the King/Goffin tune Halfway To Paradise followed in October, and was his last release for Stiff, as he absconded to Radar, along with Elvis Costello.
His first, and arguably best album,
The Jesus Of Cool
, which came wrapped in a dreadful sleeve depicting Lowe in a number of guitar hero guises (trippy hippy, 50's rocker etc), was recorded using various uncredited guest musicians, including Steve Goulding, Bob Andrews, Dave Edmunds and three members of The Blockheads. The LP was one of the best of the period, with everything from cynical swipes at the music industry ('Music For Money', 'Shake And Pop'), wistful power ballads ('Tonight'), humorous odes to dead film stars ('Marie Provost'), sinister cover versions ('36 Inches High') and spirited pub rock ('Heart Of The City').
I Love The Sound Of Breaking Glass was lifted from the LP and sailed into the Top Ten, its throbbing bass line and wonky piano lodging in the collective memory of anyone of a certain age. Its follow up, Little Hitler was also taken from the same LP, but did nothing chartwise.
He made a move towards a more orthodox sound in 1978, although American Squirm, released in October, was full of hilariously lecherous lyrics and double entendres, detailing his sexual exploits in the USA
Lowe scored another couple of biggish UK chart hits in 1979, firstly with the neurotic Cracking Up (which reached no 34) and then with Cruel To Be Kind, a pop smash easily the equal of Oliver's Army or I Don't Like Mondays. Said single rose as high as no 12 and spent 11 weeks in the charts, so the boy done well here. Both singles were taken from the fine Labour Of Lust, on which he was aided and abetted by Rockpile, deftly mixing exuberant pop with pub rock and dashes of country.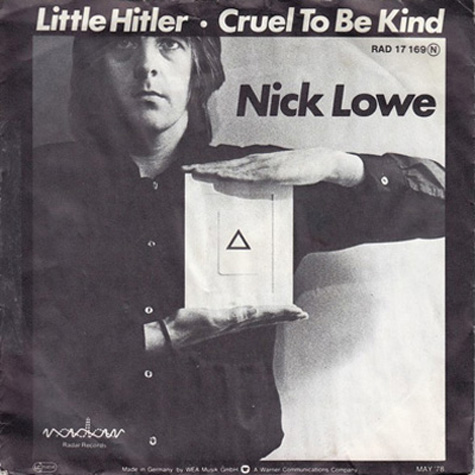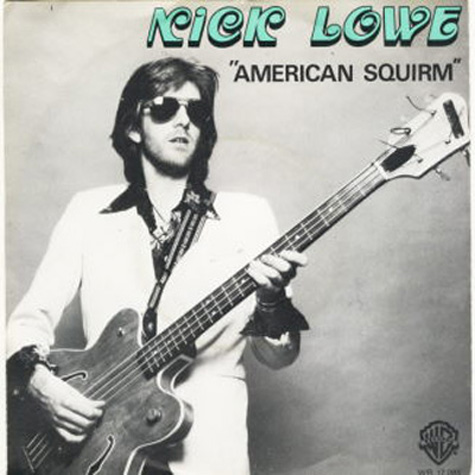 ABOVE: German sleeve for Little Hitler and Dutch sleeve for American Squirm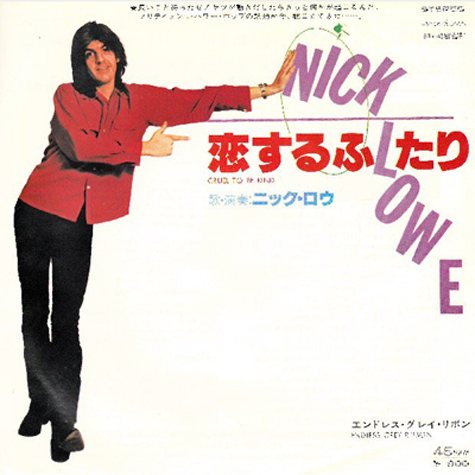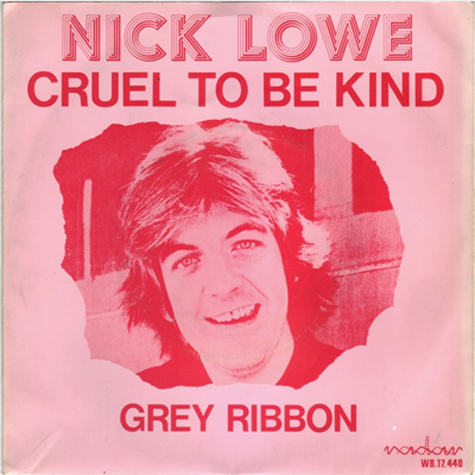 ABOVE: Japanese and Dutch sleeves for Cruel To Be Kind

Since then he has continued to record, but little of that relates to his new wave years.
16 All-Time Lowes
is a great offering. In addition to numerous album tracks it has one of his best numbers, 'American Squirm', which was originally released as a single in 1978, and 'They Called It Rock' (a 1978 B-Side).
Nick's Knack
draws more heavily on his first few albums of the 80's, which though full of good songs lack the inspiration that made his debut so impressive. 'Basing Street', the B-Side to 'Crackin' Up', is one of its highlights.
(NOTE: There is also Basher, a more conventional best-of, notable for preserving both sides of his Stiff debut on CD for the first time, and such notable as 'When I Write The Book' and 'American Squirm". It charts his career from punky pop king to country rocker in chronological order: the first half is easily the best. More dedicated fans will want The Doings, a 4xCD career spanning box set with disc one covering the 1976-1982 period.)
__________________________________________________________________________
DISCOGRAPHY
Other Nick Lowe studio albums between 1980 and 1986 are: Nick The Knife (F-Beat, 1982) and The Abominable Showman (F-Beat, 1983). Has released many albums since.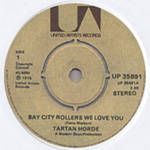 Bay City Rollers We Love You (7", as The Tartan Horde, 1975)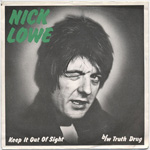 Keep It Out Of Sight (7", 1976)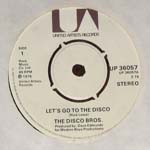 Let's Go To The Disco (7", as The Disco Bros, 1976)
So It Goes (7", 1976)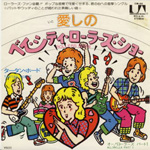 Rollers Show (7", as Tartan Horde, 1977)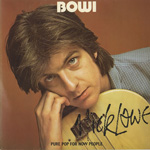 Bowi (7", 1977)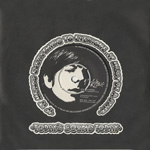 Halfway To Paradise (7", 1977)
I Love The Sound Of Breaking Glass (7", 1978)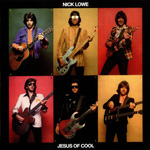 Jesus Of Cool (LP, 1978)
Pure Pop For Now People (LP, 1978)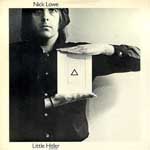 Little Hitler (7", 1978)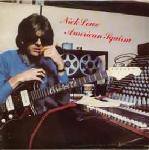 American Squirm (7", 1978)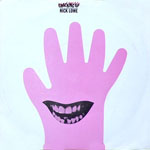 Cracking Up (7", 1979)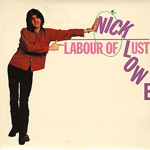 Labour Of Lust (LP, 1979)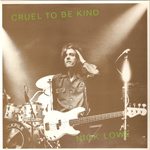 Cruel To Be Kind (7", 1979)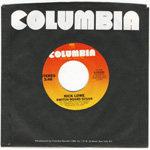 Switchboard Susan (7", 1979)
Extraneous Releases - Only The Relevant Stuff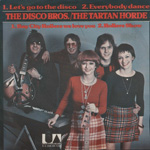 The Disco Bros / The Tartan Horde (7", split, 1977)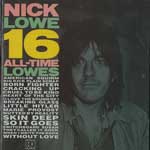 16 All-Time Lowes (LP/CD, 1984)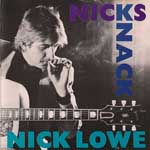 Nick's Knack (LP/CD, 1986)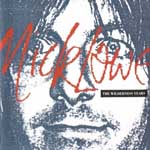 The Wilderness Years (CD, 1991)
Promos
Live From The El Mocambo, March 6 1978 (7", 1978)
Bootlegs
Rock Around The World (LP, split with Elvis Costello)

Various Artists
A Bunch Of Stiffs UK LP 1977 (Stiff): I Love My Label
Hits Greatest Stiffs UK LP 1977 (Stiff): Heart Of The City
Excerpts From Stiffs Greatest Hits UK 7" 1977 (Stiff): Halfway To Paradise
Live Stiffs Live UK LP 1978 (Stiff): I Knew The Bride (When She Used To Rock And Roll) / Let's Eat
Heroes & Cowards Italy LP 1978 (Stiff): Heart Of The City / Born A Woman / Marie Prevost
Now See Them Live! Spring '78 Tour US 12" 1978 (Columbia/Capitol): You've Gotta Be Cruel To Kind
Rock 'N' Roll High School (Music From The Original Motion Picture Soundtrack) UK/US LP 1979 (Sire): So It Goes
The Main Event UK LP 1979 (K-Tel): American Squirm
That Summer! UK LP 1979 (Arista): I Love The Sound Of Breaking Glass
Sharp Holland LP 1979 (WEA): American Squirm
SFX Issue No. 8 UK TApe 1982 (SFX): Interview And Music
The Best Punk Album In The World ... Ever! 2 UK 2xCD 1996 (Circa): So It Goes
1-2-3-4 Punk & New Wave 1976-1979 UK 5xCD 1999 (Universal): So It Goes
No Thanks! The '70s Punk Rebellion US 4xCD 2003 (Rhino): Heart Of The City
Harmony In My Head: UK Power Pop & New Wave 1977-81 UK 3xCD Box Set 2018 (Cherry Red): Born A Woman
__________________________________________________________________________
Links