Formed: London, England, UK
The story of The Maniacs was, like many UK punk bands, slightly more complicated than one might expect. There was, for instance, two version of The Maniacs: one which existed in 1975/76, and one which existed in 1977/78. The 1975/76 version gigged around London but was put on hold for a short while when singing guitarist Alan Lee Shaw and drummer Rod Latter (both ex-Gutz, ex-Buzz) decided to form The Rings. This formative version of the Maniacs can be heard on the B-Side of the posthumous I Don't Wanna Go To Work single, playing a version of 'White Light White Heat'.
Shaw and Latter reformed The Maniacs in June '77 and swiftly hooked up with United Artists via some Dave Goodman demos and issued the brilliant Chelsea 77 single in November, although its release had been delayed from October because Shaw objected to the feeble mix on demo copies. It is classic second division punk.
They played at the second Mont De Marsan Punk Festival - weirdly on the same bill as the reformed Rings - and contributed two tracks to the Live At The Vortex - Volume One compilation, but they split in January '78 and that was that. Alan Lee Shaw's post-Maniacs projects include (deep breath) Physicals, The Hellions, Brian James' band, Heaven & The Angels, The Dripping Lips (with Brian James), The Damned (without Brian James!) and Mischief. Rod Latter joined The Adverts.
They can be seen in the film Punk Kebab. I Don't Wanna Go To Work was recorded for Punk Kebab.
__________________________________________________________________________
DISCOGRAPHY
Singles & Albums
Chelsea 77 (7", 1977)
Extraneous Releases
Ain't No Legend (LP, 1990)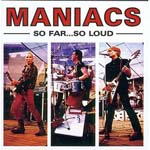 So Far...So Loud (CD, 1998)
Chelsea 77 (7", 2018)
I Don't Wanna Go To Work (7", 2019)
Various Artists
Punk Off! Italy LP 1977 (United Artists): Chelsea '77 / I Ain't No Legend
Live At The Vortex - Volume One UK LP 1977 (NEMS): You Don't Break My Heart / I Ain't Gonna Be History
Street Music - No Heroes No Legends Japan LP 1978 (United Artists): Chelsea '77 / Ain't No Legend
Labour Of Love (Volume One) UK 7"-flexi 1990 (Released Emotions): Shoot You Down
It Ain't No Legend Germany Tape 1992 (Hick-Up Tapes): Ain't No Legend
Punk - Past, Present And Future ... The Released Emotions Compilation (1988-1993) UK CD 1993 (Released Emotions): Chelsea '77
Punk Rock Rarities Vol. 2 UK CD 1996 (Anagram): Chelsea '77 / I Ain't No Legend
British Punk Rock 1977 UK CD 1998 (Anagram): Chelsea '77
Action Time Vision (A Story Of Independent UK Punk 1976-1979) UK 4xCD 2016 (Cherry Red): Chelsea '77
1977: The Year Punk Broke UK 3xCD 2019 (Cherry Red): Ain't No Legend
__________________________________________________________________________

Links