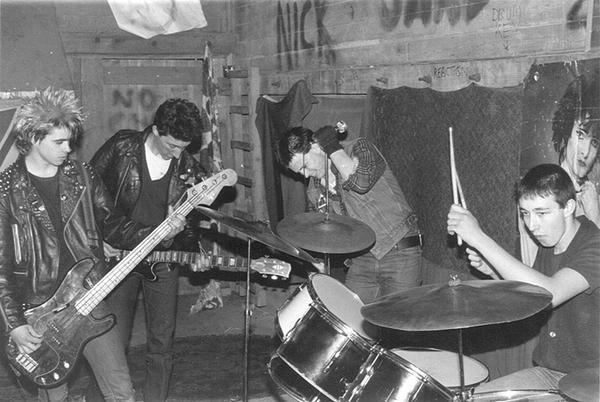 Formed: Cardiff, Wales, UK
I AIN'T MIDDLE CLASS
I AIN'T UPPER MIDDLE CLASS
I'M JUST THE CREAM OF THE CROP
I'M WORKING CLASS

No Choice formed in March 1982 with the lineup:
Gary 'Gagz' Williams - vocals
Cid - second vocals
Martin Owen - lead guitar
Svend - bass
Terry "Spike" - drums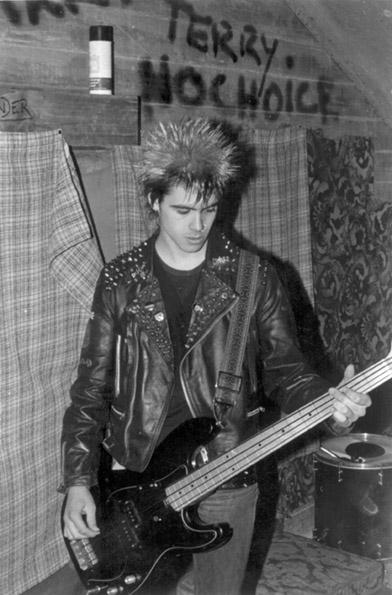 The story went that they couldn't think of a good name for a band, so in the end they had no choice but to call themselves No Choice. The band however has since claimed that the name was borne out of a feeling of frustration of the state of the country in 1982, and that they had no choice but to speak out in some way. They practised weekly until they made their live debut supporting Chaos UK, together with two other bands from their area, one of which was 'Silent Move' who have since gained a record deal in London.
According to a fanzine at the time, "None of the band are anarchists because anarchy would only result in soldiers and military pigs on the street maiming the oppressed. There just wouldn't be a peaceful society. No Choice would like everyone to be equal but that would probably never happen. The EP on Riot City has three tracks... two of which are anti-war, 'Sadists Dream' & 'Nuclear Disaster', the other track 'Cream Of The Crop' sums up what the band are.. working class. Individual band influences include.... Crass, Stranglers, Sham 69, UK Subs, Poison Girls and probably many other things including The Jam & Paul Weller's lyrics".
Anyway, after shows with all the usual suspects - Conflict, Icons of Filth, Omega Tribe etc - they recorded Demo 1982, which was passed on to Simon Edwards by Chaos UK, and Edwards was impressed enough to sign him to the "dustbin of punk" itself, Riot City, which released the band's debut single in March 1983, The A-Side was totally unlike any other on the label - a slow sombre, spoken word piece over acoustic guitar - and it became one of the label's worst selling records, failing to even make it into the Indie Charts. The band split up after its release.
]However, a new lineup emerged:
Gary 'Gagz' Williams - vocals
Martin Owen - lead guitar
Adrian 'Ada' Williams - bass
Jake - drums

This lineup recorded the Question Time demo, four songs from which were ransacked for the compilation LPs Have A Rotten Christmas (1984) and Have A Rotten Christmas Volume Two (1985). Jake was subsequently replaced by Steve, who stayed just a short while, and the group members began swapping roles, and an old friend returned to the fold, until eventually the lineup settled like this:
Gary 'Gagz' Williams - vocals
Adrian 'Ada' Williams - guitar
Martin Owen - bass
Terry "Spike" - drums
Unfortunately, this lineup too soon fizzled out, and the band split sometime in 1985. Gagz, Ada and Spike formed a new band in the '90s, S.A.N.D. ("Shallow Acts = No Depth", apparently), which released a 7" single and a tape.
No Choice reformed in 2001 with all the guys from S.A.N.D. and a new bassist and recorded their first LP in 2003, Dry River Fishing, which was in a much more US pop-punk/hardcore stylee. They continue to gig and record.
Gagz's son Nicky used to play in a punk band called Solutions.
__________________________________________________________________________
DISCOGRAPHY
Subsequent studio albums: Dry River Fishing (2003), Anaesthetize This!...Annihilate That! (2008), Thru It (2012).
Singles & Albums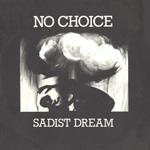 Sadist Dream (7", 1983)
Extraneous Releases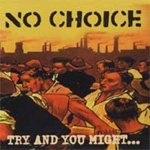 Try And You Might... Don't And You Most Certainly Won't (CD, 2002)
Demos & Tapes Demo 1982 (Tape, 1982) Question First (Tape, 1984)
Various Artists
Have A Rotten Christmas UK LP 1984 (Rot): So Sad / Who Is The Enemy?
Have A Rotten Christmas Volume Two UK LP 1985 (Rot): No Money / Watzwar
Riot City Records- Punk Singles Collection UK CD 1993 (Anagram): Cream Of The Crop
Riot City Records- Punk Singles Collection Volume Two UK CD 1995 (Anagram): Sadist Dream
Riot City: A Get Back Complementary Compilation To The "Cherry Red" And "Captain Oi" Ones Italy LP 1990s (Get Back): Nuclear Disaster
Burning Britain - A Story Of Independent UK Punk 1980-1983 UK 4xCD 2018 (Cherry Red): Cream Of The Crop
__________________________________________________________________________
Links
Punk And Oi In The UK - Interview
Abracatambra has some stuff