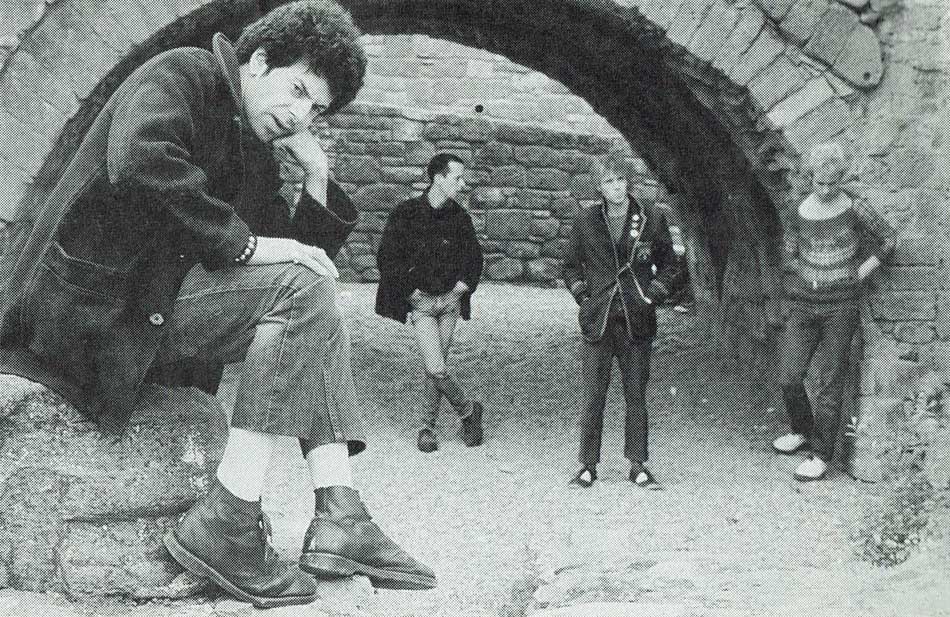 Formed: London, England, 1977
In their first ever interview in 1976, Eater famously decided the Sex Pistols were "too old." Sadly, history does not record what Andy Blade and co first thought of the U.K. Subs when they trod the boards at the Roxy in 1977 (although in my Eater interview he stated, "they were people that dressed up as punk to join and get in the cool with everyone else"). The Subs's singer was Charlie Harper, born David Charles Perez, and in the early 1970s a hairdresser by profession. By then he was well into his thirties. Despite his advanced years he sang about living in a car and filling in forms for the benefit office. Surprisingly, he'd been playing in blues bands since the mid-'60s, but it wasn't until the rise of punk that he found a home for his singing and songwriting talents.
Once the initial fuss had died down and the best punk bands had either split, moved to America or gone new wave, the British punk audiences readily accepted the Subs into their hearts as one of the few remaining holders of the torch. They did not play new wave and were beery street urchins far removed from the dour post-punk crowd. Their music was spunky, catchy, fast and chugging, and songs covered such relatable topics as dodging paying the TV license, having sex, getting hassled by the cops, petty crime, and life in the big city. Even more so than the
Ruts
,
Angelic Upstarts
,
Sham 69
and
Stiff Little Fingers
, they were
the
punk band of the late '70s and early '80s, until the hardcore gnashing of
The Exploited
and
Discharge
made them seem more like a relic of the early punk years than something entirely new. Nonetheless, they remained popular and sold many records until 1983. Thereafter they kind of fell below the radar.
Their line-up was never stable for long, but they were undoubtedly at their best when Nicky Garratt played guitar. This was from 1978 to 1980, whereupon the rhythm section was replaced. At their strongest during these early years (78-82), they never strayed far from playing basic 1977 punk but since the mid-'80s have been doing it with much less style.
1977-1981
Charlie Harper was, as Alex Ogg pointed out in his book No More Heroes - A Complete History of UK Punk from 1976 to 1980, "old enough to be a part of London's last big generational upheaval, the swinging sixties. He'd busked around Europe with a harmonica and an acoustic guitar, hung out with the Rolling Stones (he was at one time nicknamed 'Charlie Stones') and taught Rod Stewart how to play blues harp".
He spent many years playing with various bands - including one called The Marauders, which played alongside such pub rock luminaries as Kilburn and the High Roads and Ducks Deluxe - before emerging in 1977 with the Subversives, having been turned on to punk.
Charlie Harper: Back in London, us faggots used to go to Chagauramas. It was a lesbian club but they couldn't tell if we were girls or boys - like in the David Bowie song. One night we turned up, and it had become the Roxy. At the Roxy you just found yourself in the middle of it, people were planning their band, finding musicians, or finding where to get their clobber
The Subversives shortened their name to the Subs, whereupon they discovered there was a band in Scotland called the Subs, so the Subs became U.K. Subs and a legend began.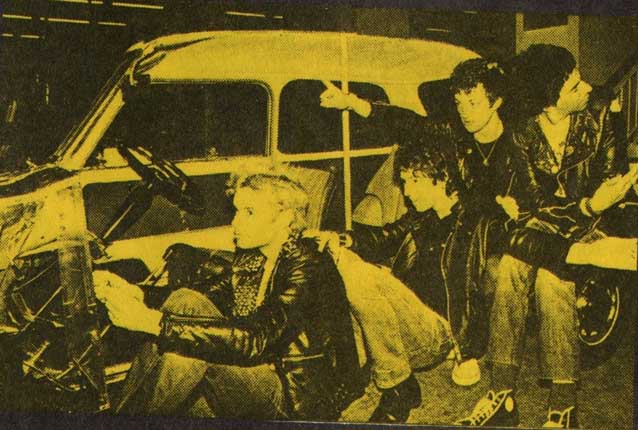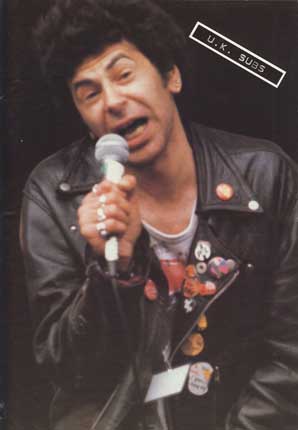 ABOVE: The UK Subs in 1978 L-R: Garratt, Gibbs, Roberts, Harper
In Summer '77 the newly christened Subs recorded its first demo, with Richard Anderson on guitar, Steve Slack on bass and Rob Harper on drums, laying down two songs, 'I Couldn't Be You ' and 'I Live In A Car'. By October Rob Harper had been replaced by Rory Lyons and Anderson by Nicky Garratt, the latter of whom was a top notch punk guitarist (classically trained, too) and arranger who would remain in the band for six years. This lineup of the band was recorded a four-song demo in November and, because they were proving so popular there, were immortalised on Farewell To The Roxy, a dodgy compilation if there ever was one. With their short, snappy, minimalist songs 'I Live In A Car' and 'Telephone Numbers', they were (alongside 'Vertigo' by Open Sore) the clear standouts.
The band finally arrived at its first stable lineup in early 1978 when Steve Slack was replaced by his brother Paul and Lyons by Pete Davies, this version of the band remaining solid until mid-1980. An excellent single, C.I.D, was recorded in July (at Spaceward Studios in Cambridge) and came out in September on City Records, a label which had recently presented the world with two singles by The Stoat. The single sold well, no doubt helped by being issued in blue, clear, green, orange, red or olive green vinyl as well as the usual black, and was repressed by Pinnacle a year in more colours. (As with The Dickies, the UK Subs' releases were released generally issued on every colour under the sun.)
The band signed with Gem Records (an RCA subsidiary) in mid 1979 and from here until April 1981 were regular chart-botherers, notching up four hit albums and seven hit singles: Stranglehold (7", June 1979), Tomorrows Girls (7", August 1979), Another Kind Of Blues (LP, September 1979), She's Not There (7", November 1979), Warhead (7", February 1980), Brand New Age (LP, April 1980), Teenage (7", May 1980), Crash Course (LP, live, September 1980, which entered the Top Ten and earned them a gold disc), Party In Paris (7", October 1980), Diminished Responsibility (LP, February 1981) and Keep On Running (Til You Burn) (7", April 1981).
Of the LPs above, Another Kind Of Blues and Brand New Age are the U.K. Subs albums to buy, with the lads charging through 31 bona fide top-of-the-second-division second wave punk, with slashing guitars, shouted Cockney vocals and, almost without exception, a great lyric (Harper is one of punk's most underrated lyricists, capable of wit, insight and unflinching realism). The purple vinyl live LP Crash Course captures the band at the height of its powers, with 20 of their best numbers played with maximum vim. Hardly slick, this captures all their anarchic glory, and a bonus 12" single includes four more live numbers.
Diminished Responsibility was recorded with a new rhythm section (Alvin Gibbs and Steve Roberts), and went through a painful recording process, the group having selected Gary Glitter stalwart Mike Leander to produce it but found him incapable of coming up with a decent mix. The LP was also a marked step down from previous efforts, with some songs sounding very much like filler ('So What', 'Too Tired').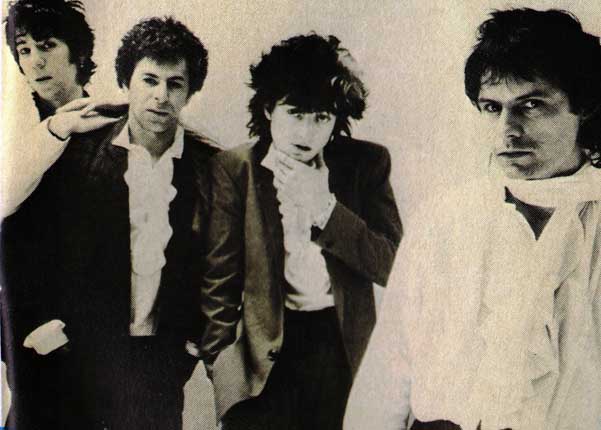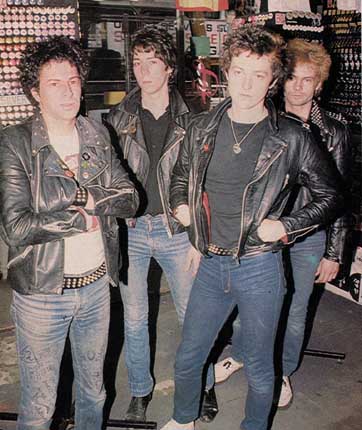 ABOVE: From the Keep On Running photo sessions, and mid 1980.
The Keep On Running (Til You Burn) 45 from April 1981 was not a great seller, despite a guitar riff that ripped-off 'Message In A Bottle' by The Police, and being pressed in two versions: a normal blue one with two songs, and a limited four-song version which added a demo version of 'Ice Age' (the proper version yet to be released) and a simply staggering version of 'Party In Paris', which was "sung" in French and had previously been sold as a very limited one-sided fan club single. It was their last single to chart. Part of the problem was the slightly weak song, but they also appeared on the cover dressed as New Romantics, and that wouldn't have helped. Nor did a Top of The Pops appearance (their last on the programme) with Garratt and Harper in make up! They lost their label soon after when Gem's American backers pulled out, and they sacked their management company soon after that.
1981-1986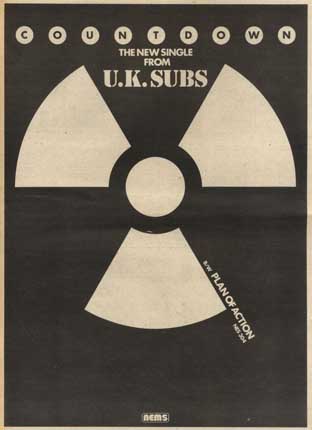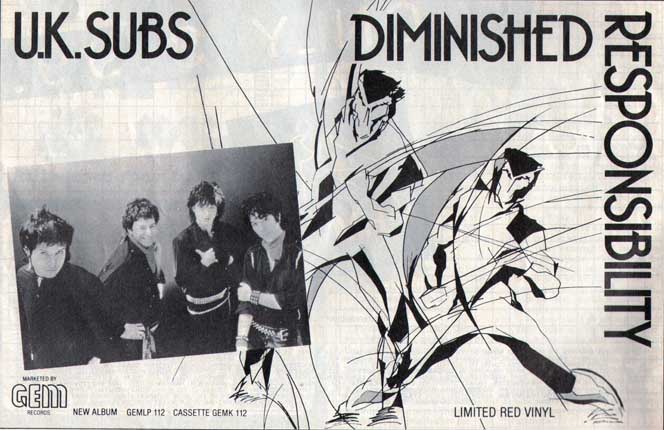 Before the year was out the lads had signed with a new label. Unfortunately, it was NEMS, once home to Black Sabbath and The Boys but now struggling. Countdown came out in November and plopped into the Top Ten in the Indie charts, but was an odd choice for a single: it was nearly five minutes long and almost torturously slow and heavy, albeit very well produced and strangely captivating. It didn't even come on coloured vinyl. Endangered Species, which came out in March 1982 but was actually recorded in August and September '81, was another indie hit, with the usual Subs punk smashers ('Lie Down And Die', 'Living Dead') sitting well alongside more adventurous and even experimental tracks like 'Sensitive Boys' and the doomy 'Ice Age'.
This period was one of further turmoil. While the band waited for NEMS to actually release Endangered Species, Roberts was dismissed in early 1982, and was replaced by Mal Aisling, formerly of Chelsea. This lineup - Harper, Garrett, Slack, Aisling - repaired to Jacobs Studios in Surrey in February and laid down four tracks, 'Ship Wrecked', 'Enemy Awaits', 'New Barbarians' and 'Police State (Part 2) and then went on a 30-date US tour, after which Aisling left. (These songs were eventually released on the 1987 compilation LP, A.W.O.L.) Aisling had already left by the time Endangered Species was finally released, and his position was taken up by a bloke called Kim Wylie, who was actually punk veteran John Towe using a pseudonym. This lineup recorded the excellent Shake Up The City in October. Although the single found them on much firmer punk ground than the last one, it also marked the end of an era, when everybody in the band deserted Charlie to pursue their own projects. The Shake Up The City EP also marked the last time they sounded like a top band.
(During 1982, prior to the Subs split, Harper and Gibbs had also started a side-project, Urban Dogs, and Harper had in 1980 and 1981 released solo records.)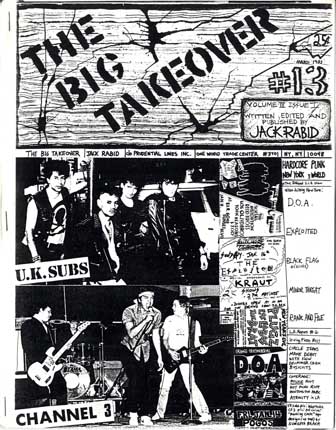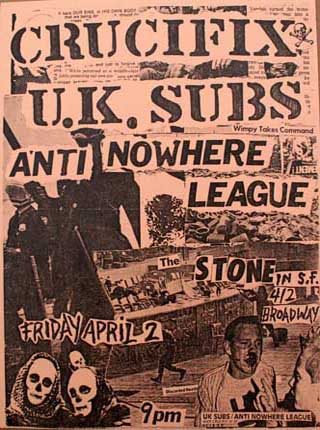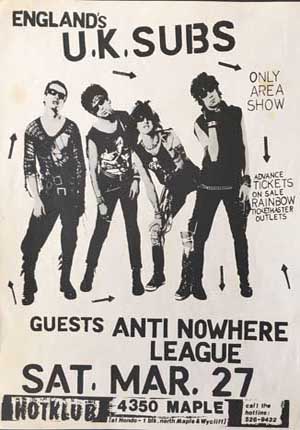 ABOVE L-R: Big Takeover magazine 1983; flyer for 1982 show; flyer for a different 1982 show
With Garratt now having moved to America, Harper looked to his past for new recruits, re-employing Steve Slack (bass) and Steve Jones (drums), both of whom had been in the band in 1977. On guitar, a chap with a silly haircut and a silly name - Captain Scarlet - came in as Garratt's replacement. The new band came out with a new single on a new label in 1983, labouring under the unwieldy title Another Typical City Involved In Another Typical Daydream, issued on 7" and 12" formats. Flood Of Lies, released that October, was actually very good indeed, despite slightly shoddy production, with some of Harper's best songs, namely 'In The Wild', 'Seas Of Mars' (which earned them unlikely comparisons with Amon Duul II!) and the impressive title track.
The band's next release, the 12" EP Magic, was an unmitigated disaster, artistically, aurally and financially: the group had clearly decided to "go goth" and were fucking awful at it; the mix was a muddy piece of shit; and nobody bought it, which is why it is virtually impossible to find these days. Scarlet and Jones departed soon after, their positions filled by Tezz Roberts (ex-Discharge/Broken Bones) and a returning Pete Davis, this lineup lasting long enough for a typically chaotic US tour which was immortalised on Gross-Out USA. Then there were more lineup shuffles prior to This Gun Says, a useless single which measured the band's popularity by struggling to sell a 1,000 copies! This was followed by Huntington Beach in Autumn 1985, another messy record, and a fake live LP, In Action (Tenth Anniversary), which was actually recorded in a studio.
Don't let anyone tell you otherwise: between 1978 and 1983 they were the bollocks.
__________________________________________________________________________
DISCOGRAPHY
Notes:
The group's A-Z albums are as follows: Another Kind Of Blues (1979), Brand New Age (1980), Crash Course (live, 1980), Diminished Responsibility (1981), Endangered Species (1982), Flood Of Lies (1983), Gross-Out USA (live, 1984), Huntington Beach (1985), In Action (Tenth Anniversary) (Live, 1986), Japan Today (1987), Killing Time (1988), Live In Paris Greatest Hits (live, 1989), Mad Cow Fever (1991), Normal Service Resumed (1993), Occupied (1996), Peel Sessions 1978-1979 (1997), Quintessentials (1997), Riot (1997), Sub Mission - The Best Of Uk Subs 1982-1998 (not new stuff, merely a compilation, 1999), Time Warp - Greatest Hits (old stuff re-recorded, 2001), Universal (2002), Violent State Live (2005), Work In Progress (2010), XXIV (2013), Yellow Leader (2015) and Ziezo (2016).
In addition to the extraneous items shown below there are a whole load of other live albums and compilations by the UK Subs, but I have listed only those which feature material recorded between 1977-1986.
5 CD Box Set (1988) is a budget box containing the first five studio albums in CD form.
Another Kind Of Blues / Crash Course, Brand New Age / Diminished Responsibility (both 1991) and Endangered Species / Huntington Beach (1992) are budget twofers - you can hear each of these with better sound on the Captain Oi! reissues of the individual albums.
Fascist Regime (1991) is a budget box set containing the AKOB/CC and BNA/DR twofers, with a third disc containing The Singles - 1978-1982.

If anyone can send me good scans of any of the above I shall add expanded information.

C.I.D (7', 1978)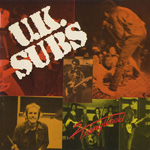 Stranglehold (7', 1979)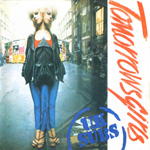 Tomorrows Girls (7', 1979)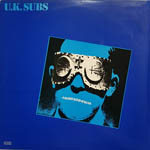 Another Kind Of Blues (LP, 1979)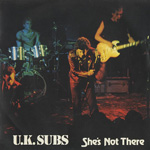 She's Not There (7', 1979)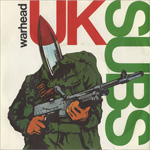 Warhead (7", 1980)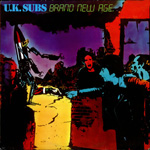 Brand New Age (LP, 1980)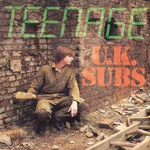 Teenage (7", 1980)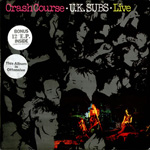 Crash Course (LP+12"/LP, 1980)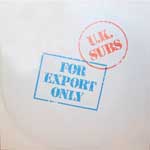 For Export Only (12", 1980)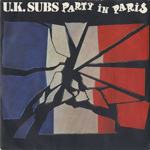 Party In Paris (7", 1980)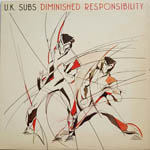 Diminished Responsibility (LP, 1981)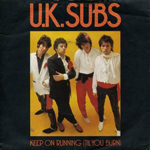 Keep On Running (Til You Burn) (7", 1981)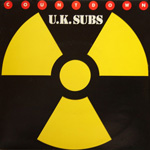 Countdown (7", 1981)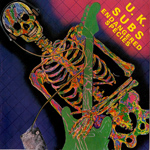 Endangered Species (LP, 1982)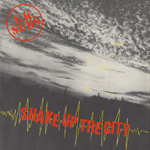 Shake Up The City (7", 1982)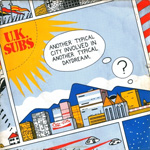 Another Typical City Involved In Another Typical Daydream (7"/12", 1983)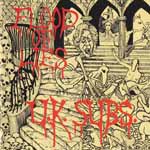 Flood Of Lies (LP, 1983)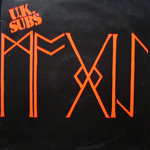 Magic (12", 1984)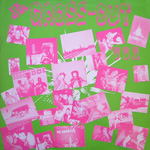 Gross-Out USA (LP, 1984)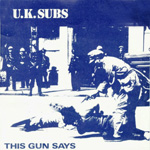 This Gun Says (7", 1985)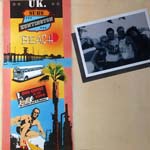 Huntington Beach (LP, 1985)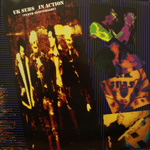 In Action (Tenth Anniversary) (2xLP, 1986)
Extraneous Releases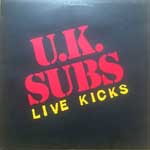 Live Kicks (LP, 1980)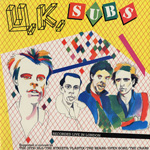 Recorded Live In London (LP, split with other bands, 1980)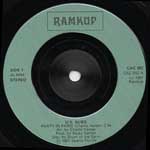 Party In Paris (7" fan club, 1981)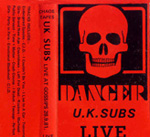 Danger UK Subs Live (Tape, 1982)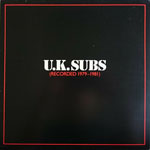 Recorded 1979-1981 (LP, 1982)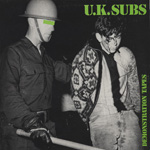 Demonstration Tapes (LP, 1984)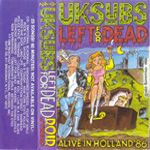 Left For Dead - Alive In Holland '86 (Tape, 1986)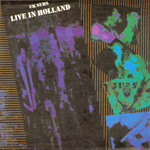 Live In Holland (7", 1986)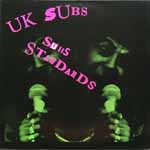 Subs Standards (LP, 1986)
Raw Material (LP, 1986)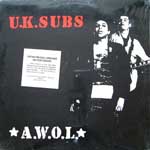 A.W.O.L. (LP, 1987)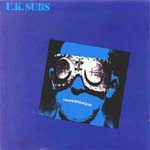 5 CD Box Set (5xCD, box set, 1988)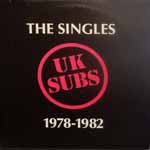 The Singles - 1978-1982 (LP, 1989)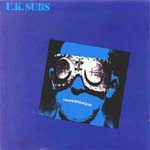 Another Kind Of Blues / Crash Course (2xCD, twofer, 1991)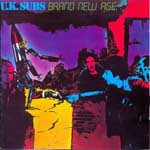 Brand New Age / Diminished Responsibility (2xCD, twofer, 1991)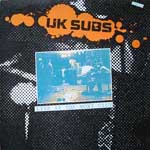 Live At The Roxy Club (LP/CD, 1991)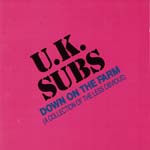 Down On The Farm (A Collection Of The Less Obvious) (CD, 1991)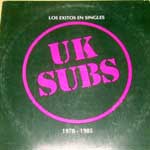 Los Exitos En Singles - 1978-1985 (LP, 1992)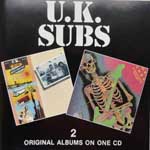 Endangered Species / Huntington Beach (CD, twofer, 1992)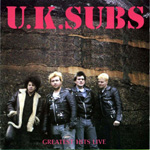 Greatest Hits Live (CD, 1992)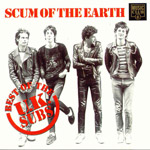 Scum Of The Earth (Best Of The U.K Subs) (CD, 1993)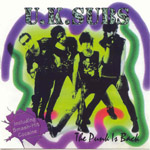 The Punk Is Back (CD, 1994)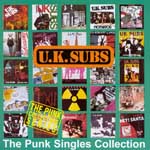 The Punk Singles Collection (CD, 1995)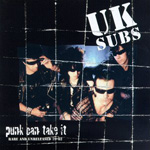 Punk Can Take It (Rare And Unreleased 78-82) (CD, 1996)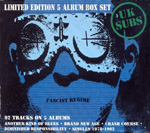 Fascist Regime (5xCD, box set, 1996)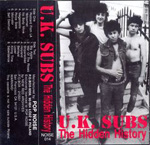 The Hidden History (Tape, 1996)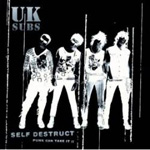 Self Destruct - Punk Can Take It II (CD, 1997)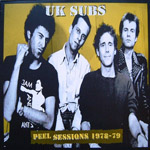 Peel Sessions 1978-79 (LP/CD, 1997)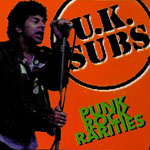 Punk Rock Rarities (CD, 1998)
Warhead (CD, 1999)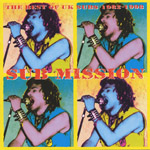 Sub Mission - The Best Of Uk Subs 1982-1998 (2xCD, 1999)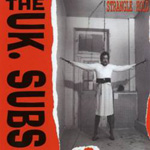 Strangle Hold (CD, 1999)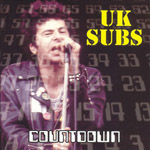 Countdown (2xCD, 2001)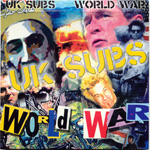 World War (CD, 2003)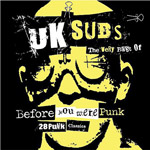 Before You Were Punk - The Very Best Of (CD, 2004)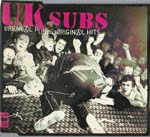 Original Punks Original Hits (2xCD, 2006)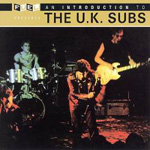 An Introduction To Presents The U.K Subs (CD, 2006)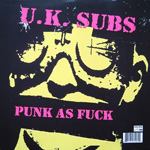 Punk As Fuck (LP, 2007)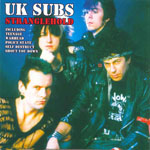 Stranglehold (CD, 2007)
Greatest Hits (CD, 2009)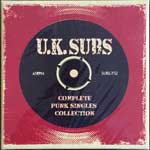 Complete Punk Singles Collection (2xCD, box set, 2011)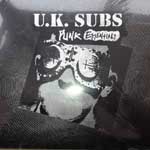 Punk Essentials (LP/CD+DVD, 2013)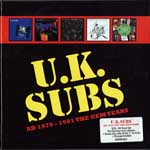 AD 1979-1981 The Gem Years (5xCD, box set, 2014)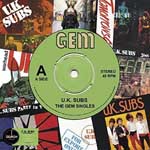 The Gem Singles (LP/8x7", box set, 2015)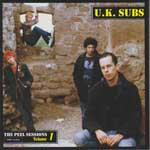 The Peel Sessions Volume 1 (7", 2015)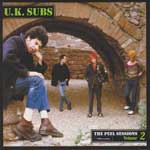 The Peel Sessions Volume 2 (7", 2015)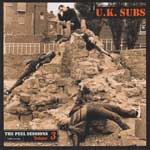 The Peel Sessions Volume 3 (7", 2015)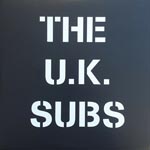 Summer 1977 Demo (7", 2016)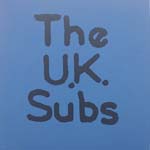 November 1977 Demo (7", 2016)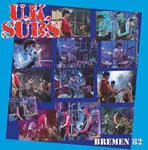 Bremen 82 (LP, 2016)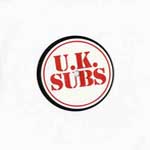 For Pledgers Only (7", 2016)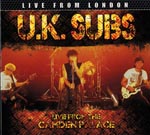 Live From The Camden Palace (CD, 2016)
The Albums Volume 1 A-M (15xCD, box set, 2018)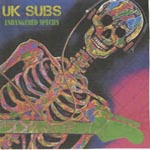 Endangered Species (7, 2018)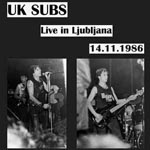 Live In Ljubljana 14.11.1986 (LP, 2019)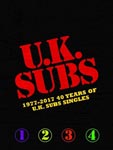 1977 - 2017 40 Years Of U.K. Subs Singles (4x10"/4xCD, 2019)
Bootlegs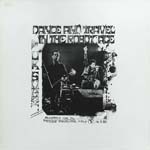 Dance And Travel In The Robot Age (LP, 1980)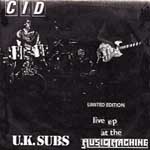 CID - Live EP At The Music Machine (7", 1980)

Various Artists
Farewell To The Roxy UK LP 1978 (Lightning): I Live In A Car / Telephone Numbers
Business Unusual (The Other Record Collection) UK LP 1978 (Cherry Red): C.I.D.
A Sudden Surge Of Sound UK LP 1980 (VU): Left For Dead
We Do 'Em Our Way UK LP 1980 (Music For Pleasure): She's Not There
Back-Stage Pass UK LP 1980 (Supermusic): Emotional Blackmail (Parts 1+2) / New York State Police
La Gran Descarga Spain 2xLP 1981 (Edigsa): C.I.D.
Burning Ambitions (A History Of Punk) UK 2xLP 1982 (Cherry Red): Stranglehold
Wave News - The New Generation Of Music Germany LP 1982 (Intercord): Countdown
Wave News 2 - Independent Smash Hits Germany LP 1982 (Intercord): Endangered Species
Punk And Disorderly III - The Final Solution UK LP 1983 (Anagram): Police State
We Don't Want Your Fucking War! UK LP 1984 (Fight Back): Anti-Warfare
Maggie, Maggie, Maggie - Out! Out! Out! UK LP 1987 (Anagram): Flood Of Lies
Punk - Past, Present And Future ... The Released Emotions Compilation (1988-1993) UK CD 1993 (Released Emotions): Motivator
Punk Explosion Live UK CD 1995 (Carlton Home Entertainment Limited): Telephone Numbers
1-2-3-4 Punk & New Wave 1976-1979 UK 5xCD 1999 (Universal): C.I.D.
Live From The Roxy UK CD 1999 (Castle): World War / I Couldn't Be You
White Dopes On Punk UK 2xCD 2005 (Castle Music): I Live In A Car (Live)
The Roxy London WC2 - A Live Punk Box Set UK 6xCD 2005 (Castle Music): See entry for tracks
Action Time Vision (A Story Of Independent UK Punk 1976-1979) UK 4xCD Box Set 2016 (Cherry Red): C.I.D.
Burning Britain - A Story Of Independent UK Punk 1980-1983 UK 4xCD 2018 (Cherry Red): Endangered Species
__________________________________________________________________________

Links
The Official U.K. Subs Website

U.K. Subs Time And Matter - Unbelievably great fansite - one of the very best of its kind

Record Collectors Of The World Unite