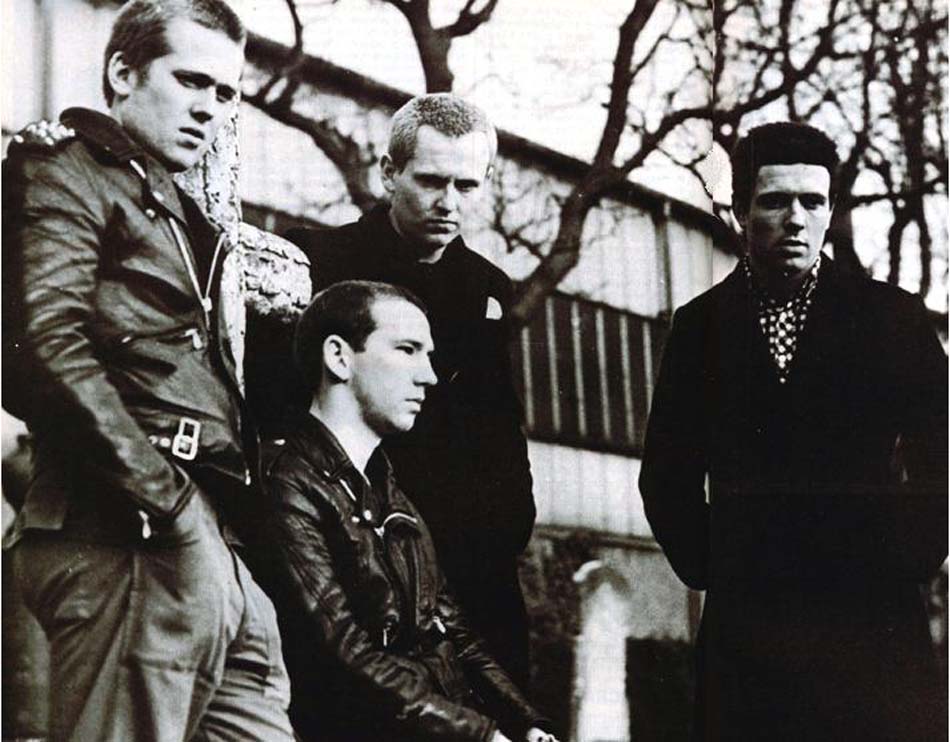 Formed: Belfast, Northern Ireland, UK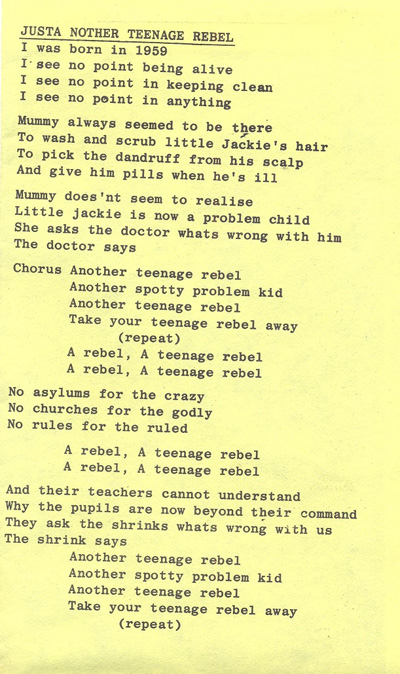 One of numerous Good Vibrations bands tipped as being "most likely to", like Rudi and Victim, Northern Ireland's The Outcasts simply never delivered the goods in any major way. Which is not to say they were bad, by any means. Half a dozen or so of their songs are minor classics: 'Just Another Teenage Rebel', 'Love Is For Sops', 'The Cops Are Comin'', 'You're A Disease', 'Frustration' and 'Mania' are excellent punk songs with poppy hooks, and they were recorded with clean vocals and a great lo-fi buzzsaw guitar sound that took them out of the realm of easy listening and into pure punk territory. However, some people really overrate this band. All Music Guide reckon "they really were better than the 'Tones". Really? Really?
They were however one of Northern Ireland's first punk bands, having formed in 1977 with this lineup:
Blair Hamilton - vocals
Greg Cowan - bass
Martin Cowan - rhythm guitar, backing vocals
Colin Cowan - drums
Colin "Getty" Getgood - lead guitar
The Cowans were real brothers, not pretend ones like the Ramones. Getty was a school friend of theirs. Hamilton only lasted a month in the group, and when he left Greg assumed vocal duties in addition to struggling with bass. From their debut in May 1977 - where they played their own songs as well as some of the more obvious punk covers - they were by all accounts a memorable and volatile live draw, and in a short period of time they gained enormous local popularity and notoriety, becoming probably the biggest punk band in Northern Ireland. (This was some time before Stiff Little Fingers, remember.)
They adopted the name Outcasts after having been turned away from five clubs in two weeks, and their list of antics included a) Colin throwing plastic bags of fake blood at students b) Martin attacking The Radiators from Space "because he caught them changing from their flared jeans into drainpipes before going on stage" c) provoking riots d) and Colin promoting the band during visiting band's shows by gate crashing the stage and screaming "Outcasts" into the mic, sometimes also adding where the astonished audience could next see the band live, and finally by stage diving into the middle of the same astonished audience.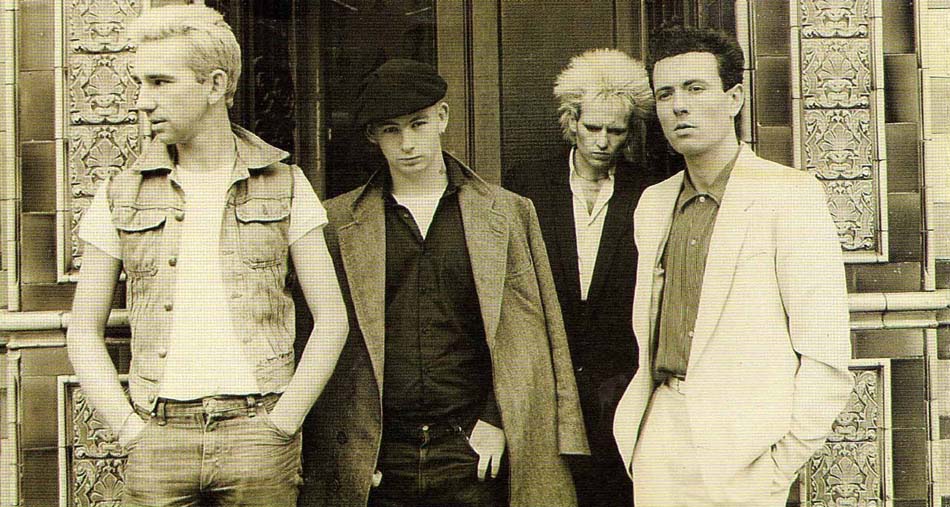 In May '78, a year after their live debut, they made their vinyl debut with the rawer-than-raw Frustration, on which the standout track was 'You're A Disease', which had some delightful punk sentiments. The band were such musical incompetents that it took about thirty attempts to get it right. But get it right they did, albeit in a sloppily effective way.
YOU'RE A DISEASE
You're such a bore
you stay true no more
Think I might throw up across your face
You're a disease
You're a disease
Your face a disease I don't want to catch
Later that year they found a manager in the shape of Good Vibrations boss Terry Hooley. This was ironic because the first time he saw The Outcasts he was not impressed in the slightest, preferring the headlining act that night, Rudi.
Terri Hooley, Hooleygan, 2010: I still maintain that in their early days they were truly awful - they were too aggressive and I'm convinced they were called The Outcasts even before they were a band because nobody would invite them to their parties. The equipment they had at the time was really old, so that of course made the band sound really terrible. They were totally mad.
Hooley remained the band's manager until late 1979, resigning from the post due to one of the band's fans being, as Hooley put it, "a nasty piece of work who was handy with his fists and who was continually causing havoc and picking fights with doormen".
Single #2 Just Another Teenage Rebel had lots of charm, not least in Greg's clean vocals, the simple singalong melodies and completely unproduced buzzsaw guitar. The B-Side offered one of punk's best anti-romance lyrics, which surely deserve being seen in full.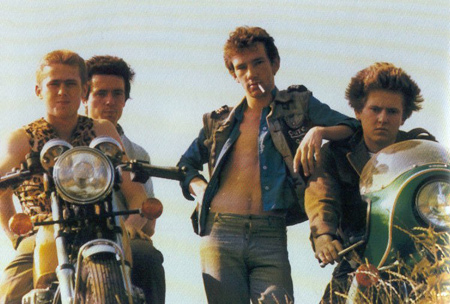 LOVE IS FOR SOPS
I don't want to meet your ma and pa
I wouldn't know what to say
I'm not much good at communicating anyway
I just want to get into your bed - nothing more
Oh love is for sops
For sops is love
Love is for fairytales and Sacha Distel
Oh love, oh love, love is for poets

I don't want to go on holiday to sunny Spain
To see little girls getting up the shute to some Spanish git
Watch them fall for the same old corny lines
Oh love is for sops
For sops and little girls
Love's in their magazines to manufacture teenage dreams
Oh love, oh love, love is for dating agencies
Oh love is for lovers, what you feel for fluffy toys
Love is for lovers and for effeminate boys
And girly pops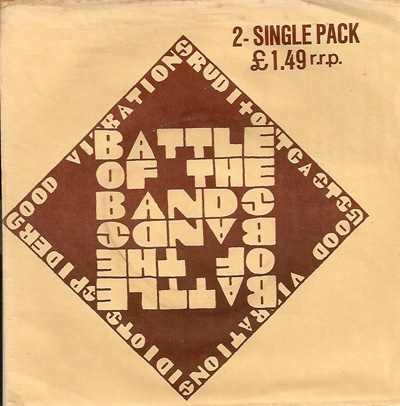 The group's third vinyl outpouring was another classic, 'The Cops Are Comin', which featured on the Battle Of The Bands compilation EP, and was yet another triumph:
THE COPS ARE COMIN'
Oh well I used to be real cracked on you
I thought I'd need no one new
Until a friend told me
He'd seen you with another man
And so I took my knife out of the kitchen drawer
I waited for you to call
And as you came through the door
I rammed a knife in your head
And as you feel to the floor
And your blood started to pour and pour and pour
Then I realised...

I'd better start running...because the cops are coming
I'd better start running...because the cops are coming
I'd better start - running
Gotta start running
Better start running because the cops, the cops, the cops, the cops are cu-uh-coming
Oh well I'm glad I killed you babe
I'm glad that you are dead
I'm glad you'll breathe no more
I'm glad there's a knife in your head
Cause I think that I'll make love
To your dead body on the bloody floor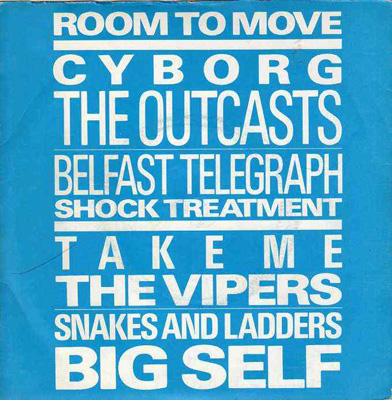 Finally an LP came out in 1979. Self Conscious Over You unfortunately sounded sounded like a collection of lumpy demos, with plodding tempos, clumpy drums and a horrible fucking saxophone sabotaging some strong songs, although as ever the vocals are winning and there is an undeniable charm to songs such as 'Spiteful Sue' and the ludicrous 'The Princess Grew Up A Frog'. The title track appeared on a single in a different version, and an album track - the pretty dreadful 'Cyborg' - was extracted for Room To Move, another 7" compilation, which proved to be their final release for Good Vibrations. Somewhere around this time Martin Cowan was injured in a motorbike crash which hospitalised him, and so Gordon Blair from Rudi helped out on bass.
In 1980, the band became a five piece with the addition of a second drummer, Raymond Falls, resulting in a punchier, moodier sound.
This new period was ushered in with a series of singles that were simultaneously harder sounding and less enjoyable, all self-released on their own labels, GBH and Outcasts Only. Gone was the goofy humour of live perennial 'Johnny Is A Wanker', to be replaced with overly serious, slightly anguished efforts like 'Gangland Warfare' (a tale of sectarian violence at one of their shows) and Killing Joke-ish nonsense like 'Beating & Screaming'. My thoughts notwithstanding, the critics seemed to like these records and some of them did OK in the Indies, including their awful version of The Glitter Band's Angel Face, which was Colin Cowan's last hurrah. He died in a car crash in May, just two months after 'Mania' was featured on the massive-selling Punk And Disorderly compilation.
In September '82 they recorded their second John Peel session, following one for him in May 1981. All eight songs from each were bootlegged much later on Outcasts By Choice, which also featured a live set recorded in France in 1982.
The remaining members carried on, eventually getting around to recording a new LP, Blood And Thunder (1982), which peaked at number 20 in the Indies and hung around the charts for two months. The follow-up EP, Nowhere Left To Run, was better produced than ever, but the main song was yet another Spaghetti Western style rocker - think 999's Obsessed and everything by Theatre Of Hate - and the other tracks included an instrumental version of the same song and a half-baked rendition of Kenny Rogers' 'Ruby' which kind of petered out. A mini-album, Seven Deadly Sins, was more of the sane, and a farewell single in the shape of 1969 (1985) proved to be their final offering, and about time too!
They split in 1985, with Falls joining the army, and the other three forming the short-lived Time To Pray, before the Cowans decided that their painting and decorating business earned them more money than punk rock ever would. They have, hey ho, since reformed, and continue to gig.
__________________________________________________________________________
DISCOGRAPHY
Frustration (7", 1978)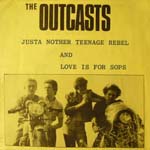 Just Another Teenage Rebel (7", 1978)
Self Conscious Over You (7", 1979)
Self Conscious Over You (LP, 1979)
Magnum Force (7", 1981)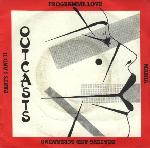 Programme Love (7", 1981)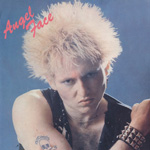 Angel Face (7", 1982)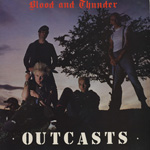 Blood And Thunder (LP, 1982)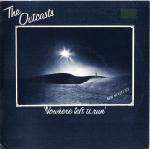 Nowhere Left To Run (7"/12", 1983)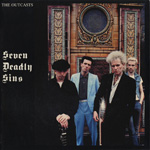 Seven Deadly Sins (12", 1984)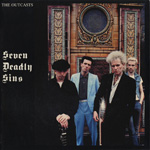 Seven Deadly Sins (7", 1984)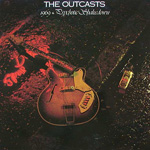 1969 (12", 1985)
Extraneous Releases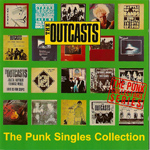 The Punk Singles Collection (CD, 1995)
Blood And Thunder & Seven Deadly Sins (CD, twofer, 1997)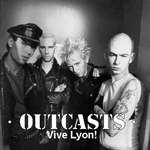 Vive Lyon! (CD, 2011)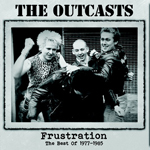 Frustration - The Best Of 1977-1985 (LP/CD, 2013)
Bootlegs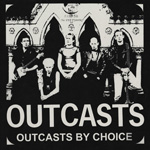 Outcasts By Choice (LP, 2002)
Various Artists
Business Unusual (The Other Record Collection) UK LP 1978 (Cherry Red): Just Another Teenage Rebel
Battle Of The Bands UK 2x7" 1979 (Good Vibrations): The Cops Are Coming
Room To Move UK 7" 1980 (Energy/Good Vibrations): Cyborg
La Gran Descarga Spain 2xLP 1981 (Edigsa): : Just Another Teenage Rebel
Punk And Disorderly UK LP 1982 (Abstract): Mania
Now In Session UK LP 1982 (Downtown Radio): Programme Love
Blood On The Cats UK LP 1983 (Anagram): Seven Deadly Sins
Anagram Records · The Punk Singles Collection UK CD 1994 (Anagram): Nowhere Left To Run

Good Vibrations: The Punk Singles Collection UK CD 1994 (Anagram): Love Is For Sops / The Cops Are Coming / Self Conscious Over You / Love You For Never
1-2-3-4 Punk & New Wave 1976-1979 UK 5xCD 1999 (Universal): Justa Nother Teenage Rebel
New Rose Story 1980 - 2000 France 4xCD 2000 (Last Call): Angel Face
Action Time Vision (A Story Of Independent UK Punk 1976-1979) UK 4xCD 2016 (Cherry Red): Just Another Teenage Rebel
Burning Britain - A Story Of Independent UK Punk 1980-1983 UK 4xCD 2018 (Cherry Red): Gangland Warfare
__________________________________________________________________________
Links
Wikipedia - Outcasts
SPIT RECORDS - Nice Outcasts page
FACEBOOK - Outcasts page
BELFAST MUSIC - In With The Outcasts - Bio and interview
Punk 77 - Outcasts bio and review thing