Formed: London, England, UK
Max Splodge: One night I rushed into the Crown in Chislehurst waving a pound note, trying to buy two pints of lager and a packet of crisps. The bell rang and the bloke wouldn't serve me. The next day I put down a drum track and bass line and just shouted, "Two pints of lager and a packet of crisps please." Mike Reid played it on Radio 1 and it started selling 17,000 copies a day. Splodgenessabounds still tours. Over the past 20 years, there have been seven deaths of people who have been in the band at one time, mainly from heart attacks and liver failures, including Roger Rodent who died in 2002. Miles Runt Flat (guitar) is now stage manager of the Astoria in London. Winston Forbes (keyboards) and Pat Thetic (guitar) are electricians. Whiffy Archer, who played paper and comb, runs a naked bungee jumping firm. Baby Greensleeves, our first vocalist, is a bingo caller in Thames Ditton. - as told in One Hit Wonders, by Chris Welch and Duncan Soar, published by New Holland

On any given night in late 1979, if you went to any pub in South London then there was a fair chance you might have had the good fortune to see Max Splodge farting into a microphone or receiving a blow-job from his female backing vocalist. Subtle they weren't, and more surprisingly, subtle they ain't, cause they (or Splodge himself, at least) are still at it. However, despite occasional forays into the studio and frequent gigging, they will forever remain best known for 'Two Pints Of Lager And A Packet Of Crisps, Please' and a delightfully yobbed-up version of Rolf Harris's Two Little Boys, both of which were UK chart hits in 1980 (the former as the flipside of Simon Templer). Purveyors of what they called Punk Pathetique, they basically delighted in being very silly and deliberately corny, playing fast, poppy punk with scatological lyrics about wanking and talking arseholes. They were never going to win the critical acclaim of, say, Peter Gabriel - or even Sham 69 - but to my ears they were a welcome respite from the more po-faced anarcho/hardcore bands that were popping up at the time, and their debut LP is a regular turntable botherer in ny household.
With Splodgenessabounds the group – seven members, including a keyboard player, saxophonist, female backing vocalist, plus guest singer Gary Holton from the Heavy Metal Kids – cemented their reputation as the most stupidly childish band in Britain, with high caliber songs such as as 'Blown Away Like A Fart In A Thunderstorm', 'I Fell In Love With A Female Plumber From Harlesden NW10', 'I've Got Lots Of Famous People Living Under The Floorboards Of My Humble Abode' and the three-part 'Malcolm Opera', an ode to runny noses and the power of Vicks Sinex. The music is mainly straight-ahead '77-style punk, but played with more variety and invention than most punk bands at the time, and you can't really argue with sentiments like "The state of the economy makes me spew/But what can you do when even vicars wank too, John?". The LP was released after the original band had split, and 'Two Little Boys' is included, while 'Two Pints' comes in a dub stylee (not really an improvement but amusing all the same).
ABOVE: As with Top Of The Pops, even the most ludicrous acts could become briefly famous in Smash Hits if their records sold enough. This cover and interview is from July 1980, and has been grabbed from the great Like Punk Never Happened site
ABOVE: From Smash Hits December 1980 (also from Like Punk Never Happened site)
Despite the two hit singles, the band fell apart in late 1980, just after Splodge had released a ludicrous solo single, Bicycle Seat, which was produced by Dennis Bovell (best known to punk types as producer for The Slits) and on which the backing group was Matumbi (the British reggae group which allegedly blew the Wailers offstage at the Ethiopian famine relief concert in Edmonton in 1973). The single was about Max's desire to be reincarnated as a bicycle seat. It was terrible.
ABOVE: "The Importance of the -Side" from Smash Hits June 1980 (Like Punk Never Happened again; press advert for 1980 show.
Later, a group called The Crabs from Great Yarmouth was recruited by Max to act as his new backing band for the next Splodgenessabounds endeavour. The Crabs had previously appeared on Farewell To The Roxy and were quote popular locally when Max took over. The new band's first single was the minor chart hit Cowpunk Medlum, a mildly amusing medley of western film themes, although for sheer hilarity the wonky version of 'Hawaii Five O' on the bonus flexi was the standout and 'Brown Paper' was the funniest track.
ABOVE: Smash Hits press item from October 1980 (Like Punk Never Happened yet again; Record Mirror poster; and advert for crap single.
Released under the abbreviated name Splodge, In Search Of The Seven Golden Gussets features more locker room jocularity and juvenile scatology, including a very funny C&W parody, 'Tough Shit Wilson', and more singalong gems. 'Hold Ya Cherries' is a highlight, but the title track was also pretty good and got done twice. Interspersed with numerous spoken-word interruptions, it doesn't match the debut but still offers plenty of yocks. The Captain Oi! CD adds the contents of a split EP recorded with Gal Gonad (aka Garry Bushell), led by a sound trouncing of Tom Jones's 'Delilah'.
Max Splodge spent the next few years playing in the Angelic Upstarts and (very probably) drinking heavily. With a new band he recorded A Nightmare On Rude Street (1991), a slipshod affair that doesn't know whether it's coming or going, and certainly isn't funny. Once Punk Pathetique, this is just pathetic. I Don't Know (2000) features guest appearances from members of Cock Sparrer, UK Subs and Sham 69, and was produced by Dave Goodman. It also drives a running joke about Mongols completely into the ground but at least has the insight to contemplate one of life's greatest hazards on 'My Sock's Gone Down My Shoe'. Another LP, The Artful Splodger, followed in 2001 and was more of the same.

__________________________________________________________________________
DISCOGRAPHY
Subsequent studio albums: Nightmare On Rude Street (1991), I Don't Know (2000), The Artful Splodger (2001)
Singles & Albums
Simon Templer (7", 1980)
Two Little Boys (7", 1980)
Bicycle Seat (7", by Max Splodge, 1980)
Splodgenessabounds (LP, 1981)
Cowpunk Medlum (7"+flexi, 1981)
Mouth And Trousers (7", as Splodge, 1982)
In Search Of The Seven Golden Gussetts (LP, as Splodge, 1982)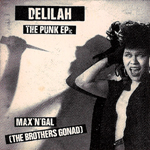 Delilah – The Punk EPic (7", as Max 'n' Gal (The Brothers Gonad), 1983)
Extraneous Releases
Pathetique Excerpts From The Concept Album "The Search For The Seven Golden Gussetts".....Ye Quest Starts Here! (Flexi 7", flexi, as Splodge, 1982)
Live And Loud!! (LP, 1988)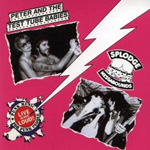 Live And Loud!! (CD, split with Peter & The Test Tube Babies, 1996)
The Albums (5xCD, box set, 2018)
Various Artists
Oi! The Album UK LP 1980 (EMI): Isubeleeeene [as Max Splodge with Desert Island Joe]
Strength Thru Oi! UK LP 1981 (Decca): We're Pathetique / Isubaleene (Part 2) [as Splodge]
Bollocks To Christmas UK 7" 1981 (Secret): The 12 Days Of Christmas [as Max Splodge]
Oi! Chartbusters Volume 1 UK LP 1987 (Link): Two Pints Of Lager [demo]
Oi! Chartbusters Volume 2 UK LP 1987 (Link): Two Little Boys [demo]
Oi!.. The Picture Disc UK LP 1987 (Link): Two Pints Of Lager [demo]
Oi! Chartbusters Volume 3 UK LP 1988 (Link): Wiffy Woman
Oi! Chartbusters Volume 4 UK LP 1988 (Link): Delirious
Oi! That's What I Call Music UK LP 1988 (Link): Wiffy Smells
It Ain't No Legend Germany Tape 1992 (Hick-Up Tapes): In Search Of The Golden Gussets
Oi! Glorious Oi! / Oi! That's What I Call Music UK CD 1994 (Step-1 Music): Wiffy Smells
Punk Explosion Live UK CD 1995 (Carlton Home Entertainment Limited): Dangerous
Razor Records Punk Collection UK CD 1995 (Anagram): Mouth And Trousers / Delilah [as The Brother Gonad] / Hold Ya Cherries
Oi! The Rarities Vol 4 UK CD 1996 (Captain Oi!): Mouth And Trousers / The Seven Golden Gussets
Lords Of Oi! UK 3xCD Box Set 1997 (Dressed To Kill): Two Pints Of Lager [demo] / Two Little Boys [demo] / Delirious
Oi! This Is England UK 3xCD Box Set 1999 (Dressed To Kill): Two Pints Of Lager [demo] / Two Little Boys [demo] / Delirious
Oi! Chartbusters Volume 3 UK CD 2002 (The Harry May Record Company): Pathetique
________________________________________________________________________
Links