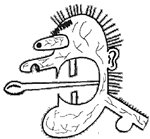 Formed: Calwell, New Jersey, USA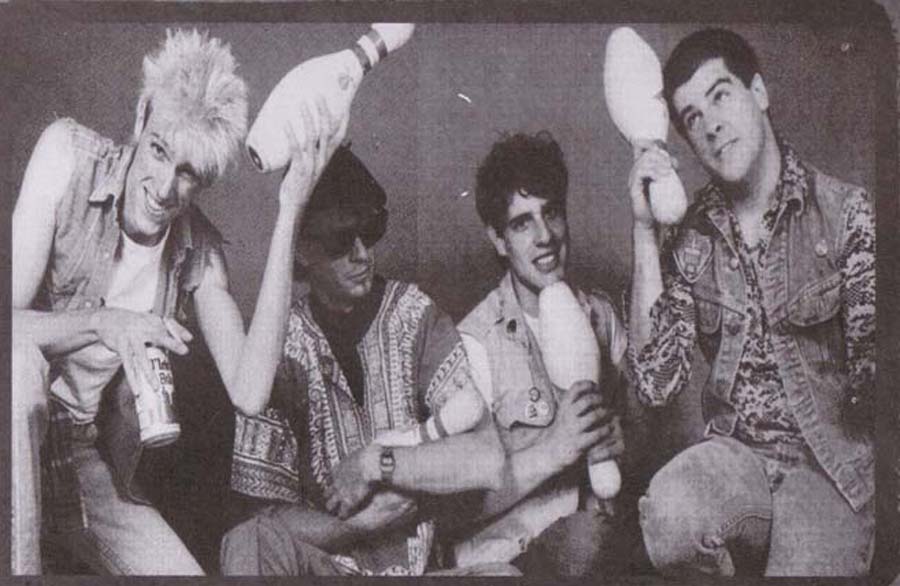 A crazy, silly thrash/hardcore act, these boisterous jokers first appeared on ROIR's New York Thrash tape (1982), and were one of the most manic bands on it, even alongside noted barnstormers Bad Brains. For two or three years they were reliably chaotic and completely incapable of taking themselves seriously, hence their continued obscurity and a deluge of song titles like 'Youth Blimp' and Theme From An Imaginary Midget Western'. (A politically conscious song, 'Die For A Cause', is one of their few concessions to serious subjects.)
Issued on their own Buy Our Records with new guitarist Bruce Wingate, the Let's Barbeque EP (1983) and The Wacky Hi-Jinks Of... (1984) are classics of their kind, the former's charming technical attributes owing to the fact that they could only afford fifteen minutes of studio time i.e. just enough to plug in and blast out their six songs. On the LP they had more time, but sounded the same anyway, probably because they recorded some of it in their underwear, the zany buggers.
Their first international releases Humungusfungusamongus and the Daniel Rey-produced Cruising With Elvis In Bigfoots' UFO (1988) refined the assault with tighter playing and much more variety, although the subject matter remained essentially lowbrow ('Bulimic Food Fight' etc). Increasing poppiness, slower tempos and amusing instrumentals make them perhaps a less daunting introduction to AOD's insanity, but robbed of the insane tempos a certain amount of charm was lost.
Ishtar, 1990 produced by Adny Shernoff (The Dictators) and featuring a version of Queen's 'Sheer Heart Attack', proved to be their final release, until 1996's Sentimental Abuse EP and an unnecessary live album, "Phat And Old" (1996).
Wingate has been the most prolific AOD-er, playing with (deep breath): Bruce Wayne, The Brunch Mummies, Shyster Shyster & Flywheel, New Reagans, The Earls Of Sandwich, and the TXT PSTLZ. Original guitarist Jim Foster later played with Electric Frankenstein.Sittin' Pretty slings the first album and the Let's Barbeque EP onto one compact disc, and supplements them with a handful of demos, totaling 44 cuts.
RESONS A.O.D. BROKE UP
(and other bad career moves)...
1.Declared punk was "back" in 1986
2.Kicked Jack out for some pretty boy
3.Underestimated buying power of straightedge kids at Anthrax
4.That whole Jagger/Richards Paul and Bruce rivalry
5.Didn't keep in touch with NOFX
6.ISHTAR:Too pop for punks, too punk for pops
7.Cancelled show headlining for Nirvana
8.Not enough band photos with shirts off.
9.Didn't exploit friendship with Brian Baker to it's fullest potential
10.Should have copyrighted "wacky Suburban Hardcore" concept in 1981
11.Kicked Ben Weasel's ass
12.Spent advance money from Restless Records on buckets of chicken wings
13.Dumped longtime girlfriends for shallow model/actress after appearing in Spain
14.Declared hardcore dead in 1986.
ORIGINAL LINEUP:

Paul Richard - vocals, guitar
Jim Foster - guitar
Jack Steeples - bass
Dave Scott - drums
This lineup recorded the New York Thrash songs and the Let's Barbeque. From 1983 to 1984 Scott also sang for Pleased Youth.
CLASSIC LINEUP (1984-86):

Paul Richard - vocals, guitar
Bruce Wingate - guitar
Jack Steeples - bass
Dave Scott - drums
This lineup reconvened for a while in the mid 90s and also in 2005.
OTHER MEMBERS AT VARIOUS TIMES INCLUDE:
Keith Hartel - bass
Wayne Garcia - bass
DISCOGRAPHY
Subsequent studio albums: Cruising With Elvis In Bigfoot's U.F.O. (1988), Ishtar (1990).
Singles / Albums
Let's Barbeque
(7", 1983)
Caught In The Act
(7", split with Bedlam, 1984)

The Wacky Hi-Jinks Of...
(LP, 1984)

Humungusfungus-amongus
(LP, 1986)

A Nice Song In The Key Of D
(7", 1986)

Extraneous Releases

Adrenalin O.D. / White Flag
(Tape, split, 1986)
Sittin' Pretty
(CD, 1996)
A.O.D. Themes (Rare & Unreleased 1982 Demos)
(LP/CD, 2001)
Various Artists
New York Thrash US Tape 1982 (ROIR): New Year's Eve / Paul's Not Home
Underground Hits 2 Germany LP 1983 (Aggressive Rockproduktionen): Hijack / White Hassle
Disorder, Disorder, Disorder US Tape 1983 (label unknown): Mischief Night / Corporate Disneyland
We Got Power: Party Or Go Home US LP 1983 (Mystic): W.W. 4
Flipside Vinyl Fanzine Volume 1 US LP 1984 (Gasatanka): Me Three Bunch
New Jerseys' Got It? US LP 1985 (Buy Our Records): Crowd Control / Infiltrate the State
Big City's One Big Crowd US LP 1985 (Big City): Love Song
Suburban Uprising: The Jersey Beat Collection US Tape 1985 (Jersey Beat): Suburbia
Another Shot For Bracken US LP 1986 (Positive Force): Anarchy In The U.S.A. (Live)
Rat Music For Rat People Vol 3 US LP 1987 (CD Presents): Sightseeing
4 Bands That Could Change The World! US LP 1987 (Gastanka/LSR): Saturday Night / Anarchy In The U.K. / Deuce / Rock And Roll Gas Station (Live '85)
The Best Of Flipside Vinyl Fanzines US 2xCD 1992 (Flipside): Me Three Bunch
All For One...One For All US CD 1995 (Grand Theft Audio): Trans Am
Contaminated VI US CD 2003 (Relapse): Pope On A Rope
Links
ADRENALIN O.D. BeSound homepage
MySpace page
WIKIPEDIA page
RELAPSE RECORDS - Where you can buy stuff
Trouser Press - Reviews
Flex Hardcore - More AOD reviews