Formed: South Shields, Sunderland, Tyne and Wear, England, UK


One of my all-time favourite bands, I always thought that the Upstarts were VASTLY underrated. They peddled an intensely angry form of social(ist) commentary, railing against their deprived upbringing in the South Shields council estate in Sunderland, and laying into authority figures such as politicians (Tories especially, although later the Labour party), the police, the army, and so on. Like Sham 69, they were the real working class voice of Punk, and like Sham suffered from a small right-wing following despite their staunchly anti-racist stance. As time went by and their star waned, they nonetheless continued to make excellent music (even when stuck in a rut), and even added genuine pathos and sentiment into their lyrics.
The Upstarts had a major focal point in Mensi, who could rant and shout better than he could sing, and who dripped absolutely heartfelt passion. Their strongest lineup also featured Mond, a meat and potatoes guitarist of some note, and a very good (occasional) drummer indeed (Decca Wade). Along with Chelsea and Sham, I feel that the Upstarts have never received the mainstream acclaim they deserved: like Gene October, Mensi could take a commonplace subject and put an intriguing twist on it, and his cohorts knew how to bang out a quality tune with it. They were social realists, like Sham 69, and sang about the street as only real street urchins could. They battled with the police, were the scourge of local councils, and were also involved in violent confrontations with Nazis - Skrewdriver in particular. They hated the fascists, and were especially dissatisfied with the recently elected Thatcher, who more than anyone was responsible for decimating the way of life for millions of working class people.
They courted controversy throughout their whole career. Their debut single, the coruscating The Murder of Liddle Towers, was issued on their own label in 1978 and immediately banned.

Mensi: "Liddle Towers was our protest single. It was the story of a boxing coach who was arrested for being drunk and disorderly. He was examined by a doctor and was perfectly healthy. Then in the morning was discovered dead and had injuries which the police surgeon described as being similar to that of a person who had been in a serious 70 miles-an-hour head-on collision. His injuries were absolutely horrific. He was basically kicked to death.

"We done a couple of shows and got the money together and we pressed 500 singles, and then Small Wonder/Rough Trade re-released it, and it got to number one in the indie charts. With no radio play. Apart from John Peel, nobody else played it, and it was actually banned off any sort of play list in the northeast. Fair play I say."
ABOVE: Mojo 100 Punk Scorchers! October 2003
:
Their antics included kicking a pig's head around the stage, calling for their audiences to batter the fuck out of mods and soul boys, and ensuring that their gigs often ended in a riot (or at least a respectable bout of fisticuffs). As their infamy spread, they even managed to land a prison gig after conning the governor into believing they were a religious band. Securing deals with Warner Bros and EMI ensured them large record sales (for this type of band), but their uncompromising stance made them an odd choice for these conservative labels. They despised racists and were extremely focal on this point, but were often accused of this themselves despite no evidence to support such a claim. Gigs were marred by violence. They aroused much media interest when they became involved in a struggle involving local gangsters and shootings. And they were extremely badly behaved (tsk tsk).
Though they offered nothing for intellectuals or arty types, the Upstarts came out with all cylinders blazing and stayed angry, even when bowing to record companies. In 1978, when the original punk bands had started playing at popstars, going arty or disappearing, bands like the Upstarts, U.K. Subs, Ruts and Stiff Little Fingers let it be known that punk was still in good health, still connected with "the kids" and could still produce good music.
They were integral to the development of Oi! (though Mensi would HATE this suggestion) and hardcore, and played a part in shaping the sounds (and look) of American hardcore as well.
Following the 'Liddle Towers' single and a Peel Session in October '78, Decca was replaced by Sticks Warrington and they were signed to Jimmy Pursey's JP Productions. The plan - to record a demo and use Pursey's leverage to secure a deal with Polydor - went tits up following an incident involving Pursey, a security guard and a snowball fight (see my interview for the full story). Instead, they signed to Warner Bros and recorded two fine albums - Teenage Warning (1979) and We Gotta Get Out Of This Place (1980) - and several singles for the label before the company grew tired of their shenanigans eg getting banned from Top Of The Pops, gig violence, and their involvement in a violent vigilante assault in Sunderland. Of the latter Mensi has this to say: 'What are you gonna do with gangsters or bullies when your actual family are threatened? How you gonna police that? When someone's threatened to kill you what do you actually do? 'Shotgun Solution' is what we done. It was a solution to a problem because at the time the police didn't want to be involved. Nobody else wanted to be involved, it was like family and friends against gangsters. I said, "Fuck the police, let's just do it worselves", and we became judge, jury and executioner, all in one fucking night. "What do you think? Guilty! Sentence? Death! Right, let's get off and let's do it!" That was me: little bit wild, little bit bad-tempered, but just such a lover boy now it's unbelievable, it's actually quite shocking. People look at me now and go, "Ahh, he's so nice and effeminate." I have been compared on numerous occasions to Ashley off Coronation Street because of me lovin' gentle nature, especially towards women, I just ooze romance".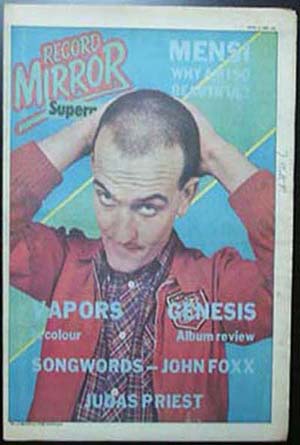 TEENAGE WARNING
You wind me up like a clockwork orange
Then you hide the key to my destination
No satisfaction, its all frustration
The times are changing
They're changing me

Open the cage, let free the animals
Running wild with hardened criminals
No satisfaction, it's all frustrations
The times are changing when you're
13,14 Its a teenage warning
15,16 But nobody's listening
17,18 Who takes the blame
19,20 The twentieth century
Is my image right
for your fashion parade?
If it don't look right
your days are numbered

In 1980 EMI Zonophone, then snapping up every UK punk band they could get hold of, coughed up the readies and financed a string of excellent singles - the SLF-style
Last Night Another Soldier
, the misunderstood anthemic ballad
England
, the "kids are united" style celebration of
Kids On The Street
and the reggae crossover protest song
I Understand
- and their adventurous third album
2,000,000 Voices
(1981), which saw them broadening their palate to include ska, reggae, a string section and (gasp!) a piano ballad with none other than Honey Bane singing a duet with Mensi. Amazingly, all this experimentation did nothing to dilute their vitriol and the LP narroly missed the UK Top 30 during its brief 3 week chart stint.
Despite substantial sales, their knack for generating controversy and rucking scuppered any real chance of major mainstream success, and things started going askew when they successfully managed to alienate their entire fanbase with a terrible single
(Different Strokes
) and 1982's bizarre
Still From The Heart
, where they had caved in to EMI's attempts to push them into a pop direction. The resulting album was an absolute flop (their first not to chart) and the Upstarts were duly "freed" from the contract. Anyone listening to the superb four song demo - 'Action Man', 'Cry Wolf', 'Soldier' and 'Gonna Be A Star' - they had recorded prior to recording the LP, would have to feel a sense of loss for the blistering LP 'Still From The Heart' could have been.
The band responded by going back to the indies (
Anagram
, then one of the country's most supportive punk labels) and releasing one of their best albums,
Reason Why?
(1983). The first single from the album, the brilliant
Woman In Disguise
won them their best reviews for years and a rather strange promo video, shot in black and white, almost helped make the single a hit.
Below is an article from PUNK LIVES magazine, from 1983. Click on the images to see it full size.
Unfortunately, they failed to capitalise on the success, and released the comparatively poor (but by no means bad)
Last Tango In Moscow
(1984) on a tiny independent, Picasso Records, with
Max Splodge
on bass and backing vocals. While 'Jarrow Women' and 'I Think It Should Be Free' were typically impressive, Max's 'Rude Boy' was a definite low point for the band.
Thereafter the band suffered from low budgets and line-up instability - ultimately Mensi and whoever was available, even if that was Splodge. The departure of long-serving guitarist and co-writer Mond was also a blow. Despite their diminished visibility in the mid-80s, the Upstarts still had a few more SHOCK! HORROR! news stories in them. 1985's
Brighton Bomb
EP saw them earning two-page spreads in the tabloids for allegedly reveling in the IRA's bombing of the Tory Convention at the Grand Hotel in Brighton. The Sun particularly disliked the cover art, with Maggie astride a stick of Brighton rock, her limbs reduced to blood-spurting stumps. The song itself was actually quite ambiguous:
Are they at war, who can justify?
Are you so holy, have you got the right?
Who is the judge and who is your jury?
Or let them get it by decree?
What do you hold in front, hold in front of them?
It's only your Democracy.
There a killer on the street, a killer on the trigger.
And who is the winner, and who is the winner.
There's a bomb gone off in Brighton, a bomb gone off to kill.
There's a bomb gone off in Brighton, a bomb gone off to kill
Killers Unite, killers with the right
Do you hold the pistol or cut by the knife
So cry to me of cowards, and countries with the right
The right to take up a fight.
Wiped out in a sea of hate, as dust falls in the night.
Never to learn till disaster strikes.
There a killer on the street, a killer on the trigger
There's a bomb gone off in Brighton, a bomb gone off to kill
There's a bomb gone off in Brighton, a bomb gone off to kill.

While
Power Of The Press
(1986) passed without much interest, 1987's
Blood On The Terraces
was then slated for glorifying footie violence, and a major riot ensued at 'The Main Event' gig in 1988, a showcase for Oi! bands.
The following are scans from the Captain Oi! CD booklet: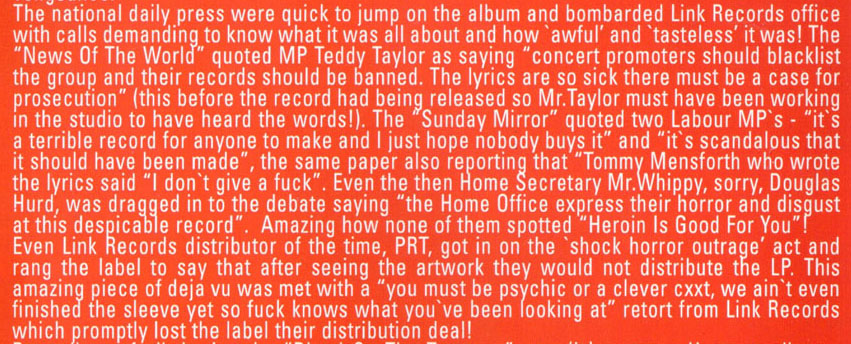 However, by the end of the decade they had all but come to a grinding halt, and although they never officially split, the last twenty years has seen sporadic gigs and only two new albums, both underrated and both excellent,
Bombed Out
(1992) and
Sons Of Spartacus
(2002).
In 2006, in a fit of insanity, Mensi decided to quit the group, requesting Chris Wright of Crashed Out take over vocals. Fortunately, Mensi changed his mind and the band continue with yet another lineup.
LINEUPS (I'm sure there are some others - let me know)
LINEUP #1 (1977-1978):
Thomas 'Mensi' Mensforth - vocals
Raymond 'Mond' Cowie - guitar
Steve Forsten - bass
Decca Wade - drums
This lineup recorded the
Liddle Towers
single (and a Peel Session
LINEUP #2 (1978-1980):
Mensi - vocals
Mond - lead guitar
Steve Forsten - bass
Keith 'Sticks' Warrington - drums
This lineup recorded the first two LPs. Ronnie Rocker also very briefly played bass during this period.

LINEUP #3 (1980):
Mensi - vocals
Mond - guitar
Glyn Warren - bass
Sticks - drums
This lineup recorded
Last Night Another Soldier
LINEUP #4 (1980-1981):
Mensi - vocals
Mond - guitar
Glyn Warren - bass
Paul Thompson - drums
This image from
Kids On The Street
, on which Paul Thompson played. Not sure if he is in this picture, though. This lineup also recorded
England
LINEUP #5 (1981):
Mensi - vocals
Mond - guitar
Glyn Warren - bass
Decca Wade - drums
This lineup recorded
2,000,000 Voices
LINEUP #6 (1981-1982):
Mensi - vocals
Mond - guitar, vocals
Tony Feedback - bass
Decca Wade - drums
This lineup recorded
Live
and
Still From The Heart
LINEUP #7 (1982-1984):
Mensi - vocals
Mond - guitars, backing vocals
Tony Feedback - bass, vocals
Brian Hayes - guitar
Paul Thompson - drums (not officially an Upstart)
This lineup recorded
Reason Why?
LINEUP #8 (1984):
Mensi - vocals
John the Boy - keyboards
Tony Feedback - bass
Brian Hayes - guitar
Nick the Blonde - drums
This lineup recorded
Not Just A Name
LINEUP #9 (1984):
Mensi - vocals
Brian Hayes - guitar, vocals
Ronnie Rocka - vocals, guitar
Max Splodge - vocals, guitars, drums
Chalfont I.C.F. Jaconelli - drums
This lineup recorded
Last Tango In Moscow
LINEUP #10 (1985-1987):
Mensi - vocals
Brian Hayes - guitar, vocals
Ronnie Rocka - bass, drums
Max Splodge - drums, bass

This lineup recorded
Live In Yugoslavia
,
Brighton Bomb
,
Power Of The Press
and
Blood On The Terraces
LINEUP #11 (1991):
Mensi - vocals
Mond - guitar and vocals
Dave Brewis - bass guitar
Graham Lant - drums
This lineup recorded
Bombed Out
LINEUP #12 (2002):
Mensi - vocals
Tony Van Frater - guitar
Gaz Stoker (AKA Gary Stuart) - bass
Lainey - drums, backing vocals
This lineup recorded
Sons Of Spartacus
LINEUP #13 (2006-2007):
Chris Wright - vocals
Dickie Hammond - guitar
Neil Newton - guitar
Gaz Stoker - bass
Decca Wade - drums
LINEUP #14 (2007):
Mensi - vocals,
Dickie Hammond - guitar
Neil Newton - guitar
Gaz Stoker - bass
Brett Mulvaney - drums

The Murder Of Liddle Towers (7", 1978)
I'm An Upstart
(7", 1979)
Teenage Warning
(LP, 1979)

Teenage Warning
(7", 1979)
Never `Ad Nothin'
(7", 1979)

Out Of Control
(7", 1980)
We Gotta Get Out Of This Place (7", 1980)
We Gotta Get Out Of This Place (LP, 1980)
Last Night Another Soldier (7", 1980)
England (7", 1980)
Kids On The Street
(7", 1981)
I Understand
(7", 1981)
2,000,000 Voices
(LP, 1981)
Live (LP+7", 1981)
Different Strokes
(7", as Angelic Upstarts featuring Roy Young, 1981)
Never Say Die
(7", 1982)
Still From The Heart (LP, 1982)

Woman In Disguise (7"/12", 1982)

Solidarity
(7"/12", 1983)

Reason Why?
(LP, 1983)
Not Just A Name (7"/12", 1983)

Last Tango In Moscow (LP, 1984)

Machine Gun Kelly (7"/12", 1984)

Live In Yugoslavia
(LP, 1985)
Brighton Bomb
(12", 1985)

Power Of The Press (LP, 1986)
Brighton Bomb (LP. US version of Power Of The Press, 1987)
Blood On The Terraces
(LP, 1987)
Bombed Out
(LP/CD, 1992)
Sons Of Spartacus (LP/CD, 2002)
The Dirty Dozen (LP/CD, split with Crashed Out, 2011)
I'm An Upstart
(Tape, 1981)
Angel Dust (The Collected Highs)
(LP, 1983)
Bootlegs And Rarities (LP/CD, 1986)
England's Alive
(12", 1987)
Live And Loud!! (LP/CD, 1988)
Angel Dust (The Collected Highs)
(LP, 1983)
Bootlegs And Rarities (LP/CD, 1986)
England's Alive
(12", 1987)
Live And Loud!! (LP/CD, 1988)
Lost And Found
(LP, 1991)
Blood On The Terraces / Lost And Found (CD, twofer, 1991)
Alternative Chartbusters
(CD, 1992)

Greatest Hits Live (CD, 1992)

Kids On The Street (The Best Of)
(CD, 1993)
Live And Loud!! (CD, split with Cockney Rejects, 1993)
Live in Lubeck '89 (LP, 1994)
The Independent Punk Singles Collection (2xLP/CD, 1995)
Rarities (CD, 1997)

Who Killed Liddle? (2xCD, 1999)
Never `Ad Nothing
(CD, 1999)
The EMI Punk Years (CD, 1999)
The BBC Punk Sessions (CD, 2000)
Anthems Against Scum (LP/CD, 2001)
Live From The Justice League
(2xLP/CD, 2001)
Bootlegs, Live And Rarities (2xCD, 2002)
The EMI Years
(CD, 2002)
The Angelic Times (3xCD, 2003)
The Punk Singles Collection (CD, 2004)
Paint It Red EP
(7", 1994)
Live 1981 (7", 1995)
The Best (LP, 2005)
Live At The 100 Club London 7.3.85 (Tape)
Live In Stockholm
(CDR, 2012)
Oi! The Album UK LP 1980 (EMI): Last Night Another Soldier / Guns For The Afghan Rebels
Back-Stage Pass UK LP 1980 (Supermusic): The Murder Of Liddle Towers / Police Oppression
Wargasm UK LP 1982 (Pax): Victory For Poland
Burning Ambitions (A History Of Punk) UK 2xLP 1982 (Cherry Red): Lust For Glory
UK/DK - The Original Video Soundtrack UK LP 1983 (Anagram): 42nd Street
Punk And Disorderly III - The Final Solution UK LP 1983 (Anagram): Woman In Disguise
Son Of Oi! UK LP 1983 (Syndicate): England (Live)
Maggie, Maggie, Maggie - Out! Out! Out! UK LP 1987 (Anagram): Woman In Disguise
Oi! Chartbusters Volume 1 UK LP 1987 (Link): Liddle Towers
Oi! Chartbusters Volume 2 UK LP 1987 (Link): Leave Me Alone
Oi!.. The Picture Disc UK LP 1987 (Link): Police Opression
Oi! Chartbusters Volume 3 UK LP 1988 (Link): Never Return To Hell
Oi! Chartbusters Volume 4 UK LP 1988 (Link): When Will They Learn
Oi! Chartbusters Volume 5 UK LP 1989 (Link): I Won't Pay For Liberty
Oi! Chartbusters Volume 6 UK LP 1990 (Link): Brighton Bomb
The Oddities Of Oi! UK LP 1990 (Link): Never 'Ad Nuthin
Punk - Past, Present And Future ... The Released Emotions Compilation (1988-1993) UK CD 1993 (Released Emotions): When Will They Learn
Pax Records Punk Collection UK CD 1996 (Anagram): Victory For Poland
Oi! The Singles Collection Vol 2 UK CD 1996 (Captain Oi!): The Murder Of Liddle Towers / Police Oppression
Zonophone Records: The Complete Punk Singles Collection UK CD 1997 (Anagram): Last Night Another Soldier / England / Kids On The Street / I Understand / Different Strokes / Never Say Die
Oi! The Demos UK CD 1997 (Captain Oi!): Listen To The Silence / She Don't Cry Anymore
Oi! The Singles Collection Vol 3 UK CD 1997 (Captain Oi!): Last Night Another Soldier / The Man Who Came In From The Beano
1-2-3-4 Punk & New Wave 1976-1979 UK 5xCD 1999 (Universal): Murder Of Liddle Towers
Oi! Across The World Argentina CD 2004 (Street Dogs): Stop The City

WIKIPEDIA - The inevitable page
PUNK '77 - Typically excellent stuff
All Music Guide - Band history etc
PUNK MOD & POP - Good Upstarts page
MYSPACE - Unofficial