AKA CHAOTIK DISCORD
Formed: Bristol, England, UK
Vice Squad roadies as singers!!!
Bags of glue!?
Crates of cider?!
Riot City records!?
The early '80s!?
And you thought your band had problems?!
These guys took the "no tune, no ideas" philosophy of Disorder and Chaos U.K. to ridiculous extremes, offering juvenile japes like 'Boring Bastards' and 'Who Killed E.T.? (I Killed The Fucker)'. They played very fast biscuit-tin punk, with so-called singer Ransid shouting in a strong Bristol accent over the top. In general they didn't bother with tired rock/pop shit like verses and choruses. Ransid just seemed to make stuff up on the spot and shout/talk like some sozzled halfwit who had stumbled in front of a microphone to sing, realised he'd forgotten all the lyrics, and opted for a completely drunken soliloquy instead.
In fact, the band actually was just a joke, taking the piss out of the aforementioned bands, and the many others which had recorded for Riot City. Vice Squad's Dave Bateman and Shane Baldwin, here calling themselves Pox and Evo Stix, teamed up with their band's roadies Bambi ('Ransid') and Igor ('Ampex') and recorded a goofy demo.
They sent a copy to Riot City boss Simon Edwards, who had a reputation for releasing for any old rubbish. He loved it and extracted 'Glue Accident' for the Riotous Assembly compilation LP, without realising he was the victim of a prank. (The LP also They also boasted a track Rancid and Igor recorded as Dead Katss.)
The interest generated by 'Glue Accident' spurred the band and label on to more releases. Two singles followed: Fuck The World E.P. and Never Trust A Friend, both of which flew into the Indie Top Thirty. Fuck Religion Fuck Politics Fuck The Lot Of You! flew even higher, right into the Top Ten in fact, All were libelous in the extreme; good for a few laughs, maybe, before the migraine sets in. Nonetheless, these were amongst the biggest hits on the label. Ironic, that.
ANARCHY IN WOOLWORTHS
Went into Woolworths to buy some dye
A bloke came up and punched me in the eye
What did he do, he punched me in the eye
How many times?
2 - 3 - 4
What did he do, he punched me in the eye
How many times?
2 - 3 - 4
As if that were not enough, the band also recorded an EP as Sex Aids.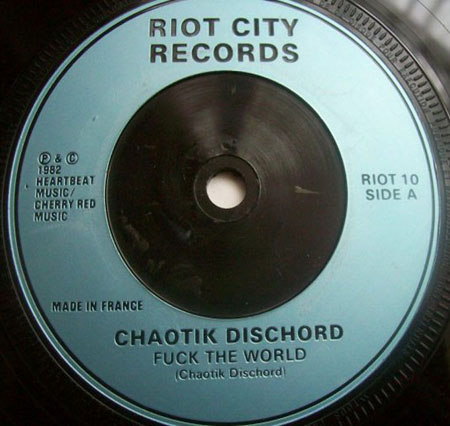 Don't Throw It All Away (1984) is undoubtedly their most desirable acquisition. When this came out, people must have thought, "Ah! They're getting good!". It benefits from lead vocals by Knox on the poppy (!!!) title track, and a guest appearance from Captain Sensible on a cover of the Sex Pistols' 'Great Rock N Roll Swindle.' They also covered 'Stab Yor Back'. Otherwise, 'Batcave Benders Meet The Alien Durex Machine' and several other rants hold the flame for their older, more abrasive style.
1984's Fuck Off You Cunts! What A Load Of Bollocks!!! (is anyone detecting a formula here?) is more of the same, but with a difference, if that makes sense.
Shane Baldwin: When Beki left Vice Squad, Igor chose to go with her. He then asked if he could still be in Dischord, and being mature, reasonable, sensible adults, we said "Nah, fuck off!" So, more or less as a spoiler, he and Beki put out what I regard as a bogus Dischord album. People tell me that it's rude but just not funny.
Indeed, toe-tappers such as 'A Noise To Get Glued By' and 'Abort The Royal Family' are merely boring and repetitive. It was reissued as "You've Got To Be Obscene To Be Heard" in a much less offensive sleeve.
The proper Chaotic Dischord came back with three more LPs:
Live In New York
(1984 is actually a studio album spiked with wildly inappropriate stadium crowd noises and silly inter-song banter, and sleeve credits claiming it was recorded at C.B.G.B.'s. Alas, it simply replicates the formula of earlier efforts. Best titles this time: 'I've Got A Headache (Aaarrgh!)' and 'Get Off My Fucking Allotment'.
Goat Fuckin Virgin Killerz From Hell!
(1986) and
Very Fuckin' Bad
(1988) attacks on Morrissey ('I'm Fuckin' Glad The Smiths Broke Up') and Michael Jackson (title track of latter LP) feature amid all the usual tips of the hat to cider, glue and anarchy. Again, the best these records have to offer are some hootsome titles: 'Hey Goth Fuck Off', 'Fergie's Baby Is A Dischord Baby', 'Some Shit About Cricket' etc. Otherwise, they're hard to sit through.
Ransid/Bambi now runs a successful tool hire company. Baldwin is a writer for mags such as Record Collector.
LINEUP #1:
Ransid - Bambi (Sex Aids, Dead Katss) - Vocals
Pox - Dave Bateman (Sex Aids, Vice Squad) - Guitar
Ampex - Igor (Sex Aids, Dead Katss) - Bass
Evo Stix - Shane Baldwin (Sex Aids, Vice Squad) - Drums
Recorded everything except:
LINEUP #2:
Aphrodite aka Beki Bondage (Vice Squad)
Pox - Guitar
Ampex - Bass
Evo Stix - Drum

Recorded Fuck Off You Cunt! What A Load Of Bollocks!!!
__________________________________________________________________________
DISCOGRAPHY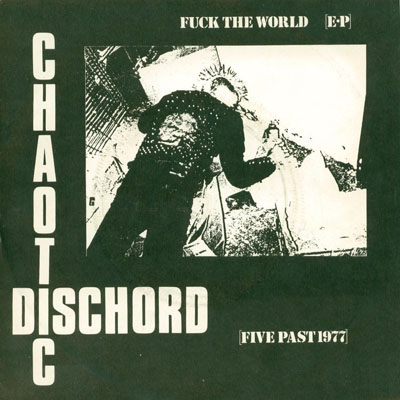 Fuck The World E.P. (7", 1982)
Never Trust A Friend (7", 1983)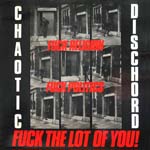 Fuck Religion Fuck Politics Fuck The Lot Of You! (LP, 1983)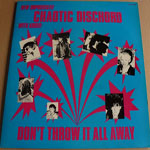 Don't Throw It All Away (12", 1984)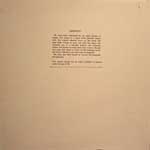 Fuck Off You Cunt! What A Load Of Bollocks!!! (LP, 1984)
Live In New York (LP, 1984)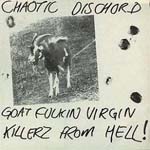 Goat Fuckin Virgin Killerz From Hell! (LP, 1986)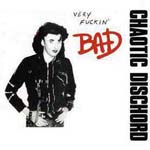 Very Fucking Bad (LP, 1988)
Extraneous Releases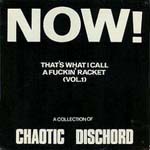 Now! That's What I Call A Fuckin' Racket (Vol.1) (LP, 1984)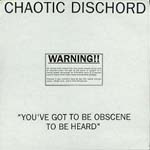 "You've Got To Be Obscene To Be Heard" (LP, 1988)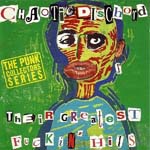 Their Greatest Fuckin' Hits (CD, 1994)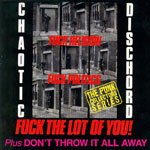 Fuck Religion Fuck Politics Fuck The Lot Of You! / Don't Throw It All Away (CD, twofer, 1996)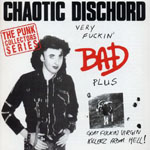 Very Fuckin' Bad / Goat Fuckin' Virgin Killerz From Hell! (CD, twofer, 1996)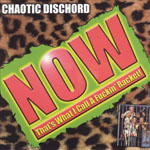 Now! That's What I Call A Fuckin' Racket! (CD, twofer, 2001)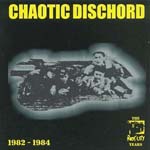 The Riot City Years: 1982-1984 (CD, 2003)
Various Artists
Riotous Assembly UK LP 1982 (Riot City): Glue Accident
Life's A Riot...With Riot City Records: A History, 1980-84 UK LP 1985 (Riot City): Never Trust A Friend / Don't Throw It All Away
Maggie, Maggie, Maggie - Out! Out! Out! UK LP 1987 (Anagram): Fuck Religion, Fuck Politics, Fuck The Lot Of You
Riot City Records- Punk Singles Collection UK CD 1993 (Anagram): Fuck The World / Never Trust A Friend / Cliff
Riot City Records- Punk Singles Collection Volume Two UK CD 1995 (Anagram): You're Gonna Die / Popstars
Drunk & Disorderly: 16 Down Yer Neck Lager Top Lullabies UK LP/CD 1996 (Step-1 Music): Drink And Drugs
__________________________________________________________________________
Links