Formed: Bristol, England, UK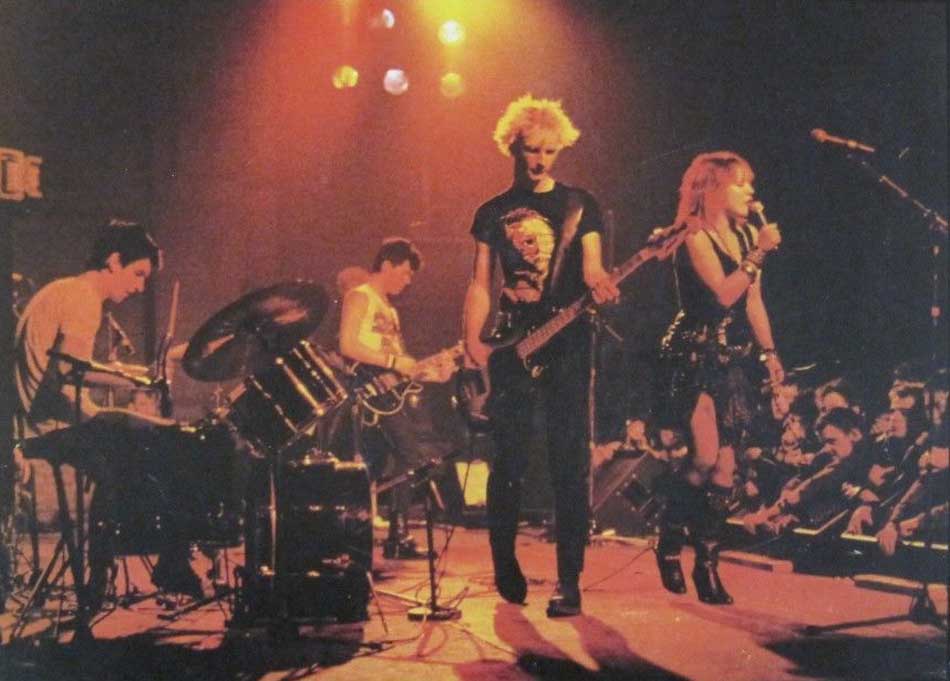 UK82 band, immensely popular at the time, but lost a bit of credibility when they signed with EMI's Zonophone label (a big no-no, back then).
The original lineup was Beki Bondage on vocals, Dave Bateman on guitar, Mark Hambly on bass and Shane Baldwin on drums. Bateman and Baldwin also moonlighted in Chaotic Dischord and Sex Aids. Vice Squad split in 1985, whereupon Bateman and Baldwin carried on with Chaotic Dischord but then formed Sweet Revenge. In a funny turn of events, Beki formed an alternative version of Chaotic Dischord in the mid 80s but generally preferred to work with Ligotage and Beki & The Bombshells.
Beki reformed Vice Squad in the mid 1990s, and many releases in a punk/metal style have followed.
Lineup 1 (Late 1978-Late 1982):
Vocals: Beki Bondage
Guitar: Dave Bateman (R.I.P. 2007)
Bass: Mark Hambly
Drums: Shane Baldwin
Lineup 2 (Late 1982-1984):
Vocals: Lisa
Guitar: Dave Bateman
Guitar: Mark "Sooty" Byrne
Bass: Mark Hambly
Drums: Shane Baldwin
Lineup 3 (1984 - 1985):
Vocals: Lisa
Guitar: Dave Bateman
Guitar: Sooty
Bass: Jon Chilcott
Drums: Shane Baldwin
DISCOGRAPHY
Subsequent studio albums: Get A Life (1999), Resurrection (1999), Lo-Fi Life (2000), Rich And Famous (2003), Defianrt (2007), London Underground (2009), Punk Rock Radio (2011), Cardboard Country (2014).
Singles / Albums

Last Rockers
(7", 1981)
Resurrection EP
(7", 1981)
No Cause For Concern
(LP, 1981)
Out Of Reach
(7", 1982)
Stand Strong E.P.
(7", 1982)
Stand Strong Stand Proud
(LP, 1982)
State Of The Nation E.P.
(7", 1982)
Black Sheep
(7"/12", 1983)
Shot Away
(LP, 1984)
You'll Never Know (7"/12", 1984)
Teenage Rampage
(7", 1984)

Extraneous Releases

Vice Squad
(12", 1981)
Evil
(7", flexi, 1981)
Live In Sheffield 1981
(Tape, 1981)
Live And Loud!!
(LP, 1988)
Last Rockers - The Singles
(LP/CD, 1991)
Live And Loud!! (CD, split with The Adicts, 1996)
The Complete Punk Singles Collection
(CD, 1997)
The BBC Sessions
(CD/LP, 1997)
The Rarities 1979-1985
(CD, 1999)
The Very Best Of
(CD, 2000)
Bang To Rights: The Essential Vice Squad Collection (CD, 2001)
The Riot City Years
(CD, 2003)
Fuck Authority
(LP, 2007)

Videos/DVDs

The Movie
(VHS, 1994)
Last Rockers - The Vice Squad Story (DVD, 2005)
Various Artists
Avon Calling - The Bristol Compilation UK LP 1979 (Heartbeat): Nothing
Punk And Disorderly UK LP 1982 (Abstract): Last Rockers
Riotous Assembly UK LP 1982 (Riot City): Coward / It's A Sell Out
Punk And Disorderly - Further Charges UK LP 1982 (Anagram): Resurrection
Burning Ambitions (A History Of Punk) UK 2xLP 1982 (Cherry Red): Last Rockers
UK/DK - The Original Video Soundtrack UK LP 1983 (Anagram): Stand Strong, Stand Proud (Live)
Life's A Riot...With Riot City Records: A History, 1980-84 UK LP 1985 (Riot City): Last Rockers / Resurrection
Maggie, Maggie, Maggie; Out! Out! Out! UK LP 1987 (Anagram): You'll Never Know
Oi! Chartbusters Volume 4 UK LP 1988 (Link): Stand Strong Stand Proud [Live]
Riot City Records- Punk Singles Collection UK CD 1993 (Anagram): Last Rockers / Young Blood
Anagram Records · The Punk Singles Collection UK CD 1994 (Anagram): Black Sheep / You'll Never Know / Teenage Rampage
Riot City Records- Punk Singles Collection Volume Two UK CD 1995 (Anagram): Living On Dreams / Humane
Zonophone Records: The Complete Punk Singles Collection UK CD 1997 (Anagram): Out Of Reach / Stand Strong Stand Proud / Citizen
Lords Of Oi! UK 3xCD Box Set 1997 (Dressed To Kill): Stand Strong Stand Proud (Live)
Oi! This Is England UK 3xCD Box Set 1999 (Dressed To Kill): Stand Strong Stand Proud (Live)
Links
VICE SQUAD - THE OFFICIAL WEB SITE
RECORD COLLECTORS OF THE WORLD UNITE
LOUDER THAN WAR - BEKI BONDAGE INTERVIEW 2013
SUSPECT DEVICE FANZINE - SHANE BALDWIN