Formed: Hitchin, Hertfordshire, England, UK
Chron Gen formed in 1978 (from the ashes of The Condemned and Option Xtras) but were remarkably slow to get off the ground, not issuing a single for three years, thus ensuring their incorporation into the UK82 brigade. They were poppier than probably all the other punksters at the time, scoring a string of indie hits that suggested they might have been one of the few genuinely talented third generation groups. Unfortunately, they couldn't come up with the goods album-wise and, like so many others, their efforts to break away from punk formula were met with little interest from the mohican-sporting types who were formerly their fans.
The original lineup was this:
They burst onto the national scene in 1981 with a pair of pretty good singles, July's Puppets Of War EP (self-released) and September's Reality (for Step-Forward), both of which bothered the indie charts for what seemed like an eternity.
The EP was patchy, but the title track certainly seemed to capture the moment vis a vis the inanity of the arms race and the madness of war. It was originally issued on their own label, Gargoyle, but heavy public demand led to it being reissued on Fresh.
The other single 'Reality' was a terrific tune, one of the catchiest of the period, with a brilliantly memorable soaring chorus. It also came housed in a very fetching full colour sleeve and only just missed the No. 1 spot in the Indie charts.
They played with The Exploited, Anti-Pasti, Discharge and Anti-Nowhere League on the Apocalypse Now Tour in mid-1981, immortalised on a tape-only release, Live At Leicester 28th June 1981.
Signing to Secret, a third hit single materialized in the unlikely shape of Jet Boy Jet Girl, a classic tale of gay lust and heartbreak which had been previously recorded by Captain Sensible and Elton Motello. Chron Gen's version was much faster, however.
Glyn Barber's engagingly yobbish Cockney vocals, some articulate guitar work and strong choruses made these records entertaining, but their debut LP Chronic Generation, released in 1982, was sabotaged by so many dreadful songs that it seems to consist almost entirely of filler. One of the few highlights - amid dopey nonsense about being beaten up by rockabillies and taking drugs - is a punked-up version of the wimpy Glam "classic" 'Living Next Door To Alice', which has lyrics which certainly were not on the original. Amazingly, and presumably on the rep of their earlier efforts (and possibly also because it came with a free live EP), it nearly made it into the Top 50 of the proper charts (i.e. the one with Phil Collins in it), but time has not been its best friend.
Thurlow left soon after, and was replaced by Mark 'Floyd' Alison. The Britannia Waives The Rules compilation EP followed, with 'Clouded Eyes' - allegedly about Beki Bondage - moving them closer to punk-pop, and a short tour with the Anti-Nowhere League and a headlining US tour honed their skills further. Even better was November's extremely melodic Outlaw, which laid into punk parochialism and griped about violence at gigs. Ironically, given it was a plea for open-mindedness, it apparently did not meet with favour and failed to even scale the indie charts.
OUTLAW
I feel like I'm not wanted here
and I wonder what I'm living for
discerning eyes are burning me
they make me feel like an outlaw
Do you need a uniform
to see the band tonight
are the people here for fun
or maybe looking for a fight
You can't come in if you don't look right
Doesn't the music make it right
It seems fashion keeps the youth confined
We have missed the whole idea
I thought we listened with our ears
But we keep them closed with fear
Brutality and snobbery
will keep the cults at war
it's just music why such hate
there's nothing to be solved at all
Lineup problems delayed any new releases, until the band (with a new bassist) recorded a mini-album in 1984, the even more melodic Nowhere To Run (1984), and an LP in 1986 which went unreleased (until issued as part of Puppets Of War: The Collection in 2004).
They have reformed on and off since a reunion at the Blackpool HITS fest in 1996.
LINEUPS:
LINEUP #1 (1978-1982):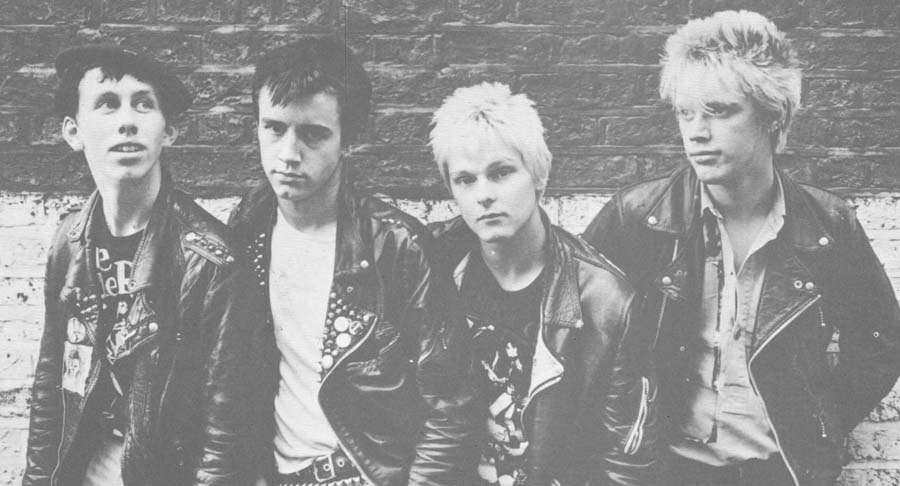 Glynn Barber - vocals & guitar
John Johnson - drums
Jon Thurlow - rhythm guitar
Pete Dimmock - bass (R.I.P. August 2011)
Glynn and John were ex-The Condemned. Recorded Puppets Of War EP, Reality (both 1981) and Chronic Generation (1982).
There was actually a bassist called Adam before Dimmock joined.Thurlow's next band was Chelsea.
LINEUP #2 (1982):
Glynn Barber - vocals, guitar
Mark 'Floyd' Allison - guitar (R.I.P. October 1999)
Pete Dimmock - bass
John Johnson - drums
Recorded 'Clouded Eyes' and Outlaw (both 1982). Floyd later joined The Occasional Tables, while Dimmock joined Thurlow in Chelsea.
LINEUP #3 (1983-1984):
Glynn Barber - vocals, guitar
B.B. Floyd [Mark 'Floyd' Alison] - guitar
Roy Horner - bass
John Johnson - drums
Recorded Nowhere To Run (1984)
LATER MEMBERS:
Simon "Si-X" Harvey - lead guitar
DISCOGRAPHY
Singles / Albums
Puppets Of War EP
(7", 1981)
Reality (7", 1981)
Jet Boy Jet Girl
(7", 1982)
Chronic Generation (LP+7", 1982)
Outlaw (7", 1982)
Nowhere To Run
(MLP, 1984)
Live At The Old Waldorf - San Francisco
(LP, 1985)

Extraneous Releases

Live At Leicester 28th June 1981
(Tape, 1981
Live On The "Apocalypse Now Tour" June 1981 (LP, 1983)
The Best Of
(LP, 1994)

The Best Of
(CD, 1994)

Puppets Of War: The Collection
(2xCD, 2004)
Various Artists
Britannia Waives The Rules UK 12" 1981 (Secret): Clouded Eyes
The Secret Life Of Punks UK LP 1982 (Secret): Jet Boy Jet Girl
Wave News 2 - Independent Smash Hits Germany LP 1982 (Intercord): Jet Boy Jet Girl
The Defiant Pose UK LP 1983 (Illegal): Reality
Eastern Front US LP 1983 (Enigma/Eastern Front): Clouded Eyes / Reality / Breaking Down
Punk And Disorderly III - The Final Solution UK LP 1983 (Anagram): Outlaw
Oi! Chartbusters Volume 3 UK LP 1988 (Link): Living Next Door To Alice
Apocalypse Punk Tour 1981 France CD 1992 (Link): Chronic Generation / Change Me / Living Next Door To Alice
Off Limits Germany LP/CD 1992 (Weird System): Jet Boy Jet Girl
Fresh Records - The Punk Singles Collection UK CD 1994 (Anagram): Puppets Of War
Secret Records: The Punk Singles Collection UK CD 1993 (Anagram): Jet Boy Jet Girl / Clouded Eyes / Outlaw
The Bright Side Of Oi Italy LP 1994 (Street Kids): unknown
Secret Records: The Punk Singles Collection Volume 2 UK CD 1995 (Anagram): Subway Sadist (Live) / Behind Closed Doors / Discotheque
Links