Various - The Secret Life Of Punks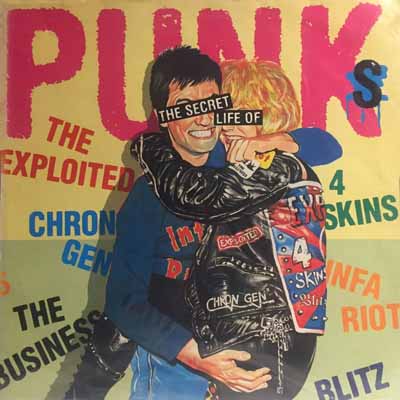 Original Release Date
1982
Release Information
UK LP 1982 (Secret - SEC 10)
A1 The Exploited - Dogs Of War 1:43
A2 The 4 Skins - One Law For Them 2:46
A3 Infa Riot - Kids Of The 80's 1:44
A4 The Partisans - No U Turns 1:50
A5 The Business - Employers Black List 3:12
A6 The Gonads - I Lost My Love To A UK Sub 3:08
A7 Blitz - Youth 1:56
B1 The Business - Harry May 2:15
B2 Chron Gen - Jet Boy Jet Girl 2:15
B3 The Last Resort - King Of The Jungle 4:05
B4 Peter And The Test Tube Babies - Maniac 2:40
B5 Infa Riot - Catch 22 2:38
B6 The 4 Skins - Yesterdays Heroes 2:15
B7 The Exploited - Army Life 2:26
___________________________________________________
UK CD 1996 (Dojo Limited - DOLE CD 108)
1 The Exploited - Dogs Of War 1:43
2 The 4 Skins - One Law For Them 2:46
3 Infa Riot - Kids Of The 80's 1:44
4 The Partisans - No U Turns 1:50
5 The Business - Employers Black List 3:12
6 The Gonads - I Lost My Love To A UK Sub 3:08
7 Blitz - Youth 1:56
8 The Business - Harry May 2:15
9 Chron Gen - Jet Boy Jet Girl 2:15
10 The Last Resort - King Of The Jungle 4:05
11 Peter And The Test Tube Babies - Maniac 2:40
12 Infa Riot - Catch 22 2:38
13 The 4 Skins - Yesterdays Heroes 2:15
14 The Exploited - Army Life 2:26
Chart Placings
None
Credits
LP:
A1: Produced by D. Leaper and The Exploited
A2, B6: Produced by The 4 Skins
A3, B5: Produced by Infa Riot
A4, A7, B3, B4: Produced by Tim Thompson
A5, A6, B1: Produced by Ronnie Rouman
B2: Produced by Rick Cassman
B7: Produced by D. Leaper

Cover Suzi Slitcreamer for Art Dragon
Additional Credits
A1: A-Side of Dogs Of War 7", 1981
A2: A-Side of One Law For Them 7", 1981
A3: A-Side of Kids Of The 80's 7", 1981
A4, A7, B3, B4: From the Carry On Oi! compilation LP, 1981
A5: B-Side of Harry May 7", 1981
A6: From Pure Punk For Row People 7" EP, 1982
B1: A-Side of Harry May 7", 1981
B2: A-Side of Jet Boy, Jet Girl 7", 1982
B5: From the Infra Riot LP Still Out Of Order, 1982
B6: A-Side of Yesterday's Heroes 7", 1982
B7: A-Side of Army Life 7", 1981

Reviews & Opinions
PUNKY GIBBON: Great label sampler. Nothing new or unreleased, but not a duff track. Evens The Gonads are good here.
Additional Notes
None yet
Images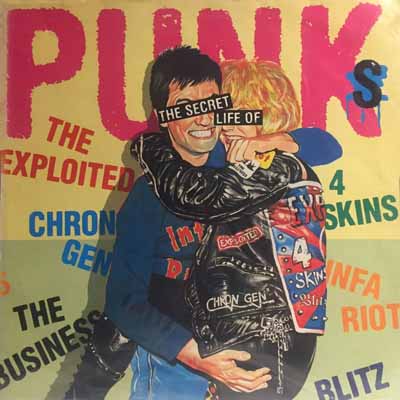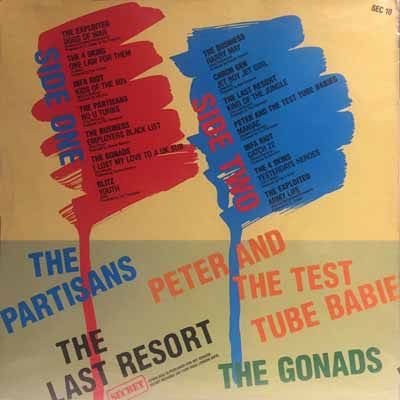 UK LP 1982 (Secret - SEC 10). Click here for more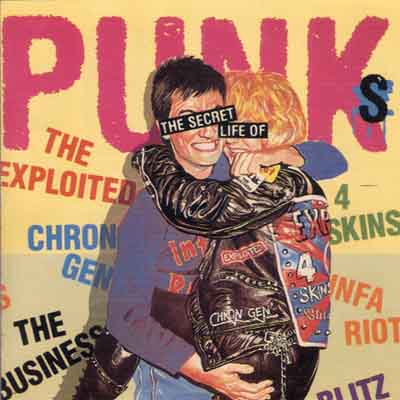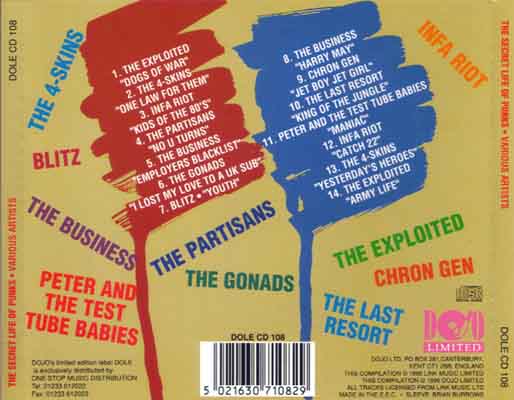 UK CD 1996 (Dojo Limited - DOLE CD 108). Click here for more