AKA: SKIN DISEASE
Formed: Leeds, West Yorkshire, England, UK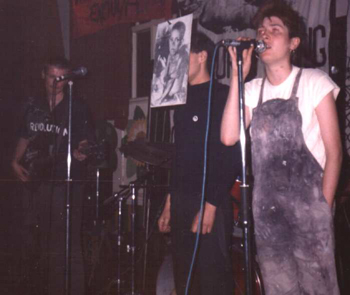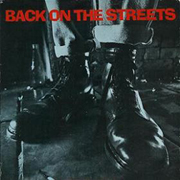 The world went truly mad in the late 90s when Agit-Prop anarchists Chumbawamba briefly achieved superstar status with the infuriatingly catchy 'Tubthumping'. You know, "He'll have a lager drink…" etc. This unlikely success was confounded with some silly behaviour at the subsequent Brits Awards, where they poured a glass of water over John Prescott's head. All of which is typical of their satirical tactics.
They made their vinyl debut in 1982 as Skin Disease, a spoof skinhead band. Their song 'I'm Thick' was sent to Garry Bushell, who loved it, and released it on the terrible Back On The Streets EP on Secret, clearly missing the joke.
Prior to this, the Chumbas – more of a collective than a band, formed in 1982 with a line-up revolving around Lou Watts, Boffo and Danbert Nobacon - were known chiefly in punk circles. Following the Skin Disease episode, they appeared twice on Bullshit Detector Two, in 1982, once as Chumbawamba and once as Boffo contributing an anti-Clash ditty. Future Chumba members appeared as Passion Killers. They spent years contributing to crappy anarcho compilation cassettes before they began releasing records, which they did on their own label, Agit-Prop. Pictures Of Starving Children Sell Records explicitly condemned charity events such as Live Aid, and made clear the connection between capitalism, government and the media: poverty and oppression. Never Mind The Ballots: Here's The Rest Of Your Life (1987) was another "concept" album based on the theory that voting is a waste of time.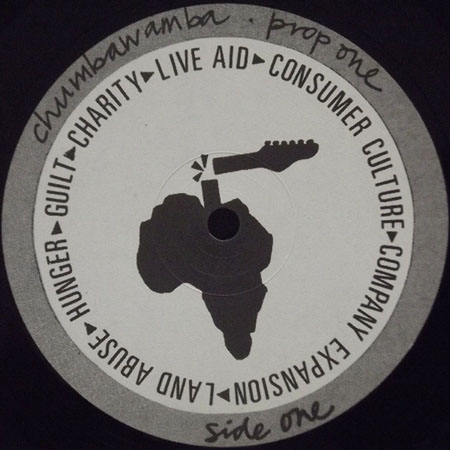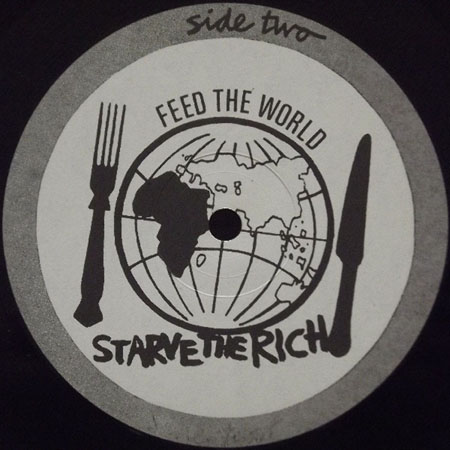 ABOVE: Labels for 'Pictures Of Starving Children Sell Records'
Marking the beginning of their experimentation in forms outside of rock music, English Rebel Songs 1381-1914 (1988) was an a capella folk album drawing on folk rebel songs ('The Diggers Song', 'Hanging On The Old Barbed Wire' being particularly good). Even more surprising, the nascent acid house phenomenon had the band reveling in the new dance movement's anti-establishment practices of operating illegal raves and riling up the authorities. SLAP! incorporated funk and dance rhythms (as well as a horn section) into a succession of catchy roughed-up pop tunes championing the underdog (literally on 'Chase PC's Flee Attack By Own Dog'). While obviously a punk album in spirit, it baffled much of their audience as to their future, alienated others entirely, and hasn't stood the test of time well.
Following the debacle of recording an entire album (Jesus H. Christ) using samples and then being forced to destroy the darned thing, Chumbawamba responded by reworking some of the songs and unleashing them as the anti-censorship themed Shhh!, their last record for Agit-Prop. The sleeve of their first album for One Little Indian, Anarchy, featured a photograph of a baby being born, deemed by the guardians of our nation's morals (i.e. WH Smith) as pornographic!! (It is generally considered to be the best Chumba album, among fans at least.) Swingin' With Raymond split itself into a "love" side and a "hate" side, with the music is melodic and accessible on the first half, uncompromising white noise on the second.
And finally, after years accusing people like Joe Strummer and Blaggers I.T.A. of "selling out", Chumbawamba signed to EMI and released Tubthumper, the cue for Top Of The Pops appearances and tabloid disclosures of flying first class on Concorde. (Which is nothing to when, in 1985, they were accused of "selling out" by making a vinyl single! I'm not making this up.) 'Tubthumping' is present, of course. There is also a Japanese minidisc edition featuring C&W and acapella versions. And, typical of the band's increasing willingness to compromise, the US version has the naughty words censored to please that country's big record stores. Decent, slick music notwithstanding, it's a disgusting record. (Note: for more dissenting voices, check out 'Barefaced Hypocrisy Sells Records – The Anti-Chumbawamba EP', a 7" single featuring Wat Tyler, Oi Polloi and others.)
Their pranks and japes are worth noting: typical was then time they and conned the Liberal Democrats into endorsing one of their songs; another time they were commissioned by a car company to write a jingle for them, then used the money they were paid to help fund an organisation actively opposed to said car company. According to Kill Your Pet Puppy: "In 1985, The Clash, hastily re-formed in new street-cred guide with Joe Strummer passing round the music business hat to pay for his cocaine habit, play rebel chic outside Leeds University. Danbert Nobacon arms himself with a hydraulic-action paint-gun and splatters band and audience before legging it. This is Chumbawamba discovering their real talent: refuting the idea that rock n roll is some huge back-slapping family business where everyone "pulls together". Putting spanners in their own works, pigheadedly refusing to lie down and become another servile record business lap-dog".
There have also been scores of side projects, including an album recorded by several members as Sportschestra, numerous Danbert Nobacon solo records, "hoax"" singles designed to cause rumours and annoy people like The Prodigy (the proposed 'Smack My Keith Up!' was never even recorded), and scores of compilation tracks. They recorded as Antidote, a collaborative effort with Dutch anarchists The Ex, whom they were touring with extensively at the time. In 1987 half the band split off to release a single as Scab Aid: a cover of 'Let It Be', it was an assault on a certain tabloid. The Punk Aid single is the work of Nobacon and 40 other musicians opposing the Poll Tax (members of Chumba were actively involved in the Poll Tax Riots in London the same year).
DISCOGRAPHY
Subsequent studio albums: Never Mind The Ballots (1987), English Rebel Songs 1381-1914 (1988), Slap! (1990), Shhh (1992), Anarchy (1994), Swingin' With Raymond (1995), Tubthumper (1997), WYSIWYG (2000), Readymades (2002), Revengers Tragedy Soundtrack (2003), English Rebel Songs 1381-1984 (2003), Un (2004), A Singsong And A Scrap (2005), The Boy Bands Have Won (2008), ABCDEFG (2010).
Singles / Albums
Revolution
(7", 1985)
We Are The World?
(7", split with A State Of Mind, 1985)
Pictures of Starving Children Sell Records: Starvation, Charity and Rock & Roll - Lies & Traditions (LP, 1986)

Extraneous Releases

First 2
(CD, 1994)

Demos / Tapes

Be Happy! Despite It All... (Demos) (Tape, as Chumbawamba & Passion Killers, 1983)
Another Year Of The Same Old Shit
(Tape, 1984)
Common Ground
(Tape, 1984)
It Could Be So Much More
(Tape, split with Flux, 1984)
Be A Rebel, Raise Some Heck
(Tape, 1989)
Various Artists
Back On The Streets UK 7" 1982 (Secret): I'm Thick [as Skin Disease]
Bullshit Detector Two UK 2xLP 1982 (Crass): Three Years Later
The Animals Packet UK Tape 1983 (Sky & Trees Tapes): Animals' Song / No
Tribal Rantings UK Tape 1983 (Peaceville): Work / Manual
A Potential Migraine UK Tape 1984 (Raising Hell Zine/Rabid Councillor Tapes): Arthur / Telly
Dig This: A Tribute To The Great Strike UK LP 1985 (Forward Sounds International): The Police Have Been Wonderful / Fitzwilliam
Crisis, What Crisis? UK Tape 1985 (Music Not Profit): Rap!
Clakos En Transe France Tape 1985 (Gogolmax Productions): Punk Ain't Dead / Bomb / Social Grudge / Image
Red Rhino Distribution UK 7" 1986 (Agit Prop/Lil Records/Sin/Batfish Inc): Rich Pop Stars Make Good Socialists
It Ain't No Legend Germany Tape 1992 (Hick-Up Tapes): Image
Oi! Oi! That's Yer Lot! / Back On The Streets EP UK CD 1993 (Step-1): I'm Thick [as Skin Disease]
This Is The A.L.F. - Second Edition UK 2xLP/CD 1998 (Mortarhate): Unilever
Anti-State: Anarcho Punk Compilation Vol. 2 UK CD 2005 (Overground): Revolution
Links