Formed: Bristol, England, UK, as The Zeds

Alex McPherson - Vocals
Simon 'Sime' Burrough - Guitar
Richard Braybrooke - Bass
John Zalokoski - Drums
Ian Burrough - Drums
Court Martial was a minor fixture on the punk circuit in 1982, scoring an Indie hit that year with the first of their two
Riot City
singles, the scampering
Gotta Get Out EP
. Musically they were more 77-stylee, but without any discernable talent, and although vocalist Alex was suitably snotty, he was a hopeless singer. Still, the aforementioned EP is charming.
Originally called The Zeds, changed to Court Martial when Ian replaced John on drums.
They were formed in late 1979, while they still were at school. The first few gigs they played were at local youth clubs, before branching out to support Vice Squad and Chelsea at larger venues. Court Martial were also present at the Trinity Hall Bristol punk festival. Shortly after they recorded their demo tape they got signed with Riot City Records. The line-up is Alex - Vocals, Simon - Lead/vocals, Richard - Bass/vocals and Ian - Drums, and also a guy called Brian Wright who is their manager and does the job well.
They recorded three demo tapes. Three tracks from the third demo were used for the 'Gotta Get Out EP', with a fourth track ('Your War') used on the Riot City compilation LP Riotous Assembly in a slightly different mix. Their influences come from early punk bands like the Sex Pistols and The Clash. A second single, No Solution EP, did not fare as well as the first and proved to be their last.
(Most of the info above adapted from text supplied of Henk at UK82)
__________________________________________________________________________
DISCOGRAPHY
Singles & Albums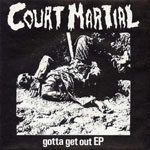 Gotta Get Out EP
(7", 1982)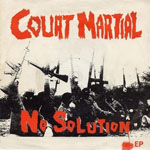 No Solution EP (7", 1982)
Demos 1st Demo (Tape, 1981) 2nd Demo (Tape, 1981) 3rd Demo (Tape, 1981)
Extraneous Releases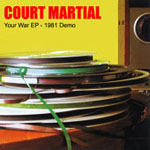 Your War EP (MP3, 2009)
Demos & Singles 81 / 82 (LP, 2015)
Various Artists
Riotous Assembly UK LP 1982 (Riot City): Your War
Punk And Disorderly - Further Charges UK LP 1983 (Anagram): Gotta Get Out
Life's A Riot...With Riot City Records: A History, 1980-84 UK LP 1985 (Riot City): Gotta Get Out
From The Vaults UK Tape (Archive Audio): tracks not known
Riot City Records- Punk Singles Collection UK CD 1993 (Anagram): Gotta Get Out / No Solution
Riot City Records- Punk Singles Collection Volume Two UK CD 1995 (Anagram): Fight For Your Life / Too Late
Riot City Italy LP 1996 (Get Back): Young Offender / Take Control
__________________________________________________________________________
Links
Bristol Archive Records
- Great bio here