Formed: New Barnet, London, England, UK
One of the most melodic and listenable anarcho-punk bands, Omega Tribe were one of the highlights of the early 80's. Through their connections with Crass and Poison Girls - guitarist Pete Fender was Vi Subversa's son - they were able to make more headway than many of their contemeperaries, but it shouldn't be suggested that they wouldn't haven't achieved their small emasure of success purely as a result of nepotism or the old boys network: they were a great little band, for a while at least.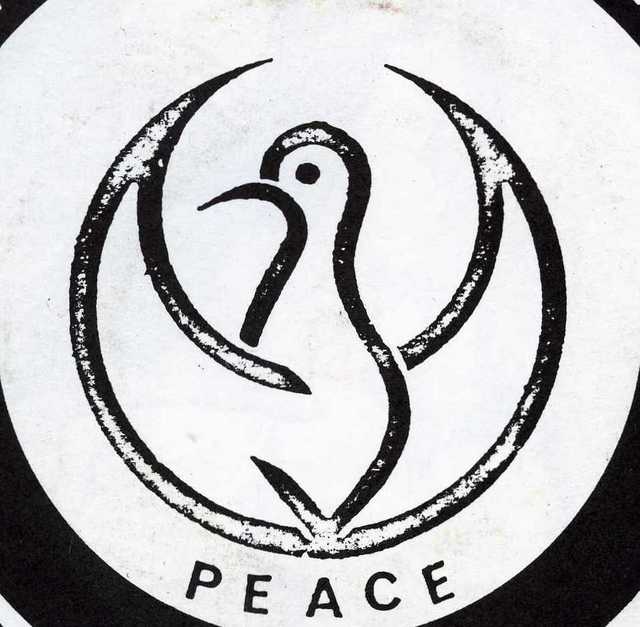 They formed in Barnet in summer 1981 as Deadly Game. Thankfully, they became Omega Tribe before they started gigging, playing their first show at the Monkfrith Boy's Club that year, with the lineup:
Hugh Vivian (ex-Comatose) -guitar and vocals
Daryl Hardcastle (ex-Woosh!) - bass
Pete Shepherd - drums
A second show was altogether more auspicious: a support slot to The Meteors at the 100 Club in London.
Their first demo, recorded in March 1982, was chucked into the hands of attracted the attention of Crass, who selected the fast and almost poppy anti-nuclear power song 'Nature Wonder' for Bullshit Detector Two. They recruited Pete Fender on guitar later that year, having met him through a fanzine Daryl was writing, The Realities Of Society, and promptly recorded their first EP, Angry Songs, which was produced by Penny Rimbaud and Fender for Crass Records. Daryl: "It went okay though, even if we were a bit disappointed with the the final sound. Penny went for very harsh tones... that was what he wanted, the sound he tried to create on all the records he did...nut if you listen to our album, after the single, it's a lot warmer and fresher, a lot more upbeat".
When finally released in April 1983 the single was a biggish Indie Chart hit. but its success was eclipsed by the very excellent No Love Lost, released on Corpus Christi and recorded for a paltry £300 at a 24-track studio called Heart and Soul. It was also outstanding and varied, with some rather lovely musical passages in amongst the entertaining punk rockin' pop tunes. No mindless thrashing and bashing, just a bunch of well-written songs, carefully arranged and well played. It deservedly propelled them to the forefront of the peace-punk brigade.
Unfortunately, lineup and direction changes dogged the band over the next year or so: Fender quit in early 1984, Sonny Flint joined on drums while Shepherd switched to percussion, and a woman called Jane joined on sax and bloody flute. A shit new single, It's A Hard Life came out in 1984 and proved to be their final release; not surprising because it was indeed shit. Their manager had convinced them to move into a poppier direction, and the record was produced by the keyboard player from Hot Chocolate. The single was another Indie hit, and sold well.
A third single, Hip, Hip, Hooray never materialised because Hugh left the band. Omega Tribe fell apart soon after in 1985.
Daryl persevered with a new band called The Tribe, playing what he described as "more ska, with a brass section and everything...we even played with Bad Manners once, which was quite funny". But although they gigged and made some demos, they didn't release anything and finally split in 1988.
They reformed briefly to play guest spot at Vi Subversa's 60th Birthday Bash at London's Astoria 2 in June 1995, and also played at the first Holidays in The Sun 1995 (to an audience of bored onlookers).
ANOTHER BLOODY DAY
Their morals, ethics, religious relics
The rich, the poor, the products of law
The dead and the dying, the H-Bombs flying
Positions of Power, a million every hour
The blacks, the whites, the left, the right
Violence and wars. Why? And what for?
I'm slipping, I'm falling, can't you hear me calling?
Help me, I'm Drowning, Another bloody day
Angry songs and bitter words, have you heard it all before?
A great man, A leader of men, It's just another bloody war
A great river of acid to burn all your troubles away
The sun comes up, a bright red sky, it's just another bloody day
The images, the memories, Now everything seems so real
The smile on your face just can't conceal the bitterness you feel
It's happening, it's real, It's really affecting you
You try to switch off, shut it out; you don't want to believe that it's true
Angry songs and bitter words, have you heard it all before?
A great man, a leader of me, it's just another bloody war
Angry songs and bitter words, it's all the same old stuff
Angry songs and bitter words, but words are not enough
DUTY CALLS
We gave you little dollies, little girlie nursing sets
We gave you tanks and planes and ships and lovely cuddly pets
We gave you girly pots and pans, you laugher and shouted "cor"
And now we think it's time for you to fight our stupid war
We gave you girlie life in True Love magazines
We gave you battle comics and we taught you to be mean
We gave you television with films that praise the slain
And now we think it's right for you to fight our war again
System! System!
We're not your pretty boys!
System! System!
We're not your little toys!
System! System!
We've seen through your fear!
Syetem bloody system!
We don't want your terror here!
You gave us your education, then showed us where to work
In your offices and factories for an untrained jerk
You've given me my whole life, who could ask for more?
Well, me for one cos i'm not going to fight in your futile war
We gave you your whole life, your mortgage car and wealth
We gave you lots of make-up to cover your real self
We gave you a loving husband and we made you a passive whore
And now we think it's right for you to fight our futile war
System! System!
We're not your pretty girls!
System! System!
We're not your little pearls!
System! System!
I'm not frightened by your lies!
System bloody system!
We ain't got no dream to die!
People waved their flags and bared their chests as the brave men sailed for war
Well, I ask you where will it all end as those people cheered for more
And now they've got these weapons to end it all in just one shower
Total war, it's in their minds, REJECT THEIR DIRTY POWER
DISCOGRAPHY
Singles / Albums
Various Artists
Bullshit Detector Two UK 2xLP 1982 (Crass): Nature Wonder
Dig This: A Tribute To The Great Strike UK LP 1985 (Forward Sounds International): Young John
1984 And All That... UK Tape 1980s (no label): Is This A Future?
A-Sides (Part Two. 1982-1984) UK CD 1992 (Crass): Another Bloody Day / Profiteer
Anti-War: Anarcho Punk Compilation Vol. 1 UK CD 2005 (Overground): Duty Calls
Zero Hour (Consume Less Live More) UK/Europe/US LP ???? (Flat Earth/Skuld /Tribal War/Interfearance): Pictures
Links
LISTEN AND UNDERSTAND - Omega Tribe info