Various - Zero Hour (Consume Less Live More)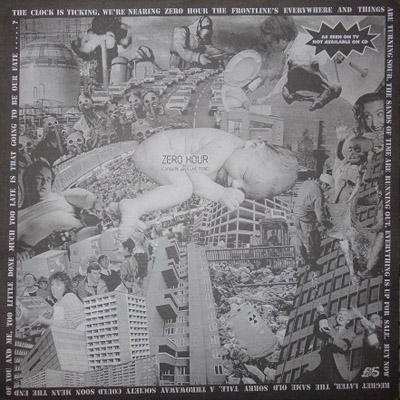 Original Release Date
????
Release Information
UK/Europe/US LP ???? (Flat Earth/Skuld/Tribal War/Interfearance - ECOLUTION 1)
A1 Green Day - Nowt
A2 Culture Shock - Civilisation Street
A3 Omega Tribe - Pictures
A4 Cress - Earth
A5 Dirt - Just An Error
A6 Contramenation - Carmageddon
A7 Korrupt - Kinder Des Zorns
A8 Hiatus - Marketing Joke
A9 Nations On Fire - Ecology
A10 Sedition - Deconsume
B1 Coexist - Town Planner
B2 Fleas And Lice - Fuck Chirac
B3 Aus-Rotten - Poison Corporations
B4 Homomilitia - Ziemia
B5 Ebola - View From
B6 Disaffect - The Last Giant
B7 Oi Polloi - Death By Night
B8 Nausea - Here Today
B9 Dropdead - Survival
B10 Upright Citizens - What Are We Gonna Do Now?
Chart Placings
None
Credits
None yet
Reviews & Opinions
None yet
Additional Notes
None yet