Various - Punk And Disorderly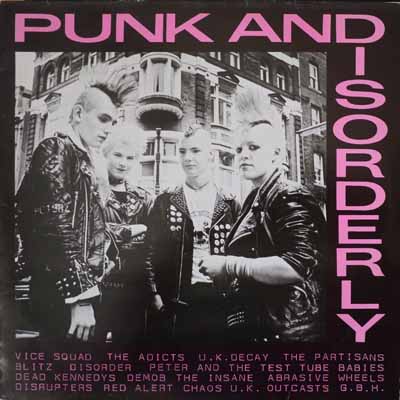 Original Release Date
1982
Release Information
UK LP 1982 (Abstract - AABT 100)
US LP 1982 (Posh Boy - PBS 131)
UK CD 1988 (Abstract - AABT 100CD)
1 Vice Squad - Last Rockers 4:15
2 The Adicts - Straight Jacket 2:16
3 U.K. Decay - For My Country 2:17
4 Disorder - Complete Disorder 2:00
5 Peter And The Test Tube Babies - Banned From The Pub 2:40
6 Disrupters - Young Offender 1:35
7 Red Alert - In Britain 2:07
8 Blitz - Someones Gonna Die 2:25
9 Dead Kennedys - Kill The Poor 3:05
10 The Partisans - Police Story 2:10
11 Demob - No Room For You 3:30
12 The Insane - Last Day 1:15
13 Abrasive Wheels - Army Song 1:50
14 Chaos U.K. - 4 Minute Warning 2:19
15 The Outcasts - Mania 3:10
16 G.B.H. - Race Against Time 2:45
___________________________________________________

US CD 1987 (Posh Boy - PBCD 131)
1 Vice Squad - Last Rockers 4:15
2 The Adicts - Straight Jacket 2:16
3 U.K. Decay - For My Country 2:17
4 Disorder - Complete Disorder 2:00
5 Peter And The Test Tube Babies - Banned From The Pub 2:40
6 Disrupters - Young Offender 1:35
7 Red Alert - In Britain 2:07
8 Blitz - Someones Gonna Die 2:25
9 CH3 - I've Got A Gun 2:01
10 The Partisans - Police Story 2:10
11 Demob - No Room For You 3:30
12 The Insane - Last Day 1:15
13 Abrasive Wheels - Army Song 1:50
14 Chaos U.K. - 4 Minute Warning 2:19
15 The Outcasts - Mania 3:10
16 G.B.H. - Race Against Time 2:45
17 Dead Kennedys - Kill The Poor 3:05
___________________________________________________
US 2xCD 2003 (Cleopatra - CLP 1270-2)
1 Vice Squad - Last Rockers 4:19
2 The Adicts - Viva La Revolution 3:46
3 Disorder - Complete Disorder 2:04
4 Peter And The Test Tube Babies - Banned From The Pubs 2:47
5 Red Alert - In Britain 2:12
6 Blitz - Someone's Gonna Die 2:33
7 Dead Kennedys - Kill The Poor 3:09
8 The Partisans - Police Story 2:09
9 The Insane - El Salvador 3:34
10 Abrasive Wheels - Army Song 1:57
11 Chaos U.K. - Minute Warning 2:22
12 G.B.H. - City Baby Attacked By Rats 2:29
13 The Outcasts - Mania 3:11
14 The Expelled - Government Policy3:00
15 One Way System - Stab The Judge 2:04
16 Court Martial - Gotta Get Out 2:55
17 !Action Pact! - London Bouncers 1:52
18 The Dark - The Masque 3:44
19 Violators - Gangland 5:52
20 Channel 3 -I've Got A Gun 2:02
21 The Enemy - Fallen Hero 3:22
22 Riot/Clone - Clone-Death To Humanity 2:11
23 The Wall - Hobby For A Day 3:57
34 Erazerhead - Shellshock 2:40
25 A.T.V. - How Much Longer? 2:41
26 The Drones - Corgi Crap 2:53
27 Suburban Studs - I Hate School 2:39
28 Newtown Neurotics - Kick Out The Tories 3:52
29 UK Subs Police State 3:16
30 The Samples - Dead Hero 2:57
31 Violators - Summer Of '81 3:28
32 Angelic Upstarts - Woman In Disguise 3:10
33 Decry - Falling 3:30
34 D.I. - Richard Hung Himself 3:32
35 Germs - Forming 1:39
36 Agression - Salty Leather 2:30
137 Total Chaos - Running With The Youth 2:55
38 The Damned - Love Song (Demo) 2:06
39 Agent Orange - Bloodstains 2:06
Chart Placings
UK Indie Hit: 3, 29 wks
Credits
UK LP:
Thanks to the following record companies for licensing the tracks:
Abrasive Records (13) Cherry Red Records (9) Clay Records (16) Disorder Records (4)
Fresh Records (3), No Future Records (5, 7, 8, 10), Outcasts Only Records (15)
Radical Change (6) Riot City Records (1, 12, 14) Round Ear Records (11) and The Adicts (2)
Special thanks to Theo Chalmers for compiling this album
Reviews & Opinions
FLIPSIDE #31, 1982: PUNK AND is one real honey of an album. It features 16 assorted punk and 'oi' bands from the UK plus the DK's. Most of the bands are relatively new, having only been around about a year, with the exception of UK Decay. If you're a real punk fanatic you'll have half these songs on their respective singles, but still it's nice having them all on one record. Plus thanks to Poshboy this record's real cheap. Get it.
Additional Notes
The Abstract CD (CD PUNK 100) was reissued by Anagram in 1998 with different cover art and 'Race Against Time' replaced by a live version of 'City Baby Attacked By Rats' - not an improvement.
Images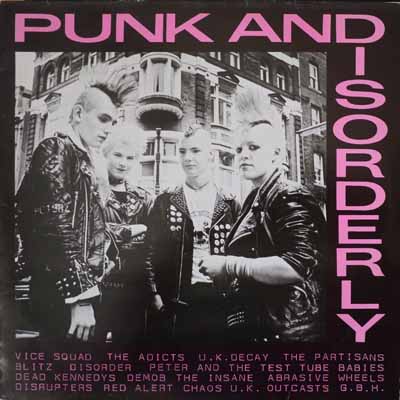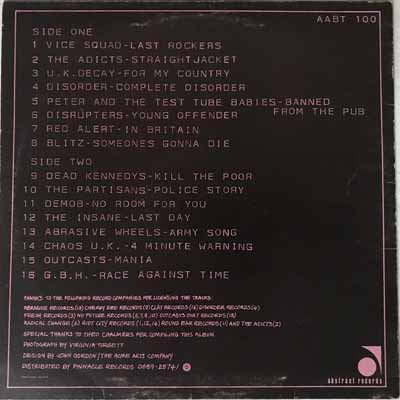 UK LP 1982 (Abstract - AABT 100). Red, blue, black or clear vinyl. Click here for more (Thanks to Torsten Schitting)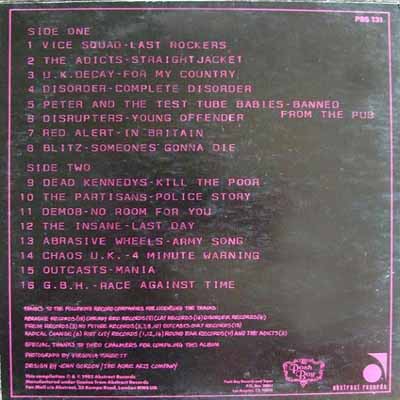 US LP 1982 (Posh Boy - PBS 131). Click here for more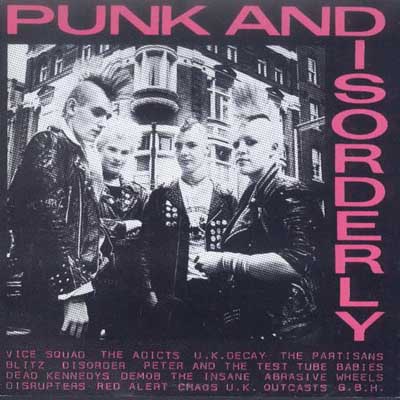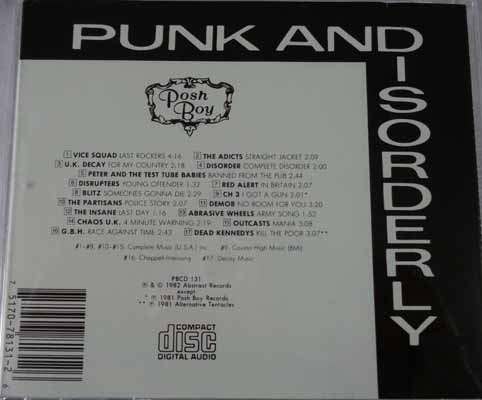 US CD 1987 (Posh Boy - PBCD 131). Click here for more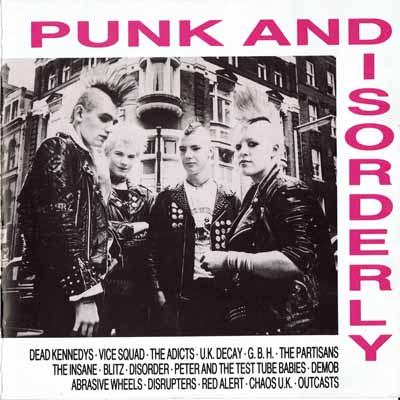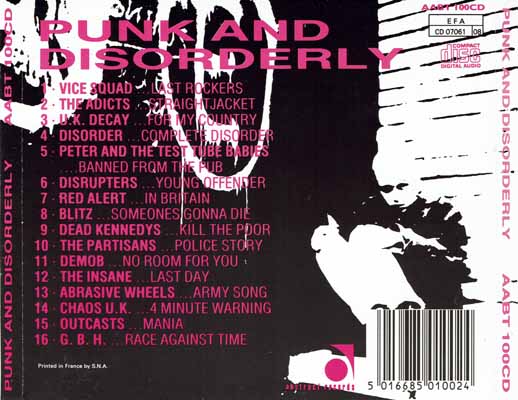 UK CD 1988 (Abstract - AABT 100). Click here for more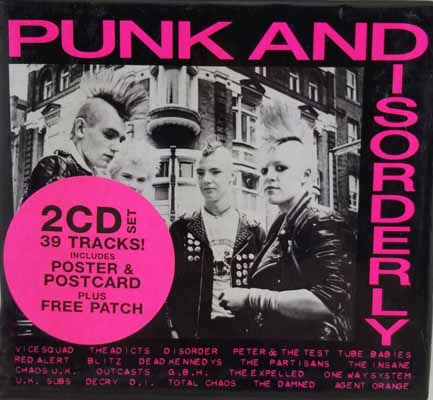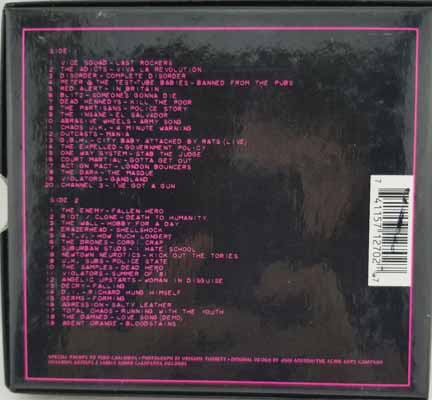 US 2xCD 2003 (Cleopatra - CLP 1270-2). Click here for more