Formed: Orange County, California, USA
Hailing from the affluent So-Cal area of Orange County, the Adolescents were one of the best, most popular and most influential of the Californian hardcore bands. Its classic lineup featured three-quarters of the first incarnation of Social Distortion (Casey Royer and the guitar-playing Agnew brothers, Rikk and Frank), porky bassist Steve Soto (Ex-Agent Orange) and a really snotty vocalist in the emaciated shape of Tony Cadena, a strange fellow who insisted on changing his name every few years or so, hence Montana/Reflex/Adolescent etc. Every band member pulled his weight, but Rikk Agnew provided the band with its best songs, the ultra-catchy 'Amoeba' and 'Kids Of The Black Hole', the latter a high-gear anthem of teenage disillusionment that ranks alongside anything recorded by the Descendents, Bad Religion or Black Flag.
Both are on the Thom Wilson-produced Adolescents, the only LP of theirs you really need, an excellent (if maybe overrated) example of tuneful hardcore. (It is usually referred to as the "blue" album because of its sleeve.)
The Adolescents first surfaced on the famous
Rodney On The Roq
(1980) compilation album, with 'Amoeba', which is surely one of the single best tracks from the early '80s, both for subject matter and its musical qualities. They also issued it as a super rare one-sided single, but as only ten of these were pressed I wouldn't bother wasting too much time trying to track down a copy if I were you.
'Adolescents' is a frequently funny, occasionally angry and always catchy fireball of fast-paced phlegm, attacking women, gays and children (as well as the pigs and square peers) with foul-mouthed wit. Never anywhere near as offensive as (say) GG Allin or The Meatmen, they weren't subtle either, but their goofy good humour usually shone through.
Despite the debut album's enormous local success (allegedly, the only punk LP to outsell this is in California was the Dead Kennedys' debut), Agnew opted out of the band, choosing a dual career as a solo artist and as member of Goth types Christian Death (he also played with Royer in D.I.). Steve Roberts took over Rikk's duties in time for the disappointing Welcome To Reality EP, which turned out to be the final release of the original band. Soto and Alfie joined Legal Weapon, while Cadena formed Abandoned, a speed-metal/popcore outfit.
Reformation
Cadena, the Agnew brothers, Soto and Royer reformed the Adolescents in 1986, but Royer and Frank left before they recorded their new album, Brats In Battalions (1987), with a revamped lineup. The LP happily demonstrated that they hadn't tried reinventing themselves and were content to thrash along like the Adolescents of old, even re-recording all of the 'Welcome To Reality' EP. By the time of Balboa Fun Zone (1988), though, Cadena had absconded and Rikk decided to take control of vocal duties. It wasn't too good, and the band split again in 1989.Triple X marked this occasion by releasing the underwhelmingly-recorded but defiantly obstreperous Live 1981 & 1986 (1989) on white vinyl and CD, but it was little more than product, with amusing audience bating being its best quality, indifferent sound its worst.
Another live album, Return To The Blackhole (1998) dates from 1989 and takes all of its material from the first two studio albums, completely ignoring 'Balboa Fun Zone'; it has better sound than the first live LP and most of the same songs, too.
In the early 1990s Cadena, Royer and Rikk formed The ADZ, a band which can be taken to be just another mutation of the Adolescents, and they released several interesting albums and singles over the next decade, with wildly fluctuating lineups.
Adolescents came out of retirement in 2001 for a new EP, Unwrap And Blow Me (2003) and album, O.C. Confidential (2005). They've been going ever since, albeit with predictable lineup changes and equally predictable accusations of being money-grabbing shadows of their former selves.
__________________________________________________________________________
DISCOGRAPHY
Subsequent studio albums: Brats In Battalions (1987), Balboa Fun*Zone (1988), OC Confidential (2005), The Fastest Kid Alive (2011), Presumed Insolent (2013), La Vendetta... (2014), Manifest Density (2016), Cropduster (2018)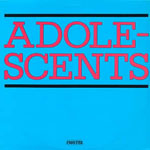 Adolescents
(LP, 1981)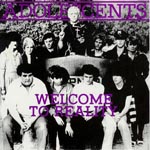 Welcome To Reality (7", 1981)
Extraneous Releases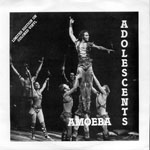 Amoeba (7", one-sided, 1980)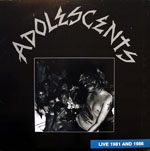 Live 1981 And 1986 (LP/CD, 1989)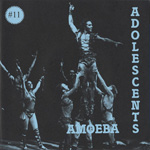 Adolescents / Circle Jerks (6", split, 1996)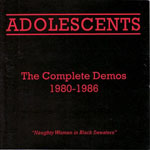 The Complete Demos 1980-1986 "Naughty Women In Black Sweaters" (LP/CD, 2005)
Various Artists
Rodney On The Roq US LP 1980 (Posh Boy): Amoeba
American Youth Report US LP 1982 (Invasion): Losing Battle
Someone Got Their Head Kicked In! US LP 1982 (Better Youth Organization): Who Is Who / Wrecking Crew
Where Is J.R. ? Germany Tape 1982 (Schrott): Amoeba
Flipside Tunes Vinyl Fanzine Number Three US LP 1987 (Flipside): The Liar [version]
Rat Music For Rat People Vol 3 US LP 1987 (CD Presents): All Day And All Of The Night
Middle Class Uprising Germany LP 1988 (Weird System): L.A. Girl / Rip It Up / Losing Battle / Kids Of The Black Hole / No Way
The Best Of Rodney On The ROQ US CD 1989 (Posh Boy): Amoeba
Someone's Gonna Get Their Head To Believe In Something US CD 1992 (Better Youth Organization): Who's Who / Wrecking Crew
The Best Of Flipside Vinyl Fanzines US 2xCD 1992 (Flipside): The Liar
The Posh Boy Story (More Or Less) UK CD 1993 (Damaged Goods): Amoeba
Punk Anderson's Favourites Germany 2xCD 1995 (Starving Missile): Amoeba / Who Is Who
Slam Chops US CD 1995 (Triple X): Brats in Battalions
__________________________________________________________________________
Links
Adolescents - Official Website

Wikipedia - Adolescents page