Formed: Washington, DC, USA
One of the best and most important punk bands ever, Minor Threat truly were the hardcore sound, and put Washington D.C. on the map. They also invented the concept of 'Straight Edge'.
The band's origins went back to The Slinkees, a Wilson High cover band which featured Ian MacKaye (bass) and Jeff Nelson (drums), as well as guitarist Geordie Grindel and vocalist Mark Sullivan. The band had been formed after MacKaye had seen The Cramps in 1978, and were influenced by the likes of The Damned, Ruts, Sham 69 and UK Subs.
The Slinkees were only active for a short while, but with Nathan Strejcek replacing Sullivan they changed their name to The Teen Idles and, influenced by Bad Brains, began playing as fast and hard as they could. They gigged not only in D.C. but also in L.A. and San Francisco, and even managed to support The Cramps at the Ontario Theater in summer 80. The Teen Idles split up that Autumn; however, they reformed briefly to record their self-titled EP, which was the first release on Dischord.
While Strejcek went on to form Youth Brigade, MacKaye and Nelson teamed up with bassist Brian Baker and guitarist Lyle Preslar (ex-The Extorts) to form Minor Threat in November 1980, Baker was in fact a guitarist, but he played bass because the guitar position was already filled. The new band specialised in very short blasts of barely controlled guitar noise with crashing drums and shouted vocals.
Their first two EPs (Minor Threat and In My Eyes) are outrageously good, offering startling bollock-grabbers like 'Small Man Big Mouth', 'Bottled Violence' and 'Filler'. 'Out Of Step' was the centre-piece of the first EP, 'In My Eyes' the centre-piece of the second. Both EPs overflowed with songs urging people not to be blinded by bullshit, such as in 'Filler' and 'Minor Threat'
The most important songs they recorded were 'Straight Edge' and 'Out Of Step', personal manifestos that their audience took to heart.
On these songs MacKaye sang about being "out of step with the world", because he wasn't particularly into drugs, sex and beer. No big deal, just a personal philosophy, and not intended as a manifesto or some kind of holy commandment. However, such was the band's impact, the songs' lyrics lead directly to 'straight edge', a movement in hardcore circles, popular with shaven-headed types, that ultimately resulted in partisan violence between straight edge and non-straight edge kids. As Wikipedia has it: "When "Out of Step" was re-recorded for the LP Out of Step, MacKaye inserted a spoken section explaining, "This is not a set of rules..." An ideological door had already been opened, however, and by 1982, some straight-edge punks, such as followers of the band SS Decontrol, were swatting beers out of people's hands at clubs". And this sort of thing actually happened.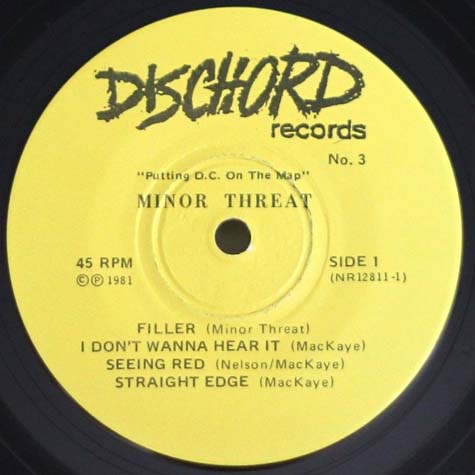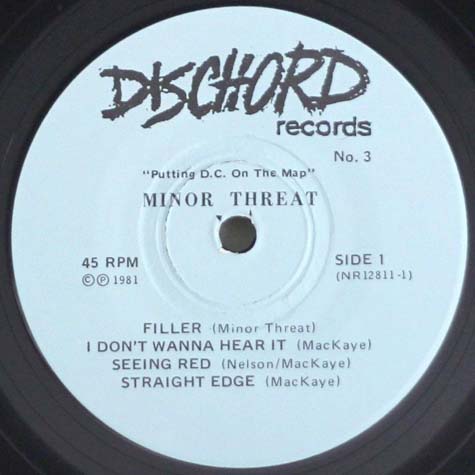 ABOVE: The first two pressings of the 'Minor Threat' EP
MacKaye and his gang also had a reputation. Here are some excerpts from Stephen Blush's America's Hardcore:
"Ian and Henry [Rollins] and their circle were nasty pricks always into some physical conflict - especially when they traveled as wolfpack to NYC "to represent". The worst troublemakers in their crew were these huge mooks Billy McKenzie and Jay Garfunkel (Jay cut some kid's ear off with one of his boot spurs while stagediving). I remember a Circle Jerks show at Irving Plaza where the DC kids came to fight - not even listening to the music".
Henry Rollins: "There's be people on the dancefloor with cigarettes, talking while a band played. We'd just hammer them".
Ian MacKaye: "We were gonna be the worst motherfuckers - we wanted to scare people. It was a form of intimidation backed up by the threat of unpredictableness".
Minor Threat broke up in 'September 1981, not even a year after they had formed, when Preslar went to University. MacKaye and Nelson formed Skewbald (a band also known as Grand Union) and Baker joined Government Issue, but by March '82 all four had re-grouped as Minor Threat. Their first move was a tour of the West Coast, after which Steven Hansgen joined on bass and Baker switched to guitar.
ABOVE: Test pressing for 'Out Of Step'
Out Of Step is a nine-song mini-album with slightly longer songs and more variety but absolutely no let up in commitment or power. The title track is openly defensive about their 'straight edge' statements, condemning people for following blindly; while 'Cashing In', with it's "follow the yellow brick road" refrain, slates the money-orientated punk bands getting rich from the scene. MacKaye's enormously emotive vocals lend an added dimension to personal numbers like 'Little Friend' and 'Look Back And Laugh'.
However, Hansgen was ousted by MacKaye shortly after the record's release, which was ironic because it was actually MacKaye who was tiring of Minor Threat. Brian Baker: "We were writing this music that at the time was even more progressive; Ian didn't feel he could sing too it and he didn't feel like he could write lyrics to the music we had written. It doesn't seem that much different but it was to him".
Following the departure of Hansgen, Minor Threat played its last show on September 23, 1983, with go-go band Trouble Funk and the Big Boys at the Lansburgh Cultural Center in Washington, D.C. They ended their set with with 'Last Song', which was the original title of 'Salad Days'.
A posthumous EP (Salad Days) crept out in 1985, by which time MacKaye was a member of Embrace. The other band members went onto other things. Complete Discography includes all of the above recordings as well as two tracks from the Flex Your Head compilation album ('Stand Up' and a cover of Wire's '1.2.X.U.') and those sweary lyrics in full.
__________________________________________________________________________
Lineup 1:
Vocals: Ian MacKaye
Guitar: Lyle Preslar
Bass: Brian Baker
Drums: Jeff Nelson
Lineup 2:
Vocals Ian MacKaye
Guitar: Lyle Preslar
Guitar: Brian Baker
Bass: Steven Hansgen
Drums: Jeff Nelson
__________________________________________________________________________
DISCOGRAPHY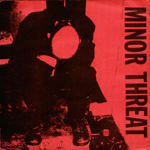 Minor Threat (7", 1981)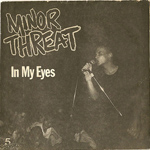 In My Eyes (7", 1981)
Out Of Step (LP, 1983)
Extraneous Releases
Minor Threat (LP, 1984)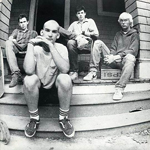 Salad Days (7", 1985)
Live At Buff Hall (7", 1988)
Complete Discography (CD, 1989)
First Demo (7"/CDS, 2003)
Bootlegs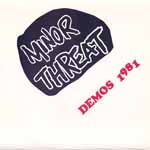 Demos 1981 (7", 1989)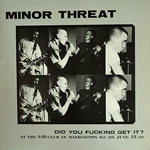 Did You Fucking Get It? (LP, 1990)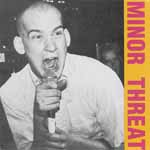 27 Songs Live (CD, 1991)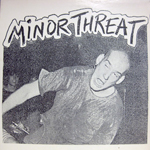 Live (LP, 1991)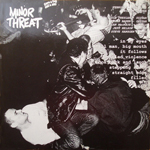 Minor Threat / Faith (LP, split, 1992)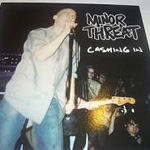 Cashing In (LP, 1995)
Demo's (LP, split with Youth Brigade, 2002)
Screaming At The Wall (CDR, 2001)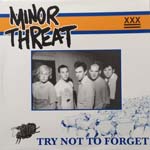 Try Not To Forget (LP, 2013)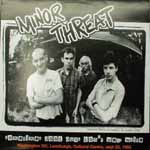 Sometimes Good Guys Don't Wear White (LP)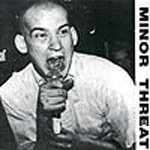 9:30 Club Wash D.C. 4/29/82 O'Bannion's Chicago 3/8/81 (CD)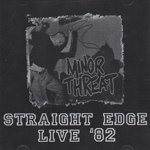 Straight Edge Live '82 (CD)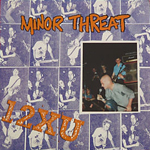 12XU (LP)
Various Artists
Flex Your Head US LP 1982 (Dischord): Stand Up / 12XU
Where Is J.R. ? Germany Tape 1982 (Schrott): Out Of Step
Dischord 1981: The Year In Seven Inches US CD 1995 (Dischord): Filler / I Don't Wanna Hear It / Seeing Red / Straight Edge / Small Man, Big Mouth /Screaming At A Wall / Bottled Violence / Minor Threat / In My Eyes / Out Of Step / Guilty Of Being White / Steppin' Stone
Punk Anderson's Favourites Germany 2xCD 1995 (Starving Missile): Out Of Step
20 Years Of Dischord US 3xCD 2002 (Dischord): Screaming At A Wall / Straight Edge (Live) / Understand / Asshole Dub
__________________________________________________________________________
Links
Minor Threat at Dischord Records