Formed: Farnborough, Hampshire, England, UK
Formed in early 1982, Black Easter supported bands such as Subhumans, Flux Of Pink Indians and Cult Maniax as well as hiring out local halls etc for gigs. They recorded a few demos but only their only vinyl release was the Ready To Rot EP. Shawn Burt left the band and joined the army; he was replaced on vocals by Jem Hammick (R.I.P.). Before that Rich Sime was replaced on bass by Paul Pomeroy.
Black Easter played its final show in October 1984. After that Jem left the band they added a female sax/keyboard player called Laura Surgeoner, Grant Taylor took over on vocals and the band changed its the band name to Spike Team. As such they recorded a demo. This band split in 1986.
Shaun Burt - Vocals
Grant Taylor - Guitar (pre-Spike Team, pre-KERB)
Richard Sime - Bass
Jamie Abethell - Drums (pre Chelsea, pre-Spike Team, pre-KERB)
Paul Pomeroy - Bass (pre-Spike Team, pre-KERB)
Jem Hammick - Vocals (R.I.P.)

Thanks to Henk at UK82 for letting me use this info, and also to Pep who wrote it (I've taken the liberty of tidying it up a bit). Henk also mentions a live recording currently going the rounds on filesharing networks: Live At The Sir George Robey Pub, London ?.10.82
Update:
Grant Taylor, Jamie Abethell and Paul Pomeroy formed a new band in 2012 called KERB. They played their first gig at Guildford City Club on 10th November 2012, followed by one at The Royal Swan in Blackwater, Hants on June 21st, They play mostly new stuff but also play a few from Black Easter/Spike Team days, check out KERB/BlackEaster/SpikeTeam links below.
__________________________________________________________________________
DISCOGRAPHY
Singles & Albums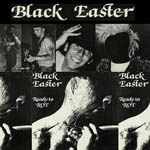 Ready To Rot
(7", 1982)
Various Artists
Killed By Death #5 Australia LP 1993 (Redrum): What The Fuck
Useless Eaters & Other Losers (Punk Rarities 1977-'83) Belgium CDR 2018 (Fab Fuhrer): What The Fuck
__________________________________________________________________________
Links
Facebook - Combined page for Black Easter, Spike Team and KERB
You Tube - A veritable slew of concert recordings for KERB
You Tube - Black Easter and Spike Team recordings galore