Formed: New Mills, Derbyshire, England, UK
The ultimate Oi!/hardcore band, this quartet from Derbyshire quartet comprised two skins (Carl, Charlie) and two punks (Nidge, Mackie). Quaint as it may now seem, back then this was supposed to be a Major Political Statement, the kids being united and all that. They were also one of the hottest UK bands of the early 80s, immensely successful (in punk terms anyway) and influential, with a chainsaw guitar that made early Ramones sound refined, and a vocalist who sounded like he was chewing razorblades.
They were the quintessential Oi! band.
Their debut single, the All Out Attack E.P.. was lifted directly from their demo, and is notable not only for the amount of copies it sold (25,000) but also for being the first on No Future Records. Completely uncompromising and raw, it rode high in the indies for nearly a year, by which time they'd issued the astonishingly brutal Never Surrender 45.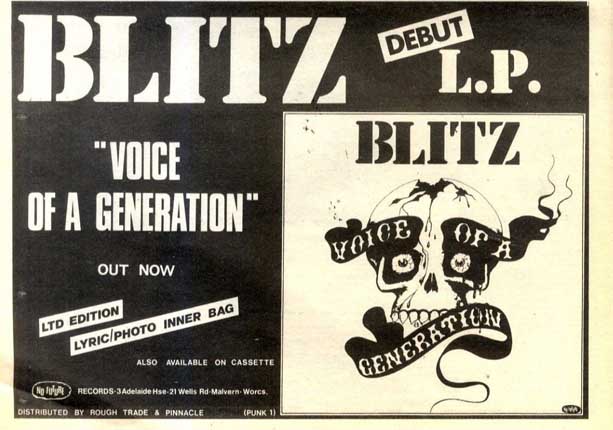 Recorded with an absolute disdain for fidelity, Voice Of A Generation is a sporadically fine album, full of threatening behaviour, even making room for a version of Lou Reed's 'Vicious' that is not as out of place as you might think. While not actually melodic, the choruses on the album's best cuts - 'We Are The Boys', 'Propaganda', 'Warriors' (better heard on the subsequent single), 'Nation On Fire' (the dub intro of which sticks out like a sore thumb) - are quite catchy. It's just a shame that a fair amount of the surrounding material is undistinguished – one suspects with more time spent on it, this could really have been the gilt-edged streetpunk masterpiece many say it is.
Warriors came out in August 1982 to more critical acclaim and strong sales, despite having included it on the LP in a different version. Slower but no less gruff or gutteral, it was an excellent single.
They followed the release of 'Warriors' by touring with G.B.H. and Abrasive Wheels. The experience was enough for bassist Mackie to leave. Their producer Tim Harris replaced him for the more melodic New Age single, their most ambitious effort thus far, a fine punk tune that supplemented its wall-of-noise racket with a piano and featured a dub version on the B-Side of the 12". It didn't even sound like it was recorded in a dustbin (it recalls Sham 69's 'Unite And Win' if you ask me). But shortly after its release guitarist Nidge Miller left as well, promptly forming Rose Of Victory with Mackie.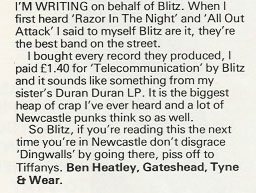 The remaining Blitz members decided to carry on with a drastically altered sound, effectively bringing an end to the "punk" part of their story. With
Second Empire Justice
and their subsequent singles they made one of rock's most surprising about-turns, ditching the guitars and trying to be New Order! No more boot boy anthems housed in crappy black-and-white sleeves with skulls plastered all over them, these are the works of Sensitive Artists, packaged in subtle arty covers a la Factory Records. Who could have been prepared for this? After this none-too-sensible career move they released another single (
Solar
) and split up.
The Killing Dream is an alleged reformation album featuring only guitarist Nidge (on everything apart from drums, which is provided by a machine) and a new vocalist who is barely audible – probably a good thing, unlike the record, which isn't.

Nidge died in 2007, aged 48, shortly after a reunion tour.
DISCOGRAPHY
Subsequent studio albums: The Killing Dream (1990).
Singles / Albums

All Out Attack E.P.
(7", 1981)
Never Surrender / Razors In The Night
(7", 1982)
Warriors
(7", 1982)
Voice Of A Generation
(LP, 1982)
New Age
(7", 1983)
Telecommunication (7"/12", 1983)
Second Empire Justice
(LP, 1983)
Solar
(7"/12", 1983)

Extraneous Releases

Propaganda / Moscow
(7", flexi, 1982)
Blitzed - An All Out Attack
(LP, 1988)
Best Of Blitz
(CD, 1993)
Blitz Hits
(CD, 1994)
The Complete Blitz Singles Collection
(CD, 1994)
All Out Attack
(LP, 1997)
Warriors
(CD, 1999)
Voice Of A Generation - The No Future Years
(2xCD, 2000)
Punk Singles & Rarities 1980-83
(CD, 2001)
All Out Blitz: The Very Best Of Blitz
(CD, 2005)
Hits
(CD, 2005)
Time Bomb: Early Singles And Demos Collection
(LP, 2013)
The Other Side Of...
(LP, 2017)
The Albums
(5xCD, box set, 2018)

Bootlegs

Blitz / Violators
(LP, split, 1999)
Various Artists
Carry On Oi! UK LP 1981 (Secret): Nation On Fire / Youth
Punk And Disorderly UK LP 1982 (Abstract): Someone's Gonna Die
The Secret Life Of Punks UK LP 1982 (Secret): Youth
Total Noise #1 UK 7" 1982 (Total Noise): Voice Of A Generation (Poor No More)
Burning Ambitions (A History Of Punk) UK 2xLP 1982 (Cherry Red): Someone's Gonna Die
There Is No Future (The History Of No Future) UK LP 1984 (No Future): Someone's Gonna Die / Warriors
Oi! Chartbusters Volume 1 UK LP 1987 (Link): Time Bomb
Oi! Chartbusters Volume 2 UK LP 1987 (Link): 4Q
Oi!.. The Picture Disc UK LP 1987 (Link): Criminal Damage
Oi! Chartbusters Volume 3 UK LP 1988 (Link): Youth
Oi! Chartbusters Volume 4 UK LP 1988 (Link): Escape
Guaranteed Mug Free Zone UK LP 1988 (Link): Time Bomb
The Joys Of Oi! UK LP 1990 (Link): 4Q
The Oddities Of Oi! UK LP 1991 (Link): Warriors

The Best Of Oi! Volume 2 UK CD 1992 (Link): Nation On Fire
Pop Oi! / Oi! Oi! Oi! UK CD 1993 (Step-1): Those Days
The Oddities Of Oi / The Joys Of Oi! UK CD 1993 (Step-1 Music): Warriors / 4Q
No Future: The Singles Collection UK CD 1993 (Anagram): Someone's Gonna Die / Never Surrender / Warriors
No Future: Punk Singles Collection Volume Two UK CD 1995 (Anagram): Fight To Live / Razors In The Night / Youth
Oi! The Rarities Vol 5 UK CD 1996 (Captain Oi!): Voice Of A Generation
The Punk Generation UK 4xCD 1995 (Castle Communications): Nation On Fire / Youth / Time Bomb
UK/DK - The Original Video Soundtrack UK CD 1995 (Anagram): New Age / Warriors
Oi! The Singles Collection Vol 1 UK CD 1995 (Captain Oi!): Never Surrender / Razors In The Night
Oi! The Singles Collection Vol 3 UK CD 1997 (Captain Oi!): Warriors / Youth (Different Version)
Lords Of Oi! UK 3xCD Box Set 1997 (Dressed To Kill): Time Bomb / 4Q / Youth / Escape
Oi! This Is England UK 3xCD Box Set 1999 (Dressed To Kill): Time Bomb / 4Q / Youth / Escape
Oi! Chartbusters Volume 6 UK CD 2004 (The Harry May Record Company): Bleed

Links