Formed: London, England, UK

"We're pricking the balloons of pomposity," - Eddie Tudorpole, Zig Zag, 1981.
This bunch of loveable loonies remain best known for the almost unbelievably excellent The Swords Of A Thousand Men, a Top Ten hit in the UK, and the nearly-as-inspired Wünderbar ("There is a word in German and I think it says it all..."). On both songs they resemble a lobotomised, drunken, sort-of-untalented version of the Skids, with incomprehensible vocals and bags of demented rock and roll swagger.
They also had pedigree.
Singer Eddie Tudorpole claimed to be of royal descent but probably wasn't. In 1977 he sang in a group called the Visitors, which he described to Smash Hits in 1981 as sounding like a "speeded-up Stranglers". He was chosen by Malcolm McLaren as a replacement for Johnny Rotten, and appeared on two great songs from the Sex Pistols' comedy period, 'Who Killed Bambi?' (B-Side of Silly Thing) and 'Rock Around The Clock' (B-Side of The Great Rock N Roll Swindle), both of which were credited to Tenpole Tudor. Eddie was also responsible for the hilarious, elongated rant on 'The Great Rock "N' Roll Swindle' itself ("Mick Jagger: white nigger/Elton John: hair transplant"). The Pistols thing was short-lived, due to the death of Sid Vicious, but Tudorpole emerged in late '79 with a band he decided to call, for obvious reasons, Tenpole Tudor.
Eddie Tudor Pole: When Sid Vicious died, I was no longer going to be the new singer of the Sex Pistols, because that all went down the pan. I said to Malcolm, "I'm going to get my own group and I'll call it Tenpole Tudor", because he gave me that name, in a way. He said, "Tenpole, we've done rock 'n' roll. I want you to come to Paris. I've got a friend there and I want you to make love to underage girls and sing at the same time". I said, "Oh come on, look. No I can't do that, Malcolm. I'd never get the horn!" He said, "We'll see to that. Don't worry about that". I said, "How young?" He said, "Only 15 or 14 - no younger". I said, "I don't fancy it, and anyway, when you're having a shag, you're not really in the mood for singing. It's a different ball game - no pun intended". (Be Stiff: The Stiff Records Story by Richard Balls)
First up was the middling Real Fun 45, which came out in February on Korova (a subsidiary of WEA) and low sales. The release of The Great Rock 'N' Roll Swindle film in May, however, was a turning point. Suddenly Tenpole (who appeared in the film singing into a hoover) was quite a star, shows started selling out, Garry Bushell ran a two-page interview in Sounds, and Stiff signed them up.
The brilliantly loopy 3 Bells In A Row, a delightful tale of a man's unparalleled joy at winning a quid on a fruit machine, came out in October, just as the group embarked on the Son Of Stiff tour, the third and by far least of Stiff Record's package tours. Whilst the first (in 1977) had Ian Dury, Elvis Costello, Nick Lowe, Wreckless Eric and Larry Wallis, the best they could come up for this one was Ten Pole Tudor, Any Trouble, Dirty Looks, Joe "King" Carrasco and the Crowns, and The Equators, a right load of under-achievers. Tenpole Tudor was easily the star attraction on the tour, which was commemorated with a 12" single ('The Son Of Stiff Tour'), to which each band contributed one song, Tenpole Tudor's being 'There Are The Boys'.
At this point, outside of the maniacal Eddie Tudorpole, the band didn't have much in the way of visual appeal, until some bright spark - Tudorpole himself, presumably - started dressing the band as knights of olde, chain mail, shields, swords and all. This was at the same time that Adam Ant was soaring up the charts with his antmusic and pirate/red Indian look, just as the New Romantics were becoming big news. The image was exploited to the full on The Swords Of A Thousand Men, which took the Battle of Culloden as its subject matter and earned them several entertaining appearances on Top Of The Pops in March '81.
This success was followed by an LP, Eddie, Old Bob, Dick And Gary, which was a moderate success, reaching No. 44 in the UK charts. 'Swords' was prominently featured, as was '3 Bells In A Row'. The rest of the material ranged from excellent to pretty crap, but Tudorpole's demented singing style and interesting, if dumb, lyrics make it an enjoyable romp, with hints (just hints) of Wreckless Eric, Nick Lowe and The Undertones. One of the best songs on the LP, Wünderbar, was issued as a single in a completely different mix, and was another great record, the second and last of their big hits.
Eddie Tudor Pole: We didn't want 'Wünderbar' to be the follow-up, we wanted 'Go Wilder'. He [Robinson] said, "You don't want to be a one-hit wonder. 'Wünderbar', that's a definite hit". In a way it sounds like a hit song. For any band, it's a novelty song. The trouble was, it was originally called 'Fall Apart', which was a far better lyric, and we changed it on a whim. We'd been playing 'Fall Apart' for years and it was one of our favourite live songs, everyone fell about. But on the way to the studio to make a single, on a whim we said, "Let's call it "'Wünderbar'". What a moment of folly. And then, of course, that's got all these connotations which are so uncool, and it's such a great song and we lost half our following - "Fuck, they're just some fucking novelty comedy band". (Be Stiff: The Stiff Records Story by Richard Balls)
A second guitarist, Munch Universe, was added to the lineup in July 1981, just in time for him to appear on the cover of 'Wunderbar' and participate in all the usual promotional antics that went with the single. That October the new lineup was rushed into Genetic Studios in Streatly by label boss Andrew Robinson to record LP Number 2, Let The Four Winds Blow, despite the band not having written enough decent material for it. And the LP was indeed a stinker, with no standout songs other than one corker, Throwing My Baby Out With The Bathwater, which came out as a single in October, its lowly chart position (49) demonstrating just how quickly the band had fallen from grace with the public. The failure of the LP to even dent the charts was further proof of this, with a final single - Let The Four Winds Blow - limping out in early 1982.
Not surprisingly, that was the end of Tenpole Tudor, but not the story. In 1983, Stiff unveiled two new offshoot acts. The Tudors comprised all the members of Tenpole Tudor bar Tudorple himself, and Tied Up With Lou Cool was a dull cajun-flavoured ditty without much flavour. The other act was "Eddie Tenpole Tudor", who released a country hoedown entitled The Hayrick Song.
Tudorpole: You take your girl into the fields and get your knickers off, It's very primal. I'm trying to reach the spirit of our countryside. I've just come back from Sheffield today and my jaw is dropping at the beauty of England! I want to get away from this awful century. 'The Hayrick Song' is a total rejection of the microchip and modern industry in space shuttles. (Smash Hits, 1983)
Stiff tried a lot at promoting the latter - including hiring a horse and cart and storming the BBC studios, and releasing it on 7" and 12" - but despite having some charm it too flopped.
There have been a number of Tenpole Tudor reunions since: in 1985 (recording the entertaining 'Ted Ain't Ded'), 2001, and 2009. The 2009 reunion had no original members apart from Eddie) but spawned a studio CD, 'Made It This Far'. During the '90s Eddie appeared regularly on UK TV presenting the irritating TV game show The Crystal Maze, and also tried his hand at acting.
__________________________________________________________________________
Lineups 1979-1982:
Lineup 1 (1979-July 1981):


L-R:
Vocals/Guitar/Saxophone: Eddie Tenpole aka Edward Tudor aka Eddie Tudorpole
Guitar/Vocals: Bob Kingston
Bass/Vocals: Dick Crippen
Drums/Percussion: Gary Long
Lineup 2 (July 1981 - 1982):
L-R:
Vocals/Guitar/Saxophone: Eddie Tenpole aka Edward Tudor aka Eddie Tudorpole
Guitar/Vocals: Bob Kingston
Drums/Percussion: Gary Long
Bass/Vocals: Dick Crippen
Guitar/Vocals: Munch Universe
__________________________________________________________________________
DISCOGRAPHY
Subsequent studio albums: Made It This Far (2009).
Real Fun (7", 1980)
3 Bells In A Row (7", 1980)
The Swords Of A Thousand Men (7", 1981)
Eddie, Old Bob, Dick And Gary (LP, 1981)
Wünderbar (7", 1981)
Throwing My Baby Out With The Bathwater (7", 1981)
Let The Four Winds Blow (LP, 1981)
Let The Four Winds Blow (7", 1982)
Tied Up With Lou Cool (7", by The Tudors, 1983)
The Hayrick Song (7"/12", by Eddie Tenpole Tudor, 1983)
Extraneous Releases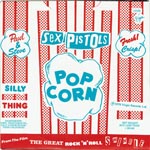 Silly Thing (7", on B-Side only, 1979)
The Great Rock N Roll Swindle (7", on B-Side only, 1979)
Who Killed Bambi (7", as Ten Pole Tudor with The Sex Pistols, 1981)
Swords Of A Thousand Men (LP, 1981)
Wunderbar - The Best Of Tenpole Tudor (CD, 1992)
Swords Of A Thousand Men (2xCD, 1997)
Swords Of A Thousand Men: The Best Of Tenpole Tudor (CD, 2001)
Wünderbar: The Stiff Records Singles Collection (CD, 2002)
Eddie, Old Bob, Dick And Gary/Let The Four Winds Blow: The Stiff Anthology (2xCD, 2007)
Various Artists
The Son Of Stiff Tour 1980 UK 12" 1980 (Stiff): There Are The Boys [Live]
Wonderful Time Out There UK LP 1981 (Stiff): Throwing My Baby Out With The Bathwater
Absolute Beginners - The Original Motion Picture Soundtrack UK LP/CD 1986 (Virgin): Ted Ain't Ded
__________________________________________________________________________
Links