Formed: South London, England, UK
Drawing inspiration from Sham 69, these South London lads (and indeed they pride themselves on being "lads") have been taking Cockney pride into territory that spills over into parody since 1979. Along with Cockney Rejects and Cock Sparrer they are probably the UK's foremost Oi!/Streetrock band, and even at their worst are miles ahead of most their competition (Infa-Riot etc). Unusually for a punk band, their best material was not their earliest: although they hit an early high with 1981's 'Harry May', as the '80s progressed they began playing slower and writing better songs. By 1985 they were delivering a commendable barrage of guitar noise very much similar to The Professionals, with songs about football, hooliganism, and football hooliganism, with anecdotes about rioting, smashing up discos and rucking thrown in for variety. Well, that's not totally true, because they did write about other topics as well, sometimes even encroaching on subjects usually tackled only by the more leftie punks. Much of the time they sounded a bit tongue in cheek, but they were capable of insight and even pathos on such songs as 'Out In The Cold', 'Foreign Girl' and 'Informer'. By the time they split in 1990 they seemed like yesterday's men, but when they reformed in 1992 they were astonishingly good, with their extremely charismatic and likeable singer Micky Fitz sounding more Cockney-fied with each release.
1979-1986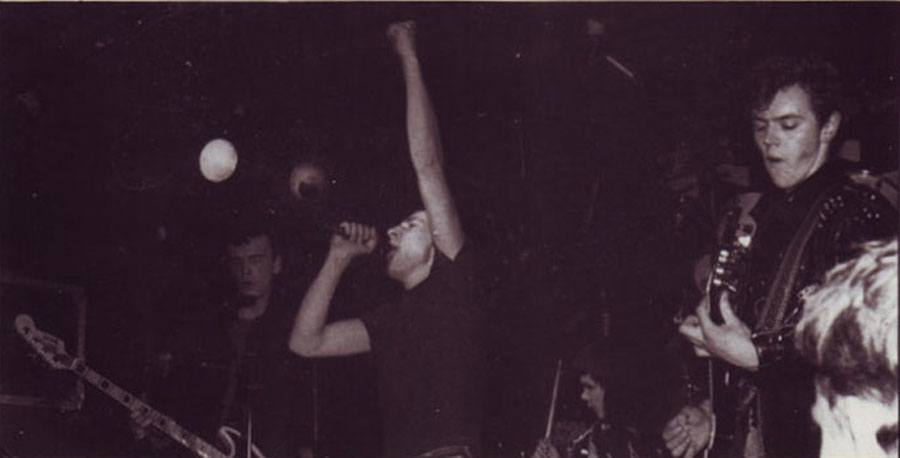 Surfacing initially in 1980 with the poppy 'Out In The Cold' on the rather ropy
A Sudden Surge Of Sound
compilation, favourable reviews from Garry Bushell in
Sounds
had them linked to Oi! scene, with Bushell including them on the
Carry On Oi!
comp, where they contributed two standout tracks, 'Suburban Rebels' and 'Product'. By the time of their first single,
Harry May
, they were therefore extremely popular. 'Harry May' is an utterly classic example of singalong Oi!, but it was released in late 1981 after the
Southall incident
, where skins and Pakistanis rioted at an Oi! showcase. The band found themselves labeled as racists, a completely unfounded accusation, and by the end of the year only Fitz remained in the group, when founding members Steve Kent (guitar), Martin Smith (bass) and Nick Cunningham (drums) left.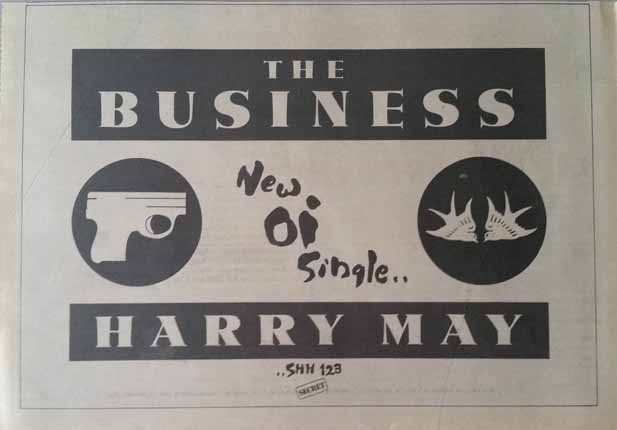 Fitz bounced back with a new lineup in 1982, featuring three members of a local band called The Blackout: Steve Whale (guitar), Mark Brennan (bass) and Kev Boyce (drums), and this lineup released the grammatically unsound 7" Smash The Disco's (1982), another indie hit and another great record. Unfortunately, their debut album, also recorded an in 1982, never surfaced because the master tapes went missing. (They were eventually found and released in 1988 as Smash The Discos.)
They finally made it to the album racks in 1983 with the patchy Suburban Rebels. It includes their best known number, 'Harry May', in its original 7" version, and added a dozen more working class anthems, all played with a lack of finesse but a fair amount of muscle. Cockney Rejects guitarist Micky Geggus produced but he didn't do much to colour their sound, and the weaker numbers - including a dreadful re-working of 'Employers Black List' (B-Side of 'Harry May') – plodded. In the face of bad reviews (even Bushell slammed it!) the band split up again shortly after its release.
1980-81 Official Bootleg crept out in 1983, containing a very sloppy live side and some early recordings, one of which (the excellent 'Out In The Dark') sounds a bit like The Jam (although Weller probably wouldn't have kept the sheep noises). Spurred on by its indie chart success, Fitz reformed the group and came up with Loud, Proud And Punk – Live! . Recorded in a studio with crowd noises added, it featured many songs in common with 'Suburban Rebels' and the then-unreleased 'Smash The Discos' but was no more than adequate.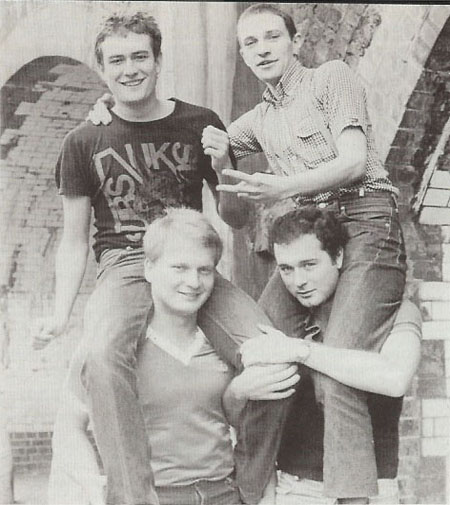 It was at this point however that The Business - Fitz, Whale, Brennan and new drummer Micky Fairbairn (ex-Skinflix) - clearly decided to devote more time to honing their songwriting skills, and as result they started becoming a properly good group. Although it occasionally verges on hard rock, album #2 Saturday's Heroes was a major leap forward, with meatier production and better songs/lyrics.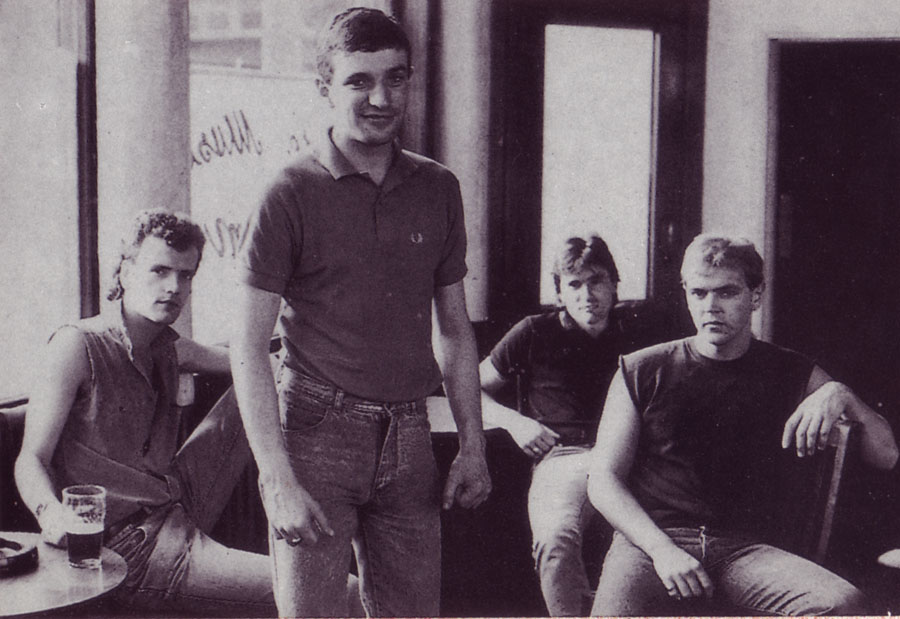 The remainder of the decade was spent grabbing headlines: the Drinkin' & Drivin' single saw them being accused of an irresponsible attitude to road safety; in August 1996 there was a riot at the Isle of Wight Scooter Rally, ending with the beer tent collapsing and caravans exploding; and at 1987's 'The Main Event' Oi! showcase the band was CS-gassed.
1987-Onwards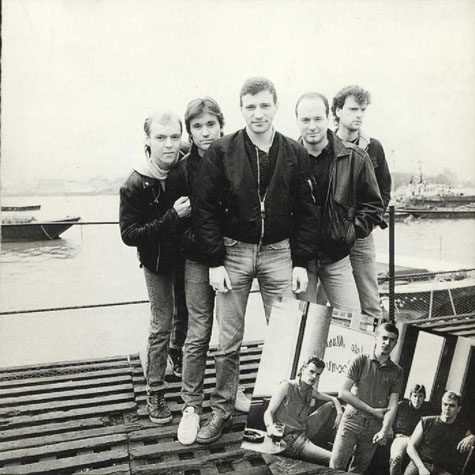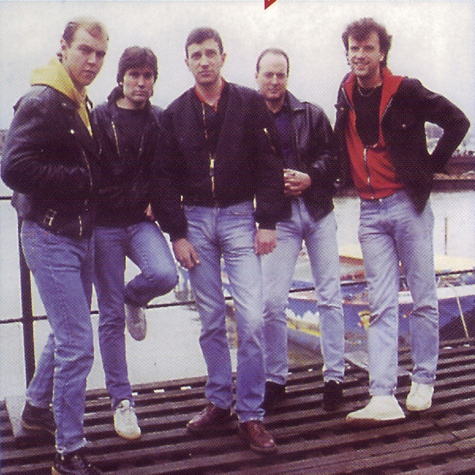 Welcome To The Real World - their third studio album - was recorded as a quintet with original guitarist Steve Kent back in the fold. It bulged with smile-inducing macho nonsense ('Mouth An' Trousers', 'We'll Take 'Em On', 'Never Say Never'), songs about how stupid "normal people" are (the title track) and their first Anti-Maradonna number ('Hand Ball'). It's was even better than the previous LP, but proved to be their last LP for several years. Brennan left to concentrate on Link Records (and then Captain Oi!) and Whale formed The Heavy Metal Outlaws with Roi Pearce (Last Resort/4-Skins).
Fitz, Whale and Fairbairn resuscitated the band in 1992 with Lol Proctor of The Elite on bass, and in 1994 released the terrible Anywhere But Here single in 1994. Fortunately, Keep The Faith had no shortage of terrace-friendly choruses fuelling ditties about football ('Maradonna', 'Viva Bobby Moore') and Kurt Cobain ('Holiday In Seattle'). It tighter, faster and more musically adept than ever, proving there was a heck of a lot more life in the old dogs . All three songs from the preceding single were reprised in far superior form. Recommended.
The Truth The Whole Truth And Nothing But The Truth, their fifth proper album, was produced by Lars (Rancid) and Pat Collier (The Vibrators), and the band sounded more like a parody than ever. The songs were shorter and faster, the lyrical content confined almost entirely to working class gangsters, football and how great punk is (and other types of music aren't). In actual fact, this may well be their most honestly enjoyable album, particularly 'Southgate (Euro 96)', with his once-heard-never-forgotten segue into a radically re-worded, hilarious rendition of 'Lord Of The Dance'.
Following a self indulgent split album with drinking buddies the Dropkick Murphys, No Mercy For You reverted to the band's old style, with one ditty ('Code Red') relating to a mate of the band who participated in a prison breakout, two songs ('Hell To Pay', 'Take Us And Use Us') from a gangster film, and one called 'Guinness Boys'.
Under The Influence is the inevitable, veritable stinker in the band's career. A pointless covers album, the band peddle all-too-reverent and decidedly inferior versions of olde Englishe punke songs (two Pistols, two Shams, 'Do Anything You Wanna Do', 'London Calling'), and even a few new American ones (two Green Day hits). Worse, two songs are merely well-known 1985 recordings ('Hurry Up Harry', 'Get Out Of My House'), while the second version of 'Do They Owe Us A Living' and 'Pretty Vacant' are from Loud Proud & Punk. Outside of its moderate novelty value, this is useless.
Mick Fitz died from cancer in December 2016.
__________________________________________________________________________
LINEUPS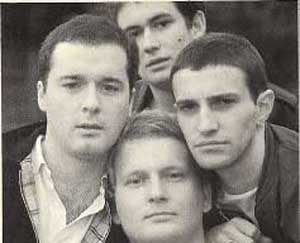 Lineup 1979-1981:
Micky Fitz - vocals
Steve Kent - guitars
Martin Smith - bass
Nick) Cunningham - drums

Recorded everything up to and including the Harry May 7", and fell apart in late 1981 just after recording 'Step Into Christmas' for the Bollocks To Christmas comp.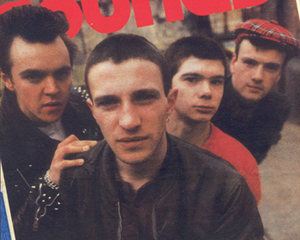 Lineup

1981-1983, 1984:

Micky Fitz - vocals
Mark Brennan - bass
Steve Whale - guitar
Kev Boyce - drums

Formed after a short period of about two months with Graham Ball on bass and John Fisher on drums. Recorded

Smash The Disco's

7", the unreleased Loud Proud And Punk LP,

Suburban Rebels

, and

Loud Proud And Punk - Live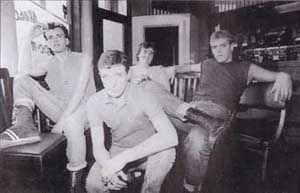 Lineup

1984-1987:

Micky Fitz - vocals
Steve Whale - guitar
Mark Brennan - bass
Mick Fairbairn - drums

Recorded Saturdays Heroes LP

__________________________________________________________________________
DISCOGRAPHY
Subsequent studio albums: Welcome To The Real World (1988), Keep The Faith (1994), The Truth, The Whole Truth And Nothing But The Truth (1997), No Mercy For You (2001)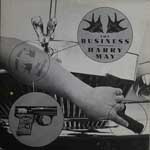 Harry May (7", 1981)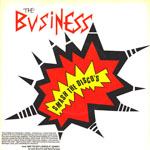 Smash The Disco's (7", 1982)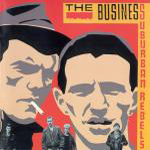 Suburban Rebels (LP, 1983)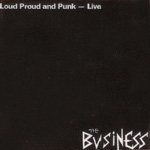 Loud Proud And Punk - Live (LP, 1984)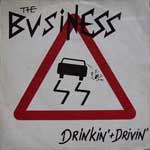 Drinkin' And Drivin' (7"/12", 1985)
Saturdays Heroes (LP, 1985)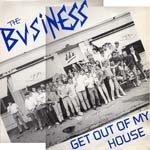 Get Out Of My House (12", 1985)
Extraneous Releases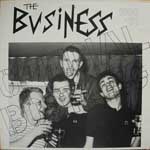 1980-1981 Official Bootleg (LP, 1983)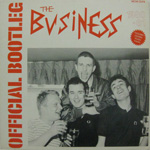 Back To Back (2xLP, 1985)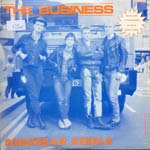 Back To Back Volume 2 (2xLP, 1985)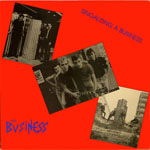 Singalong A Business (LP, 1986)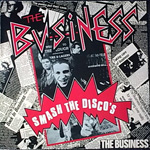 Smash The Disco's (LP, 1988)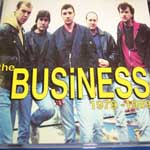 1979-1989 (LP/CD, 1991)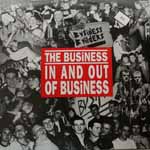 In And Out Of Business (LP, 1990)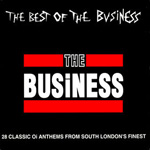 The Best Of The Business (LP+7"/CD, 1992)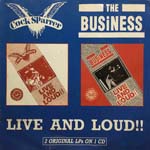 Live And Loud!! (CD, split with Cock Sparrer, 1993)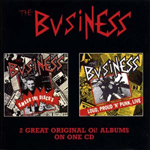 Smash The Disco's / Loud, Proud 'N' Punk, Live (CD, twofer, 1993)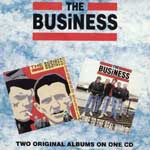 Suburban Rebels / Welcome To The Real World (CD, twofer, 1994)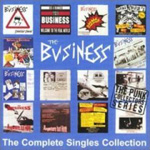 The Complete Singles Collection (CD, 1995)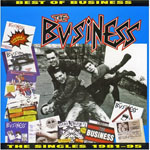 The Best Of Singles Collection (CD, 1996)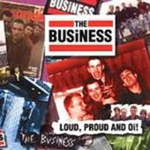 Loud, Proud And Oi! (CD, 1996)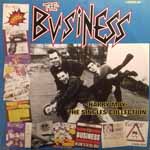 Harry May - The Singles Collection (2xLP, 1996)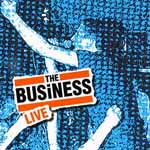 Live (CD, 1998)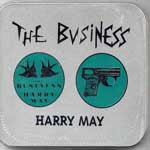 Harry May (CD, 2000)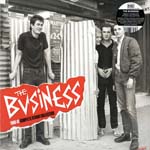 1980-81 Complete Studio Collection (LP, 2016)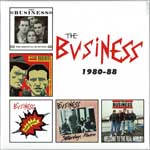 1980-88 (5xCD, box set, 2018)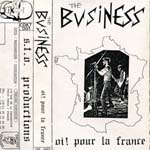 Oi! Pour La France (Tape)
Various Artists
A Sudden Surge Of Sound UK LP 1980 (VU): Out In The Cold
Carry On Oi! UK LP 1981 (Secret): Suburban Rebels / Product
Bollocks To Christmas UK 7" 1981 (Secret): Step Into Christmas
Total Noise #1 UK 7" 1982 (Total Noise): Loud Proud & Punk
The Secret Life Of Punks UK LP 1982 (Secret): Employers Black List / Harry May
Oi! Oi! That's Yer Lot! UK LP 1982 (Secret): Real Enemy
Burning Ambitions (A History Of Punk) UK 2xLP 1982 (Cherry Red): Harry May
Wave News 2 - Independent Smash Hits Germany LP 1982 (Intercord): Smash The Discos
UK/DK - The Original Video Soundtrack UK LP 1983 (Anagram): Blind Justice
Son Of Oi! UK LP 1983 (Syndicate): Out In The Cold
The Defiant Pose UK LP 1983 (Illegal): Loud Proud & Punk
Oi! - The Resurrection UK LP 1986 (Link): Mortgage Mentality
Oi! Chartbusters Volume 1 UK LP 1987 (Link): Suburban Rebels (Live)
Oi! Chartbusters Volume 2 UK LP 1987 (Link): Get Outta My 'Ouse
Oi!.. The Picture Disc UK LP 1987 (Link): Smash The Discos
Oi! Chartbusters Volume 3 UK LP 1988 (Link): Outlaw
Oi! Chartbusters Volume 4 UK LP 1988 (Link): Product (Live)
Oi! Chartbusters Volume 5 UK LP 1989 (Link): Chasing Rainbows
Oi! Chartbusters Volume 6 UK LP 1990 (Link): Disco Girls
Pop Oi! UK LP 1989 (Link): Out In The Cold

The Joys Of Oi! UK LP 1990 (Link): H-Bomb
The Oddities Of Oi! UK LP 1991 (Link): Get Out While You Can
Oi! Oi! That's Yer Lot! / Back On The Streets EP UK CD 1993 (Step-1 Music): Real Enemy
Pop Oi! / Oi! Oi! Oi! UK CD 1993 (Step-1): Out In The Cold
The Oddities Of Oi / The Joys Of Oi! UK CD 1993 (Step-1 Music): Get Out While You Can / H-Bomb
Secret Records: The Punk Singles Collection UK CD 1993 (Anagram): Harry May / Smash The Discos / H. Bomb
Secret Records: The Punk Singles Collection Volume 2 UK CD 1995 (Anagram): Employers Blacklist / Disco Girls / Law And Order
Oi! The Singles Collection Vol 1 UK CD 1995 (Captain Oi!): Harry May / Employers Blacklist
Oi! The Singles Collection Vol 3 UK CD 1997 (Captain Oi!): Smash The Discos / Disco Girls / Dayo
Lords Of Oi! UK 3xCD Box Set 1997 (Dressed To Kill): Suburban Rebels (Live) / Get Outta My 'Ouse / Outlaw / Product (Live) / Chasing Rainbows / Disco Girls
Oi! This Is England UK 3xCD Box Set 1999 (Dressed To Kill): Suburban Rebels (Live) / Get Outta My 'Ouse / Outlaw / Product (Live) / Chasing Rainbows / Disco Girls
__________________________________________________________________________
Links
Wikipedia - The usual mix of bio and discographical info