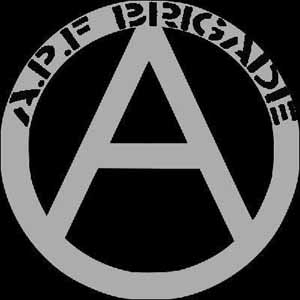 Formed: Peterborough, Cambridgeshire, England, UK
Anarcho-punks who first came into the public eye with 'Anarchist Attack' on Bullshit Detector APF (Anarchy Peace Freedom if you can't guess) Brigade were so enamoured with the cassette culture that they failed to release anything on vinyl at all (apart from 'Anarchist Attack'), although they did later record a demo for Crass for a potential EP. They completely avoided gigging as well, and presumably hated the word "gig" anyway.
The most notable of their tapes is their first, the legendary Live Brigade, a true DIY effort, and a totally mad idea that must have worried the band to death. The idea was that they would advertise their tape, and when orders came in, record it live onto a C-60, and send it off without making a copy. When the next order came in, they'd do it again! Needless to say, despite allegedly only selling four copies, it wasn't an experiment they repeated on any further releases.
Andy Export later became Andi Xport and formed the excellent one-man-group Man's Hate, and continues to record and release records. His Myspace page offers free downloads of entire albums, go there. He also ran International Sound Communication (I.S.C.) Tapes, issuing 15 compilations containing work by Blyth Power, Thatcher On Acid, Lord Litter and Chumbawamba.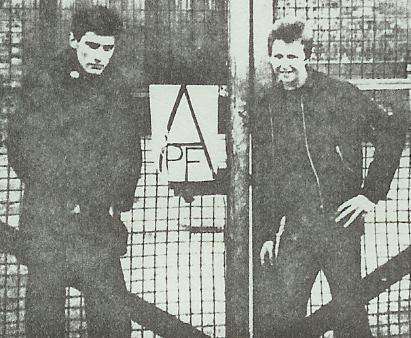 Jon Hindle: Bass, vocals
Andi-war (Xport): Guitar, vocals
Livingstone: Drums
DISCOGRAPHY
Demos / Tapes
Various Artists
Bullshit Detector UK LP 1981 (Crass): Anarchist Attack
New Criminals UK Tape 1981 (New Crimes): The Professionals / Ban The Bomb / No Effect
Composed Bananas UK Tape 1981 (Big Banana Productions): tracks not known
Pah! A Punk Compilation UK Tape 1982 (I Thought It Might Shock You Tapes): It's Fun Boys / Hunting Punk / Give A Little Peace Tonight
Ruptured Gut UK Tape 1982 (Twisted Tapes): Disease / Burnt Offering / Commando / Shadow Of Death
Paranoia Is Awareness UK Tape 1982 (Cause For Concern): Dreaming / Burnt Offering / 1805-1945
State Of Confusion UK Tape 1982 (Stagnating Body): Economic League / Scared To Die / Race To Perfect Death
The Animals Packet UK Tape 1983 (Sky And Trees): Freak / Skin / Eat Wheat Not Meat
Subversive Elements UK Tape 1980s (Social Disorder ): tracks not known
Il Destino Dell'uomo / The Doom Of Man UK? Tape 1984 (label unknown): Survival
Have A Nice Day UK Tape 1980s (Archive Audio): tracks not known
What's New UK Tape 1980s (Big Banana Productions): tracks not known
Links
Kill Your Pet Puppy -download the Sick Society tape here
MySpace page - where you can download lots of stuff for free. It's also the Man's Hate page