Formed: Hackney, London, England, UK

ANDY MARTIN: After I left the group and had the time to review their recorded oeuvre, I realised that I had spent nearly 8 years in a band writing often finely crafted pop songs, rock anthems and avant garde works only to have them performed with utter ineptitude, ruined by a total lack of any studio production and then finally crushed into oblivion by trying to cram twice as much music on each record as was technically possible. The result: 7 singles and 7 albums of noisome garbage that was a waste of the vinyl and paper used to produce them. Anyone who has been unfortunate enough to have heard these records will find it impossible to disagree with what I have stated. The Apostles were a crap band and that's all there is to it.

All that aside, they were also a staunchly nonconformist anarcho-skinhead band, The Apostles took their ideals to such extremes that they made Crass look like media sluts. Singer Andy Martin, a gay man with dyspraxia (Clumsy Child Syndrome), also helped run four anarchy Centres, including the famous Autonomy Centre in London and the Centro Iberico in Westbourne Park. They were genuine activists as well, getting involved in finding homes for squatters and even assisting people with social networking (i.e. making friends), with Andy claiming credit for setting up Britain's first gay housing co-op. Yet despite the sheer volume of their work (over a dozen vinyl releases and at least twenty demos) they remain virtually unknown. They put it down to a certain amount of homophobia - which, with my personal experience of punks, is partially true - although maybe they didn't gig enough. Or maybe they were victims of their own desire not to play the media game. Or maybe they made too many shit records.
As with Crass, their records were sold very cheaply and were veritable fonts of information, crammed with all the usual artwork and literature, but unlike Crass and most of the other anarcho-bands they weren't afraid to dabble in other musical forms, such as blues, folk and experimental weirdness. They also released many of their recordings only on tape (the early 80s was the height of cassette culture, remember).
The band formed in 1981 and almost immediately released their first demo, via their own Scum Tapes label. Soon after, the band deserted Martin, leaving him to recruit three new members from Libertarian Youth: John Soares (guitar), Dave Fanning (bass) and Martin Smith (drums). In essence, they were a completely different band. And so the flood of releases began: a few EPs and LPs, and lots of demos. Material was recycled from release to release, and line-ups fluctuated around Martin and Fanning as the band spent the rest of the decade churning out music. Some of it they issued themselves, and some of it was licensed out to whatever labels wanted to release it. Some of their demos ran over an hour. They flirted with blues, acoustic music, celtic music, avant garde bollocks, hardcore and other genres, and seemed to release every single thing they recorded, whether it was worth it nor not. They definitely did not stick to any standard punk blueprint
Equinox Screams was one of their weirdest records, a truly bizarre mix of ironic skinhead rants ('White Power' etc) and lengthy experimental jams. They were accused of being fascists by people who couldn't see the funny side.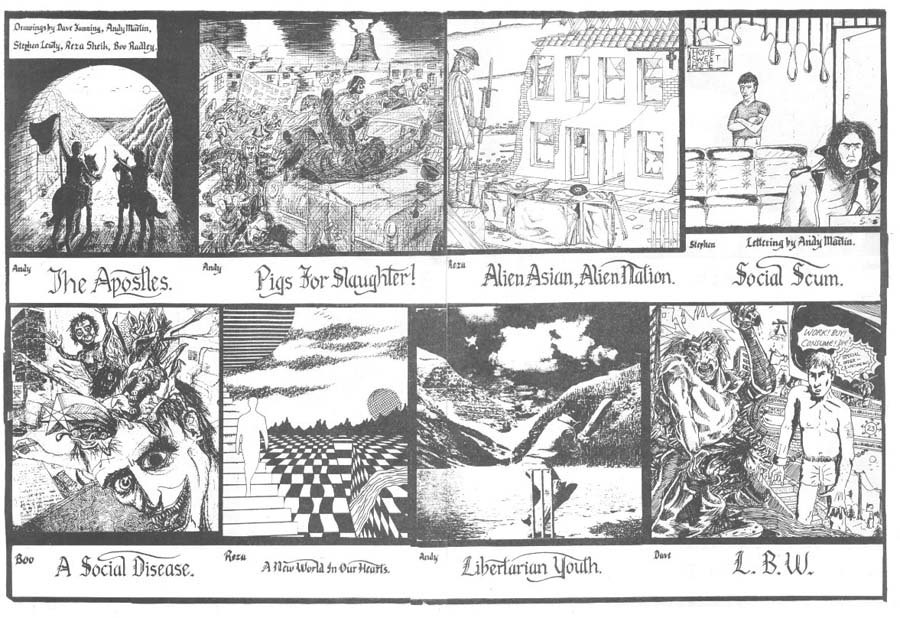 After the split in 1989, Andy and Dave formed Academy 23, a band which eventually transformed into the even more experimental UNIT.
DISCOGRAPHY
Singles / Albums
Blow It Up, Burn It Down, Kick It 'Til It Breaks! (7", 1982)
Rising From The Ashes
(7", 1983)

The Curse Of The Creature (7", 1984)

The Giving Of Love Costs Nothing
(7", 1984)

Smash The Spectacle! - 5th E.P. (7", 1985)
Anathema / The Apostles (7", split, 1985 - not released)
Punk Obituary
(LP, 2/86)

Death To Wacky Pop (7", as The Joy Of Living/The Apostles, 1986)
The Lives And Times Of The Apostles
(LP, 1986)

How Much Longer?
(LP, 1987)
Cartography (5th Album) (Tape, split with The Demolition Company, 1987)
Equinox Screams
(LP, 1987)

The Acts Of The Apostles In The Theatre Of Fear (LP, 1988)

Split (LP, split with Statement, 1988)

Hymn To Pan
(LP, 1988)

No Faith No Fear
(7", split with Statement, 1989)

Extraneous Releases

Live At The L.M.C. (LP/Tape, split with The Mob, 1983)

Tapes / Demos

The 1st Demo
(Tape, 1981)
The 2nd Dark Age (Tape, 1982)
Libertarian Propaganda - The 3rd Demo
(Tape, 1982)
Topics For Discussion - 4th Demo
(Tape, 1982)
Swimmers In The Sea Of Life...The Fifth Demo (tape,1983)
Christ, It's The Apostles! (Tape, 1983)
Will I Ever Be Free? - The Sixth Demo (Tape, 1984)
Fire In The Sky - The 7th Demo (Tape, 1986)
Strength Through Purity (Tape, 1987)
Punk Leftovers
(Tape, 1987)
Private Performances (Tape, 1986)
Gary Cooke Was Here! - The 10th Demo
(Tape, 1987)
Eine Antwort
(Tape, 1987)
The Progressive Blues Experiment (Tape, 1988)
The 12th Gate To The Underworld (Tape, 1988)
Visions Of The End (Tape, 1988)
Life - The 15th Cassette (Tape, 1989)
A Consumer Commodity - The 16th Cassette (Tape, 1988)
Death (Tape, 1988)
Live At The Akademie (Tape, 1988)
How To Suck Seed - The 14th Demo
(Tape, 1988)
Manifesto
(Tape, 1990s)
Hackney Rejects
(Tape, 1998)
Une Response (Tape, 1980s)
Various Artists
Composed Bananas UK Tape 1981 (Big Banana Productions): track(s) not known
They've Got A Bomb UK Tape 1981 (Rabbit): track(s) not known
Paranoia Is Awareness UK Tape 1982 (Cause For Concern): Redifussion Refugee / Escaping Again
New Criminals Volume 2 UK Tape c.1981 (New Crimes): New Crimes / Hello Mark / Hyde Park
Twisted Nervous Breakdown UK Tape 1982 (Twisted Nerve): Skin Deep / (untitled instrumental) / A Rebel Without A Conscience
We Don't Want Your Fucking Law! UK LP 1985 (Fight Back): Mob Violence
In The Old Days...No.7 UK Tape 1987 (RAC Cassettes): The Apostles / N.W.3 / Pete The Plectrum
God Save Us From The USA UK LP 1987 (Happy MIke): Inner Space
This Is The A.L.F. UK LP 1990 (Mortarhate): The Liberators March / The Victims Lament / The Saboteurs Revenge
You've Heard It All Before - Crass Covers Compilation UK 2xLP 1993 (Ruptured Ambitions): Walls
Population Against Corporation: The Front Cover Archives CD 2001 (Front Cover): Alternatives To NATO
Mortarhate - A Compilation Of Deleted Dialogue - The Singles UK 2xCD 2006 (Mortarhate): Mob Violence / Anarchy, Peace & Freedom / A New World In Our Hearts / After The Fact / Libertarian Youth / The Joy Of Living / The Wasteland / Regime Of Kindness / A Walk With Love And Death
Anti-Society: Anarcho Punk Compilation Vol. 3 UK CD 2006 (Overground): Berserker
Links
Here is the Apostles homepage
And here's an article by Andy Martin about The Apostles
Kill Your Pet Puppy has LOTS AND LOTS of great Apostles stuff. I've borrowed images from the site for scans, if that's OK. Links in individual albums/tapes where I've done so - click as you can usually grab the music too. For nowt.
Apostles page on MySpace
Uncarved Block has an Apostles interview with Homocore magazine, an article my Andy on Anarchy Centres and a cool article about comic strips featuring lots of Apostles Art. Get to it here
Article In PDF form