Various - Symphonies For The Disaffected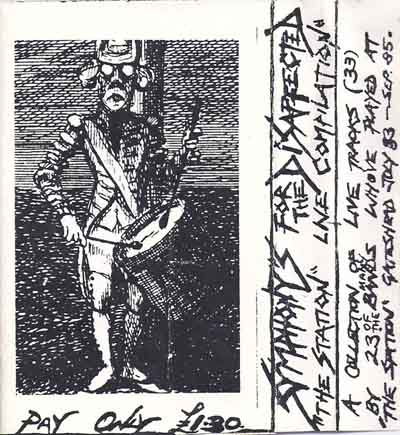 Original Release Date
1985
Release Information
UK Tape 1985 (Beer Belly - no cat no)
A1 Stalag 17 - Smash The Front
A2 Amebix - Arise
A3 Amebix - Darkest Hour
A4 Conflict - Tough Shit Mickey
A5 The Clash - White Man
A6 Icons Of Filth - Fucked Up State
A7 Broken Bones - Decapitated
A8 Disorder - Daily Life
A9 Uproar - No War No More
A10 Toxic Reasons - Destroyer
A11 Toxic Reasons - Mercenary
A12 Anti System - Gov't Lies
A13 Anti System - Anti-Sniffing Song
A14 The Instigators - Old Is Sad
A15 Riot Squad - In The Future
A16 Mau Maus - Facts Of War
B1 Chaos U.K. - Kill Ya Baby
B2 Chaos U.K. - Victimised
B3 Onslaught - Skullcrusher
B4 Conflict - Intro
B5 Conflict - From Protest To Resistance
B6 Conflict - Increase The Pressure
B7 Subhumans - Animal
B8 Subhumans - Zyklon B Movie
B9 Subhumans - Religious Wars
B10 Rubella Ballet - Slant & Slide
B11 Rubella Ballet- Belfast
B12 The Sears - Don't Dictate
B13 The Sears - System Psycho
B14 Bannlyst - Goodbye Mother Earth
B15 Exit-Stance - Operation Successful
B16 Eat Shit - Bomb Blast
B17 Antisect - title unknown
B18 Oi Polloi - Ain't No Feeble Bastard
Chart Placings
None
Credits
Live at the Station, Gateshead 14/12/84
Reviews & Opinions
MARTIN SPROUSE, MAXIMUM ROCKNROLL, JANUARY 1986: An excellent comp which features some Of The more popular politically conscious bands involved In The scene such as CONFLICT, OI POLLOI, ANTI-SYSTEM, STALAG 17, ICONS Of FILTH, and The list goes on. All The songs were recorded live at England's infamous Station Club. Good sound quality. Recommended.
Additional Notes
Image from gabes UK82 blogspot,
Slaughter On The Innocents
, where you can also download the tape.