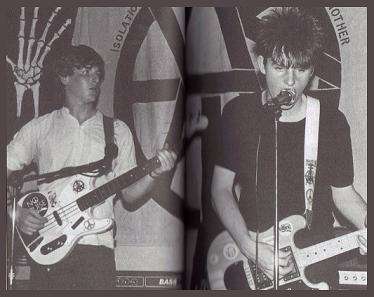 Formed: Newcastle-Upon Tyne, England, UK
"Reality Control were the Sound of the Newcastle suburbs! Heaton Manor's very own Anarcho Punk band! Their first 7"
The Reproduction Of Hate
was well received but due to a number of reasons, though largely connected with frequent line up changes, they only released one other record which was
Within These Walls
, a split flexi disk with their friends the
Blood Robots
(which contained Flat Earth founders Sned and Micky).
Aside from these two releases they recorded a number of demo's, one of which, The Happy Face, predated The Reproduction Of Hate EP, one of which spawned the split flexi and at least two others which seemed to get repeatedly remixed but never released... The Bullshit Detector Three track "The War Is Over..." is taken from The Happy Face demo, though interestingly the good folks of Crass cut the end of the song off and put it on the start! 2.46 minutes is the end of the song and the bit immediately after that is actually the start of the song! Some fairly impressive and seamless editing by the folks at Southern Studios!"

Thanks to Henk from UK82 for letting me use his text/images