AKA ANARCHIST ATTACK / NO FUTURE UK
Formed: Clifton, Nottingham, East Midlands, England, UK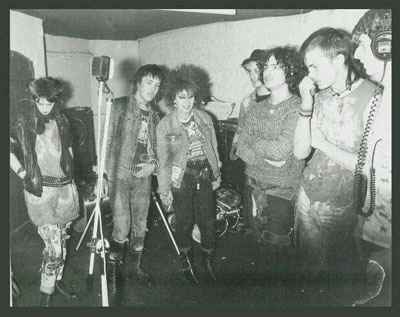 "We all came from Clifton in Notts originally until Skwid joined who was from Harby Leicestershire. We made 4 demo tapes in total, [on] the first 2 the band had different names. The first one was 'Anarchist Attack', the 2nd was 'No Future UK', then we settled on The Abductors. We played quite a few gigs in and around Notts, the best was a place called The Union on Trent Bridge, it was quite a well known place in the day with all the bands playing there like Exploited, Discharge, GBH, Blitz, Anti-Nowhere League, Vibrators just to mention a few. I personally never missed a single gig in the whole time it was open which was probably only about 18 months but seemed longer at the time.
After the On The Street album finally came out, we had virtually broke up as we were all doing different things and me and Scott my brother who was the guitarist in the band both got sent into care for not going to school. When I was 16 and came out the punk thing was really dying a death, everyone had got jobs and birds and moved on. I had drifted more into metal music like Motorhead and Iron Maiden, I did get back into a band with Wan the drummer from the Abductors and another chap called Zak. We played rock type music but never got a singer, we did do some very good tunes but then it drifted again, Scott joined a rock band called 'Wraith' who did quite well for a time: a few singles and a couple of albums. They played gigs with the likes of UFO. As for Skwid I never saw him again after I came out of care, which was in '85, so I have no idea where he is now or what he's doing. I was told some years ago that he was traveling new age traveler style but I cant confirm this. I did see Wan about 2 years ago and he was on about getting a band back together but I wasn't that keen. I now live in Spain but go back to the UK a bit, when I do I usually go to Rock City and still see punk bands, I've seen The Damned and Stranglers and the Subs in the last couple of years, I still listen to it all the time as i've now transferred all my vinyl to my ipod.
Just so you know who did what: Dez singer, Skwid bass, Wan drums, and Scott guitar, but me and Skwid changed positions regularly. On the last song on the demo the untitled track was called 'Satan's Soldiers' with a girl called Cathy singing, she's the one on the end of the picture I sent you, she was with us for a short time, Wan got her in and I never really got to know her so I can't tell you anything about he,r i'd love to know myself but at the time we didn't want a girl singer but Wan wanted to be Siouxsie And The Banshees, so none of us really got involved with her... anyway hope that gives you a bit of info".
The demo is sometimes mistitled as 'Solvent Abuse' at some download places. The reason is probably cause the bands were friends and someone might recorded both their demos to tape and all this years later it all got ripped by someone to mp3's as 'Solvent Abuse' demos... Jar and Jono from Solvent Abuse was actually at the studio when Abductors recorded the 'Notts Punks' demo (and they appear in this photo which is taken at that studio session."
Lineup:
Dez - Vocals/bass
Skwid - Bass/vocals
Scott - Guitar
Wan - Drums
Cathy - Vocals
Many thanks to Henk who allowed me to reprint this from his UK82 website. Also, thanks to Dez who wrote it.
__________________________________________________________________________
DISCOGRAPHY 1st Demo (Tape, as Anarchist Attack, 1982) 2nd Demo (Tape, as No Future UK, 1982) 3rd Demo (Tape, 1982) Notts. Punks (Tape, 1982)

Various Artists
State Of Confusion UK Tape 1982 (Stagnating Body): Hostage / Prostitute / Fascist School
"Yes You Guessed It" UK Tape 1983 (Still Dying Tapes): Hostage / Force In Blue
On The Street UK LP 1984 (Sane): Notts Punks
__________________________________________________________________________
Links