ABSTRACT CRITIQUE
Formed: Portsmouth, Hampshire, England, UK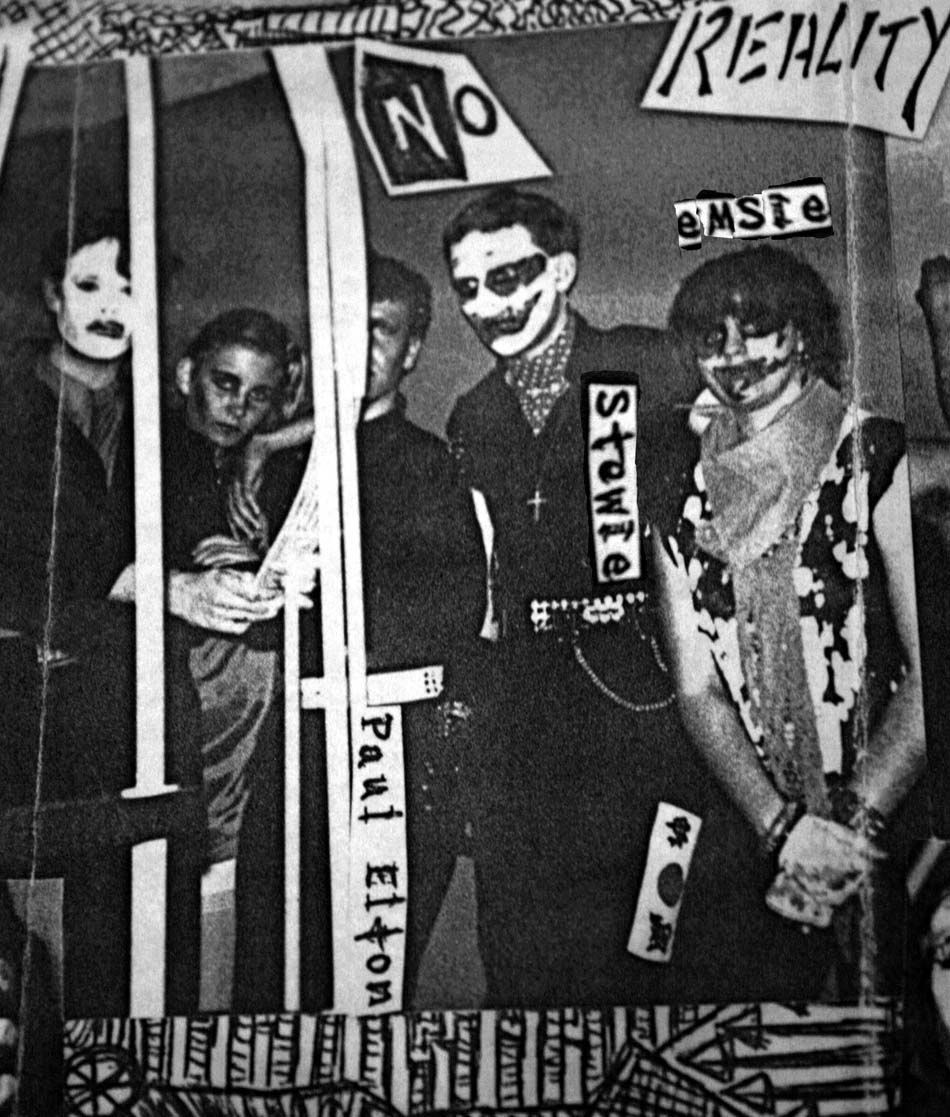 Totally unheralded anarcho punk band. Their only releases appear to be a rare (but worthless) EP, berths on super obscure cassette compilations, and a couple of tapes that nobody seems to have posted anywhere.
This information was emailed to me by Paul King:
Original line-up was me (Paul Elton back then), Stewie Brown and Laurence Stephenson. I can't remember the actual name of the drummer but he came much later and we called him 'Kahn'. The first recordings were made at Toucan Studios on Hayling Island engineered by Dave Hardcastle. The band was formed at Havant College (6th form) in 1981 by myself and Stewie. There were two cassettes produced in small runs (Abstract Critique and Disjecta Membra). There is (and I may have found a recording on tape an old friend has) a recording of Stewie and I being interviewed on Radio Solent on a programme called 'barbed wireless'. We never played live, primarily because we couldn't! We did however put on 'performances' of 'robotic dance' - one such was at a torpedo town festival at Racton Ruin in Sussex. We pretty much bought an SH101 and started making noises with it, then found someone that could play bass/ guitar a bit like Flux Of Pink Indians, 3 chord stuff. The theatrics, clothes, make-up, shock factor and particularly the lyrics were the main things.

Songs... 'Roche Boys', about the drug Roche 5 (ref. Tubeway Army and 'Down In The Park') was probably my most prominent. That was probably one of the very first 'Goth/ Emo' songs ever recorded. Stewie's was probably 'Dark Clouds'. I seem to remember the inspiration for which was the he "stuck his head out the window and the clouds looked 'interesting' so I (he) wrote a song about it.

Remember this was the early '80s and we were 16/17 at the time. We had more to do with the likes of the Virgin Prunes than the Sex Pistols. We were also compared to The Smiths at the time, probably my high pitched vocal style (which I developed because it was the only pitch I could be heard at above the din we were making). The whole 'scene' got hijacked by new romantics anyway. I was a big Tubeway Army fan back then and moved on to the likes of Japan/ Bauhaus through that. We were very favourably reviewed in 'Punk Lives' however, along with the New York Dolls I think. Basically I got kicked out (tee total, drug free vegetarian... Don't worry, I ended up in rehab!).
The band and I parted company in late 83 I think, just before that single appeared. They were recording that behind my back actually. That single [The 4-Track Rip-Off E.P.] was produced without me; that's when there were two bands and there were a few local spats in the press at the time. I lost touch with all of them within a few months. I think Stewie moved away to Bournemouth?

We were trying to do things in an 'art house/ cottage industry way. I think the nearest we came to signing anything was forming a plan to get the interest of [record company] Some Bizarre. Stewie Brown (if he's still alive) is really who you'd want to find. He was really the main creative influence, but then he couldn't play or sing, so probably ideal for the job.

Since then, I learned bass in 1986 and have gone on to play hundreds of gigs in covers bands and a lead singer/ bass player but nothing 'big'. The band I set up after that was called Minds In Exile and that produced one demo. Minds In Exile was inspired by Mendeleev, the Russian chemist.

I moved to Hertfordshire to do a chemistry degree in '84 and there formed a band called Defacto Noise with a bass player called Rick Allencroft and keyboard player Steve Tyler, later joined by guitarist Paul Davies and drummer Dave Lockwood. The name changed a few times in the '80s through жертва ("victim" in Russian) and The Golden Age Of Wireless and ended up as Shoot The Drummer (read more about them here). There were a few demos produced by these bands. 'Prologue' was the Shoot The Drummer one. I wrote the lyrics for most of this material. It was during this time that I taught myself bass.

By then things had moved a long way from Punk and far more into the 'futuristic' genre. Bands like SLF and The Pogues became more important as I discovered more about my 'Irishness'. After this, I gave up writing original material and have played covers since, although I still dabble and will be producing some new stuff over the next year. This will be more along the lines of folk/ punk - to pop, think Dropkick Murphys, Saw Doctors.
This (and the photos) came from Lauren:
Hi Jane - what a great site you have! I've spent many a happy hour looking through the various bands from my youth, including one I was actually a part of, albeit briefly, Abstract Critique. I can fill in some of the history following Paul Elton's departure as I stayed in touch with the band right up to the end. OK, here goes...
I was the guitarist on the first Abstract Critique demo, and arguably it was Laurence and me that injected the punk element into the band. We had previously learned to play guitar while still at school back in 1980, and with Laurence being more technically proficient, he picked up on bass and vocals while I continued with my trusty Les Paul copy. We used to practise a lot of Pistols, DKs and UK Subs material, but also played our own compositions. Drummerless, we called ourselves The Inexcusables.

Fast-forward to 1982, we were at different colleges, but still going to see bands like ANWL, The Damned, Vice Squad, Anti-Pasti, anyone that was playing in Portsmouth really. One day Laurence asked if I wanted to join Abstract Critique, and I said OK. By that time I had a 100W PA rig and a fuzzbox made out of a modified tape recorder and home-made preamp. We practised in various locations, Laurence's front room, Emma Hamilton's house in Havant (a mutual friend from college), village halls, etc. Initially there was just guitar, bass and Paul's, um, distinctive vocals, Stewie bought the SH101 shortly afterwards and was soon creating lots of strange sounds with it. I don't know where Stewie found the drummer. He called himself "Kahn Asian". I'm not sure if that was a joke reference to condensed milk or something, but he had his own kit and knew his way around it. We only practised with drums a couple of times before going into the studio.

The result was the so-called "4-track EP" of July 1983. My guitar work sounds pretty crude and scratchy, but I was listening to PIL Second Edition at the time (I couldn't afford Metal Box), so the sparse, Keith Levine style was partly deliberate. I never knew what Paul was singing about, we just got on with making a noise in the background. I will concede that of the four tracks "Roche Boys" is my second favourite. "Dark Skies" however, shows the direction Laurence and myself preferred to go. Paul did the synth inputs on Part 2, whacking up the volume in time with the music and sending the VU meters on the mixing desk off the endstops! I think the engineer did an excellent job of beefing up the sound, and putting echo on Stewie's vocal blew us all away!
After the demo was finished we were all summarily dismissed. It was pretty clear early on that there was a clash of egos going on between Stewie and Paul, and with one concerned mainly with image and the other with lyrical content, the music was a secondary consideration. I don't know what happened to Kahn, but Laurence stayed in touch with Stewie and we continued to see punk bands, although we never played as The Inexcusables after that.
Stewie and Paul recruited Angus McCormick (keyboards) and Aaron Jenkinson (everything else) for the band's second demo tape "Disjecta Membra". Me and Laurence joked at the time that it should have been called "Dejected Members". Aaron was a really talented musician, I think he was only 17 at the time. His main instrument was the drums (he even had a couple of Simmons synth drum pads, which were very cool back then), but he also played the bass and I am sure he would have played guitar on the demo too, had one been available.
"Disjecta Membra" was musically and lyrically the most mature of all the material produced by the band in all its incarnations, which I think must have been the influence of Angus and Paul. "Neu Berlin Wall" and "Alternative Youth from Vienna" (ahh, those Ultravox influences!) are standout tracks for me. Even without guitar Aaron created a powerful backdrop to Paul's signature whooping vocals.
Following the final mixdown of the demo in May 1984, the band split up again, with Paul and Stewie going their separate ways this time. Paul took Angus with him, and felt that their combined input was sufficient for them to retain the band name, but Stewie disagreed and asked Laurence to help him re-form the band. Initially I thought I would be asked to join too, but Laurence wanted to play the guitar in the new line-up and another Havant college friend was brought in to fill the vacant bass guitar slot. I suppose that was fair enough, as I had never been part of the Havant college "scene", but I did take the rejection hard at the time and fell into a deep depression for a year or so. I did get a complimentary copy of "Disjecta Membra" by way of severance payment!
And so the scene was set for the third and final studio demo, once again recorded at Toucan Studios. The resulting effort, "Coriolanus" is lyrically less complex than "Dejected Members", but returns to the basic punk ethos of the first demo, recorded the previous year. In the intervening 12 months I had invested heavily in guitar effects pedals in an effort to improve my technique (I needed all the help I could get), and Laurence asked if he could borrow them for the recording session. In fact I was at the studio while the recording was taking place, but as a "groupie" rather than a musician. Secretly I was hoping to have a chance to play on the demo myself, but of course it was never going to happen, and the final track "Memories Fade Away" (my name for it, I don't know what Stewie had in mind for a title, but it seemed appropriate given the lyrical content), which did include various screams and other vocals from Emma and other non-band members who were present, was recorded while I was out on an abortive run into town to get some cigarettes. Perhaps they were trying to tell me something...
So my effects pedals can be heard whistling away on Laurence's jangly guitar work, underpinned with a solid bass and Aaron's drumming. Paul says that Stewie couldn't sing (which I suppose is true), but the vocals aren't bad by punk rock standards.
After the demo was complete, there was some talk of a record deal, but as far as I know only a promotional contract was signed, with an outfit called Rot Records. Things were looking promising for a couple of months until Aaron left suddenly and Stewie disbanded what was left of the band. I did hear what happened but it's probably better not to say.

It was all over in less than 18 months. Stewie moved to Bournemouth and briefly joined General Belgrano on vocals, but he was gone by the time they played Torpedo Town in 1985. I don't know what happened to Aaron. The bass player (sorry I forgot your name, but it was 30 years ago) went on to play in a punk band called Bad Noize. Laurence formed a band called The Habit and played Bowie-inspired songs on the local club scene. And me? I eventually got over my depression and together with Jools, Toad and Ant (latterly with Fuzzbuster and then UK Hardcore bands Bogmonsta and Six Foot Ditch) helped to form the Sewers of Oblivion, an out-and-out thrash-punk band. We only played a couple of gigs (Torpedo Town '85, and an anti-Apartheid benefit at Cosham community centre organised by Ad Nauseum), and never went into the studio, but we all got on well and stayed together through various incarnations until the early 1990s.

So, were we really the "totally unheralded anarcho-punk band"? Well, I will let you decide for yourself – unlike Paul (or I suspect any other member of the band), I kept all of the demo tapes and transferred them onto digital media a couple of years ago. I've just posted the results up on Youtube. Search for "almost_famous_1983" to link to the videos. Stewie, wherever you are, this is for you!
Hi Jane - the first demo the "four track EP", DCR001 (Dual Carriageway Records was Stewie's name for the label) was recorded on the 19th July 1983; "Disjecta Membra", DCR002 was recorded in two parts, February and May 1984, and "Coriolanus", DCR003 sometime during the Summer that year. The tape is not dated and there is no inlay, but I remember it being sunny and warm, so it wasn't the Winter!
The vinyl record is branded DCR005, which does beg the question, what happened to DCR004? I don't know. I am almost certain that rather than being an actual recording by Abstract Critique (at that point disbanded for good), all Stewie did was take an existing 45 and stick new labels on it. I think he had become very disillusioned with the music business by then.
I've updated the videos with full track listings if you are interested
(you may not be once you have heard them).
Yes, I should be in bed by now as well. Night night.
__________________________________________________________________________
DISCOGRAPHY
Singles & Albums
The 4-Track Rip-Off E.P. (7", 1983)
Demos 4-track EP (Tape, 1983) Disjecta Membra (Tape, 1984) Coriolanus (Tape, 1984)
Various Artists
Fiddler In The Furnace! UK Tape 1983 (Band Aid): Coffin Brotherhood / Red On Black
A Midsummer Nights Boob! UK Tape 1984 (HAGL Tapes): Coriolanus / The Four Horsemen Of The Apocalypse
__________________________________________________________________________
Links