Formed: London, England, UK, 1976
ABOVE Left to Right: Pete Stride, Nigel Moore, Manic Esso, Howard Wall
"We don't care about romance
It's more boring than finance"
"Recording our first single 'Shadow' was great. We went to this studio where Rick Wakeman used to work and we were in and out in about three hours. The engineer couldn't believe it; he said that was how long he usually took to get a snare drum sound, but we wanted to get down the pub ASAP. In retrospect the sound on the record is crap, but we thought it sounded great at the time, young and naive as we were." – Arturo Bassick, 2004
Now recognised by lazy journalists everywhere as London's answer to the Ramones, The Lurkers had all the alleged Bush of their New York counterparts but less of their skill for writing preposterously great songs. Regardless of this, they somehow managed to be hugely entertaining despite being sort of...well, maybe crappy is too strong a word, but not first rate. They lacked the sartorial flare or political ire of The Clash (for instance), couldn't come close to the Pistols for sheer nihilistic rage, had none of the Buzzcocks' intellectual underpinnings, and weren't snobby poseurs like Siouxsie & The Banshees. Moreover, Howard Wall's monotone vocal skills were decidedly under par and Manic Esso seemed to be capable of just the one drum pattern. However, Pete Stride summoned up some impressive wall of sound guitar noises, wrote some of the new wave's most ridiculous lyrics and matched them with infectiously catchy singalong tunes. And going back to Wall and Esso, Wall's vocals made him sound like an English Joey Ramone (not a bad thing) and Esso's untutored drumming style was distinctive: as with Laurie Driver in The Adverts, who also played like an enthusiastic amateur, he helped prevent the band from sound normal or conventionally rockist, and was a crucial component in providing the band's essential charm and character. So, to recap: in spite of their second-ratedness, they were great. And not just great, but really great.
Band Bio Part 1 (1976-1980):
They were formed in Ickenham (not Fulham) in Summer 1976 by school friends Pete Stride (guitar), Peter (Manic Esso) Haynes (drums), Peter (Plug) Edwards (vocals) and Nigel Moore (bass). Plug lasted a couple of rehearsals before it was decided it wasn't working and so he became the roadie instead. He was replaced by Howard Wall, and the band played its first gig at Uxbridge Technical College in late '76, supporting Screaming Lord Sutch. According to Esso in his book God's Lonely Men, they played a twelve minute set, after which Sutch told them, "I thought it was one song", whereupon they played the same set again.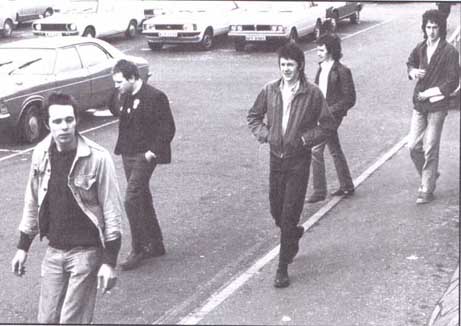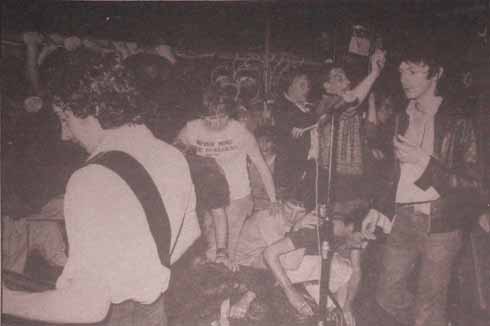 Sometime later, Arturo Bassick replaced Moore, who left to form Swank. The usual rounds of gigging followed - including support slots to The Jam, Eater and Slaughter & The Dogs - but despite being popular they couldn't secure a record deal. That all changed when Mike Stone convinced the manager of the shop he worked in to form a label to issue Lurkers product. The band had been rehearsing under the shop for some time and he liked what he heard. Thus, Beggars Banquet was born and, in August 1977, the Free Admission Single was issued, containing two badly produced but excellent punk rockin' speedballs, 'Shadow' and 'Love Story'. They polished off the year punk broke by issuing another fast-moving single in November, Freak Show, surely one of the funniest songs ever written on the subject of blind dates. The same month they also contributed the mad-sounding 'Be My Prisoner' to the phenomenal Streets compilation.
This turned out to be Bassick's swan song with the band (for now). He formed Pinpoint in 1978 and in the '80s could be found playing punktry-&-western in The Blubbery Hellbellies.
Arturo Bassick: I was writing stuff which didn't fit what The Lurkers were about. I was writing sort of angst and political songs. Also I wanted to play guitar. Another reason was I was getting fed up with the others' lack of interest in what they were doing, to the point where none of them even turned up when the record company asked them to go to the office to see the art work for the first single. I turned up and said the cover was shit. The others were so lazy and were putting drink before anything else, so I left and formed Pinpoint.
Bassick was briefly replaced by Kym Bradshaw of The Saints, but that didn't work out and by mid-78 Nigel Moore (the original bassist before Bassick) rejoined. The most successful Lurkers lineup was in place.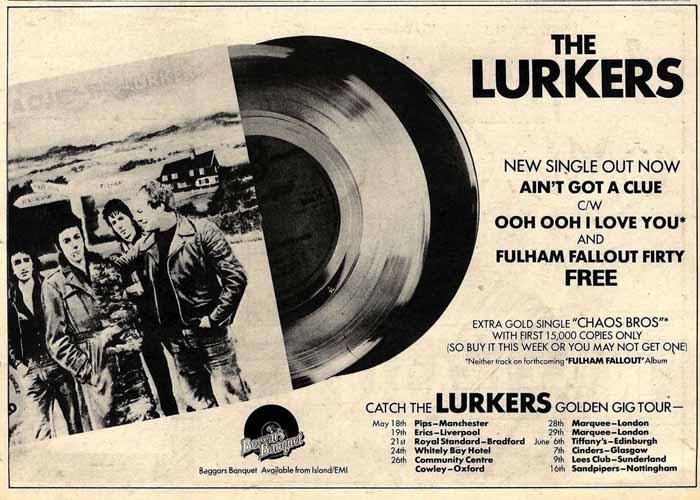 June 1978 saw the release of their third single, Ain't Got A Clue, which made it to No 45 in UK Charts, a fairly incredible feat for such an unknown group. Sales were bolstered by a free gold flexi ('Fulham Fallout Firty-Free') that came with the first 15,000 copies. The follow-up 45, I Don't Need To Tell Her, didn't perform quite as well, despite the gimmick of coming in four different picture sleeves, each with a different band member on it, and being promoted via appearances on Top Of The Pops and Revolver. That one stalled at No. 49. Both are rightly considered classics.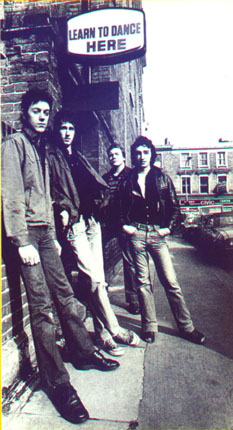 As was their debut LP Fulham Fallout, which came out between the pervious two singles, containing fourteen slices of nearly melodic lowbrow masterpieces, including a new version of the pogo-tastic 'Shadow'. Producer Mick Glossop worked wonders on this record, his big but not over-produced demonstrating just how powerful the band could be. Unusually, given that it was released on a small label and was a punk record, the LP came in gatefold sleeve and the cover was an elaborate painting rather than a photograph.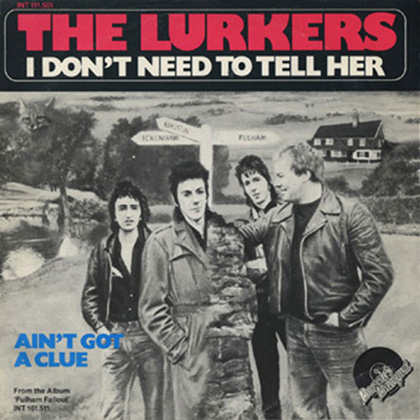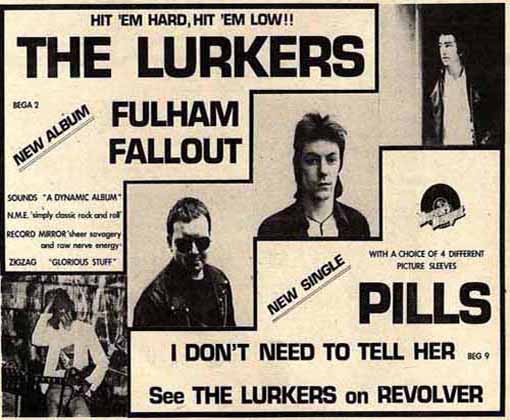 ABOVE: German version of I Don't Need To Tell Her 7", and UK press advert for the single and LP.
Another cracking single, Just Thirteen, which presented a slightly poppier attack, crept out in early '79 and managed to reach No. 66. The single had been promoted by a high-profile show at The Lyceum in London, with Adam And The Ants supporting, where they handed out re-pressed (clear vinyl) copies of the 'Fulham Fallout Firty-Free' flexi.
Pete Haynes, God's Lonely Men: We met Mick Glossop again and recorded a single, 'Just Thirteen, in a studio down the Goldhawk Road. I felt that the group was just beginning to learn how to play, not brilliantly but to a level where ordinary things were becoming easier to do, like for me coming in on time. Mick remarked about the content of song and gave concerns to its suitability for being played and its acceptance in mainstream world. He said it was a bit risky with words like, "just thirteen, it's hurting". "No', said Pete with no change of expression. The single was released and sold very well - for about a week, until Beggars Banquet got a call and a smack on the wrist from a watchdog group. The record got pulled from the BBC playlist as peado songs were not hip. But Pete's song wasn't a peado, it was of a lonely girl and not part of some preconceived package planning for negative publicity. It was just a naive venting; it was honest with its intentions of looking at the emotions of a girl on the inside. This was not good for The Lurkers in any future record promotion.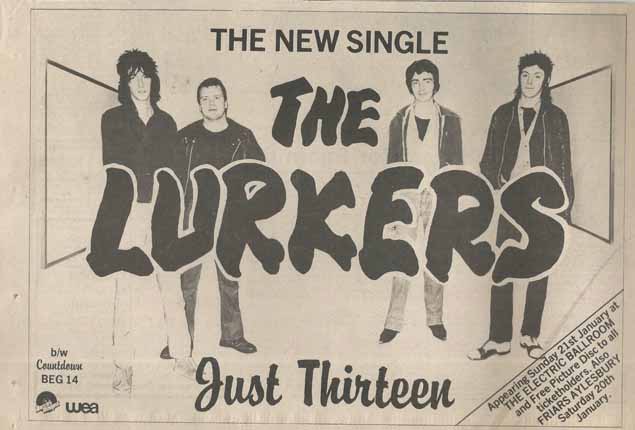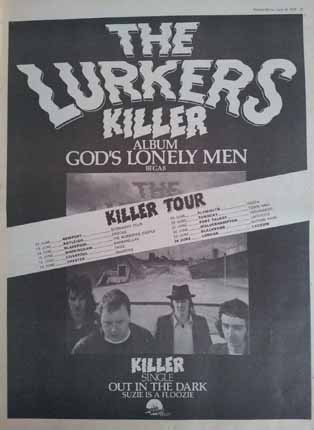 Unfortunately, the occasional clumsiness that crept onto the debut took over 1979's God's Lonely Men, a feeble follow-up with seems to consist almost entirely of filler. 'Cyanide' and 'Out In The Dark' were plucked for half of a four-track EP, 'She Knows' is prime Lurkers pop/punk stuff, and 'Whatever Happened To Mary?' is chilling, but some of the songs plod miserably. Bizarrely, this record was recorded in America in the dry state of Alabama with disco producer Phillip Jarrell. No wonder it sounds wrong.
Although the LP sold much less well than the debut, and a single taken from it, Out In The Dark, failed to make it into the Top 70, The Lurkers continued gigging and embarked on a tour of the North East of America, taking in New York, Philadelphia, Boston, Detroit and Montreal in Canada.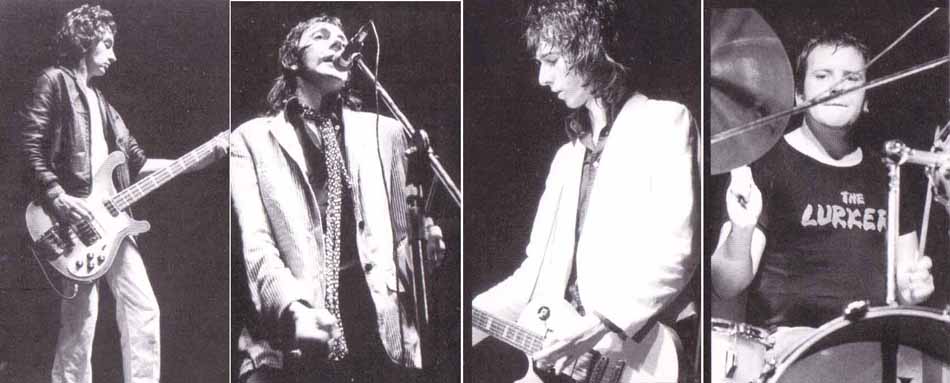 ABOVE Left to Right: Nigel Moore, Howard Wall, Pete Stride and Manic Esso.
Throughout this latter period the band had been attracting the unwanted attention of far-right movements such as the National Front and BNP, who probably saw them as potential recruiting officers, what with being normal working class boozers. The band, of course, would have nothing to do with them, but their gigs were becoming battlegrounds. At the Woolwich Tramshed the show had to be abandoned when the BNP showed up, and another show .
Pete Haynes, God's Lonely Men: We seemed to be targeted by certain types who came to our gigs and caused trouble. It wasn't clear why these people came to our gigs. We played love songs about fractured people and I didn't feel that there was a reason in causing a subliminal reaction to their own insecurities.

The Lurkers achieved their last chart action with New Guitar In Town, a superb little 45 that saw the band expanded to a five piece with the addition of Honest John Plain of The Boys, but they split up soon after, in acrimonious fashion. Plain insisted that Esso and Moore be fired, which is what happened.
Pete Haynes: We broke up at the end of '79 because we owed too much money and Beggars Banquet said they weren't gonna pay us any more. To be be honest we got the sack.
Nigel Moore: We owed 16 grand each. It was because we had recorded the second album in America and it cost a fortune.
Pete Haynes, God's Lonely Men: As a group, we were apart from the pseudo posing, Rock'n'roll image and the people who inhabited that genre, but in late summer of 1979 Pete's guard was dropped, his judgement became poor as he was victim to some ego massaging from what I saw as a snidey bloke called John Plain who played guitar with The Boys. This slimy sod manipulated his way into the group, seeing that the management could also be taken for a ride in having money for cliche pop rock and a style that fitted the imagination of the parochial minded in rock pubs where cover playing is seen as an art form. From then on, the Lurks had changed and were set onto an irretrievable course playing mediocre facsimiles of weak ideas. Pete and Howard had a drinking partner in John Plain. He liked a drink and he liked to gamble. I trusted him as much as I would trust Peter Sutcliffe if you gave him a tool kit and left him in an empty house with a sixteen year old girl who happened to be a dumb prostitute.
An an attempt to carry on as The New Guitars didn't quite pan out. Instead, Stride and Plain recorded and released an album together, New Guitars In Town, with various sidemen including Jack Black from The Boys, and Plug and Howard Wall as guests. It was an excellent album that had the best qualities of The Boys and The Lurkers, but it wasn't a big seller.
Beggars Banquet also issued Greatest Hit - Last Will And Testament..., a drolly-titled compilation that served as a neat reminder of how great The Lurkers were, drawing on both albums and various single sides.
Band Bio Part 2 (1982-1984):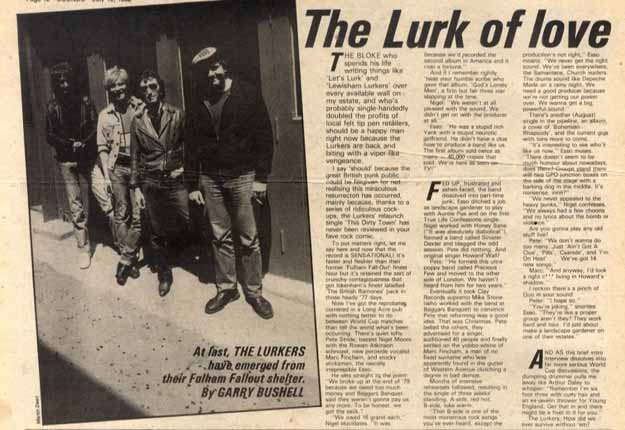 In 1982 Stride, Esso and Moore decided to bring back The Lurkers. Esso had worked briefly as a landscape gardener and then had played with Auntie Pus and The Mint, while Moore had worked with Honey Bane and formed Sinister Dexter.
Howard Wall - who had filled the employment gap with an "ultra-poppy band called Precious Few" - opted out, so via an advert in Melody Maker they recruited an unknown called Mark Fincham, whose rougher and more aggressive style gave the band a more contemporary edge. This new band kicked into action with a gig at West Hampstead's Moonlight Club in Spring '82, and were promptly signed to Clay, at the time one of the country's foremost independents, having released big-selling singles by GBH and Discharge. Clay was run by The Lurkers' former manager Mike Stone, and it was actually his suggestion that led to Stride reforming the band.
Pete Haynes, God's Lonely Men: Marc seemed to like us and he had energy with his own style. He was a bright bugger, about four or five years younger than the rest of us. Having done his A Levels, he had moved to London from Luton with plans of being in a group. He is the sort of bloke who they say is an achiever. A bit pushy for us barren boys from suburbia but it was most probably what we needed. Now, Marc was camp, he played that game, he posed about in very camp fashion and flirted with the idea and image of being the ostentatious queer who could pack a punch.
The news that the Lurkers were back in action was met with approval by at least one high profile fan, Garry Bushell, whose interview with them appeared in Sounds on 10th July 1982 (right).
During the next 12 months they issued three exciting singles, This Dirty Town, Drag You Out (which also came as a picture disc) and Frankenstein Again. The band gigged throughout 1983 and repaired to the studio to record a new LP. However, the band split up (citing "musical differences") and out-takes from the session were released as a single, Let's Dance Now (No Time To Be Strangers), and its 12" version The Final Vinyl. These singles were eventually compiled up on This Dirty Town.
After the split Fincham went on to play in the drag bars of Berlin.
Band Bio Part 3 (1987-Present):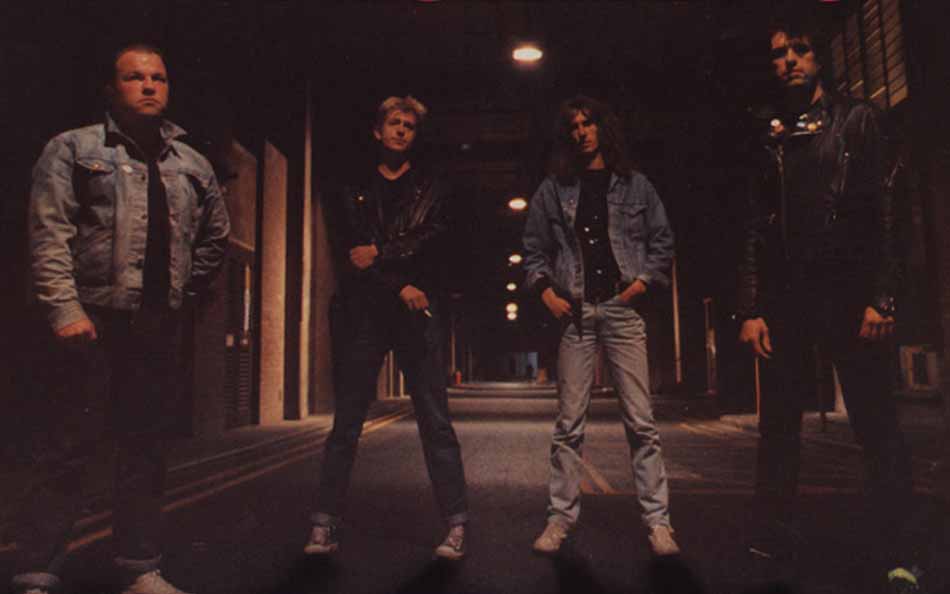 ABOVE: The Lurkers in 1990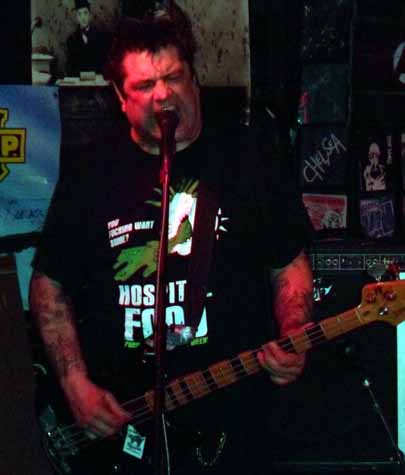 However, the band had also enjoyed considerable cult popularity, and prompted by Campino from Die Toten Hosen, the Lurkers reformed in 1987 with Bassick on vocals, Stride on guitar, and a new rhythm section. Wild Times Again, produced by Campino and released only in Germany, totally belies its title: this sounds intensely ordinary, and while it's not so bad that you'd want to rip it off the turntable, it doesn't make you want to turn it over at the end of side one, either. It doesn't even have the saving grace of interesting lyrics. Forget it.
Much better is Powerjive, a perky collection of utterly trivial songs that just happens to be good, mindless fun. Stride assumes vocal duties on 'The World Of Jenny Brown', a pretty ballad filled with references to "ice cream girls" which should rank high on the cringe-o-meter but ends up being positively charming, and there's a surprisingly straight version of Neil Sedaka's 'Solitaire'. It doesn't sound much like The Lurkers of old – totally different vocal style, none of the loopy, scampering attack that made them special – but is close enough.
Obviously on something of a high, Non-Stop Nitro Pop does exactly what it says on the tin, and includes one of their greatest moments, the sublime 'Melt Away'. Plus, fine songs like 'Frozen Out' and 'She's Another Man' show they're sticking with briskly paced pop-punk and doing it pretty darned well.
Pete Stride left the band in the early '90s, but Bassick carried on, and has continued to release new albums, titles so far being: Ripped 'N' Torn, 26 Years and Fried Brains. Bassick, from 1993 onwards, was also a full-time member of 999.
Captain Oi!'s
The Punk Singles Collection
rounds up all of their 7" singles from 1977-1999, including the utterly wonderful novelty rocker 'Go Ahead Punk Make My Day', which was released only in Germany.
The BBC Punk Sessions
compiles 21 songs originally recorded for John Peel between 1977 and 1979, five of which were never recorded "properly."
Take Me Back To Babylon
features all the Clay songs and lots of early ones.
For most people, their lasting legacy to music stems from the fact that Beggars Banquet was set-up solely to allow them an opportunity to make a single. But don't listen to that crazy talk, for in their own right The Lurkers made a handful of bona fide punk classics without ever coming close to being pretentious, and although their sound has changed quite radically since Arturo assumed lead vocals duties, they are still a fun live band.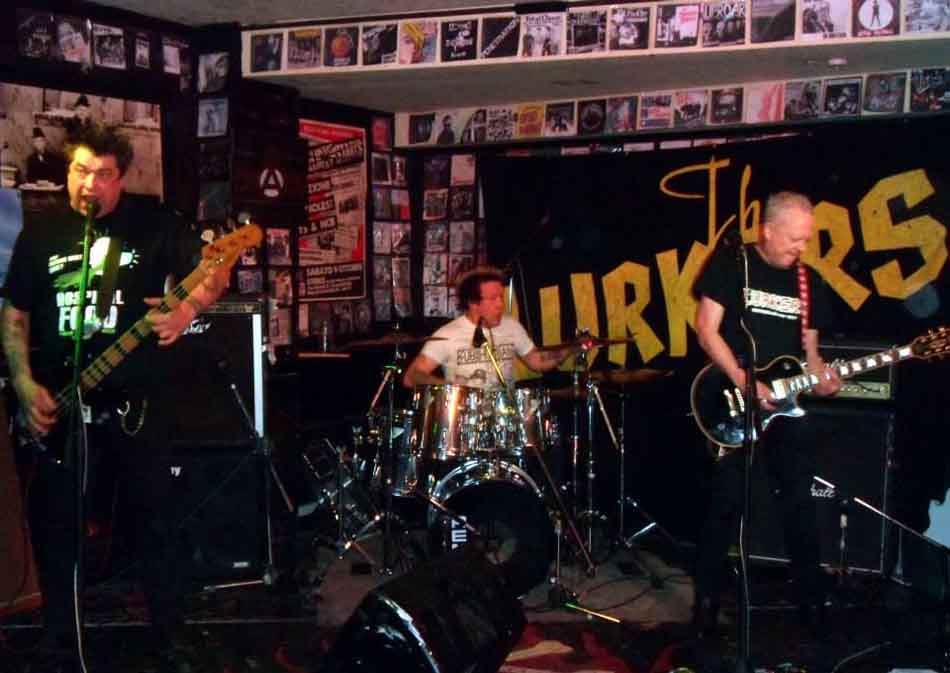 ABOVE: The Lurkers in 2014: Arturo Bassick (Bass/Vocals), Stuart Meadows (Drums, ex-Poundaflesh/Chimp Biscuit/English Dogs/The Moonthings/March to The Grave) and Dave Kemp (Guitar). Photo grabbed from the band's Facebook page. Info courtesy of Rachel Vickers (cheers).
__________________________________________________________________________
DISCOGRAPHY
Subsequent studio albums: Wild Times Again (1988), Powerjive (1990), Non-Stop Nitropop (1992), Ripped 'N' Torn (1995), 26 Years (2003), Fried Brains (2008), The Future's Calling (2016).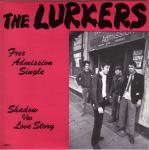 Free Admission Single (7", 1977)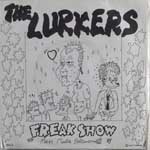 Freak Show (7", 1977)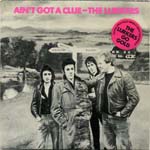 Ain't Got A Clue (7", 1978)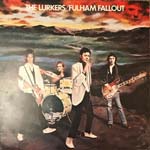 Fulham Fallout (LP, 1978)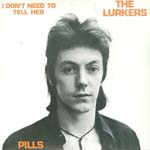 I Don't Need To Tell Her (7", 1978)
Just Thirteen (7", 1979)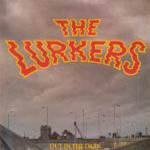 Out In The Dark (7", 1979)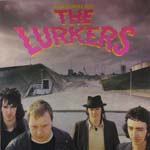 God's Lonely Men (LP, 1979)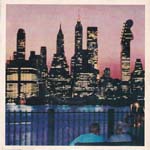 New Guitar In Town (7", 1979)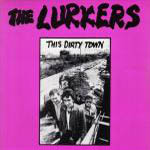 This Dirty Town (7", 1982)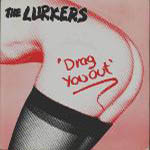 Drag You Out (7", 1982)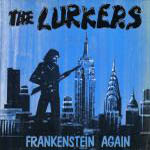 Frankenstein Again (7", 1983)
Let's Dance Now (No Time To Be Strangers) (7", 1984)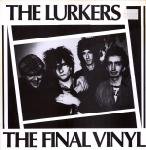 The Final Vinyl (12", 1984)
Extraneous Releases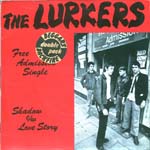 Shadow / Freak Show (2x7", 1979)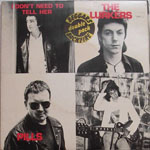 I Don't Need To Tell Her / Just Thirteen (2x7", 1979)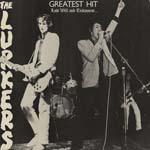 Greatest Hit - Last Will And Testament... (LP, 1980)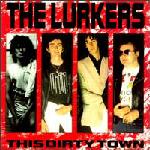 This Dirty Town (LP, 1990)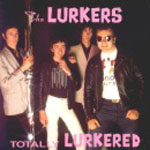 Totally Lurkered (CD, 1992)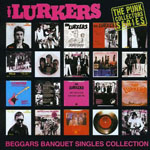 Beggars Banquet Singles Collection (CD, 1997)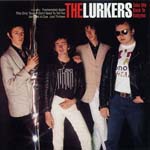 Take Me Back To Babylon (CD, 1997)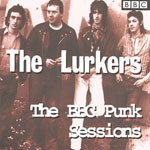 The BBC Punk Sessions (CD, 2000)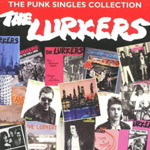 The Punk Singles Collection (CD, 2002)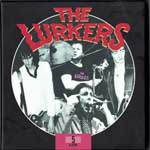 5 Albums (5xCD, box set, 2017)
Bootlegs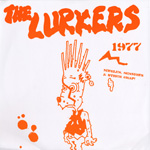 1977: Singles, Sessions & Other Crap! (LP, 2009)

Various Artists
Streets UK LP 1977 (Beggars Banquet): Be My Prisoner
20 Of Another Kind UK LP 1979 (Polydor): I'm On Heat
20 Of Another Kind Volume Two UK LP 1979 (Polydor): Out In The Dark
Burning Ambitions (A History Of Punk) UK 2xLP 1982 (Cherry Red): Ain't Got A Clue
The Best Of 20 Of Another Kind! UK 2xLP 1989 (Castle): I'm On Heat / Out In The Dark
Labour Of Love (Volume One) UK 7"-flexi 1990 (Released Emotions): Raven's Wing
Labour Of Love (Volume Two) UK 7" 1990 (Released Emotions): Walk Like A Superstar
Driven To Death UK LP 1990 (Clay): Frankenstein Again / Wolf At The Door / This Dirty Town

Oi! Chartbusters Volume 6 UK LP 1990 (Link): I'm On Heat
Punk - Past, Present And Future ... The Released Emotions Compilation (1988-1993) UK CD 1993 (Released Emotions): Walk Like A Superstar
Punk Explosion Live UK CD 1995 (Carlton Home Entertainment Limited): Wolf At The Door
Beggars Banquet - The Punk Singles Collection UK CD 1996 (Anagram): Shadow / Freak Show / Ain't Got A Clue / I Don't Need To Tell Her / Just 13 / Out In The Dark / New Guitar In Town
1-2-3-4 Punk & New Wave 1976-1979 UK 5xCD 1999 (Universal): Shadow
Sniffin' Glue: The Essential Punk Accessory UK CD 2003 (Castle Music): Shadow
Action Time Vision (A Story Of Independent UK Punk 1976-1979) UK 4xCD 2016 (Cherry Red): Shadow
Burning Britain - A Story Of Independent UK Punk 1980-1983 UK 4xCD 2018 (Cherry Red): Drag You Out
1977: The Year Punk Broke UK 3xCD 2019 (Cherry Red): Freak Show
__________________________________________________________________________
Links
The Lurkers - Official website - revamped and improved
Pete Haynes - Manic Esso's website
Punk 77 - Extensive Lurker information
God's Lonely Men - Another official website