AKA: WARRIOR / THE RESORT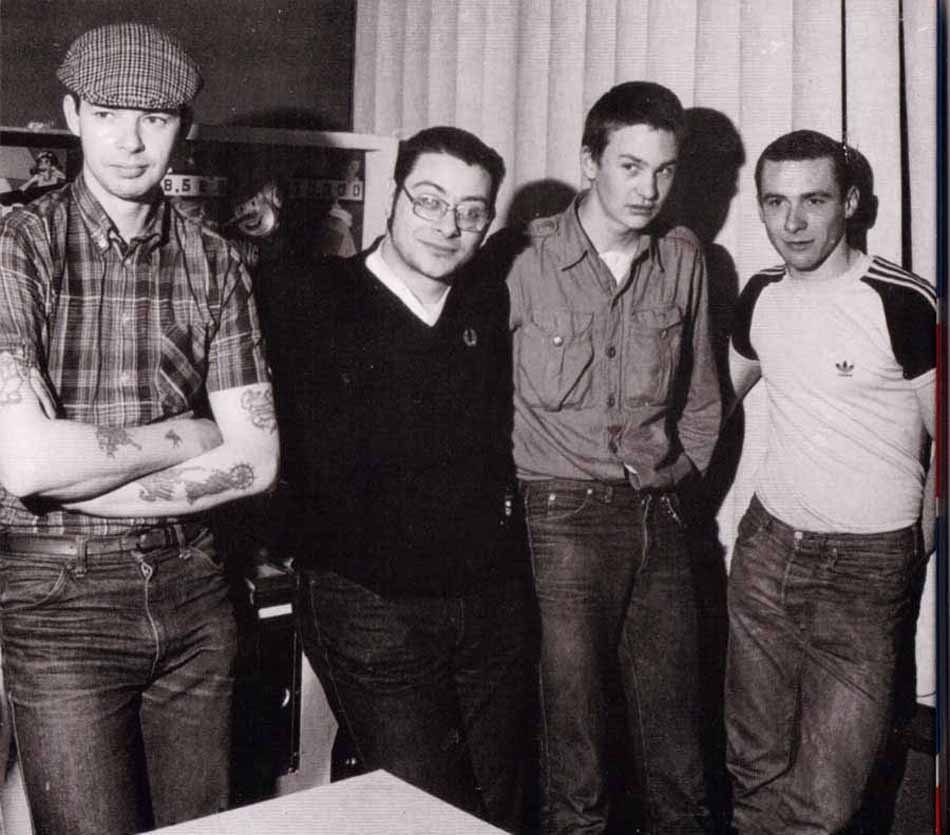 Formed: Herne Bay, Kent, England, UK (but moved to London)

Even amongst the British skinhead fraternity at the time, which included such notable lunkheads as The Gonads and Combat 84, The Last Resort took the street kid mentality to new extremes on their debut release, oddly enough a cassette single. Released when the unbelievably abrasive Saxby was singer, 'Violence In Our MInds' and 'Soul Boys' are hilarious celebrations of mindless violence, which lyrics so ridiculous one must assume some kind of satire is being attempted. Charlie Duggan's guitar work throughout is simple but effective Oi! fare and the whole caboodle is great.
A Way Of Life - Skinhead Anthems came out a year later, with bassist Roi switching to vocals after the departure of Saxby, and Arthur "Bilko" Kitchener taking over Roi's old job. Wrapped in a sleeve featuring a skinhead punching the air over a Union Jack background, and pressed on three different colours of vinyl (red, white and blue – some have commented that they didn't issue one on black), the album is a celebration of all things working class, set to a sea of bog standard Oi! riffs recorded on a 4-track. Here's the hook, though: it's a lot of fun! These lads know how to write a simplistically catchy anthem and the LP is undoubtedly a street rock classic.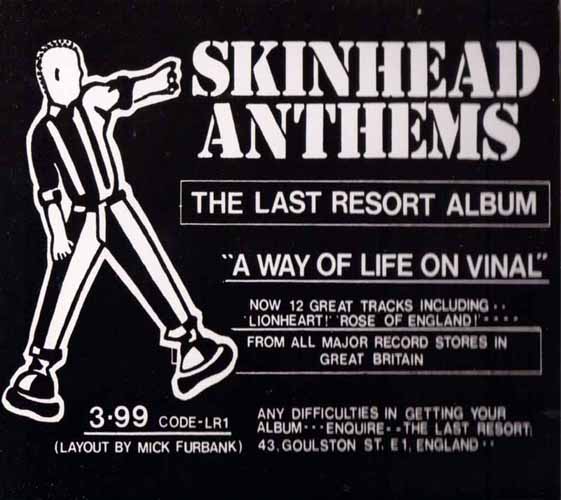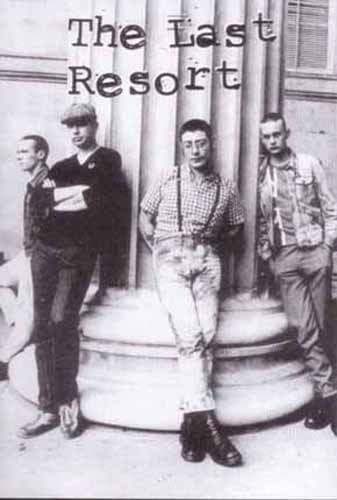 They changed their name to The Warriors and in 1982 recorded a final track for Oi! Oi! That's Yer Lot! They also appeared that same year on the United Skins LP as Warrior. They split up soon after when Roi (the "singer") left for The 4-Skins, but returned as The Resort with 1989, a rockier affair with better (i.e. proper) production and remakes of three songs from the debut.
The group have since reformed again, and have recorded more albums. They are better now than they ever were.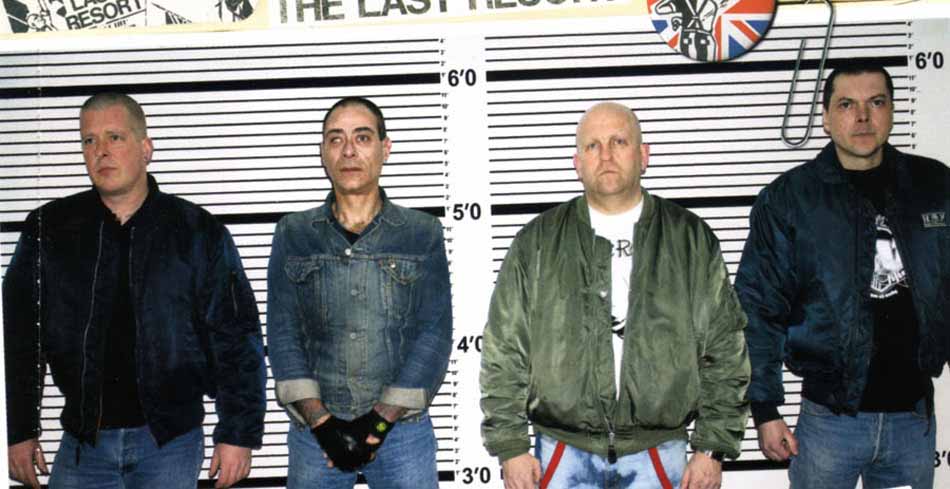 Above: The band as of 2009
DISCOGRAPHY
Subsequent studio albums: 1989 (as The Resort, 1989), Resurrection (2005), You'll Never Take Us - Skinhead Anthems II (2009). This Is My England - Skinhead Anthems III (2013).
Singles & Albums
A Way Of Life (Tape, 1981)
"A Way Of Life" Skinhead Anthems (LP, 1982)

Extraneous Releases

Death Or Glory
(LP, split with Combat 84, 1987)
Kings Of The Jungle
(LP, 1988)
The Best Of The Last Resort
(CD, 1993)
Death Or Glory / Charge Of The 7th Cavalry
(CD, twofer, split with Combat 84, 1993)
Violence In Our Minds
(CD, 1997)

Bootlegs

Skinhead - Pain Of Living
(7", 1995)

Various Artists
UK Wave Vol.1 (Ein England Sampler) Germany Tape 1981 (Taoe Trust/Meine Welle): Violence In Our Minds
Strength Thru Oi! UK LP 1981 (Decca): Working Class Kids / Johnny Barden
Carry On Oi! UK LP 1981 (Secret): King Of The Jungle
The Secret Life Of Punks UK LP 1982 (Secret): King Of The Jungle
Oi! Oi! That's Yer Lot! UK LP 1982 (Secret): Horror Show [as The Warriors]
United Skins UK LP 1982 (Boots & Braces): Wicked Women [as Warrior]
Oi! - The Resurrection UK LP 1986 (Link): Soul Boys
Oi! Chartbusters Volume 1 UK LP 1987 (Link): Violence In Our MInds
Oi! Chartbusters Volume 2 UK LP 1987 (Link): Held Hostage
Oi!.. The Picture Disc UK LP 1987 (Link): Violence In Our Minds
Pop Oi! UK LP 1989 (Link): Rubber Jenny [as The Resort]
Oi! Chartbusters Volume 6 UK LP 1990 (Link): Eight Pounds A Week
The Oddities Of Oi! UK LP 1991 (Link): King Of The Jungle
The Oddities Of Oi / The Joys Of Oi! UK CD 1993 (Step-1 Music): King Of The Jungle
Oi! Oi! That's Yer Lot! / Back On The Streets EP UK CD 1993 (Step-1): Horror Show [as The Warriors]
Pop Oi! / Oi! Oi! Oi! UK CD 1993 (Step-1): Rubber Jenny [as The Resort] / Johnny Barden's '89
Oi! The Singles Collection Vol 2 UK CD 1996 (Captain Oi!): Violence In Our Minds / Held Hostage / Soul Boys
Lords Of Oi! UK 3xCD Box Set 1997 (Dressed To Kill): Violence In Our Minds / Held Hostage / Eight Pounds A Week
Oi! This Is England UK 3xCD Box Set 1999 (Dressed To Kill): Violence In Our Minds / Held Hostage / Eight Pounds A Week
Links