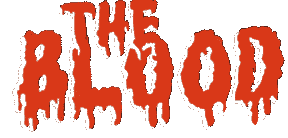 AKA: COMING BLOOD / CROSSED HAMMERS
Formed: London, England, UK, as Coming Blood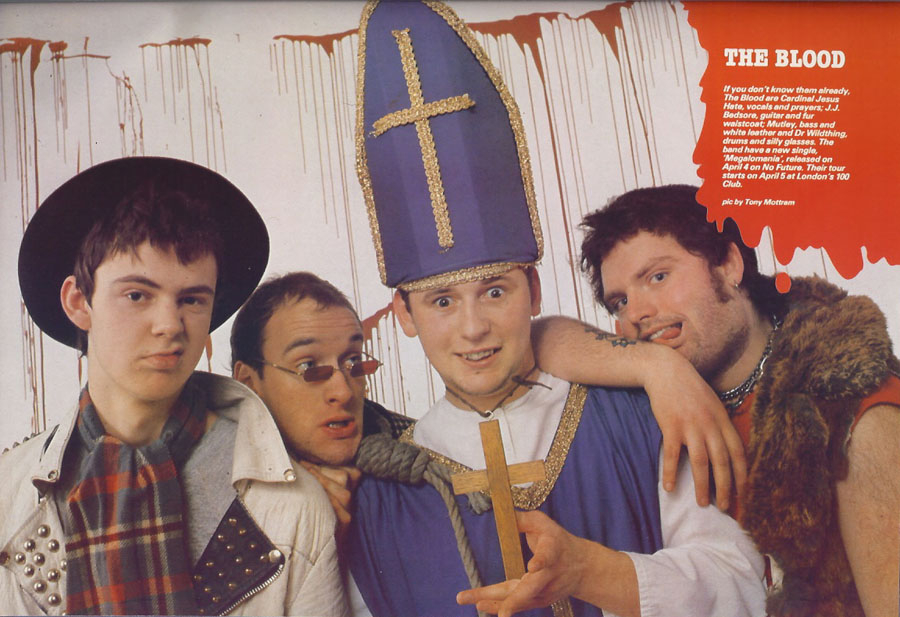 Originally calling themselves Coming Blood, this potentially great yet ultimately disappointing band debuted on Oi! Oi! That's Yer Lot! with the raucous anti-pope slur 'Such Fun', produced by Mickey Geggus of the Cockney Rejects.
An uncharacteristic attack of taste brought about a name change in time for their debut single, Megalomania. The gentle piano intro offers no warning about the full-tilt rocker that follows, the indecipherable vocals disguising brutal yet intelligent lyrics decrying religious hypocrisy. Every time I hear this it reminds me of how good it is to be alive, it's perfect and I wouldn't change a thing.
Much the same is true of the follow-up, Stark Raving Normal, the best song Captain Sensible never wrote, which decries the drudgery of living unimaginative lives.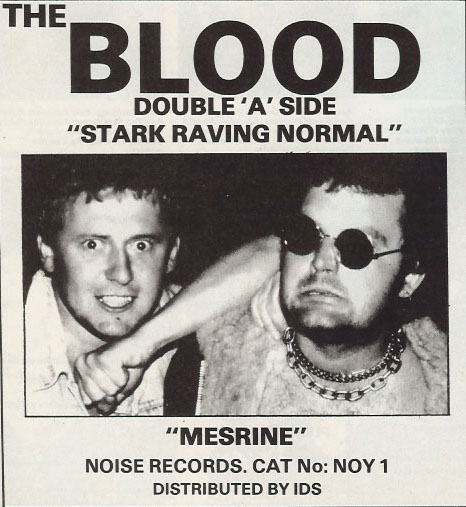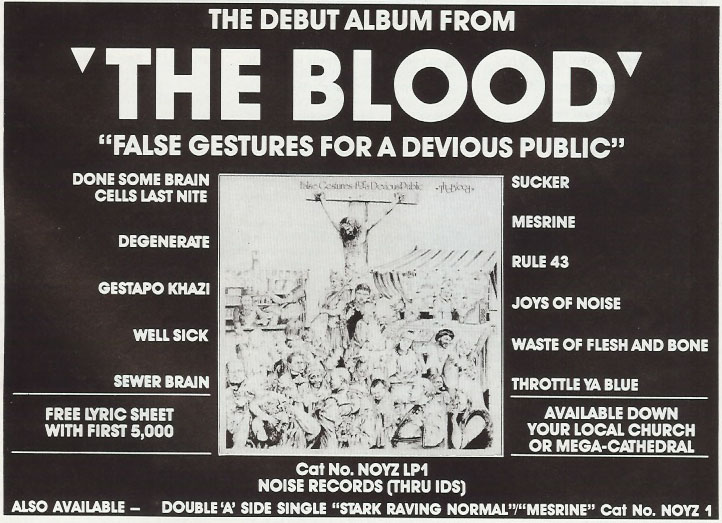 On False Gestures For A Devious Public the band replicated The Damned's early rave-up assault, but were sloppier and with a heavy metal lead guitarist. They also chucked in some of the Anti-Nowhere League's unmitigated misanthropy and Splodgenessabounds' foolishness. The six-minute 'Sewer Brain', with its tricky chord changes, horn section and comedy synthesiser borders on prog rock, while 'Done Some Brain Cells Last Night' and 'Joys Of Noise' celebrate wanton behaviour. The only problem, other than a singer who sounds even rougher than Animal, is that the songs are played too quickly for their own good, robbing them of much of their innate tunefulness.
ABOVE: Article from Punk Lives #10, 1983.Click on images to make them readable
They returned in 1985 with a new lineup and a more heavy metal sound, and split, and reformed ten years after that.
DISCOGRAPHY
Subsequent studio albums: Smell Yourself (1996), Spillage (1999), The Aural History Of The Toilet Run (split with Dizzy Dizzy MK II, 2003), Punk@Theopera (MP3 album, 2008), @ The Body Snatchers Ball album art @ The Body Snatchers Ball (MP3 album, 2010).
Singles / Albums
Various Artists
Oi! Oi! That's Yer Lot! UK LP 1982 (Secret): Such Fun [as Coming Blood]
The Oi! Of Sex UK LP 1984 (Syndicate): Here We Go [as Crossed Hammers]
There Is No Future (The History Of No Future) UK LP 1984 (No Future): Megalomania
Oi! Chartbusters Volume 1 UK LP 1987 (Link): Stark Raving Normal
Oi! Chartbusters Volume 2 UK LP 1987 (Link): Such Fun
Oi! Chartbusters Volume 3 UK LP 1988 (Link): Napalm Job
Oi!.. The Picture Disc UK LP 1987 (Link): Megalomania
Oi! That's What I Call Music UK LP 1988 (Link): Bad News
Oi! Chartbusters Volume 4 UK LP 1988 (Link): Gestapo Khazi
Oi! Chartbusters Volume 6 UK LP 1990 (Link): Stark Raving Normal
UK/DK - The Original Video Soundtrack Japan CD 1991 (Toy's Factory): Megalomania
No Future: The Singles Collection UK CD 1993 (Anagram): Megalomania
Oi! Oi! That's Yer Lot! / Back On The Streets EP UK CD 1993 (Step-1): Such Fun [as Coming Blood]
No Future: Punk Singles Collection Volume Two UK CD 1995 (Anagram): Calling The Shots
Drunk & Disorderly: 16 Down Yer Neck Lager Top Lullabies UK LP 1996 (Step-1 Music): Drunk Addict
Oi! The Singles Collection Vol 2 UK CD 1996 (Captain Oi!): Megalomania / Parasite In Paradise / Calling The Shots
Lords Of Oi! UK 3xCD Box Set 1997 (Dressed To Kill): Stark Raving Normal / Such Fun / Napalm Job / Gestapo Khazi / Stark Raving Normal
Oi! This Is England UK 3xCD Box Set 1999 (Dressed To Kill): Stark Raving Normal / Such Fun / Napalm Job / Gestapo Khazi / Stark Raving Normal
Links