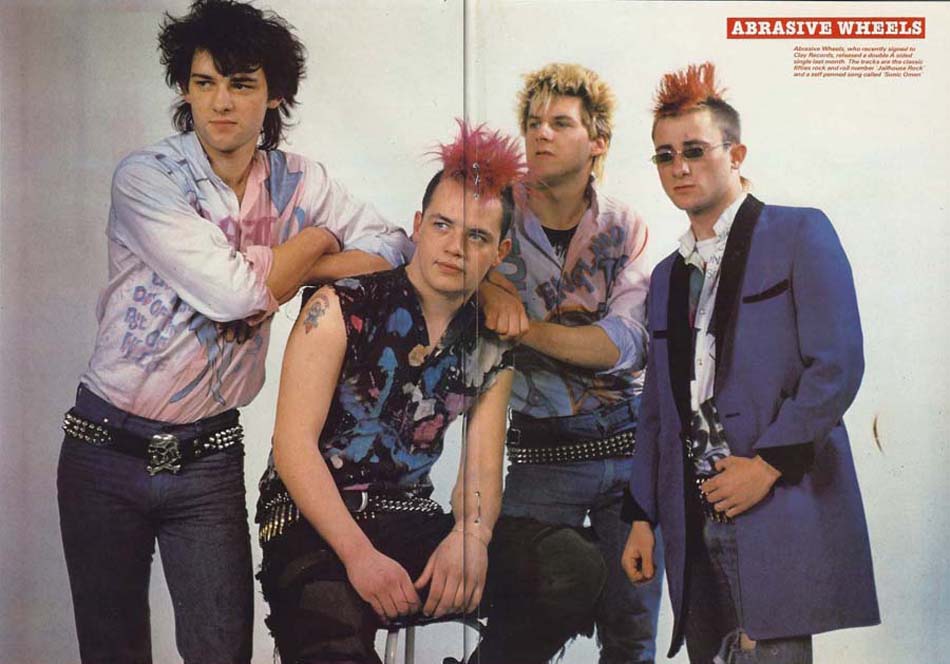 Photo from Punk Lives! magazine
Formed: Leeds, England, Yorkshire, UK
"FUCK ALL THESE FRETBOARD WIZARDS, WE WERE ABOUT SOMETHING MUCH PURER AND TO THE POINT. PUNK ROCK BASCIALLY" - Shonna
These hardcore merchants from Leeds were amongst the most popular and musically adept of the UK82 bands, lagging not far behind Vice Squad and Anti-Pasti in terms of record sales. Like those bands, though, popularity didn't breed longevity, and their attempts to expand their repertoire killed them off. From 1981-1982, though, they were a great band, arguably the best on Riot City, and that does include Vice Squad and The Varukers. OK, that isn't saying much, admittedly, but they had a heck of lot more going for them than losers like The Ejected.
Band Bio
Although commonly (and correctly) associated with the third wave of British punk bands (if you count the Pistols etc as the first wave, and the likes of Skids, Upstarts and UK Subs as the second), Phil "Shonna" Rzonca (vocals) and Dave Ryan (guitar) actually formed the Abrasive Wheels in 1976, playing their first gig in 1977 (at a party for a friend). The initial lineup was filled out by Dave's cousin Robert Welch on bass and Phil's brother Adam Rzonca on drums, and it was this lineup that played the private party and also a Rock Against Racism gig at Leeds Polytechnic and supported the UK Subs in October '78:
Shonna, as related in Britain's Burning by Ian Glasper: We did a few more RAR gigs, then someone at the Poly suddenly thought "Hang on a minute, this band aren't really suited for these shows, they're too aggressive". Then we got a call, at really short notice - the afternoon of the gig, in fact - to go and support the UK Subs in Bradford. We'd never heard of them at that point, but they were brilliant, an awesome live band. That was Adam's last gig with us; it was a shame really, 'cos he was a fuckin' brilliant drummer. I remember the UK Subs stood at the bar watching us soundcheck, and they were all staring at Adam: he was going fucking mental just in the soundcheck, never mind the actual gig!
This lineup changed soon after when Robert and Adam were replaced by Dave Hawkridge (bass) and Mark Holmes (drums). This version of the band released its debut single ABW EP in 1981. The EP was pressed on their own label, Abrasive, financed by £300 from the proceeds of the sale of Dave's motorbike and a £300 loan from Shonna's bank. 3,000 copies of this fine single were pressed and all of them sold. However, Hawkridge and Holmes were substituted for two ex-members of The Urban Zones, "Harry" Harrison (bass) and "Nev" Nevision (drums).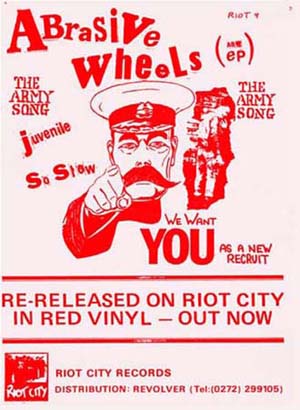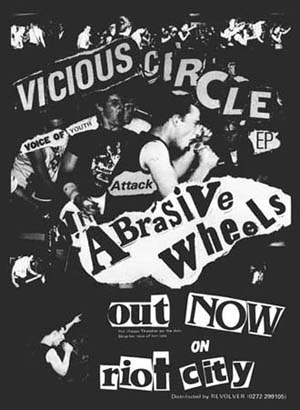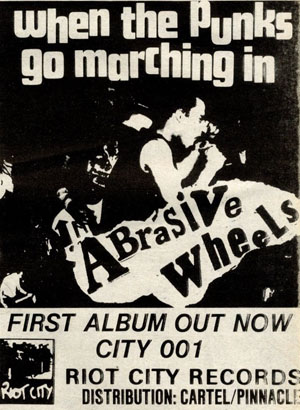 Signing to Riot City in 1982, the band contributed 'Criminal Youth' to the otherwise pretty naff Riotous Assembly compilation, and released two excellent singles (Vicious Circle EP, Burn 'Em Down) and a fine album (When The Punks Go Marching In!), all of which made their presence known in the Indie Charts. The ABW EP was also reissued by Riot City that year on red vinyl. All of these records offered ramalama anti-system/rebellion lyrics, blazing roughed-up barre-chords, indecipherable shouted vocals, fairly basic production values, and some great songs. It seemed to the average punker they could do no wrong.
Shonna, as related in Britain's Burning by Ian Glasper: The press were calling us "Hardcore" or "Oi" or whatever, and we were thinking "What the fuck are they going on about?" We didn't like labels anyway, but as far as we were concerned, we were just a fuckin' punk rock band. The press wanted to pigeonhole us with all the other bands that were emerging at the time, but we were just writing what was coming out naturally, what we felt; there was nothing contrived about us at all. We were just angry young punks, all of us on the dole, all of us disillusioned with society. We had no respect for reputations or authority.
Unfortunately, after this the group developed "Anti-Pasti Syndrome" and decided they wanted to do something other than simply shout 'n' blare. A change of direction was in order, and they pretty much ditched the speedy shouty punk for a poppier and much more diverse approach. This, however, was not immediately apparent because the band had a few relatively quiet months, during which they signed to Clay. The first release on the label was a terrible, boring version of Jailhouse Rock, on which they bizarrely demoted the superb if corny 'Sonic Omen' to the flipside. The next single was equally odd: the anthemic Banner Of Hope 7" owed a lot to The Alarm and also nicked its lead guitar sound from U2. Shonna was also enunciating properly, which was bad news because you could actually hear the words, although the song itself was perfectly acceptable in a semi-stadium rock kinda way. The B-Side 'Law Of The Jungle' was turgid rock 'n' roll at a snail's pace.
Given this rather grim build up, the ambitious Black Leather Girl was as unpromising an album as ever there was. The wretched cover art and stupid title didn't help, and a couple of good songs ('Maybe Tomorrow', 'The Prisoner') the U2-isms and overly slick production make it a lot less fun than its rabble-rousing predecessor. Surprisingly popular, the LP went into the Top Ten of the indies, but the next single The Prisoner didn't fare quite so well. The subsequent international tour - which included dates in the USA - ended with Harry quitting. The band soldiered on with new bassist Jez but packed it in shortly after.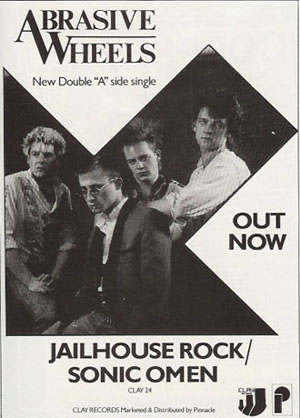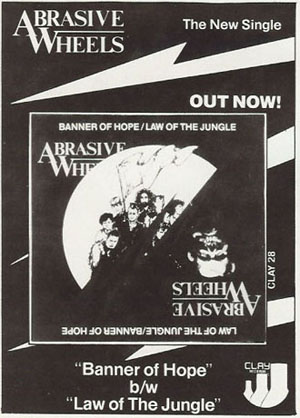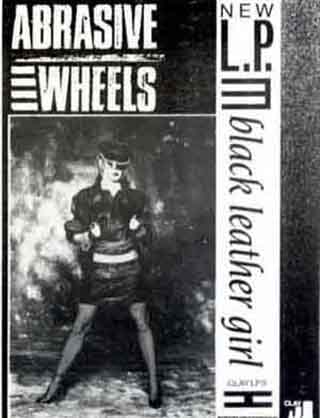 Following the break-up, Rzonca quit the music biz and became a taxi driver, which helped him get finance for the pizza parlours he opened up in Leeds. He did however reactivate the Wheels in 2002 and continues to gig and record sporadically with a vastly altered line-up, following up a CD EP (Nothing To Prove, 2006) with a download-only single (Maybe Tomorrow, 2007) and a new album (Skum: When The Punks Go Marching In Volume 2, 2009).
__________________________________________________________________________
Lineup 1:
Phil "Shonna" Rzonca - vocals
Dave Ryan - guitar
Robert Welch - bass
Adam Rzonca - drums
Recorded: Nothing
Lineup 2:
Shonna - vocals
Dave Ryan - guitar
Dave Hawkridge - bass
Mark Holmes - drums
Recorded: ABW EP (1981). Note: According to Wikipedia (but nowhere else it seems!) a bloke called Martin Taylor played drums for the band just before this lineup came together.
Lineup 3:
Shonna - vocals
Dave Ryan - guitar
Harry" Harrison - bass
Nev Nevision - drums
Recorded: Everything else in discography below
Lineup 4:
Shonna - vocals
Dave Ryan - guitar
Jez - bass
Nev Nevision - drums
Recorded: Nothing
__________________________________________________________________________
DISCOGRAPHY
Subsequent studio albums: Skum (2009).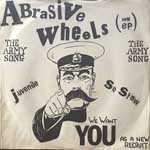 ABW EP (7", 1981)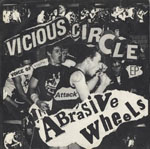 Vicious Circle EP (7", 1982)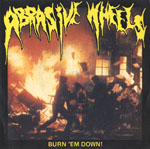 Burn 'Em Down (7", 1982)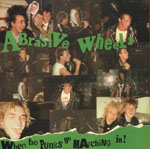 When The Punks Go Marching In! (LP, 1982)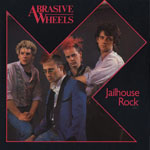 Jailhouse Rock (7", 1983)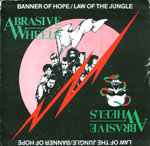 Banner Of Hope (7", 1983)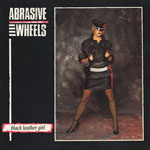 Black Leather Girl (LP, 1984)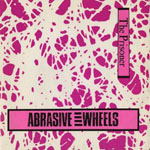 The Prisoner (7"/12", 1984)
Extraneous Releases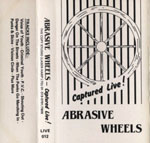 Captured Live (Tape, 1983)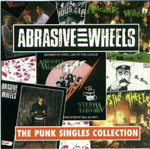 The Punk Singles Collection (LP/CD, 1995)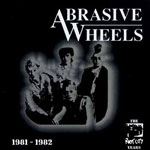 The Riot City Years 1981-1982 (CD, 2003)

Various Artists
Punk And Disorderly UK LP 1982 (Abstract): The Army Song
Riotous Assembly UK LP 1982 (Riot City): Criminal Youth
Punk And Disorderly - Further Charges UK LP 1982 (Anagram): Vicious Circle
Punk And Disorderly III - The Final Solution UK LP 1983 (Anagram): Burn 'Em Down
Life's A Riot...With Riot City Records: A History, 1980-84 UK LP 1985 (Riot City): Vicious Circle / Burn Em Down
Viva La Revolution! UK 2xLP 1985 (Cambra): Sonic Omen
Seeds IV: Punk UK LP 1987 (Cherry Red): The Army Song
Maggie, Maggie, Maggie - Out! Out! Out! UK LP 1987 (Anagram): Burn 'Em Down
Driven To Death UK LP 1990 (Clay): Sonic Omen / Nineteen / Law Of The Jungle / Black Leather Girl
Riot City Records- Punk Singles Collection UK CD 1993 (Anagram): The Army Song / Vicious Circle / Burn 'Em Down
Riot City Records- Punk Singles Collection Volume Two UK CD 1995 (Anagram): Voice Of Youth / Juvenile / Urban Rebel
Shoulder To Shoulder - Oi! 'N' Punkrock Classics Vol 3 LP 1990s (Street Kids): The Army Song
__________________________________________________________________________
Links