Formed: Haverfordwest, Wales
THE INFORMATION BELOW COMES FROM THE DEFUNCT UK82 WEBSITE AND IS RE-PUBLISHED COURTESY OF HENK. THANKS HENK!
Formed in 1978 as 'The Frames', split up in 1987
Reformed in 2003 and is still going.
Band name taken from something Sid Vicious muttered before he died. Turned down offers from both No Future and Riot City Records. Guitarist Mark Bozier died in 1990 at the age of 26.
Keith Haynes - Guitar, drums, vocals
Robin Folland - Bass, Guitar
Barrie O'Dare -
Jonathon 'Griff' Griffiths - Drums (ex-Side FX)
Nigel Drumm - Bass
Tim Horsley - Bass, Vocals
Steve Parkin - Bass
Mark Bozier (R.I.P.) - Guitar (ex-Honey Bane, Illegal 15)
Steve Arthur - Bass? (2003-present)
Story below NICKED from: www.punknews.co.uk (I've tidied up a bit of the grammar, because I'm pretentious enough to do that).

1978
The concept between Barrie O' Dare and Keith Haynes at Sir Thomas Picton School in Haverfordwest was to form a punk rock band. Keith and Barrie were two 15 year old punks who were into most of the early punk bands. The fact they formed the band in 1978 meant not a lot really as it was not until 1979 that they actually put their plan in to action.
1979
First gig at the school and The Frames (not then PFS) were born. Keith played guitar with Rob Folland on bass. Barrie played his one and only full gig with the band with Griff of Side FX on drums. It was awful. A further gig at Tower Hill Youth club saw a line up change with Nigel Drumm playing bass and Rob on guitar. Keith played the drums and Barrie guested on vocals. Not very convincing really, Side FX supported. Drummy established himself on the bass for a short while before being replaced by Tim Horsley who took up the vocals too. Keith remained on drums with Rob on guitar. This was the grounding for the band until 1981. Many gigs played around West Wales and support slots with The UK Subs locally followed. In 1981 Barrie then manager put on Anti-Pasti and Chron Gen in two separate gigs at the town's Market Hall. The gigs were battle grounds for Bikers v Punks with nearly 800 punters turning up for Anti-Pasti and 500 for Chron Gen. Various demo tapes recorded, usually not capturing the bands aggression, Four From The Mountain being a prime example. Further gigs in Treorchy and Ammanford were well attended, but for your scriber it always had that tendency to deteriorate quickly in to something more than a punk gig, which lets face it was meant to be a good time!
1982
I've Got Those... Demo-Lition Blues! recording of 'Getcha Rox Off!' on Insane Records. A sad and ill fated gig in Whitland where one of the band's followers died from stab wounds outside the venue. Further gigs around the area, the band had major brushes with violence at the time, probably the youth and energy of the band not realising what they were in to. The band itself were the by-product of an angry youth of the time. One gig in Kidwelly ended in complete mayhem with everyone involved with the local populace who were anti punks! Madness. And in Narberth that year, once again the gig was continually interrupted with trouble and fighting. The gigs at the time were very well attended, with all sorts of punk and hippy types latching on to the scene.
Griff joined on drums after a near death experience for Keith in a car accident. This was after a Swansea City game when the boys were returning to Haverfordwest via Tenby! The accident stopped Keith playing the drums for a while, this being the main reason for Griff taking the stool.
The band played further afield in Cardiff with The Oppressed and putting their own gigs on in Swansea and Cardiff. Colleges with The Beetroots were played too. These were great gigs and as ever very well attended, in Lampeter over 400 turned out to see the concert. At the time Suggsy's (Madness) cousin Hector was the roadie who went on to play in The Skiff Skatts in London. Don't be fooled, Suggsy was a pupil at The Haverfordwest Grammar School before moving back to London when he was 16. 1982 also saw PFS win the Anti Nuclear Alliance Battle of the Bands contest in Aberystwyth, Nick Turner from Hawkwind casting a deciding vote as the band took first place. The prize was meant to be a single release. However, the closest PFS got was a good quality recording of 'Nuclear Free Zone' in Reading, Berkshire.
Griff joined the band proper after the Aberystwyth gig as Keith had given up playing the drums.
1983
The band with a vinyl release albeit on a compilation album should have pushed the boundaries at this point. No Future records offered a deal but were turned down as were Riot City. This due more to an apathy surrounding the band and a reluctance on behalf of Robin and Tim to go further afield. Before they left the band Keith and Griff had already made the decision they were leaving any way. So lucky they did eh? Gig count around 250.
1984
Mark Bozier joins on guitar from Illegal 15, as does Steve Parkin on bass. I'm Good Enough (For Me) is recorded for So So Records, produced by Andrew Hawkey and a Greek bloke called Andre' Klitoris, careful how you say that! The band were now full time musos and embarked on several major UK tours. They also played with UK Subs, Peter and the Test Tube Babies, GBH, The Exploited, Alien Sex Fiend (AAAAAAggghhh!) King Kurt, The Varukers, English Dogs and any number of other bands including - Disorder, Chaos UK, The Aborted, The Oppressed, Onslaught and appeared at many festivals of the time. This year also saw them play at Ronnie Scott's in Soho, London with Urban Dogs. Lemmy checked the boys out at Dingwalls in Camden and said afterwards, "Fucking noisy that, anyone for a pint?" (He meant Vodka!)
1984 was a crazy year, and looking back now it's difficult to say how the band made it through the time. Now you would say the boys were ready to burn out. Gigs all over the UK, and a LIVE tape release called In the Clouds LIVE in Manchester (after drinking The Test Tubes right under the table) was recorded but never properly released. So So decided the next release would be an LP, after initially agreeing to do a 12" single (which was a popular format at the time)., money being their main motivator after screwing the band with false figures of sales for the first single. We now know of at least 1,500 US sales, and So So only declared 2,500 UK sales to the band and never coughed up any cash of note. And then there was Europe! Bastards. Nothing against Andy Hawkey though, a peace loving producer caught up in the energy of PFS at the time. The boys did like him which really the way things went with SO SO was fortunate. Hand Of The Rider was recorded over 5 months in Lampeter.
1985
The release of Hand Of The Rider, but through Rot Records and PFS Records after So So were given the elbow. Dunk saw the band at a gig in Chesterfield and felt he could do something with the album. Things are misty here, however. Did So So release the album too? Personally now it is more than likely they did, and whether Dunk knew or not is down to speculation. The album sold well in the USA, and Jello Biafra wrote to the band stating a San Francisco record store had PFS at number 7 in their alternative charts. Many East and West Coast radio stations were playing the album, and the band were oblivious to the fact that sales were around 4,000 in the USA alone. Today we can account for 5,000 sales after speaking to old employees at The Cartel, Nine Mile and Red Rhino. But that's the way it was, and much has been learned.
Further gigs were played and it has to be said if PFS had stuck at it there was the distinct possibility that things would have improved. Dunk released A Kick Up The Arse - Volume One with two PFS tracks on the album. They were not good, being unmixed versions of the original 'My Mate Sulphate' and 'White Light' tracks on Hand Of The Rider.
1986
Further gigs, but the punk scene was faltering with sales down thousands for fellow Welsh punks The Partisans, and the hope of eight years before was slowly eroding itself away. Griff yearned for India, Mark was in a mess if the truth be told due to certain habits and Keith and Steve were looking at leaving to join English Dogs of all bands. It didn't happen. Another tour was embarked upon, but not with that much enthusiasm. It seemed the band were at burn out.
1987
Farewell gig in the 100 Club in London supported by The Varukers. And Mark leaves for home in Hertfordshire.
Keith, Rob, Tim and Griff play once more in Haverfordwest and signal the end. A single is released by Keith and Rob under the PFS banner with a local DJ Anthony Laugharne who suffered from muscular dystrophy. It saw decent sales but was not in the angry mode that was PFS. The single earned Daily Star headlines and Radio 1 plays purely down to the fact the title Try With A Little Help From My Friends was a Beatles song owned by Michael Jackson who wanted 6p per sale. A bit difficult when the proceeds go to charity. But Anthony loved his moment of glory. He died two years later. Gig count approx 450.
This signaled a 13 year break for the band.
2001
PFS reform and play with the original line up, Keith, Rob, Griff and Tim in Haverfordwest and pull in 450 at The Waterfront. Some of the 2003 CD release is recorded here. Brilliant energy for old skoolers!
There are plans for further gigs in 2004 and 2005, well! it all makes sense at last. And 26 years on Haverfordwest still has a band that can breach the passage of time. Something tells us this story aint over yet.
__________________________________________________________________________
DISCOGRAPHY
Subsequent studio albums: Whats That Hard Core Noise (2005), Sex War (2005).
Singles & Albums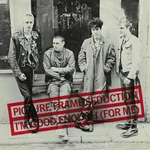 I'm Good Enough (For Me) (7", 1984)
Hand Of The Rider (LP, 1985)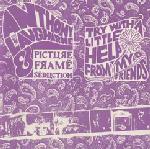 Try With A Little Help From My Friends (7", with Anthony Laugharne, 1987)
Extraneous Releases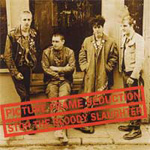 Stop The Bloody Slaughter (CD, 2005)
Demos Four From The Mountain (Tape, 1979) Demolition Blues (Tape, 1982)
Various Artists
I've Got Those... Demo-Lition Blues! UK LP 1983 (Insane): Getcha Rocks Off
A Kick Up The Arse - Volume One UK LP 1985 (Rot): My Mate Sulphate
What You Doing About That Hole In Your Head? UK LP 1986 (Rot): We'll Survive
The End Of An Era UK LP 1988 (Rot): Hand Of The Rider
__________________________________________________________________________
Links