Formed: Vancouver, British Columbia, Canada

"You call us weirdos, you call us crazy
You say we're evil, you say we're lazy
You say we're just the violent type
Kinda dumb, not too bright
We don't care what you say - fuck you!"
One of Canada's most venerable punk bands, D.O.A. have been mixing crusading left-wing politics with beery hell raising since time immemorial.
Through a succession of very hit-and-miss albums and EPs that veered between frenetic hardcore and mundane rock, leader Joey Shithead (born Joe Keighley but later changed to Keithley) has been their charismatic front man, coming across as a drunken redneck lumberjack arsehole with a social conscience. D.O.A. gave the hardcore movement a name on their second album and like Black Flag trail-blazed their way across Northern America, playing hick towns and kick starting local punk scenes where previously there was none. Additionally, D.O.A. was also home to one of the best hardcore drummers: Chuck Biscuits who went on to play with Black Flag, Circle Jerks and others.
Highly and indeed increasingly political, they have made a point of playing benefit gigs (such as the Black Lung Benefit in 1978), went to Britain to show support for striking miners, and were the only vocal support for the anarchist terrorist group known in the press as the Vancouver Five. Alongside The Subhumans (one of whom was a fifth of the convicted Vancouver Five), with whom they had something of love/hate relationship, they were Canada's foremost punk pioneers. Little wonder that in 1981, Wimpy Roy and Dimwit left The Subhumans to join D.O.A..
In short, they were important and people took notice of both their music and their message.
Part 1 (1977-1986)
The roots of the band lie in Stone Crazy, a go-nowhere pre-punk pock band that featured Shithead, Brian 'Wimpy Roy' Goble, Ken 'Dimwit' Montgomery, Gerry Hannah and Simon Werner (as well as Brad Kent at one time). By 1977 they had morphed into Canada's first punk band, The Skulls, which went unrecorded save for one song which later ended up on the double compilation CD Last Call: Vancouver Independent Music 1977-1988. The band split in early 1978. Werner and Wimpy went to London, England, and Shithead recruited Randy Rampage on bass/vocals and Chuck Biscuits on drums. Brad Kunt (ex-Victorian Pork / pre-Avengers) was briefly a second guitarist, but he never made it to vinyl, nor did a guy called Harry Homo who was actually the original singer with Shithead merely the guitarist.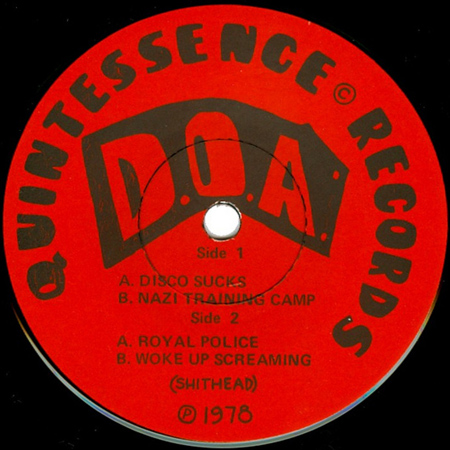 WOKE UP SCREAMING
I don't really care, what they say
I don't really care, what they do
I just know i'm sick of this crowd
and of you
The cops they took me and beat me blue
It wasn't what I was or what I do
It was just being alive
I took a chance on the other side
Got off this downhill slide
Stopped wasting my time
Had a dream, saw a scheme
Saw a man hang on a beam
Next thing was, I woke up screaming
It wasn't what I was, or what I do
It wasn't anything to do with you
It was just, not dreaming
NEW AGE
New age, I don't believe you,
You give nothing I can use.
New age, I don't believe you
But everybody wondering what to do.

What do you want me to say.
And what do you want me to do.
Everybody going out of their heads just runnin' around like a fool.
New age, I don't believe you, you slice me up like a cutting tool.
New age, don't let it deceive you, pull the plug, don't let it rule.
You put me in a corner.
While you're trying to keep order.
You know there's only one way out.
Everybody's gonna scream and shout.
New age, I don't believe you, I thought you were talkin' about something new.
New age, I'm gonna destroy you, after what you put me through.
I'm still gonna be alive when you're through this time.
New age, I don't believe you, you slice me up like a cutting tool.
New age, I don't believe you, I won't drown in your concrete pool.
America is so proud, new streets and a brand new crowd.
But it's just the same old garbage, hangin' around draggin' me down.
New age, I don't believe you, I'm not a pawn that you can use.
New age, don't let it deceive you, pull the plug, don't let it rule.
It's a new age a new age a new age and one that you can't use.

D.O.A.'s debut single,
Disco Sucks
was a generic affair ('Nazi Training Camp', 'Royal Police' etc) on their own Sudden Death label. Utterly standard issue punk rock, it also happens to be very funny. It took until 1980 for the band to record an album, by which time they had amassed a further three singles, all of which are classics:
The Prisoner
, the live
Triumph Of The Ignoroids
EP and the rockier-sounding
World War 3
.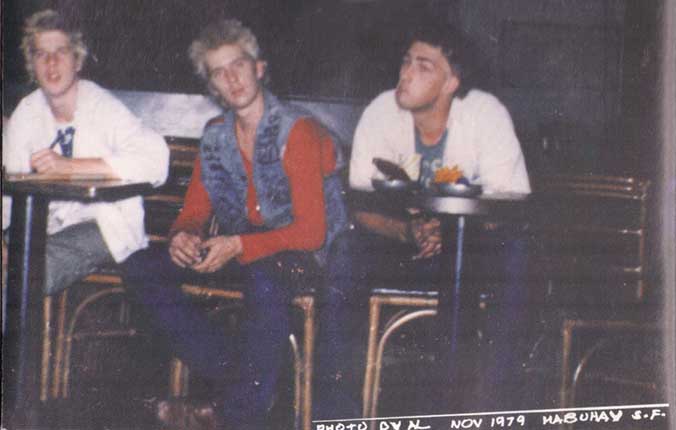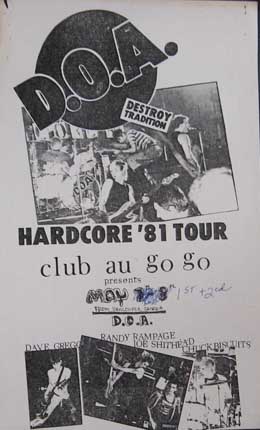 Released with their classic four-piece lineup of Shithead, Biscuits, new rhythm guitarist Dave Gregg and Randy Rampage,
Something Better Change
is a splendid album, offering short sharp shocks, a hail of four-letter-words, fierce playing and no small amount of humour. 1981's
Hardcore 81
was only twenty-odd minutes long (and even then a couple of "songs" are pure filler), but compensates for its meager running time with its bravura approach and strong songs. A contemporary EP, the outstanding
Positively D.O.A.
- culled from various recordings - earned them their first British release via a deal with
Alternative Tentacles
.

At this point bassist Randy Rampage absconded, and was replaced by Ken "Dimwit" Montgomery, However, then Biscuit also left, going on to form short-lived alliances with Circle Jerks, Black Flag and other projects. Dimwit switched to drums and the bass-player vacancy was filled by ex-Subhumans vocalist Brian Goble. (Rampage went on to issue a solo EP in 1982.)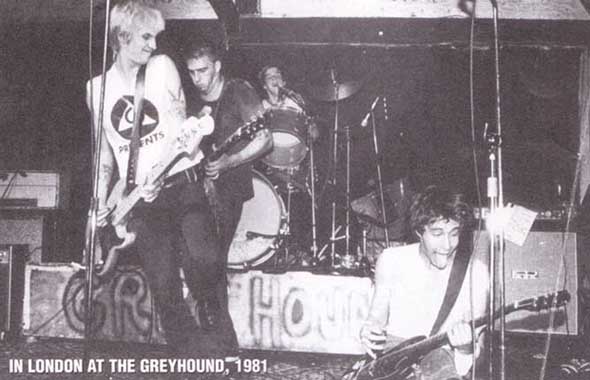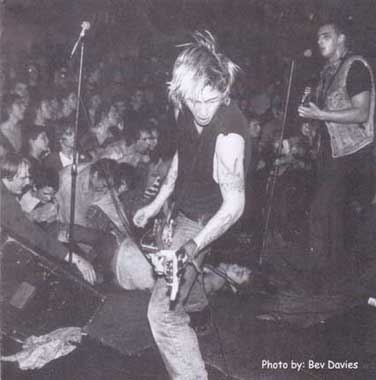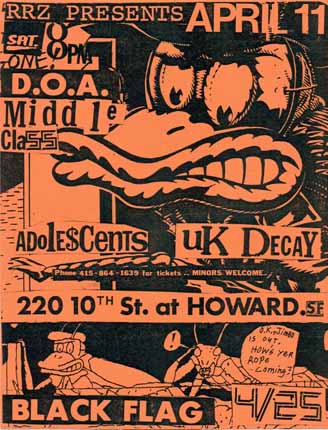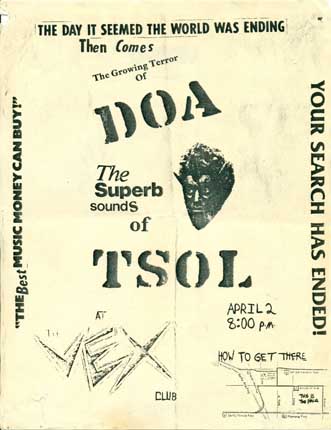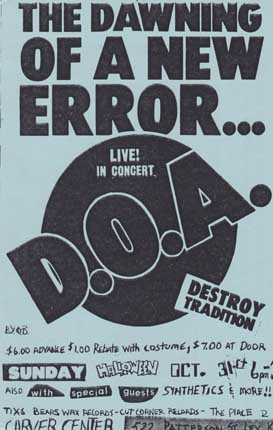 ABOVE: Handbills from 1981 and 1982
War On 45, their 12-inch EP from 1982, was an eight-song affair that was probably their finest moment, with covers of the Dils and Edwin Grant amid originals, linked by a theme of war and featuring their most polished production (by Thom Wilson). (Note: The US version of this EP replaces 'Rich Bitch' and with 'The Unknown' with ' Liar For Hire' and 'I'm Right You're Wrong'.)
Right To Be Wild!
and
General Strike / That's Life
. These singles were their first so-called "Emergency Issue" singles, quickly recorded and swiftly released fast responses to current events, with proceeds going to worthy causes.
Right To Be Wild!
was in aid of "The Vancouver Five", so-called terrorists who were arrested and sent to prison for bombing a hydro-chemical plant and fire-bombing pornography outlets. You can read about them below.
General Strike
was written, recorded and released within a week of the re-election of the right-wing premier Bill Bennett, supporting workers threatening to go on strike. (Later, in 1986, Bill Bennett was the subject of another D.O.A. song, 'Billy And Socreds", released on the 7"
Expo Hurts Everyone E.P.
).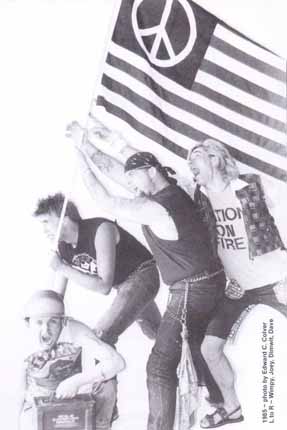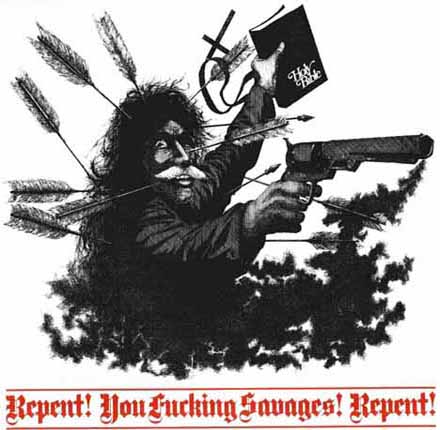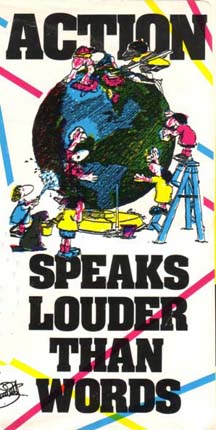 ABOVE L-R: 1985 promo material, art from the 1982 War On 45 12", and DOA slogan
At this point the band went a bit quiet, but a great comp called Bloodied But Unbowed plugged the gap, compiling the best bits from all of their singles and both long-players, re-mixed for maximum audio pleasure. Each sweary song counts: 'Fuck You', 'Rich Bitch', 'I Don't Give A Shit', 'Fucked Up Ronnie', 'Slum Lord', 'Smash The State', 'Woke Up Screaming' etc. The UK version differed to the US one, and the CD version differed from both.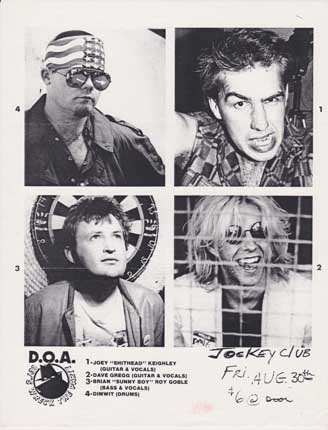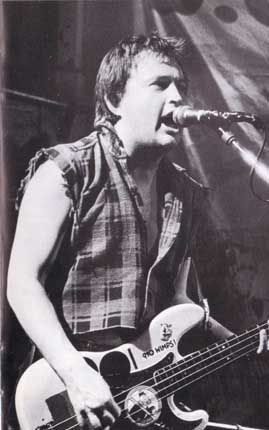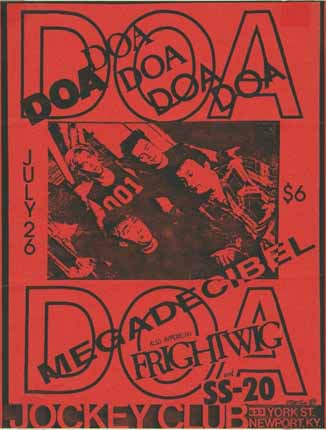 ABOVE L-R: 1985 concert flyer; Wimpy Roy in action, and a handbill from 1985
Let's Wreck The Party was something of a mixed bag, marking a move away from hardcore towards a more traditional rock (not heavy metal) sound, probably something to do with producer Brian "Too Loud" McLeod, who had played in a Canadian hard rock band called Headpins. Apart from a few outright boring songs, it's mostly solid, and at the very least boasts two of their most dynamic and confrontational recordings ('Race Riot', 'General Strike'), as well as a funny cover of 'Singin' In The Rain', complete with a horn section.
Part 2 (1987-Onwards)
True (North) Strong And Free featured new drummer Jon Card (ex-Personality Crisis), a new version of an old song ('Nazi Training Camp') and a new, even more rock-orientated direction. Check out the Bachman-Turner-Overdrive cover version, 'Takin' Care Of Business'!. It was their last release with Dave Gregg, who was replaced by Chris Prohom, and it was also their first album that failed to get released in their homeland.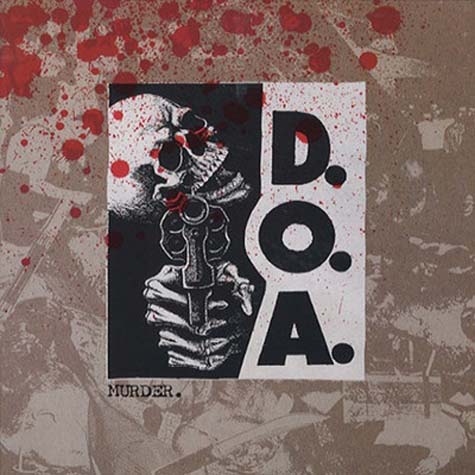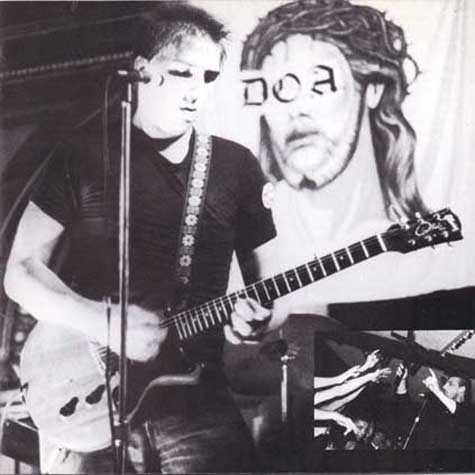 This lineup - Shithead, Goble, Card, Proham - recorded their superb collaboration with Jello Biafra (Last Scream Of The Missing Neighbors) and a new studio album, Murder. From its cover plastered with blood-splattered corpses, it wasn't a pretty record. Two Subhumans songs ('Behind The Smile', 'No Productivity') were given another chance, as was a longer version of 'Waiting For You'. By recording (admirably) yet another old song, the soul classic 'Midnight Special', one might suspect a problem coming up with the goods. Rockier than before, there was no shortage of anger but the overall effect was muted by production that placed the vocals too low in the mix.
Issued after the band temporarily broke up - they had played a farewell gig in 1990 at The Commodore with GBH in support - Talk Minus Action Equals Zero was a beezer live album drawing on material from all of the band's incarnations, with a handful of new numbers, including 'Fuck That Shit', a comically angry reggae number.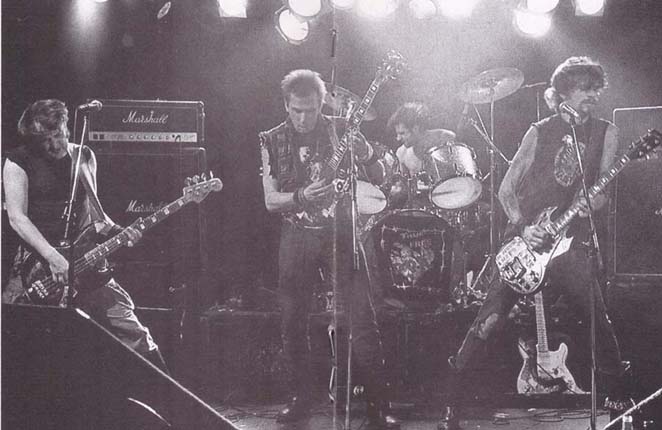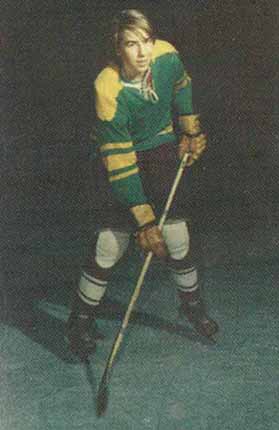 ABOVE: 1990: L-R: Brian 'Wimpy Roy' Goble, Joey Shithead, Jon Card, Chris Prohom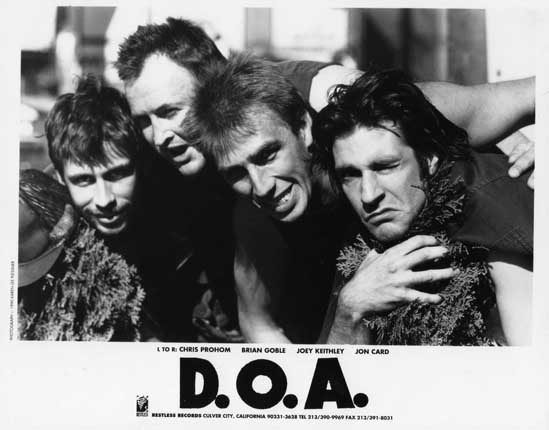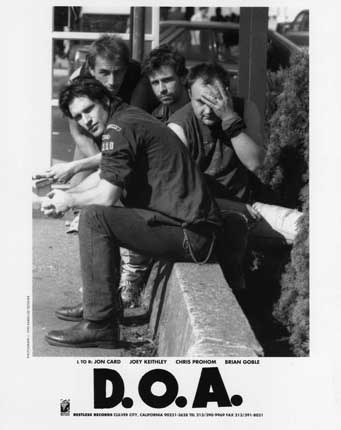 ABOVE: Promotional material from 1990, during the band's stay at Restless Records
The Polish-only
Greatest Shits
was an interesting anomaly, with funny cover art depicting Shithead on the toilet. It rounds up material from the debut album not included on
Bloodied But Unbowed
, along with the whole of
Triumph Of The Ignoroids
, various single sides and compilation tracks. There are also some unreleased songs from their rockier period, including fairly straight covers of 'Won't Get Fooled Again' and 'L.A. Woman'. The sound is a bit ropy, suggesting that, despite liner notes by Shithead himself, it isn't strictly legit, but it's still well worth seeking out.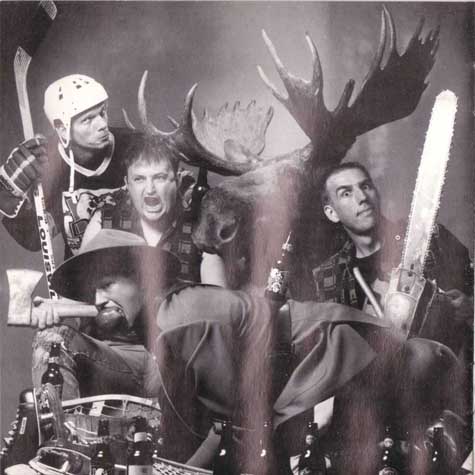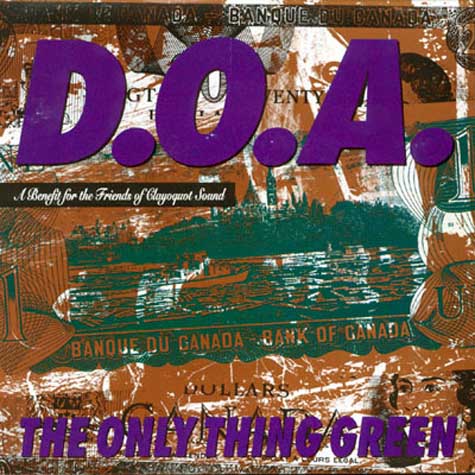 Back in action in 1992, the new D.O.A. was a power trio centring around Keithley, Wimpy Roy and new drummer Ken Jensen, previously of Red Tide fame.
Produced by Nomeansno's John Wright with all guitars at full tilt, 13 Flavours Of Doom was their strongest release since 1983. Although the LP had been recorded for Restless Records (their label for Murder), Restless were bought out by another company and DOA's services were no longer required. They ended up on Alternative Tentacles instead. The LP boasted thirteen kicking songs with an emphasis on decay and destruction ('Death Machine', 'The Living Dead' and 'Already Dead'), D.O.A. are (generally) punkier than on the last few albums. Although typically issue-conscious (there are songs about sexual equality, the environment, AIDS) there's still room for some crapulence on 'I Played The Fool' and no less than two attacks on heavy metal.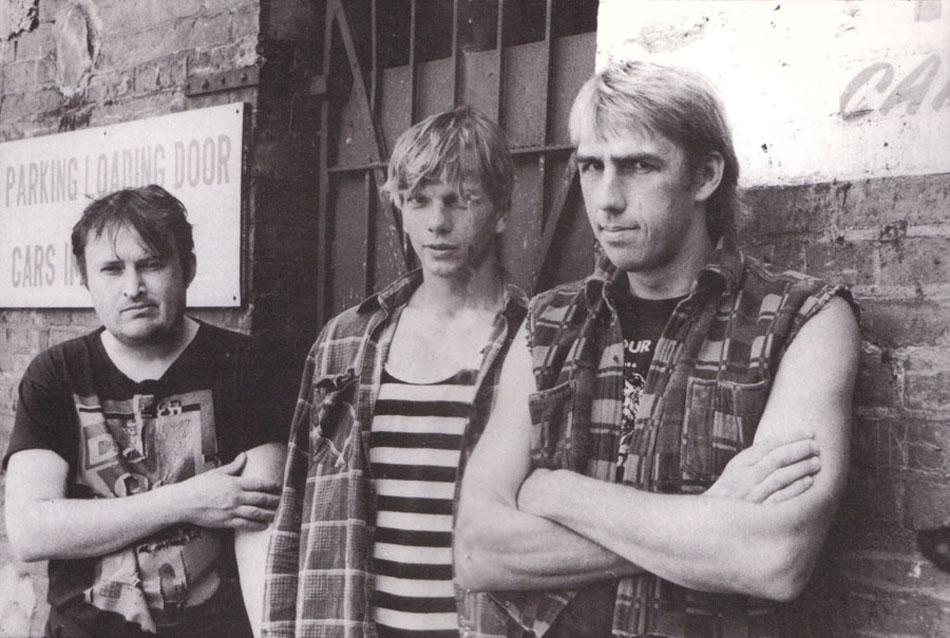 ABOVE: DOA IN 1993: L-R: Brian 'Wimpy Roy' Goble, Ken Jensen, Joey Shithead
Reunited with John Wright, Loggerheads sounded like more time had been devoted to it but dipped back into the group's penchant for rockier stuff and gave Goble freer reign (he sings a quarter of the songs). As ever, most of the material is superb ('The Only Thing Green' is essential) but there were too many mid-tempo numbers and a patience-testing grunge version of 'Folsom Prison Dirge'. Overall the album precludes serious enthusiasm, but when it is good it is very good.
In 1995, Ken Jensen died in a house fire and was the subject of a tribute single compiling two of his D.O.A. recordings with two from his old band, Red Tide. John Wright became a stand-in drummer for the punkier The Black Spot, considered by many their best album in quite some considerable time. However, as usual the lineup was unstable, and by 1998 both Wright and Goble had left.
DOA IN 1995: L-R: Joe Keithley, Brian 'Wimpy Roy' Goble, Ford Pier
Festival Of Atheists saw D.O.A. thus reduced to a duo, with Shithead doing everything apart from the drums (delegated to Brien O'Brien). The songs are perfectly okay, but the impact was fatally diminished by a lack of audible overdubs that render the results akin to demos, and it was probably their weakest album so far. As usual the songs veer between rock and hardcore, with a couple of reggae-based numbers and a C&W ditty. In addition to the usual attacks on organised religion and lying politicians there's songs about "yuppie cowboys" and the Americanisation of ice hockey, but this is a minor, frustrating effort.
Win The Battle marked the return of Randy Rampage after twenty years, expanding the D.O.A. squad to a trio for another tirade against multi-national corporations, the government, rednecks, and TV preachers. In other words it's business as usual, the sensible sentiments of 'Warmonger' and the like mixed with the predictable odes to alcohol consumption ('The Beer Liberation Army'). Adhering to a strict formula and offering no surprises this album seems ever so slightly tired, with too many rocky tracks, a needless rehash of one of the band's oldies ('Fuck You W/The Blues'), and a cover of ZZ Top's 'La Grange', which pales beside their 1993-vintage disembowelling of Tom Jones' 'It's Not Unusual'. Reasonable, but dispensable. Rampage left the group shortly after its release.
The band has continued to record new records, including one (Northern Avenger) with Rampage once again (briefly) in the fold.
According to Wikipedia, "in 2003, Vancouver Mayor Larry Campbell declared December 21 to be "D.O.A. Day" in honour of the band's 25th anniversary".
DISCOGRAPHY
Subsequent studio albums: True (North) Strong And Free (1987), Murder (1990), 13 Flavours Of Doom (1992), Loggerheads (1993), The Black Spot (1995), Festival Of Atheists (1998), Win The Battle (2002), Live Free Or Die (2004), Northern Avenger (2008), Kings Of Punk, Hockey And Beer (2009), Talk-Action=0 (2010), We Come In Peace (2012), Hard Rain Falling (2015), Fight Back (2018).
Singles / Albums

Disco Sucks
(7", 1978)
The Prisoner
(7", 1978)
Triumph Of The Ignoroids
(12", 1979)
World War 3 / Whatcha Gonna Do
(7", 1979)
Something Better Change
(LP, 1980)
Hardcore 81
(LP, 1981)
Positively D.O.A.
(7", 1981)
War On 45
(12", 1982)
Right To Be Wild!
(7", 1983)
General Strike / That's Life
(7", 1983)
Bloodied But Unbowed
(LP, 1984)
Let's Wreck The Party
(LP, 1985)
Don't Turn Yer Back On Desperate Times
(12", 1985)

Extraneous Releases

Greatest Shits
(LP+7"/CD, 1991)
The Dawning Of A New Error
(CD, 1992)
Bloodied But Unbowed / War On 45
(CD, twofer, 1992)
Moose Droppings
(CD, 1993)
Ken Jensen Memorial Single (7", 1995)
The Lost Tapes
(CD, 1998)
War And Peace
(CD, 2003)
War On 45 - March To The End
(CD, 2005)
Punk Rock Singles 1978-99
(CD, 2007)
1978
(2xLP/CD, 2019)

Bootlegs

En Concert 1985
(Tape, 1986)
The Menace Lives
(7", 1991)
White Noise Tour
(7", 1993)
Young & Useless
(CDR, 2012)
Various Artists
Vancouver Complication Canada LP 1979 (Pinned): Kill, Kill, This Is Pop / I Hate You
Let Them Eat Jellybeans! US LP 1981 (Alternative Tentacles): The Prisoner
Eastern Front US LP 1982 (ICI/Sanoblast): Unknown / Fucked Up Baby
Rat Music For Rat People US LP 1982 (Go!): America The Beautiful / Fucked Up Ronnie
International P.E.A.C.E. Benefit Compilation UK/US LP 1984 (R Radical): America The Beautiful
Something To Believe In US LP 1984 (Better Youth Organization): Tits On The Beach
Basic Sampler US Tape 1984 (Deux Ex Machina/Basic Tapes): Slumlord
We Wont Be Your Fucking Poor UK 2xLP 1986 (Mortarhate): General Strike
Expo Hurts Everyone E.P. Canada 7" 1986 (Sudden Death): Billy And The Socreds
Rat Music For Rat People Vol. I, II & III US CD 1987 (CD Presents): America The Beautiful / Fucked Up Ronnie
Last Call: Vancouver Independent Music 1977-1988 Canada 2xCD 1991 (Zulu): Disco Sucks
Links