Formed: Yeovil, Somerset, England, UK
Note: The main sources for this bio are:
The Mob 1980 - 1983 - Kill Your Pet Puppy
Lance Hahn on The Mob
The Day The Country Died by Ian Glasper (Cherry Red Books, 2006)
Joseph Porter: "We weren't revolutionaries; we were just a bunch of confused children huddling together to keep warm".
Highly regarded anarcho punksters formed in 1978 or 1979, The Mob hey started out playing basic punk before they became involved with the nascent traveler/hippie scene that also attracted the likes of Alternative TV. Throughout most of their short existence they were mainstays at the free festivals, and their increasingly sullen and bleak music appealed to more more thoughtful punks and Goths, even.
They hailed from a village near Yeovil in Somerset, England, and initially consisted of:
Mark Wilson - guitar, vocals and lyrics
Graham Fallowes - drums
Curtis Youe - bass, backing vocals
All three had previously played in a band called Magnum Force, playing Status Quo covers. Mark: "The West Country is a totally tedious place to live when you're young and boredom breeds bands. I remember the Buzzcocks singing 'Boredom' and I thought, 'you've no idea – you live in Manchester.' We would be attacked by everyone....bikers, teds...everyone. Anyone who has never lived in small town redneck land can't begin to imagine how much shit we used to get. You simply cannot describe the loneliness unless you lived it".
It was this deep unhappiness that coloured (or failed to colour) their music.
The Mob started out playing local halls, set up their own fanzine (All The Madmen), and graduated to bigger things, like the 1978 Stonehenge free festival, the first of many appearances there. In June 1979 they toured Holland with Here and Now, where they were introduced to what became very important to them: communes and squatting.
Mark: "When we were doing our "trying to blag a gig job" we met up with Here & Now who were playing in Yeovil. We found we shared a lot of ideals with these people. They were doing tours, playing for nothings and passing the hat round after to get the money to get to the next gig. We tagged along and followed them to Holland where we indulged heavily in the "relaxed" atmosphere. If you listen to Gavin's synthesizer or Steffi playing guitar you could hear so much of what today would be called "dance" music. They were way ahead of our times – we all were to some extent. We're talking about at time where you would be beaten up in Yeovil for not wearing flairs and having short hair. This was all a brave new world to me."
The band's debut single Crying Again was co-produced by Grant Showbiz (of Street Level Studios and Here And Now affiliation). The single was released in mid-1979 on a new label, All The Madmen, set up specially for the purpose by a friend of the band, Geoff. "Basically no one was ever going to sign us", said Mark.
Single Number Two, Witch Hunt had better production and better distribution, and the band starting becoming known nationally. It is well described on the Kill From The Heart website: "The second single fortified the Mob sound into a powerful combination of anger and despair. The needle drops on the record and a bloodcurdling scream erupts. Then, charging out from the gloom, a sound like an advancing army. Droning bass, robotic drums, a guitar being bashed like an anvil. A sour voices erupts with, "Stubbing out progress where seeds are sown. Killing off anything that's not quite known. Sitting around in a nice, safe home - waiting for the witch hunt." The Mob combined the bleak imagery and slower tempos of the early gothic/death rock sound with a more DIY punk consciousness and aggression".
They embarked on the "Weird Tales Tour" with The Astronauts, Zounds, and Andriods Of Mu, and then came a cropper during the anti-punk aggro at the Stonehenge festival in 1980.
In 1981 Mark and Curtis moved to a squat in Brougham Road, Hackney, and The Mob emerged later that year with their most famous lineup:
Mark - guitar, vocals and lyrics
Curtis - bass, backing vocals
Josef Porter (Zounds, Null And Void and Entire Cosmos) - drums
This lineup of the band made its first steps with the self-released Ching tape, which was "played live onto a ghetto blaster in the practise room upstairs at my squat at No. 62", said Joseph. "The sound was very rough as you can imagine". Next was an invitation by Penny Rimbaud to make a record for Crass. The classic peace No Doves Fly Here, which clogged up the Indie charts for nearly four months, remains the band's best known song...by far. It is however far from a standard punk shoutalong, chiefly because it sounds not much like punk and doesn't have any shouting. It is also very slow and very long, with a very prominent synthesiser. Penny" "I really loved the words, so I put huge effort into recreating the atmosphere they suggested to me. I mean, it was still their single but on its own, it was...well, a bit bland really, and I helped them, transform it into this huge, wonderful soundscape..."
Lyrically, it is vintage anti-war stuff:
The sky is empty and it's turning different shades of colour,
It never did before and we never asked for war.
My mind is empty and my body different shapes of torture,
It never was before and we never asked for war.
No-one is moving and no doves fly here,
No-one is thinking and no doves fly here,
No-one remembers beyond all this fear,
No doves fly here
The buildings are empty and the countryside is wasteland,
It never was before and we never asked for war.
The playgrounds are empty and the children limbless corpses,
They never were before and they never asked for war.
No-one is moving and no doves fly here,
No-one is thinking and no doves fly here,
No-one remembers beyond all this
fear,
No doves fly here

More memorable concerts followed, including a Streetlevel music festival in 1982 at a playground on Hampstead Heath, and the infamous ZigZag squat gig. They even made it to the cover of Punks' very own Smash Hits style magazine, Punk Lives, although in a typical anarcho-punk ego-deflating act of japery, the pictures of the band were just friends of the band rather than the band itself, which failed to show up for the photo shoots.
Let The Tribe Increase was released in Spring 1983 to rave reviews and good sales, reaching Number 3 in the Indies. It is now considered an anarcho punk classic, as has the cover by Wilf, which has now assumed some kind of iconic status. It looks oddly familiar, though!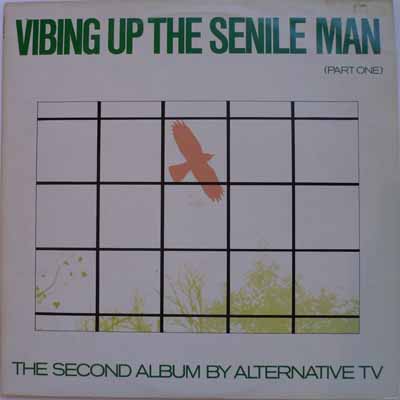 Lyrics-wise, it was miserable business as usual:
ANOTHER DAY ANOTHER DEATH:
I woke up screaming from the nightmare that's begun again
Cold tears of sweat dripping down my face
I slipped up again, I slipped up again
The radio is playing songs whirling in my head
Another day another death
Another day another death
Ice cold needle that splits my every breath
Another day, another death
The cold and frigid wind that blows through every crack
The wild and tortured dream - the straw that broke the camel's back
We slipped up again, we slipped up again
And I wanna know why, I wanna know why
Another day another death
Another day another death
Ice cold needle that splits my every breath
Another day another death
I'm reaching out again and clutching flowers thrown in the breeze
They're all quite meaningless and yet they mean so much to me
We slipped up again by not recalling all the pain
And I wanna know why, I wanna know why
Another day another death
Another day another death
Ice cold needle that splits my every breath
Another day another death
A month after the release of another strong single, Summer 1983's The Mirror Breaks, the band split. First to go was Mark, who became one of these infernal travelers. Josef and Curtis carried on as Blyth Power. Mark: "We had some gigs organised in the North of England , and then some more came in fort Southern Italy. And there was a clash of interest because Joseph wanted to go north as there's a great railway hub at Crewe he wanted to see". This is not a joke. "I thought this was nothing short of madness. In addition, I had completely run out of new songs and we had been trotting the same ones out for years".
Joseph: "Actually I only started [train] spotting again after the band split and Mark went off to become a traveller...I think he simply got bored with it all. I remember we had four days booked for rehearsing at Allan Gordon's studio in Leytonstone. We spent a couple of hours jamming old ATV songs, then knocked it on the head - and that was the last time we ever played together, I never heard anything about an Italian tour...but if I had, I'm sure both Curtis and I would have been happy to go".
Anyway, The Mob were much missed, so much in that the posthumous releases began almost immediately after their split. First up was Live At The L.M.C, a bootleg quality semi-legit release that had one side of The Mob and one side of The Apostles. Next was the cassette-only No No No Don't Drop Yer Bombs On Us They 'urt, another split release, this time with Faction and D&V, documenting a concert in 1983. 1986 saw Crying Again reissued as a 12" with some live tracks added, in 1987 we got Madpack, an envelope containing the 'Crying Again' 12" and 'The Mirror Breaks' and 'Witch Hunt' 7" singles.
The Mob reformed in 2011.
__________________________________________________________________________
DISCOGRAPHY
Singles & Albums
Crying Again (7", 1979)
Witch Hunt (7", 1980)
No Doves Fly Here (7", 1981)
Let The Tribe Increase (LP, 1983)
The Mirror Breaks (7", 1983)
Extraneous Releases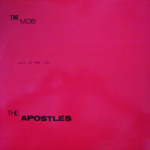 Live At The L.M.C. (LP/Tape, split with The Apostles, 1983)
Crying Again (12", 1986)
Madpack (12"+2x7", 1987)
May Inspire Revolutionary Acts (CD, 2007)
Demos & Tapes
Ching (Tape, 1981)
Various Artists
No No No Don't Drop Yer Bombs On Us They 'urt UK Tape 1983 (96 Tapes): unknown
Slightly Weirdsville UK Tape 1981 (Fuck Off): Crying Again (live) / Frustration (live) / XXXX (live) / Youth (live)
Music For Pressure UK Tape 1981 (Fuck Off): Violent Maze
Folk In Hell UK Tape 1981 (Fuck Off): Slayed [on version 1] / No Doves Fly Here [on version 2]
Healthy Feet/Murky Depths UK Tape 1981 (Monochrome Underworld Recordings): Witch Hunt
A Tribute To Bert Weedon UK Tape 1982 (Weird Tales): When The Mirror Breaks / What's Going On / Violence / No Time / Clown / Youth / Crying Again
In The Old Days...No.7 UK Tape 1987 (RAC Cassettes): Unknown
1984 And All That... UK Tape 1980s (no label): I Hear You Laughing
A-Sides (Part One. 1979/1982) UK CD 1992 (Crass): No Doves Fly Here
Anti-State: Anarcho Punk Compilation Vol. 2 UK CD 2005 (Overground): Gates Of Hell
Burning Britain - A Story Of Independent UK Punk 1980-1983 UK 3xCD 2018m (Cherry Red): Witch Hunt
1980-1982 In The Old Days! UK Tape ???? (BBP Records & Tapes): Unknown
__________________________________________________________________________
Links
Listen And Understand - Spiffing band bio with photos